Crunchy Cashew Cookies filled with pieces of buttery salted toffee are the perfect accompaniment to a glass of milk!
We're obsessed with decadent desserts, including these Salted Caramel Brownies! Readers love simple Peanut Butter Cookies, made perfect every time with this easy recipe!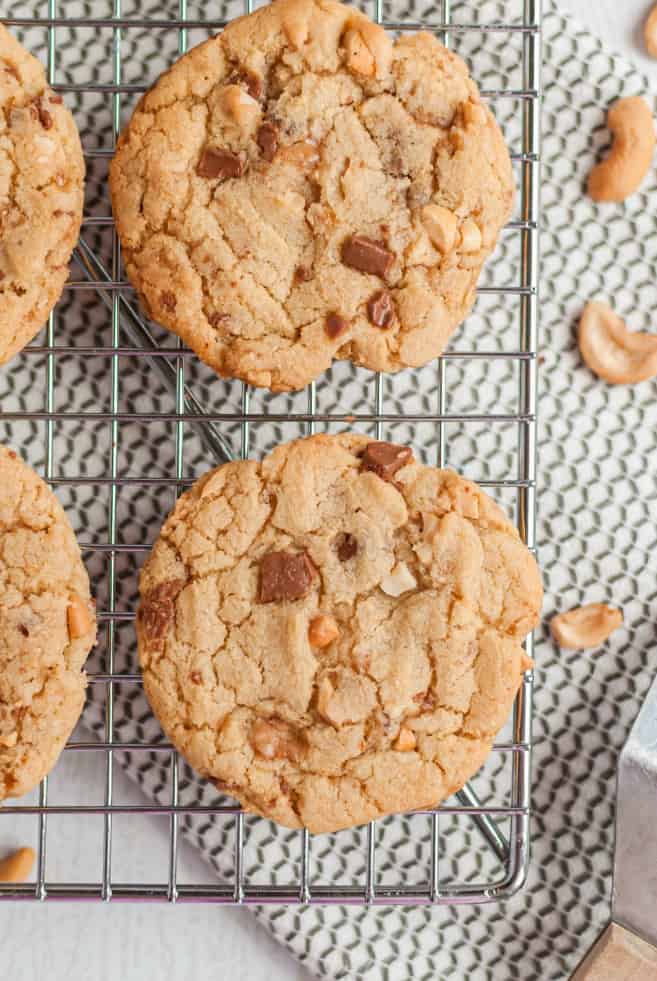 Cashew Cookies
Do you like your cookies crunchy or chewy? For me it depends on the cookie.
When it comes to my Chocolate Chip Cookies, I'm usually looking for something on the chewier side.
With these toffee cookies, I was looking for a good crunch. And oh boy did the Cashew Cookies with salted toffee deliver!
Have you ever tried Trader Joe's caramel cashew cookies? These reminded me of those treats with the ideal amount of crunch.
You get a satisfying crispy bite with plenty of crunchy salted toffee pieces throughout the cookie.
What really makes these cookies different is the use of browned butter in the dough. If you've never made cookies with browned butter before, you're going to be amazed by the amount of flavor it adds. Browned butter lends a slightly nutty note to whatever you put it in and makes cookies taste even richer! It brings out the toffee flavor beautifully in these cashew cookies.
Oh, and the cashews! Everyone bakes cookies with walnuts and pecans and almonds get a lot of play, too. Cashews aren't given nearly the attention they deserve as an addition to cookies!
I love the sweet and salty flavor of the cashews and they pair especially well with with the toffee bits. Bring on all the cashew treats!
Ingredient Notes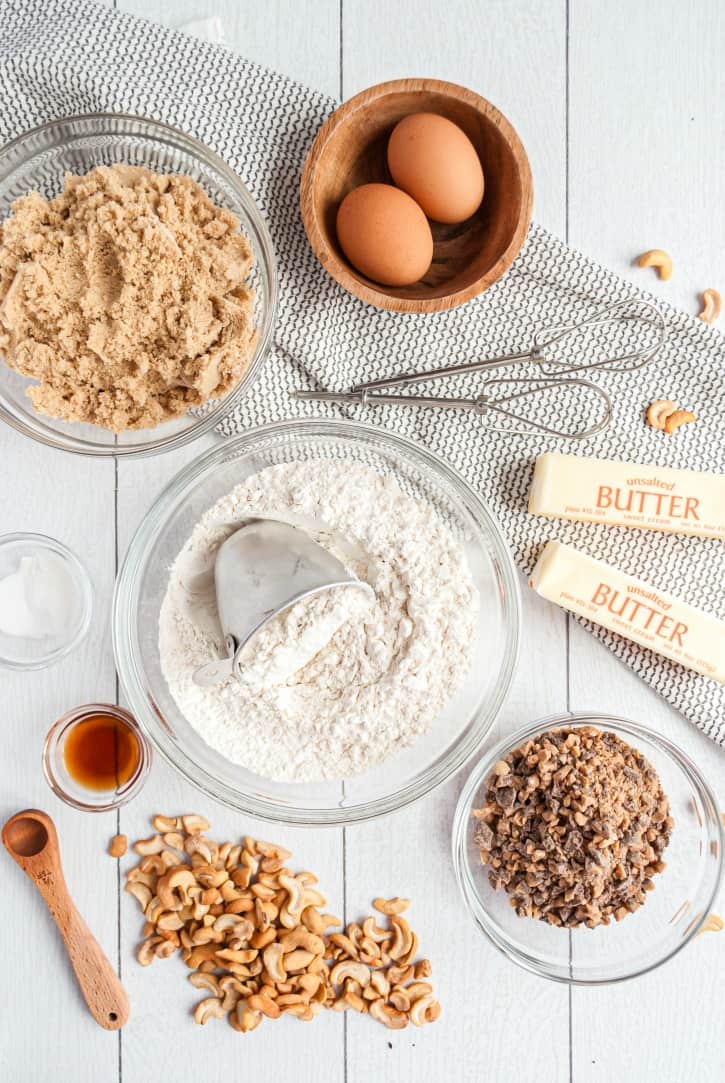 Here's what you need to make these toffee cookies:
Unsalted butter
Brown sugar
Eggs
Kosher salt
Baking powder
Baking soda
Cashews
Heath milk chocolate toffee bits
Easy Instructions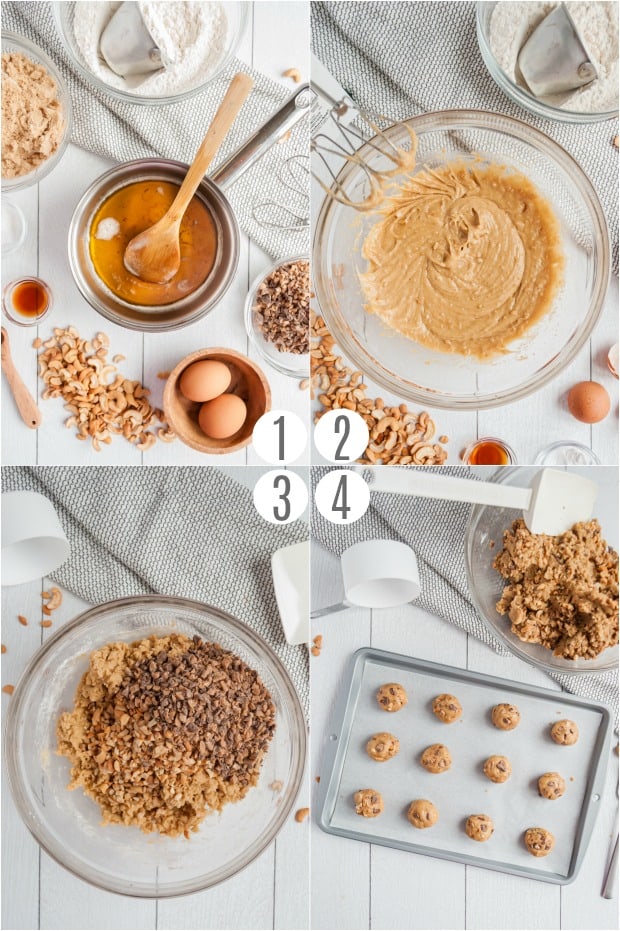 STEP 1. Brown butter in small saucepan and allow to boil for a couple minutes. Remove from heat.
STEP 2. In mixer, beat melted butter with brown sugar for 3-4 minutes. Add salt and eggs. Beat in vanilla extract. Slowly beat in flour, baking soda and baking powder. Fold in the cashews and toffee bits.
STEP 3. Roll dough into one inch balls. Dough will be crumbly. Tap tops with fork or press with thumb, lightly.
STEP 4. Bake on parchment lined baking sheet in a 375 degree oven for about 8-10 minutes. Remove and let cool for 2 -3 minutes on the baking sheet before transferring to a wire rack.
Enjoy the cookies right away if you're okay with them having a chewy center–or wait for a day for a completely crunchy cookie!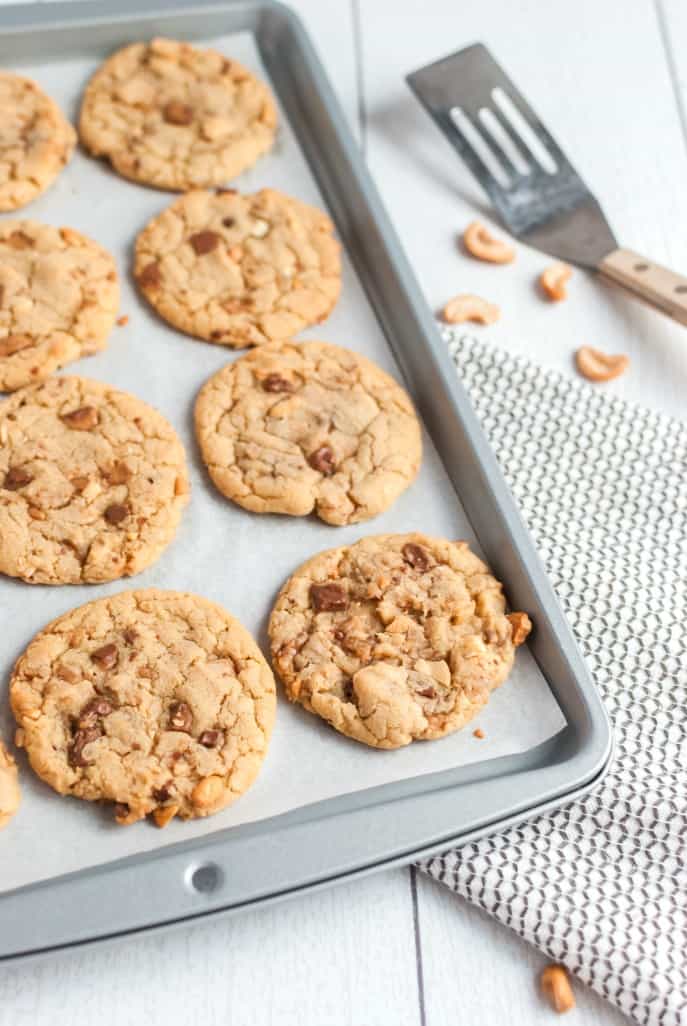 Tips for Browning Butter
While it's not difficult to brown butter, you want to be careful not to burn the butter by accident.
To prevent this, I recommend using a pan with a lighter colored bottom so you can monitor the color of the butter better.
You'll know the butter is ready when it turns a dark golden brown and smells nutty. When this happens, remove the butter from heat right away to avoid overcooking.
This usually occurs after about 2-3 minutes of boiling over medium heat on my stove.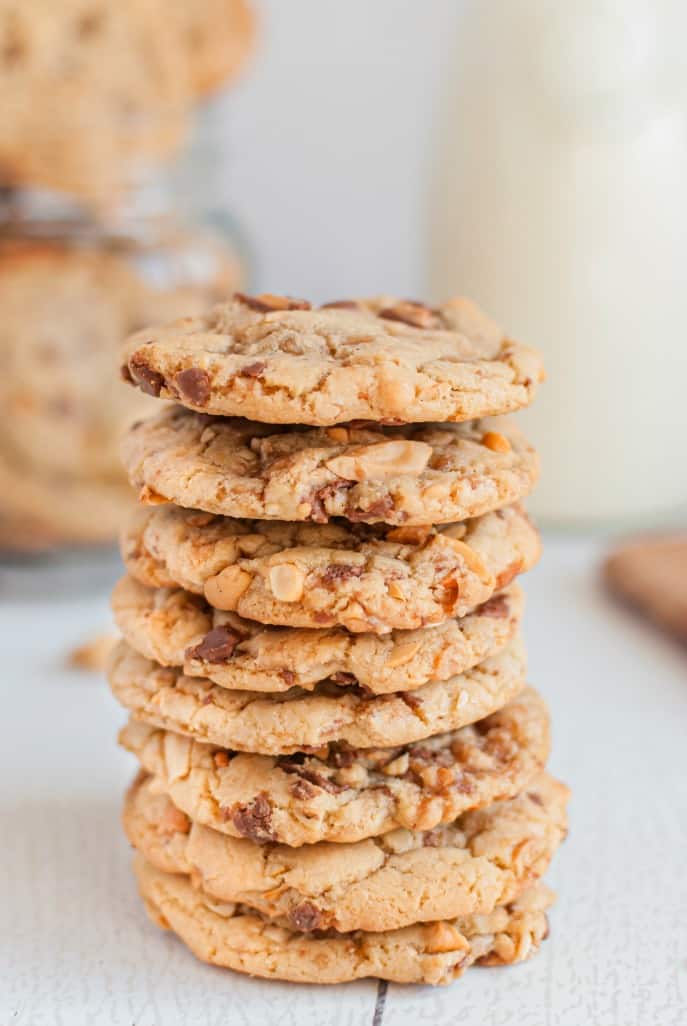 Salted Toffee Cashew Cookies
These cookies keep well in a tupperware container for a week or two, but in my house they usually disappear way before that. They also freeze well, though they will lose a bit of their crunch when thawed.
Even if you usually reach for a chewy cookie over crunchy, I know you're going to love these toffee cookies!