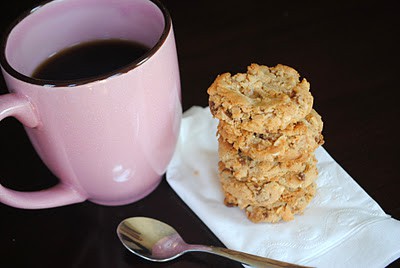 Do you like your cookies crunchy or chewy? For me it depends on the cookie. With these, I was looking for a good crunch. Have you ever tried Trader Joe's caramel cashew cookies? These reminded me of those crunchy cookies.
However, if you love the crunch, you have to wait a day. On day one, these are chewy with a little bit of a crunchy exterior. Delicious!
But day 2, if you still have any left, OH EM GEE. Crunchy and perfect in coffee or milk, or straight up! Enjoy!
Toffee Cashew Cookie Recipe:
Ingredients
12 Tbsp butter
1 3/4 cup brown sugar
1/2 tsp salt
2 eggs
1 tsp vanilla extract
2 1/2 cup flour
1/2 tsp baking soda
1/4 tsp baking powder
1 cup cashews, chopped
1 cup Heath milk chocolate toffee bits
Instructions
Brown butter in small saucepan and allow to boil for a couple minutes. Remove from heat.
In mixer, beat melted butter with brown sugar for 3-4 minutes. Add salt and eggs. Beat in vanilla. Slowly beat in flour, baking soda and baking powder. Fold in the cashews and toffee bits.
Roll dough into one inch balls. Dough will be crumbly. Tap tops with fork or press with thumb, lightly.
Bake on parchment lined baking sheet in a 375 degree oven for about 8-10 minutes. Remove and enjoy.
**If you enjoyed these cookies, you may also enjoy…
Caramel Cashew Clusters by My Baking Addiction
White Chocolate Toffee Doodles by Something Swanky
Toffee Crunch Cookies by Shugary Sweets