Cashew Brittle is a nutty homemade candy made in the microwave! This fun twist on classic peanut brittle couldn't be any more delicious or any easier to make.
Love candy with nuts? Our Pecan Praline Candy is another easy recipe to try! We love this crunchy nutty caramel snack mix too!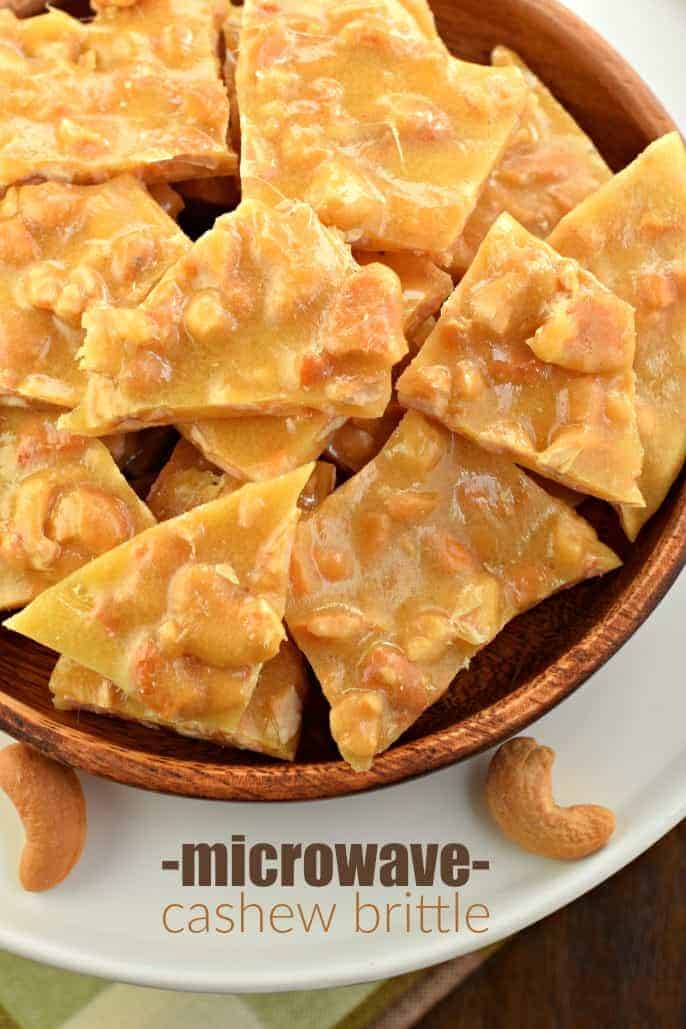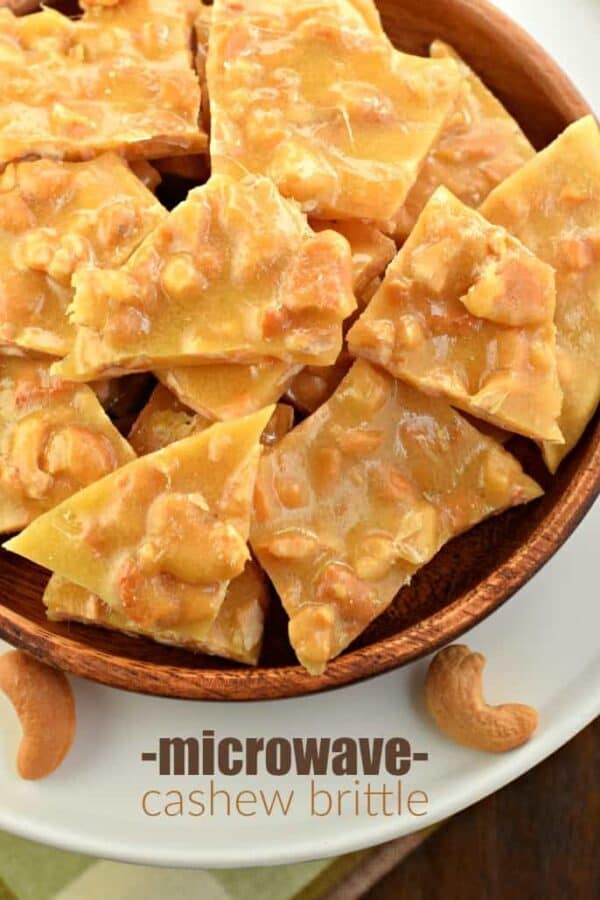 Why Make Homemade Candy
Think making candy at home is too difficult? Think again!
Best testing candy – This sweet and salty cashew brittle tastes so much better than any brittle candy you can buy at the store.
Stays crunchy for weeks – Like our Peanut Brittle Recipe, this one won't lose its crunch when you store it.
As easy as can be – It's made with a handful of ingredients you probably already have on hand!
No special equipment needed- If you have a bowl and a microwave, you can make homemade cashew brittle. You don't need a candy thermometer or even a stove!
A perfect gift idea – Everyone loves receiving a bag full of homemade candy, especially when it tastes as good as this one.
Whether you're a candy making expert or total novice, this Cashew Brittle recipe is for you. It's beautifully crunchy with a sweet and salty cashew toffee flavor.
Ingredient Notes
Granulated sugar and corn syrup – The sugar dissolves and crystalizes in the corn syrup when heated to form a candy base that doesn't get grainy.
Cashews – We recommend roasted salted cashews, chopped into bite sized pieces. Or swap it out for your favorite nuts!
Baking soda – Adds air buttles to the candy for a lighter, crispier texture.
Vanilla extract – We love using homemade vanilla extract or another good quality pure vanilla extract.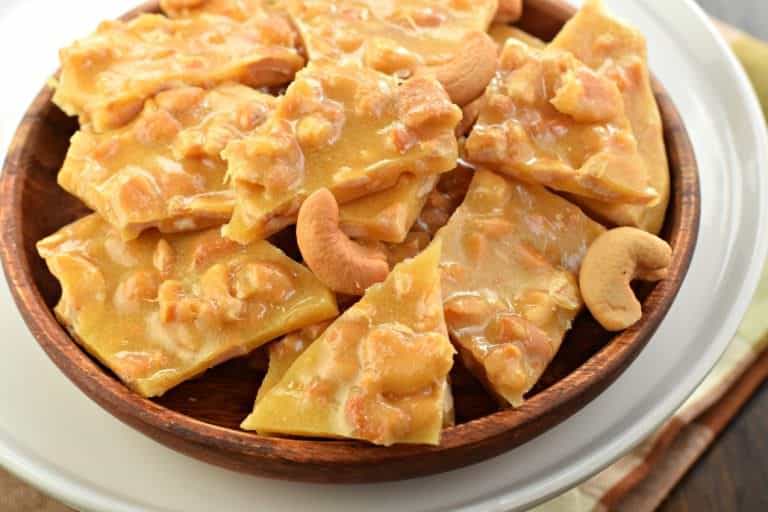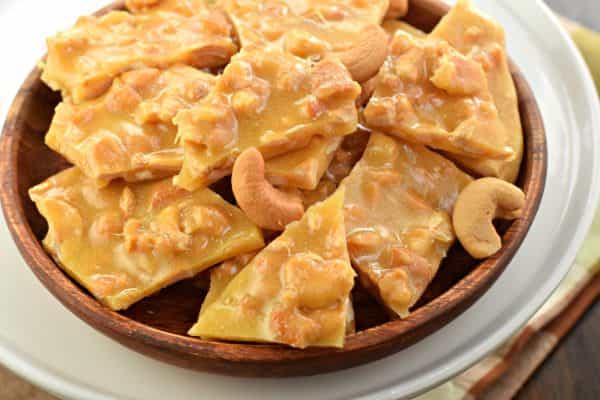 Microwave Instructions
The microwave makes it incredibly quick and easy to prep this candy.
Microwave sugar and corn syrup. Combine them in a large glass bowl and heat at power level 7 for 4 minutes.
Stir in cashews. Quickly mix the chopped nuts into the corn syrup mixture. Microwave again for another 3 ½ minutes.
Add butter and vanilla. Stir to incorporate and microwave the whole mixture for another 1 ½ minutes.
Add baking soda. Quickly stir until the mixture becomes bubbly and foamy.
Pour onto a parchment lined cookie sheet. Let the cashew brittle set for 2 hours until hardened.
Break into pieces. Use your hands to break apart the brittle into whatever size pieces you like. Enjoy right away or store for later!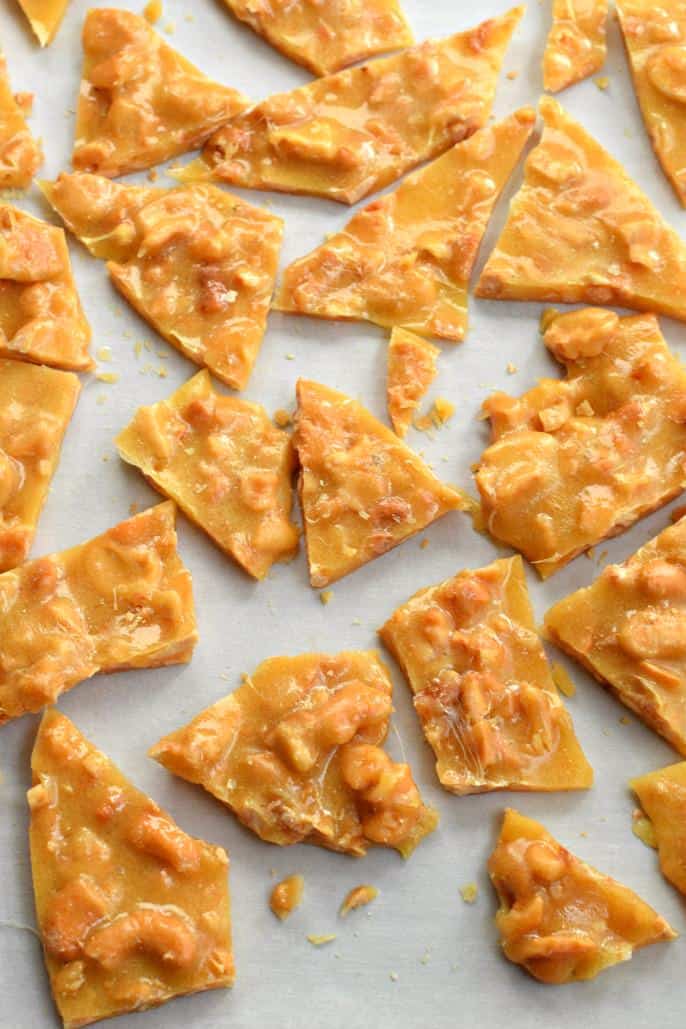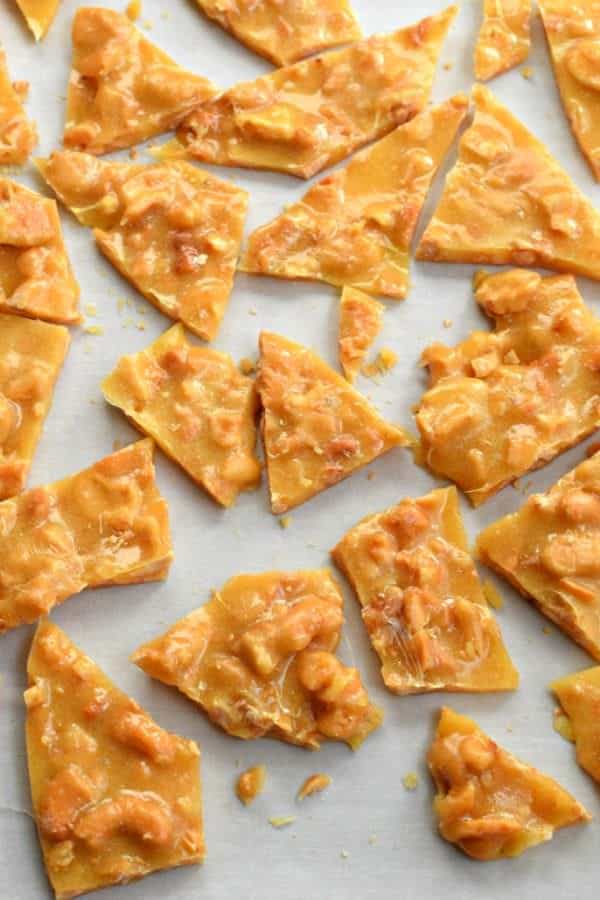 Recipe FAQs
Can I use other kinds of nuts in this recipe?
You sure can! Feel free to use pecans, almonds or any other lightly salted nut you like.
How long does it stay good?
Stored in an airtight container, this cashew brittle stays crunchy and delicious for about one week. But it never lasts that long at my house because my family and I can't resist eating it!
Why did my cashew candy mixture burn?
This candy will burn if your microwave is too hot or you heat it for too long. I used power level 7 (out of 10) on my 1500 watt microwave.
I don't have a microwave. Can I still make this recipe?
Yes, it cane be made on the stove with a few adjustments. See my peanut brittle recipe for instructions to make this on your stove top!
More Easy Candy Recipes
Learn how to make the best Cashew Brittle in the microwave with this easy homemade candy recipe!