An easy Cream Cheese Mints recipe for any occasion! These melt-in-your-mouth mints have just a handful of ingredients and a perfect minty flavor. Enjoy them as they are or customize them with your favorite festive colors!
Today's mints make amazing party favors. Add them to a cookie tin with some Chocolate Peppermint Grahams and everyone will go home happy! Or whip up a batch of our favorite cheesecake cookies.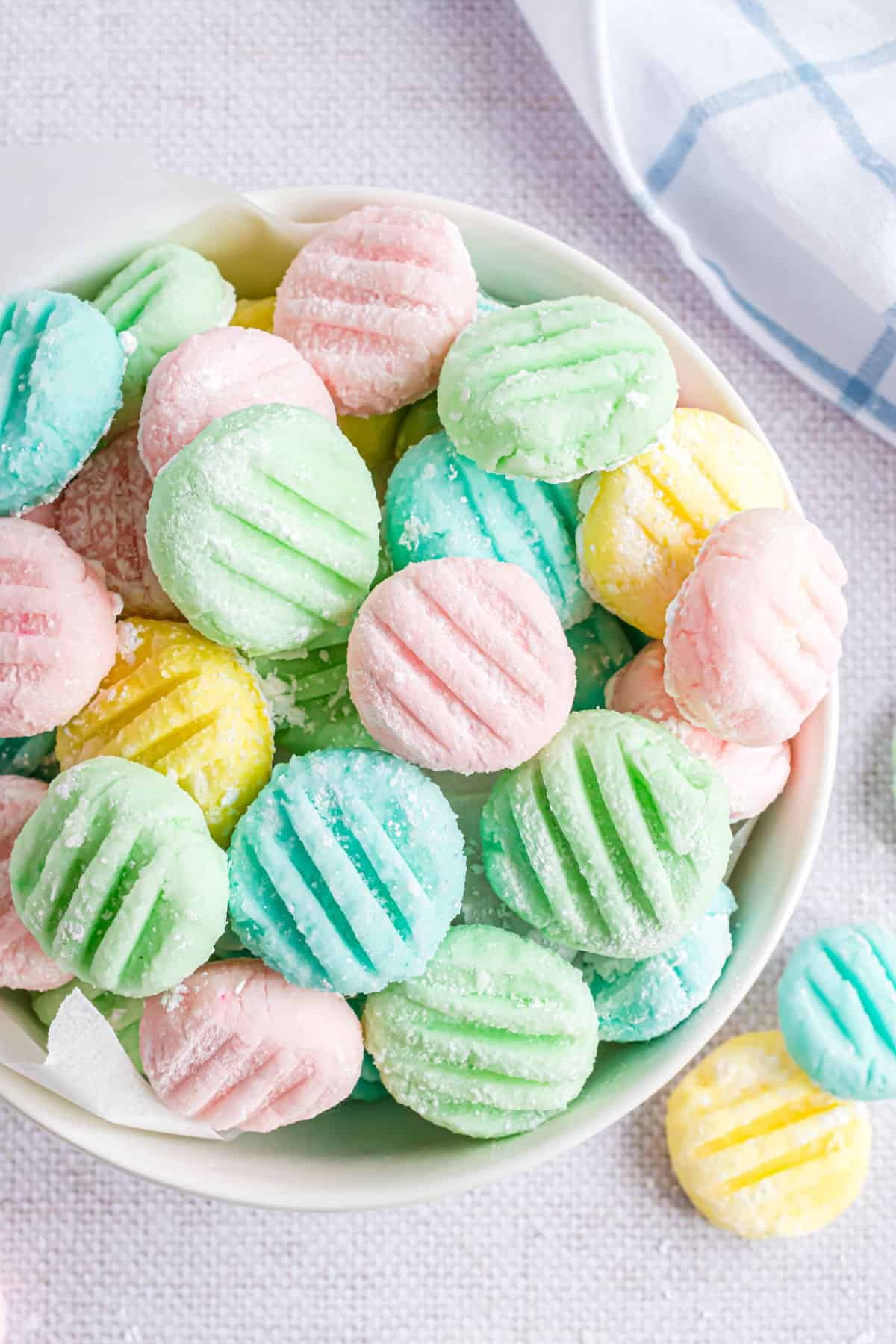 Why These Mints are Best
There was a period of time when mints made with cream cheese were a staple at every big celebration. In fact, the mints we're making in this recipe are sometimes called "wedding mints" because they're commonly seen at weddings!
Super easy to make.
Only 5 ingredients.
Soft and buttery peppermints.
Mix up the colors for any occasion!
When I was kid at weddings or baby showers, I couldn't resist loading my dessert plate with all the colorful sweet mints I could. Such a sweet little candy recipe!
I happen to think old fashioned Cream Cheese Mints make the perfect bite size treat for the holidays too! We added a little red and green food gel to give these classic mints a holly jolly flair.
Ingredient Notes
Here's all you need to make mints at home. Just 5 ingredients.
Cream Cheese – This is the basis of these mints, so make sure to use a full fat cream cheese here! Let it soften at room temperature so it's easier to work with. Do not use the cream cheese that comes in a tub!
Butter – Provides buttery flavor and, along with the cream cheese, makes the mints soft and rich. Be sure to opt for real butter (not margarine).
Powdered sugar – Also called "confectioner's sugar", it dissolves into the cream cheese to sweeten the mints without leaving any graininess. It's the "glue" to helping the mints maintain their shape, and we will use a little extra to keep them from sticking too.
Mint extract – We use a touch more than a teaspoon in these mints for best cooling mint flavor. Make sure to use a PURE mint extract, not imitation flavor. You can also use peppermint extract if you prefer.
Food coloring – Gel style coloring works best. Use whatever color or combination of colors that suit the occasion!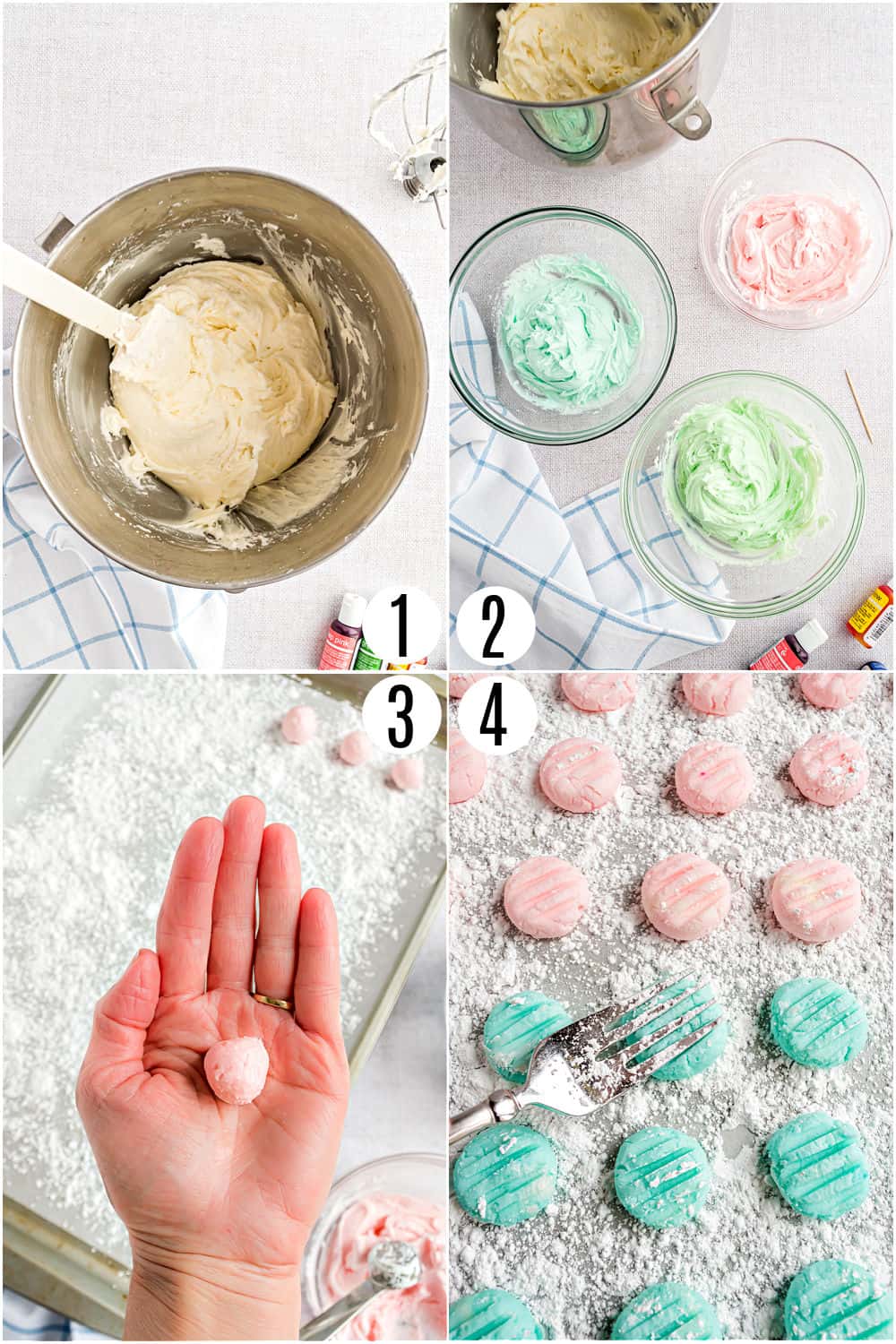 Easy Instructions
Cream Cheese Mints are unbelievably easy to make.
First, mix together the ingredients. After beating butter and cream cheese, add powdered sugar and mint extract, mixing on a low speed. Once combined, turn the mixer up and beat until it's thick and fluffy!
Next, add the food color. If you're making mints with multiple colors, divide the cream cheese mixture into separate bowls (one for each color). Stir in a drop or two of gel food coloring, then chill each bowl.
Shape the mints. Scoop the cream cheese mixture into small balls. Place them on a baking sheet dusted with powdered sugar. Dip a fork in powdered sugar, then press the tines into the tops of each mint.
Sprinkle the mints with more powdered sugar. Let them set uncovered until hardened.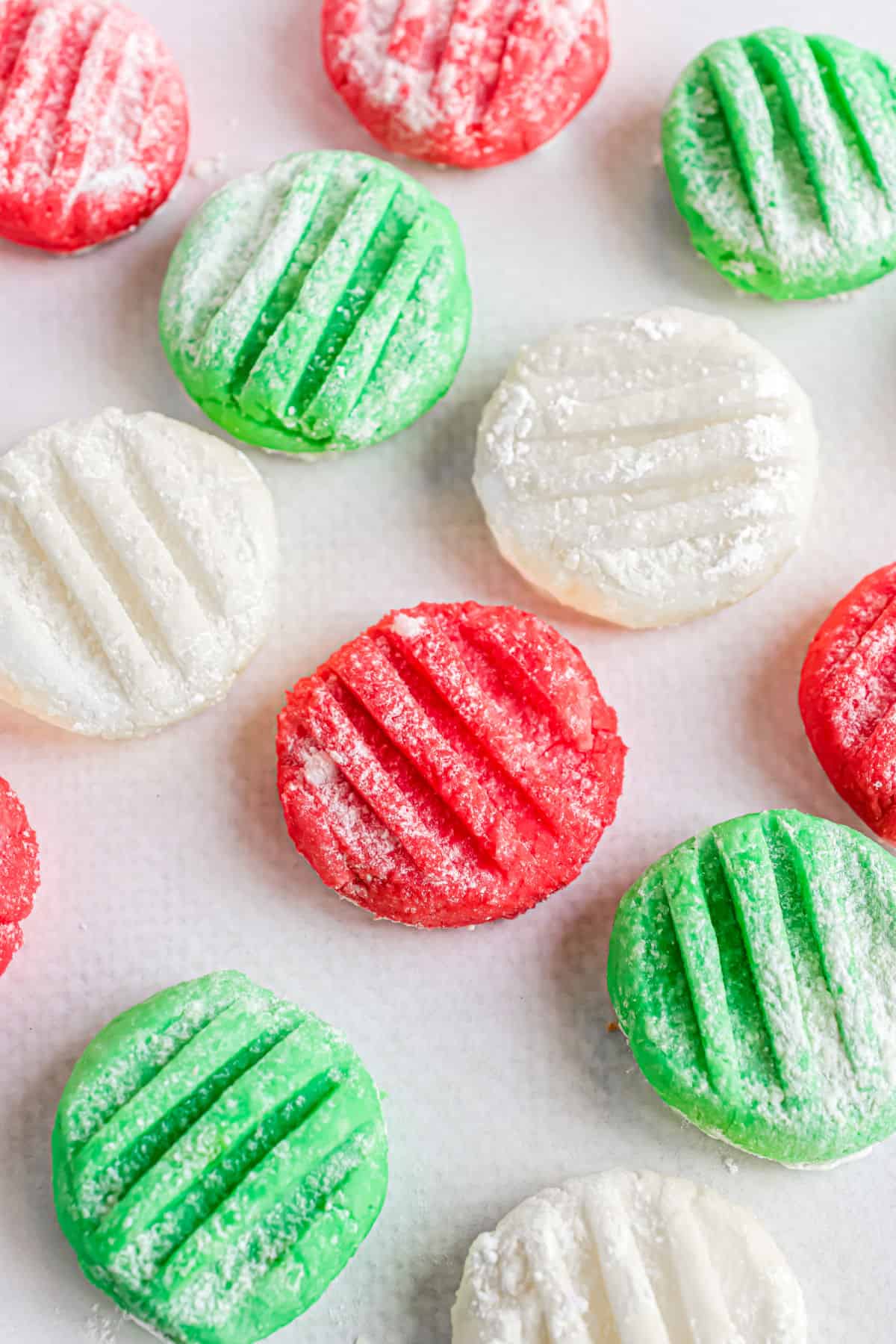 Tips and Tricks
Holiday variation: Add red and green gel to give these a festive appearance for Christmas, and swap out the mint extract for peppermint.
Scoop it: I use a teaspoon to scoop the mints onto the baking sheet. Dip the teaspoon in powdered sugar so the cream cheese mixture doesn't stick.
Flavors: Try our strawberry mints for a flavorful twist! Or swap out the mint extract and use lemon or orange extract instead for a citrus treat.
Powdered sugar helps keep the hardened mints from sticking together, even if stacked. For extra protection against stuck-together mints, add a sheet of parchment paper between each layer of mints. You can also use granulated sugar instead of powdered sugar if you want them more sparkly instead of "snowy."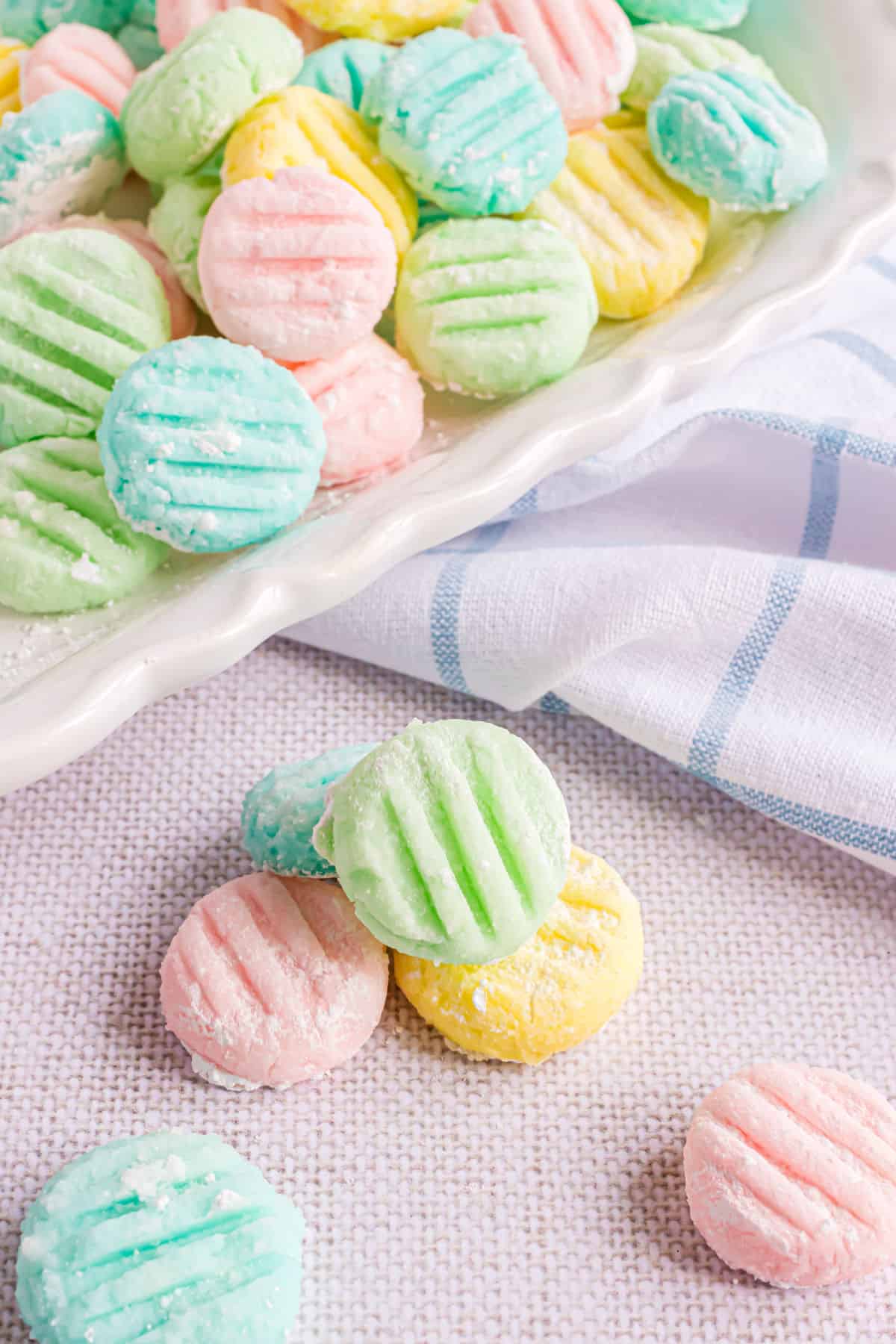 Recipe FAQS
How do I store these mints? How long do they keep?
Store hardened mints in an airtight container in the refrigerator. They'll keep in the fridge for about 2 weeks.
Can you freeze Cream Cheese Mints?
You sure can. They can be kept frozen for up to 3 months. Make sure to store them in freezer bags or a similarly freezer safe container to preserve freshness.

Can you use plastic molds for Cream Cheese Mints?
Yes, this cream cheese mint recipe works beautifully with food-safe plastic or silicone molds. Dust the insides of the molds with granulated sugar before adding the cream cheese mixture.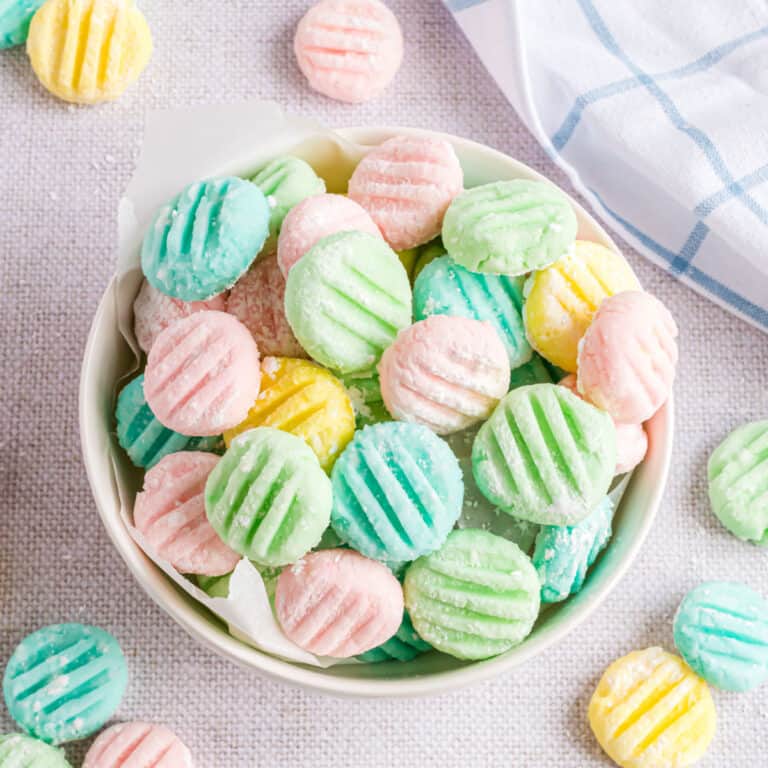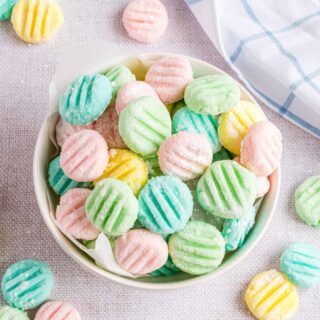 Cream Cheese Mints
An easy Cream Cheese Mints recipe for any occasion! These melt-in-your-mouth mints have just a handful of ingredients and a perfect minty flavor. Enjoy them as they are or customize them with your favorite festive colors!
Ingredients
¼

cup

unsalted butter

softened

1

package

cream cheese, softened

8 ounce

2

pounds

powdered sugar

divided (this is about 7 1/2 cups)

1 ½

teaspoon

pure mint extract

gel food coloring

optional
Instructions
In a large mixing bowl with whisk attachment, beat butter and cream cheese until fully combined, about 3-4 minutes. Beat in extract.

Add 7 cups of the powdered sugar (reserving about 1 cup for later). Mix on the lowest speed until it comes together (trust me it will)! Once it combines (into what resembles a very thick frosting), turn the mixer higher and beat until fluffy (and additional 2 minutes).

Divide mint mixture into small bowls (one for every color you decide to use). Add one SMALL drop of color to each bowl and mix until combined. I use a butter knife and stir vigorously, it seems to work best.

Cover each bowl and refrigerate for at least two hours, or overnight.

On a large cookie sheet (you'll need 2-3), line with parchment paper. Sprinkle with a generous amount of the reserved powdered sugar.

Scoop about 3/4 teaspoon of mint dough into hands and roll into a ball (I use a teaspoon dipped in powdered sugar to do this part). Drop each ball onto the baking sheet. Repeat until pan is filled.

Using a fork dipped in powdered sugar, press into the tops gently. Sprinkle with more powdered sugar and allow to set about 4 hours (uncovered).

When mints have harded, place in airtight container in refrigerator (use parchment paper to separate layers if desired).
Notes
Using extra powdered sugar on top allows you to store and stack these without layers of parchment paper. You can also swap out the powdered sugar to dry them and use granulated instead. This will give them a more sparkly appearance.
STORAGE: Store in airtight container in the refrigerator for up to 2 weeks or freeze for up to 3 months.
HOLIDAY MINTS: to make these more festive, use red and green gel food coloring and swap the pure mint extract for pure peppermint extract.
Nutrition
Serving:
1
mint
,
Calories:
41
kcal
,
Carbohydrates:
9
g
,
Fat:
1
g
,
Cholesterol:
2
mg
,
Sodium:
2
mg
,
Sugar:
9
g
Every party is better with Cream Cheese Mints! 5 ingredient mints take just minutes of effort and make a great addition to your dessert table, holiday treat trays or gift bags.