Strawberry Mints are adorably pink candies you can make at home. These easy mints make a perfect gift or addition to any dessert table.
If you like mint candy recipes, make our mint oreo fudge next. You'll love this Strawberry Shortcake Fudge too.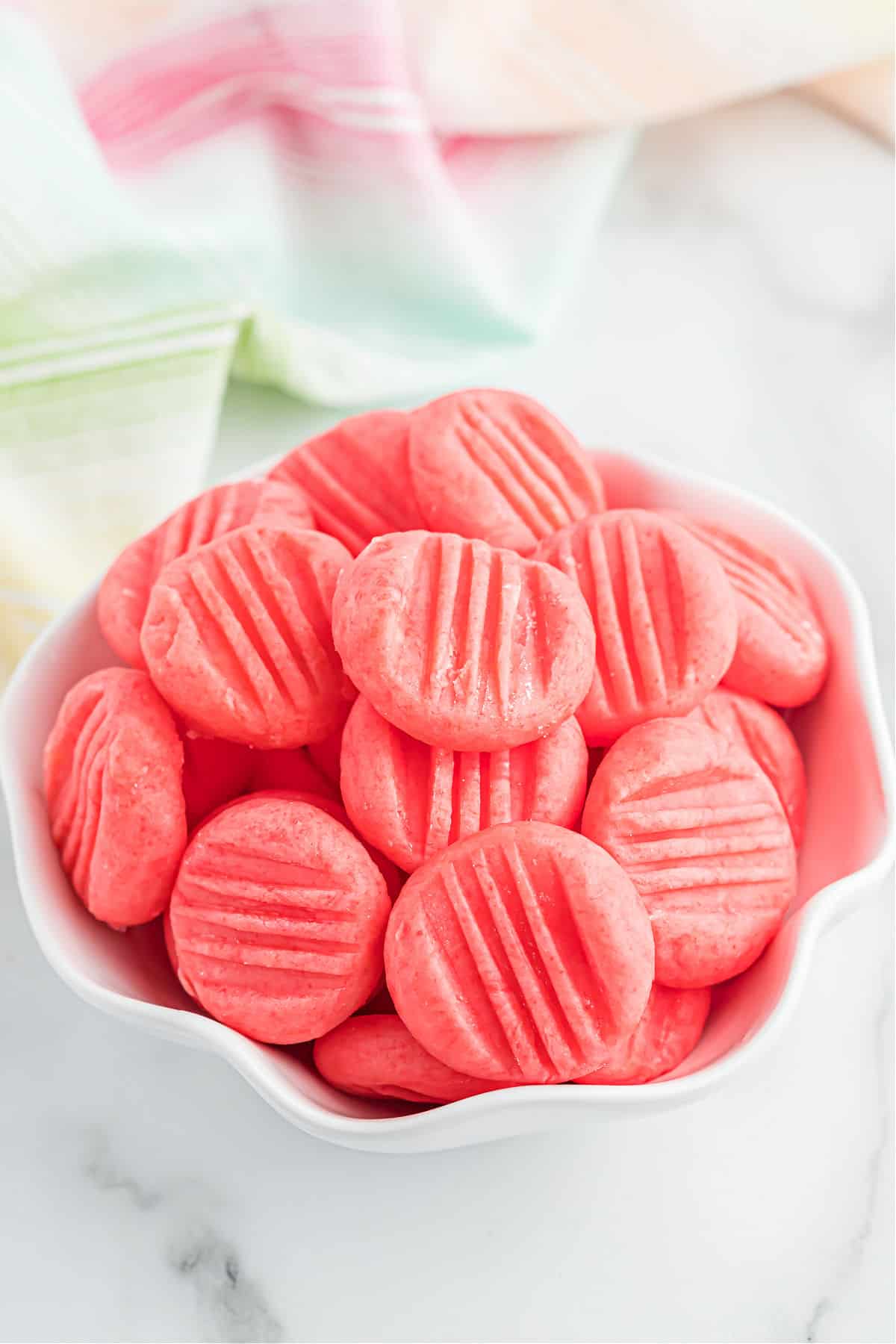 Why This Recipe Works
These homemade mint candies look similar to those cream cheese mints you always see at weddings and baby showers. Only these are made without any cream cheese at all!
No special equipment required!
Buttery soft "melt in your mouth" texture.
Refreshing mint flavor with a hint of strawberry.
Beautiful pink color!
If you love making homemade candy, you'll have to try our copycat Peppermint patties next. So simple, yet easy.
Ingredient Notes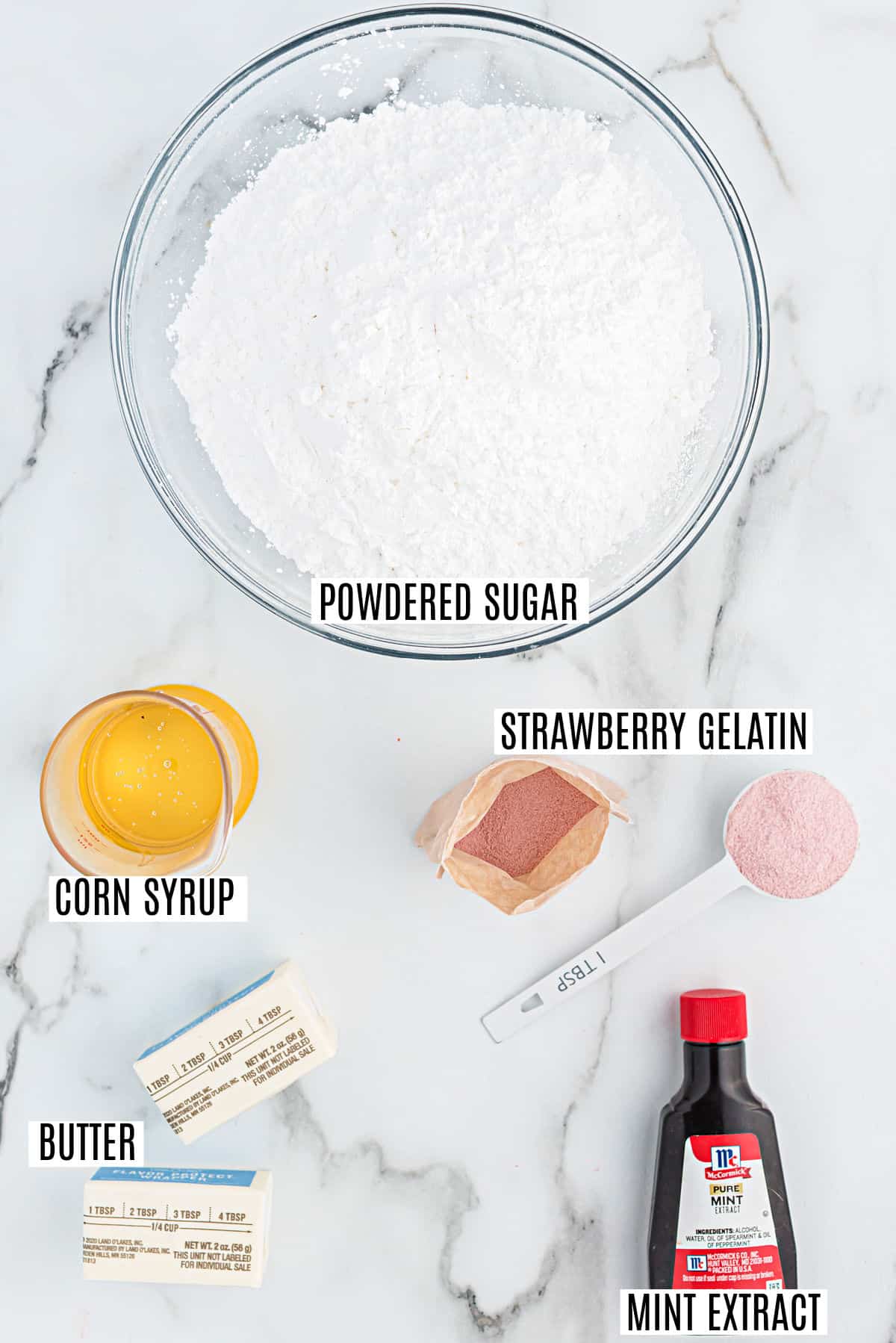 You only need 5 simple ingredients for this Strawberry Mints recipe.
Corn syrup – We use light corn syrup in this recipe.
Butter- unsalted is our prefered choice.
Powdered sugar – Also called "confectioner's sugar", it's combined with the corn syrup to create a soft sticky dough.
Mint extract – We use just a scant half a teaspoon to flavor these mints. Use pure mint extract, not imitation flavoring, for best results.
Strawberry gelatin powder – We added the powder right to the dough for the perfect strawberry flavor and pink color.
Tips and Tricks
The dough will be crumbly when you mix the ingredients together.
Use your hands to roll the dough into balls. The warmth of your hands will help the dough stay together.
Dip the fork in powdered sugar before using it to flatten the mints. This will help prevent the dough from sticking to the fork.
Let the Strawberry Mints set at room temperature for at least 3 hours before you eat them.
Give these as a gift or party favor in a cute jar with a ribbon. Wonderful for Valentine's Day!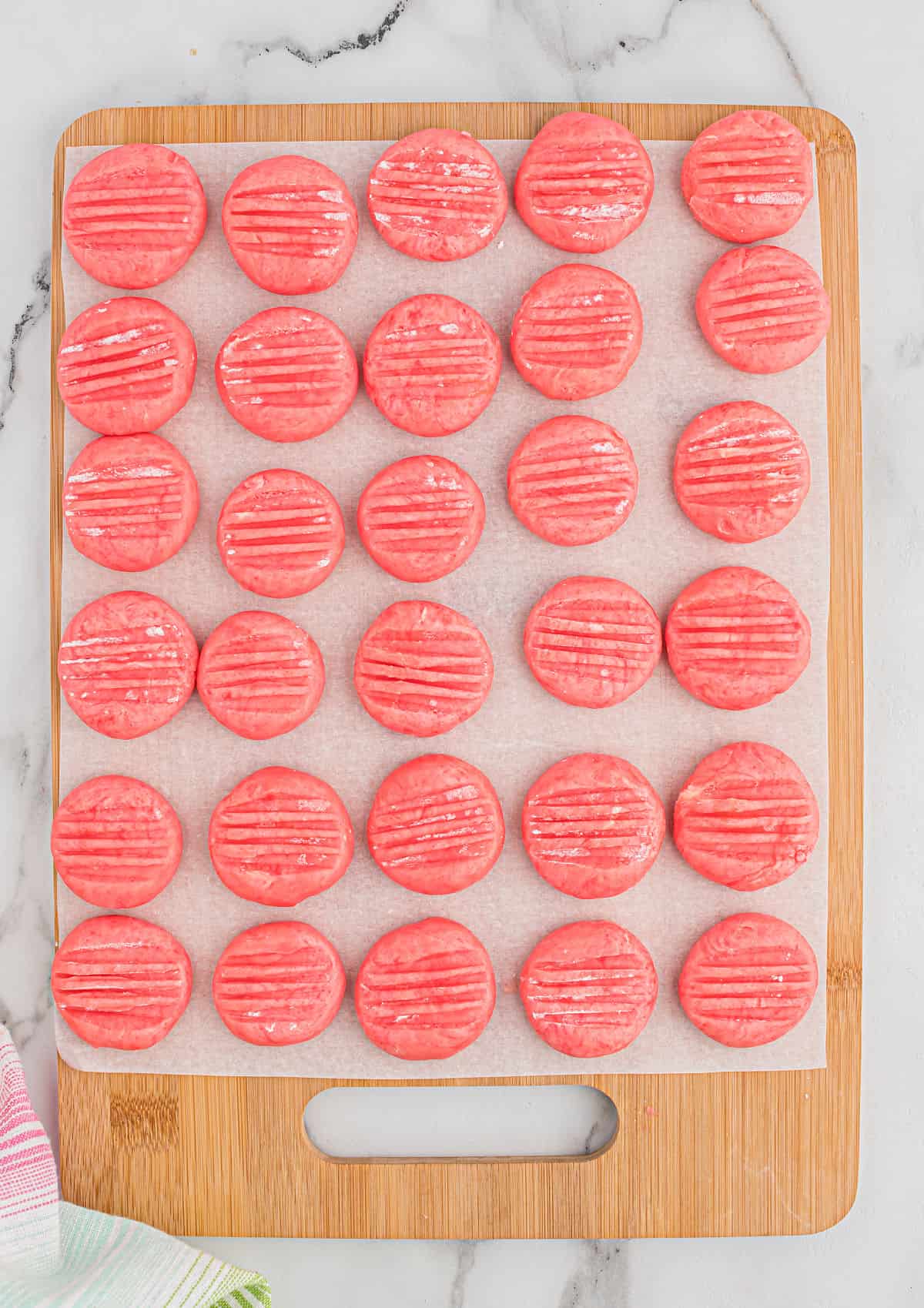 Recipe FAQs
How do you store the strawberry mints?
You can store these at room temperature in an airtight container or in the fridge. They taste delicious chilled.
How can I make these mints with a different flavor?
Change up the flavor of these mints by swapping the Strawberry gelatin for a different flavor. You can use this recipe to make orange mints, cherry mints or any other flavor you like!
Can I use peppermint extract?
I don't recommend peppermint extract for these mints. It's more pronounced than pure mint extract and the sharper taste tends to make the mints taste like toothpaste!

What can I use instead of corn syrup in this recipe?
The corn syrup is essential for both the structure and sweetness of this mint recipe. It can be replaced with other liquid sweeteners with the same results.

For an equally delicious homemade strawberry treat without corn syrup, you might like this Strawberry Swirl Fudge instead!
Homemade Strawberry Mints are soft, sweet and so pretty in pink!