This sweet Strawberry Shortcake Fudge recipe is a knockout! Creamy vanilla fudge with a strawberry swirl sits on a buttery cookie crust. No candy thermometer needed to make this delicious fudge recipe.
Now you can have all the flavors you love from Strawberry Shortcake in bites of fudge! Don't forget to try these Strawberry Shortcake Ice Cream Bars too.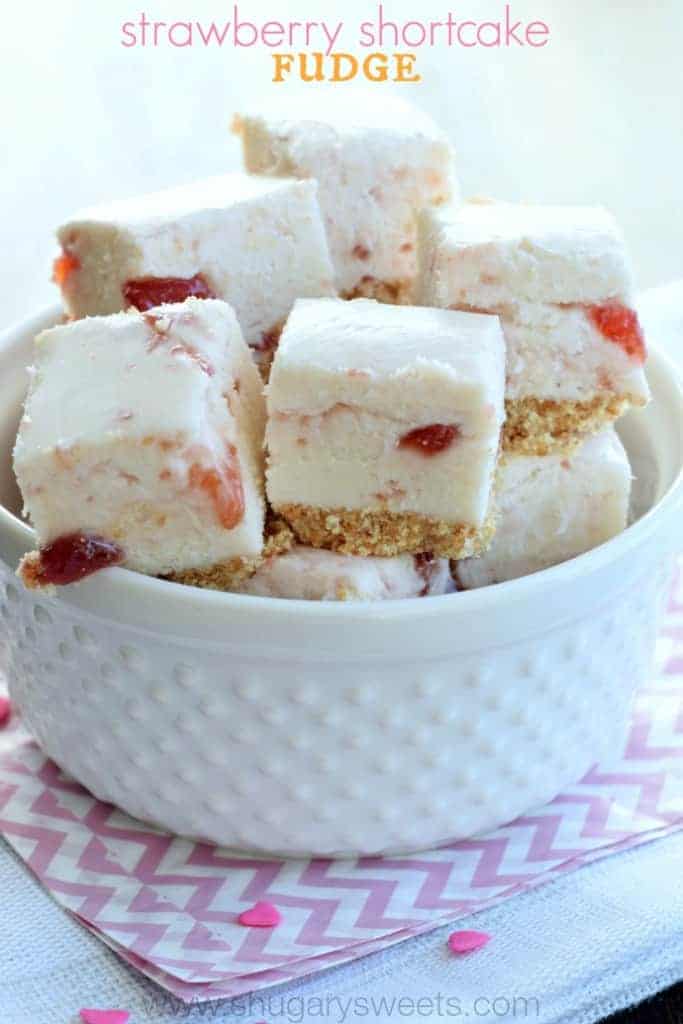 Why this Recipe is Best
One of the handiest kitchen skills to have is knowing how to make fudge. You can make so many different flavors for different occasions–and it makes a perfect gift.
My fudge recipes require NO candy thermometer, special equipment or skill.
Using marshmallow fluff and white chocolate chips as a base, the fudge has all the velvety texture and sweetness of fancy candy store fudge.
For this Strawberry Shortcake Fudge Recipe, I just swirled strawberry preserves to a simple vanilla fudge. Nilla wafer crumbs and butter come together to form the crust layer.
The combo of creamy, fruity and buttery flavors is just like strawberry shortcake! But better because it's FUDGE.
Ingredient Notes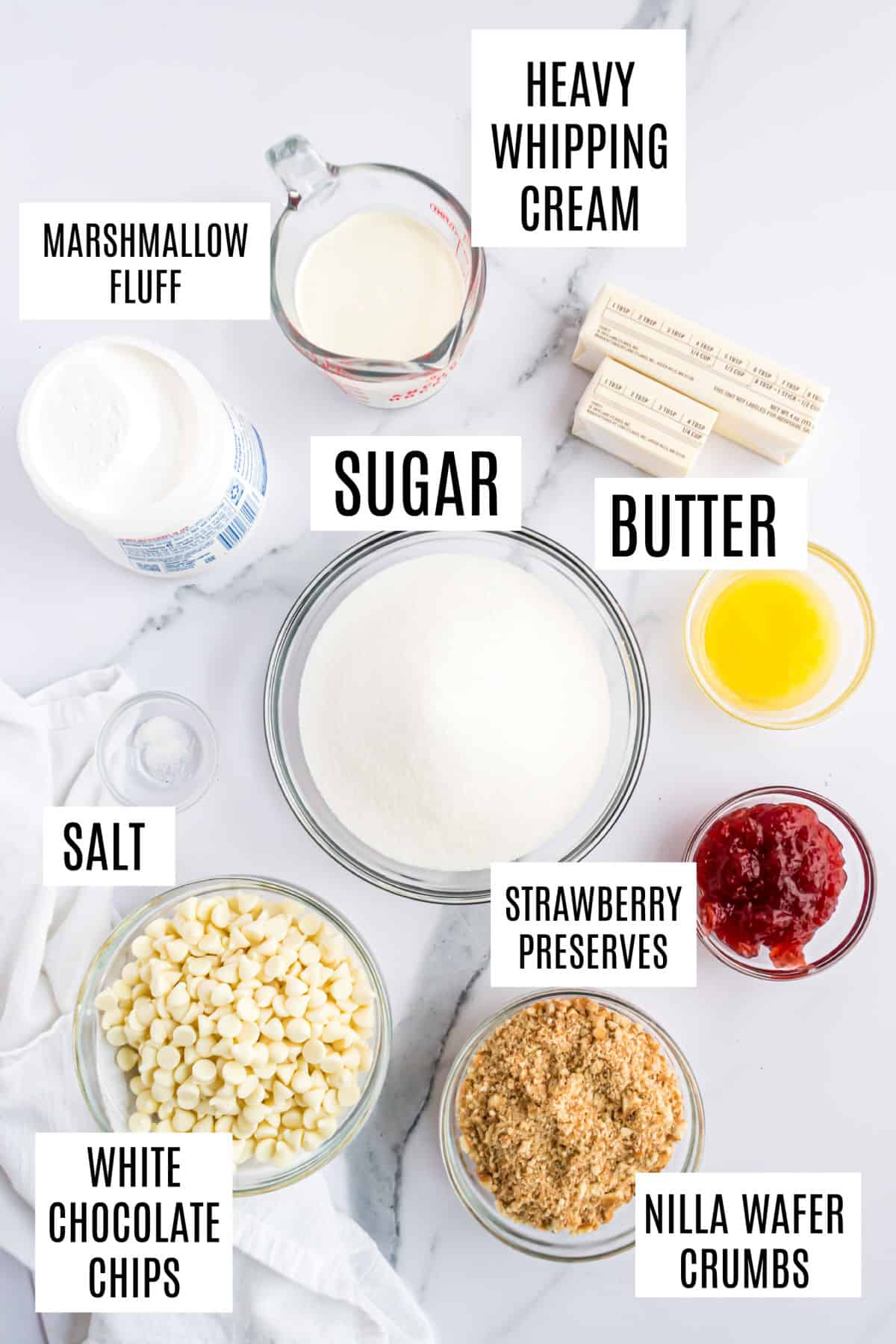 Nilla wafer crumbs. You need about 48 wafer cookies. Pulse the cookies in a food processor to form crumbs. Or you can place the cookies in a plastic bag and crush them by hand with a rolling pin.
Strawberry preserves. Any strawberry jam or preserve you like will work here. Do not use strawberry jelly, as it'll clump together instead of swirling easily into the fudge.
Marshmallow cream. Also called marshmallow fluff, this helps give the fudge its soft texture.
White chocolate chips. Use a good quality chocolate, as they flavor is important. We usually opt for Ghirardelli white chocolate chips!
Easy Instructions
To make the crust: Combine the nilla wafer crumbs with melted butter. Press into the bottom of a foil lined pan.
To make the fudge:
Heat butter, heavy cream, sugar and kosher salt over medium heat. Let it boil for 4 -5 minutes. Then pour the mixture over a bowl filled with white chocolate chips and marshmallow cream.
Use electric beaters to beat the fudge ingredients together until smooth. Add the strawberry preserves to the bowl and gently swirl it into the fudge.
Pour the strawberry fudge mixture over the prepared crust. Chill for 4 hours until set. Slice into bite sized squares and serve!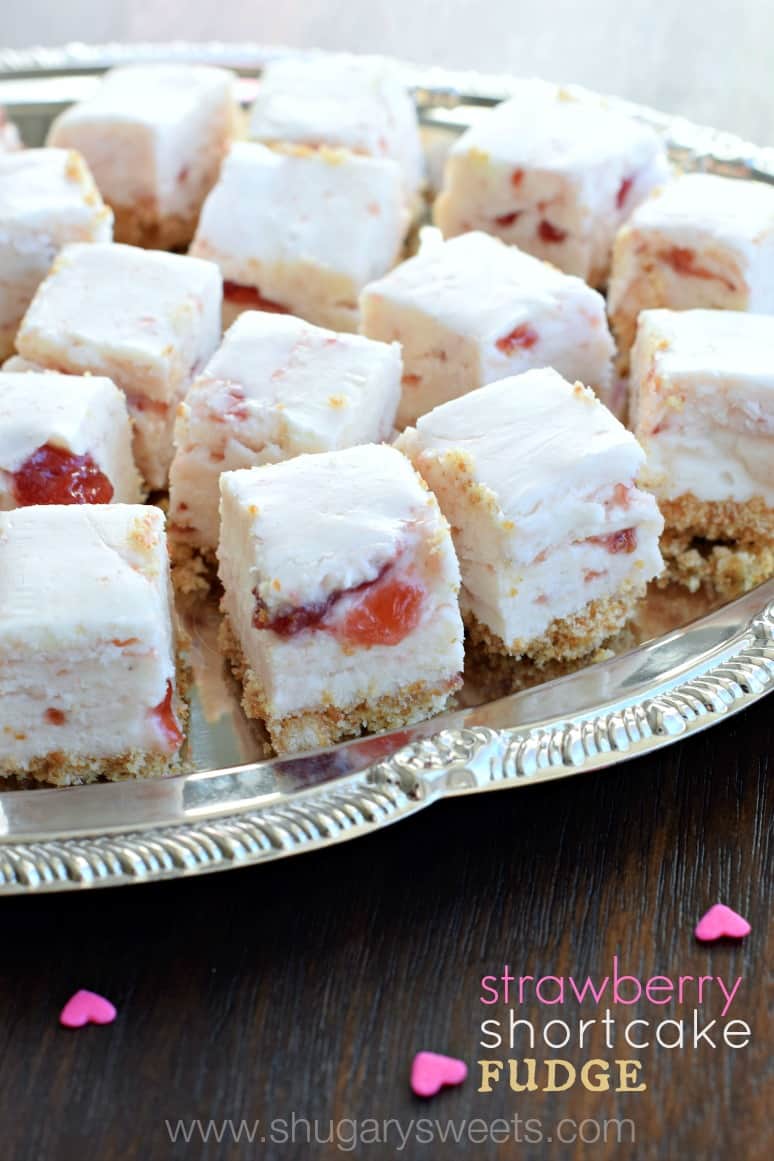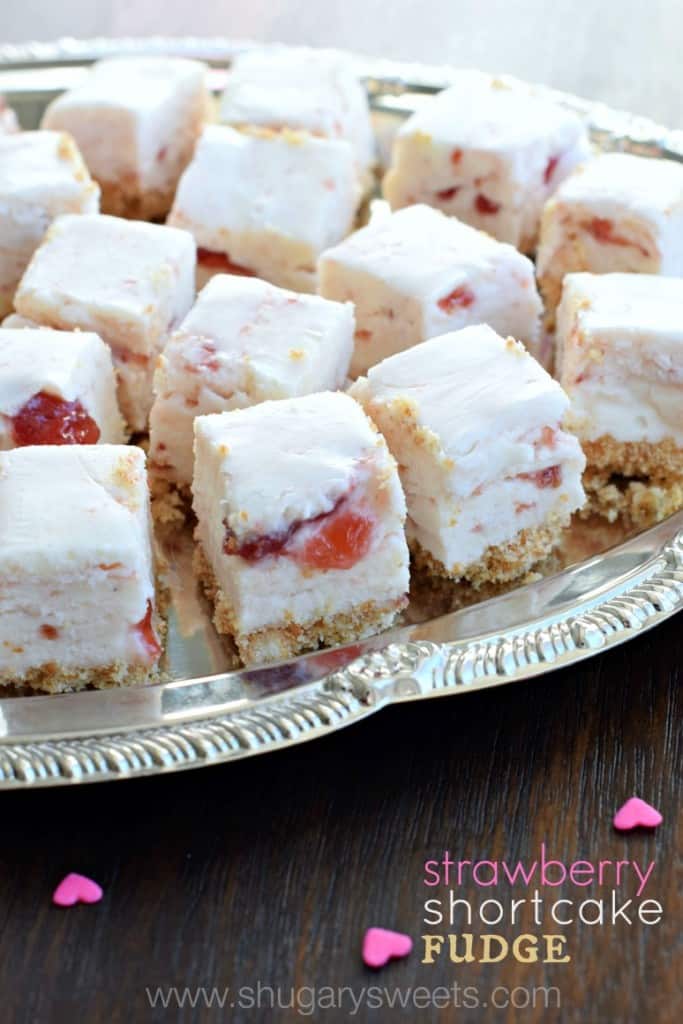 Tips and Tricks
How to store: Keep strawberry shortcake fudge in an airtight container at room temperature or in the fridge. I recommend storing UNCUT for best freshness. Cut a little at a time; only what you're eating or serving immediately.
How to freeze fudge: Wrap uncut fudge in plastic cling wrap. Then place in a freezer safe bag. It'll keep well for 2 months. Let thaw at room temperature or in the fridge before cutting.
Use an electric mixer: Beaters or a stand mixer help incorporate the fudge ingredients quickly, before they cool down. You CAN mix by hand but it's much more difficult and time consuming.
Recipe FAQs
Can you make this recipe with other flavors of jam?
Yes, any fruit preserves can be used in this fudge recipe. Of course, that would make it not strawberry shortcake fudge anymore–but still tasty!
Do you have to keep homemade fudge in the refrigerator?
No, you do not have to keep fudge in the refrigerator. Unless, you want to prolong the shelf life OR you simply enjoy the taste of cold fudge. This Strawberry Shortcake fudge tastes great both at room temperature and chilled.
What is marshmallow cream?
Marshmallow cream is a spread with the flavor of marshmallows. It is thick but pourable and helps this fudge achieve the perfect texture–without having to boil sugar for hours or use a candy thermometer.
How long will this fudge keep?
At room temperature, the strawberry shortcake fudge is best enjoyed within 5 days. If storing in the fridge, it'll stay good for up to 2 weeks.
Irresistible squares of fudge with a strawberry surprise! Strawberry Shortcake Fudge is easy to make and even easier to love.