This sweet Strawberry Shortcake Fudge recipe is a knockout! Perfect for your next dessert.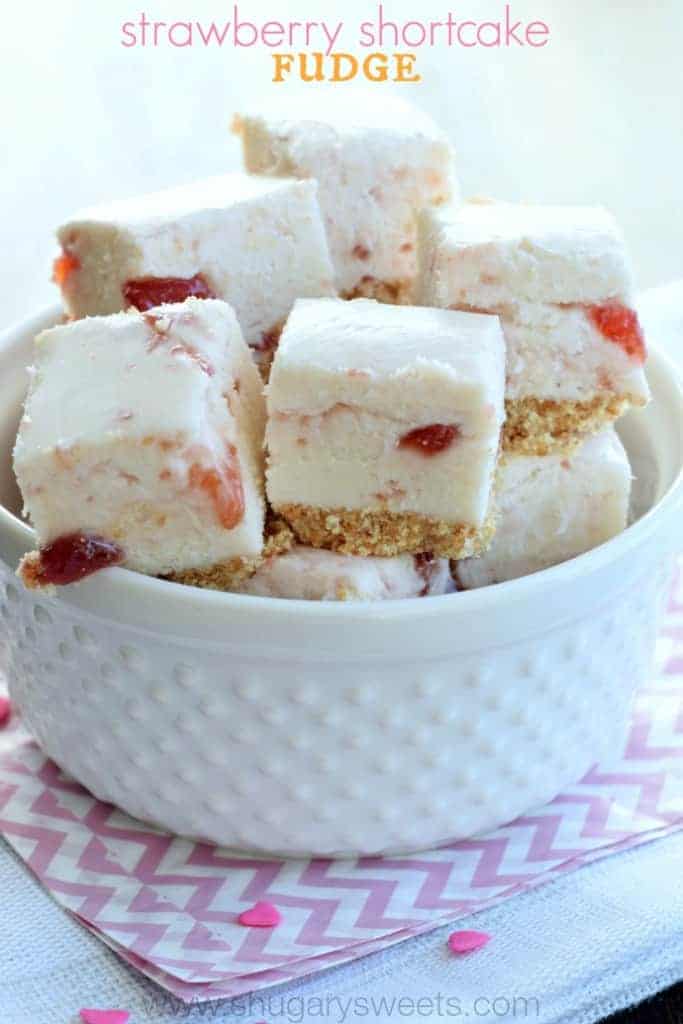 As I sat down to write out the recipe for this Strawberry Shortcake Fudge, I couldn't help but reminded of my middle daughter and the day we refer to as "The Strawberry Shortcake incident."
You would think hearing that, she did something cute with food. Right?
Oh no. She was such a little trouble maker in her early years! So much so that if you asked her what her name was she would say "Trouble." Yeah, it was cute, but wow, she was a handful.
But, back to the "incident." My husband and I had been working hard painting and decorating my craft room. We would put the kids down to bed, then stay up late painting. There was one evening, we had just finished the room and we were exhausted. In our exhaustion, we made a fatal flaw. We left out our supplies and went to bed.
The next morning, chaos struck. Well, actually it was like most mornings. I had to get my older two up and ready to leave for school (they were 6 and 8 at the time). I also had a one year old I was feeding and getting dressed and ready to leave for Bible study. My middle daughter, "Trouble," took this moment to check out the craft room. And in a span of 3 minutes, added her own artwork to the walls with the open paint.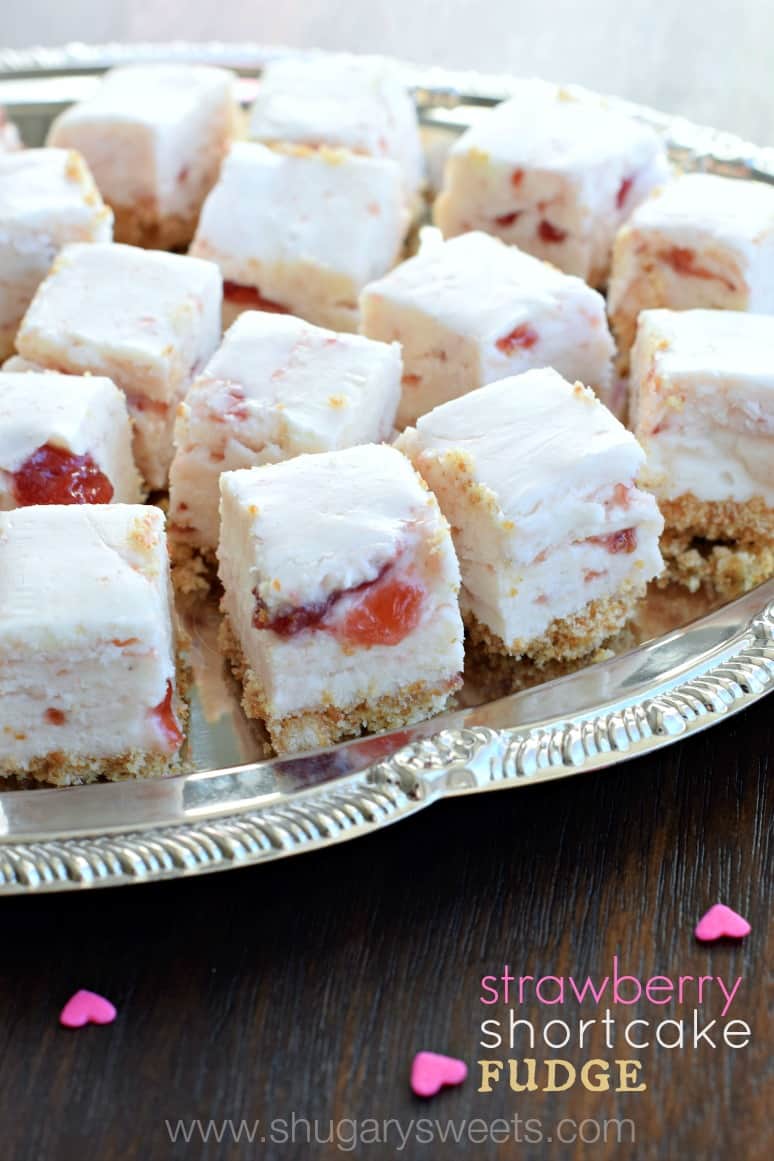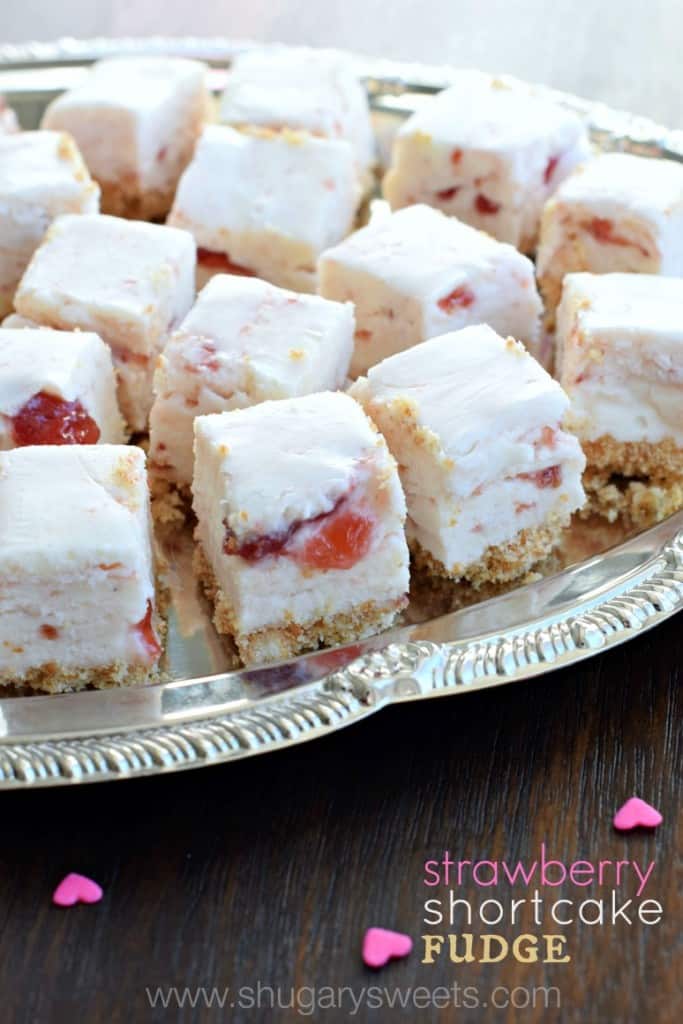 Where does the Strawberry Shortcake come into the story you ask? Well, we did think we were smart by at least putting away all the paint brushes. But my daughter was a tad smarter than us. She dipped her strawberry shortcake doll (hair first) into the leftover paint and used her doll as a paint brush. Bright orange paint on our white bead board. She made a mess. I arrived (ON TIME) to my bible study group that morning with a 3yr old wearing a shirt covered in orange paint, both of us needing prayers!
Now my daughter is turning 13 and that story just brings a smile to my face every time I tell it. And today's Strawberry Shortcake Fudge is a sweet tribute to all those sweet trouble makers!
I used Nilla Wafers to make the crust on today's fudge, but feel free to use Golden Oreos or shortbread cookies. Keep the fudge in the refrigerator until you're ready to enjoy!
Yield: 64 servings
Strawberry Shortcake Fudge
Total Time
4 hours
20 minutes
This sweet Strawberry Shortcake Fudge recipe is a knockout! Nilla Wafer Crust with strawberry shortcake topping!
Ingredients
FOR THE CRUST:
1 1/2 cups nilla wafer crumbs, about 48 cookies
3 tablespoons unsalted butter, melted
FOR THE FUDGE:
2 cups granulated sugar
3/4 cup unsalted butter
pinch of salt
3/4 cup heavy cream
11 ounces white chocolate chips
7 ounces marshmallow cream
3/4 cup strawberry preserves
Instructions
Line a 9-inch square dish with foil. Set aside.
In a food processor, pulse cookies until fine crumbs. Add melted butter and stir until combined. Press into bottom of prepared dish.
In a large mixing bowl, add white chocolate chips and marshmallow cream. Set aside.
In a large saucepan, combine sugar, butter, salt and cream. Heat over medium high heat, stirring constantly, until mixture begins to boil. Continue boiling for 4-5 minutes (at a rolling boil). Remove from heat and pour over chocolate chips and marshmallow cream.
Using an electric mixer, beat mixture until white chocolate chips are melted and fudge is creamy (about 1-2 minutes). Add strawberry preserves and stir gently until swirled in. Pour over crust. Refrigerate fudge for 4 hours. Cut and serve!
Nutrition Information:
Yield:
64
Serving Size:
1
Amount Per Serving:
Calories:

223
Total Fat:

11g
Saturated Fat:

5g
Trans Fat:

0g
Unsaturated Fat:

5g
Cholesterol:

11mg
Sodium:

89mg
Carbohydrates:

30g
Fiber:

1g
Sugar:

21g
Protein:

2g
*Nutrition facts are an estimate and not guaranteed to be accurate. Please see a registered dietitian for special diet advice.