Velvety smooth fudge that's pretty in pink! This Strawberry Swirl Fudge recipe makes it easy to create homemade candy with swirls of vanilla and strawberry fudge with no candy thermometer needed!
Our readers love our homemade fudge recipes. From easy peanut butter fudge, to our swirled turtle fudge recipe. There's a flavor for everyone to choose.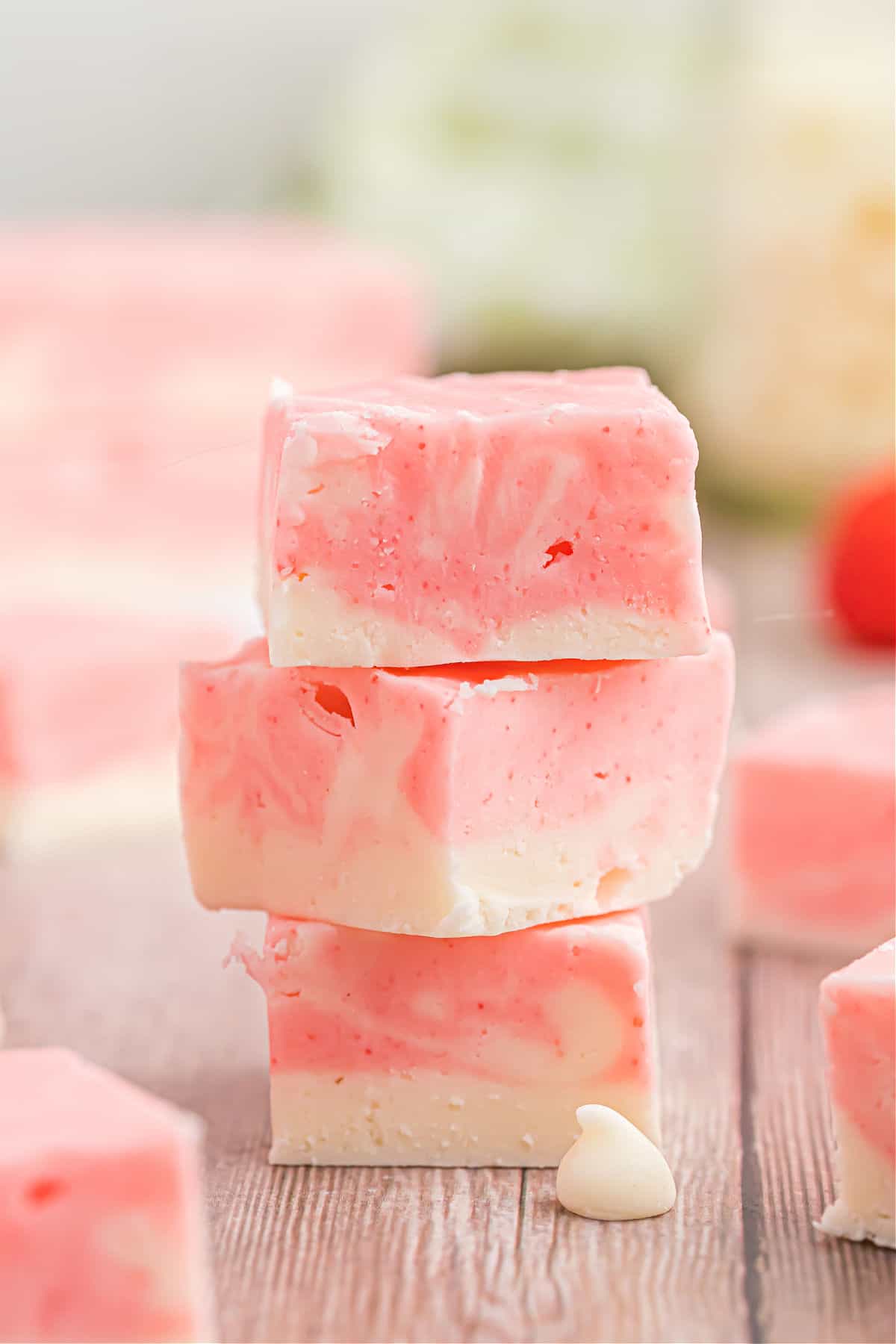 Why This Recipe is Best
What is it about strawberries and cream that's so dang delicious? This fudge is reminiscent of juicy plump strawberries dipped in fresh whipped cream. Perfection!
And let me put any doubts you have aside: making fudge can be easy!
No candy thermometer needed
Using strawberry JELL-O for flavor and sweet white chocolate morsels, you'll make the best ever fudge with a strawberry swirl.
Amazing for Valentine's Day, wedding and baby showers, birthdays or whenever you want to share a treat with friends.
My husband would choose a strawberry dessert over any other flavor. Be sure to add his favorite strawberry shortcake ice cream to your list. Or give our perfect strawberry layer cake a try soon.
Ingredient Notes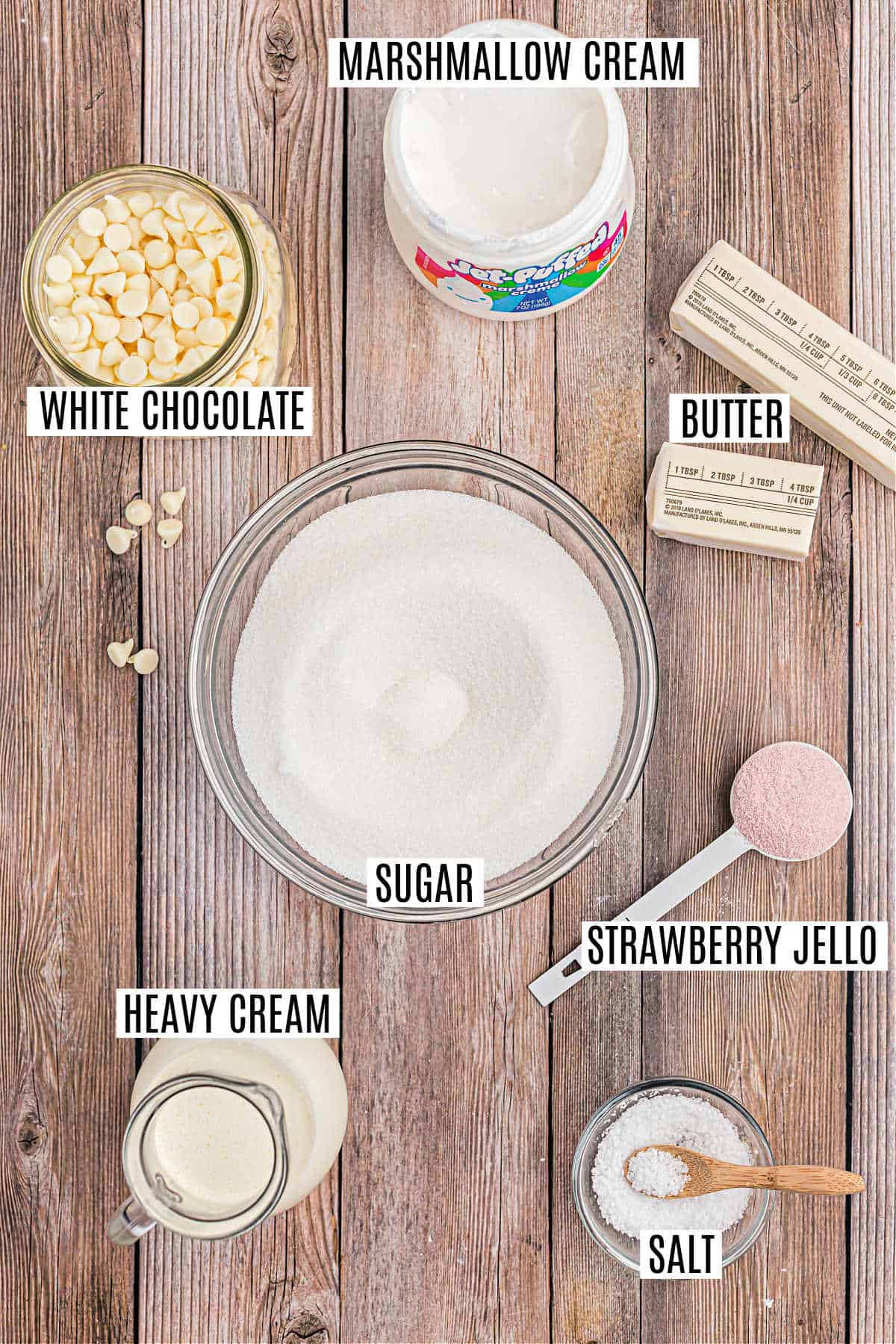 Strawberry gelatin – You only need 1 tablespoon of the mix that comes in a packet for this recipe. I use classic strawberry JELL-O powder.
White chocolate – Morsels melt beautifully to give the fudge its creamy vanilla flavor base. You can also substitute bars of white chocolate broken into small pieces.
Marshmallow creme – Creme or "fluff" gives the fudge its soft texture while still allowing it to firm up so you can slice it with ease.
Step by Step Instructions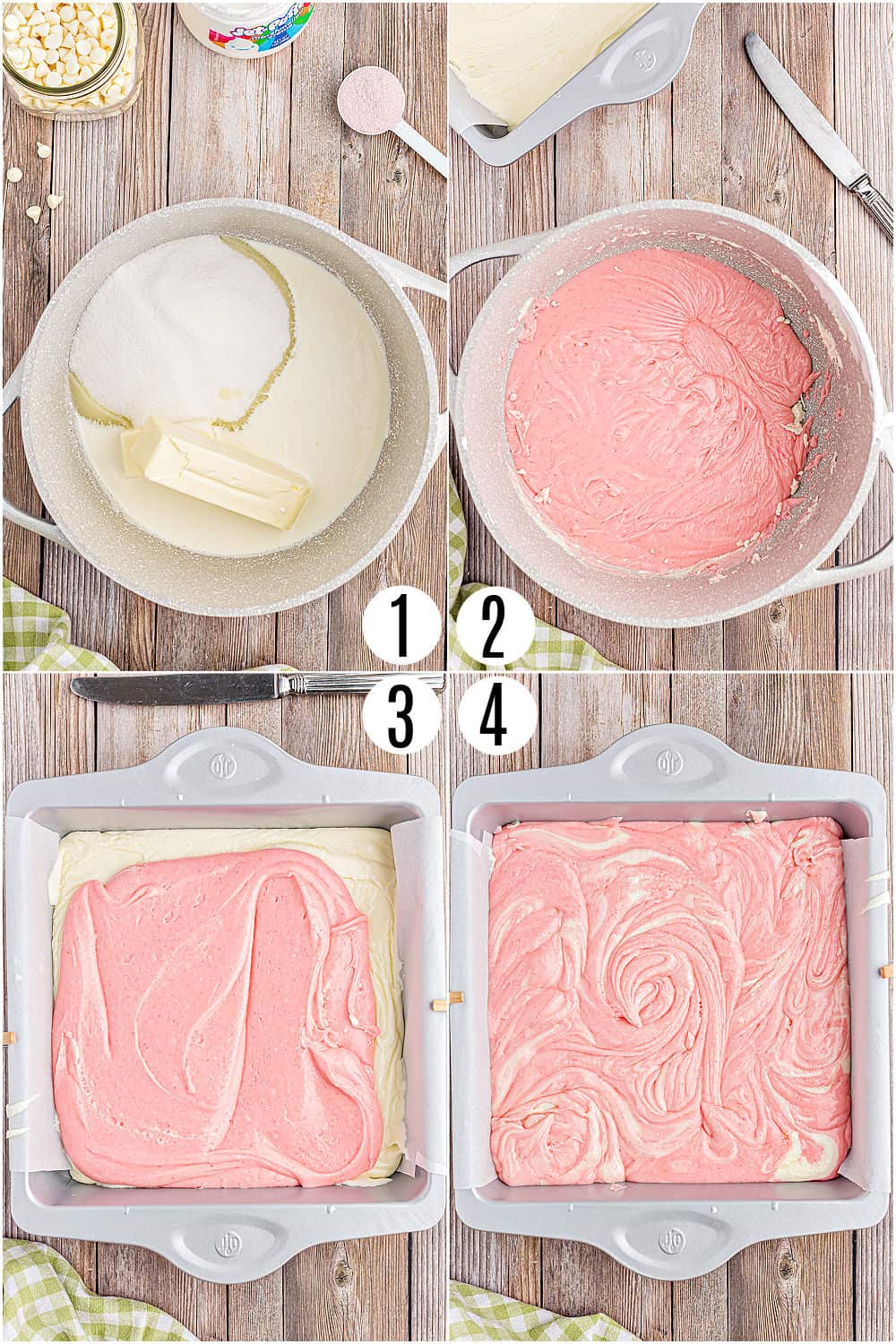 Melt butter and sugar. Heat butter, sugar, heavy cream and salt together in a sauce pan, stirring constantly while it boils for 5 minutes.
Add white chocolate and fluff. Use an electric mixer to beat white chocolate and marshmallow creme into the butter mixture until fluffy and combined. Pour half the mixture into a baking dish.
Make strawberry swirl. Add the strawberry gelatin mix to the remaining fudge and beat to combine. Pour the strawberry layer over the vanilla layer and swirl with a knife.
Let set. Leave the fudge at room temperature for at least four hours to set. You can also let it set overnight! Once firm, cut into squares and enjoy out of this world strawberries and cream fudge.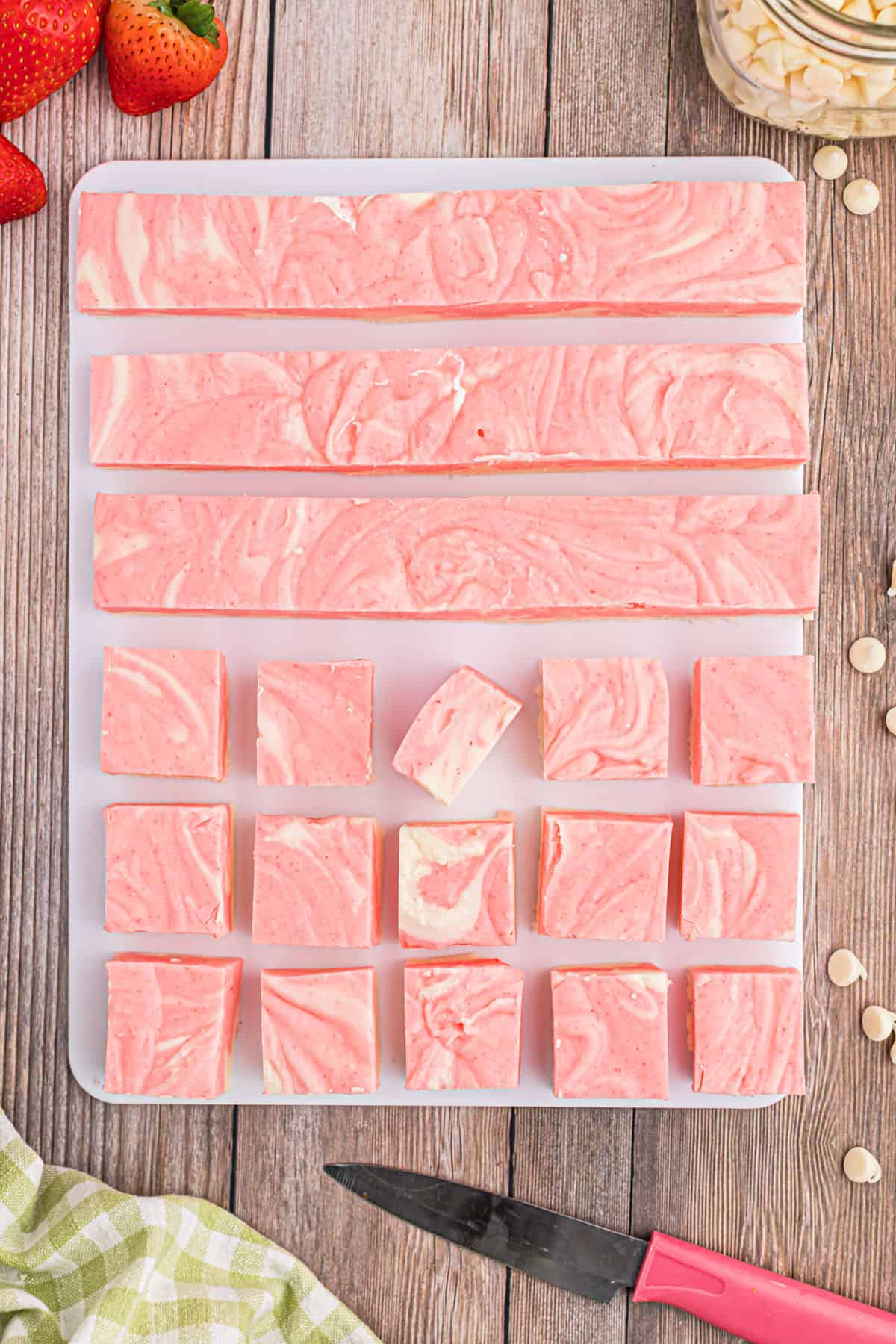 Tips & Tricks
Use a stand mixer: To make combining the ingredients easier, place the marshmallow cream and white chocolate morsels in a bowl of a stand mixer BEFORE melting the butter and sugar. Then, once the butter mixture is ready you can pour it right into the same bowl and beat, beat, beat!
Fresh fudge: Fudge stays freshest when it's been recently cut. If you won't be eating all the fudge right away, store it in a block and cut into squares as needed.
Flavors: Feel free to swap out the strawberry gelatin for raspberry or orange for a delicious twist on the fruit and cream flavors!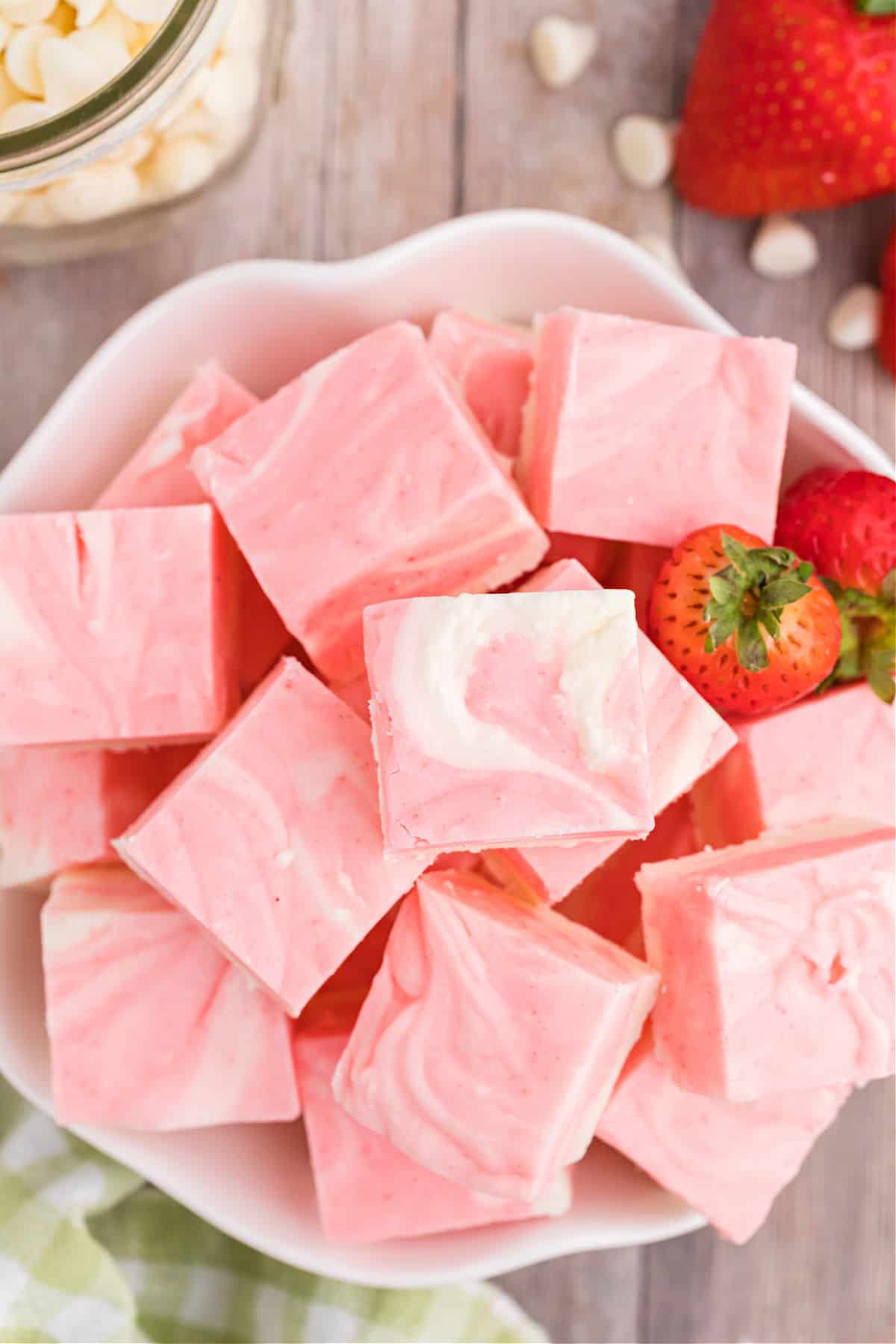 Recipe FAQs
How long will strawberry fudge keep?
Your homemade fudge will stay good for up to 2 weeks if stored correctly! Make sure it's kept in an airtight container with a lid at room temperature.
Can you freeze fudge?
Homemade fudge freezes wonderfully. Store it in a freezer safe container with parchment paper between layers. Thaw overnight in the fridge or on the counter top for a couple of hours.
Do I need a candy thermometer to make fudge?
This recipe does not require a candy thermometer! Boil the butter, sugar and cream for a full 5 minutes, blend well with the other ingredients and you'll get fudge with the perfect sweet taste and consistency.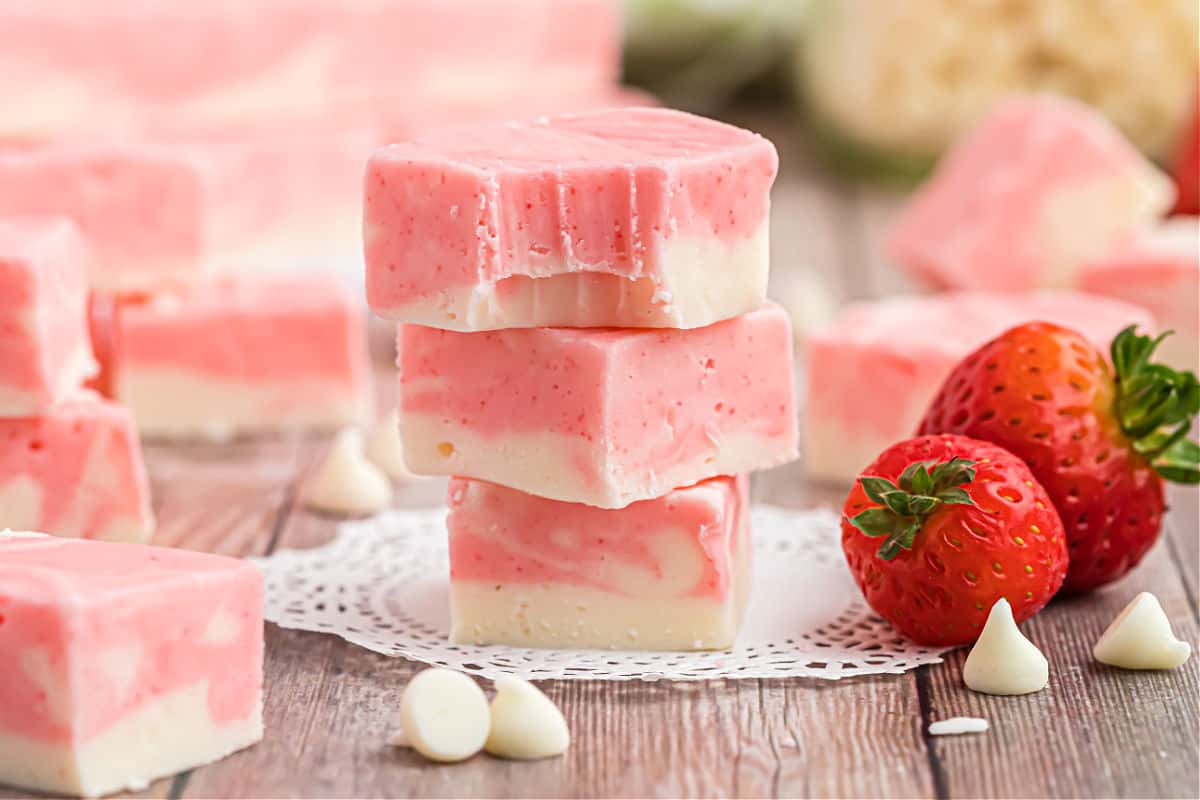 More Fudge Recipes
Strawberries and Cream Fudge is easy and delicious! You can DO this! You can EAT this! You GOT this! You can learn how to make fudge!