I went and did it again.
I made fudge.
Last week I helped host a baby shower for my sister in law, Casey. And, they are having a girl! The first girl in 8 years (3 nephews have come along the way to our family during this time, but no girls).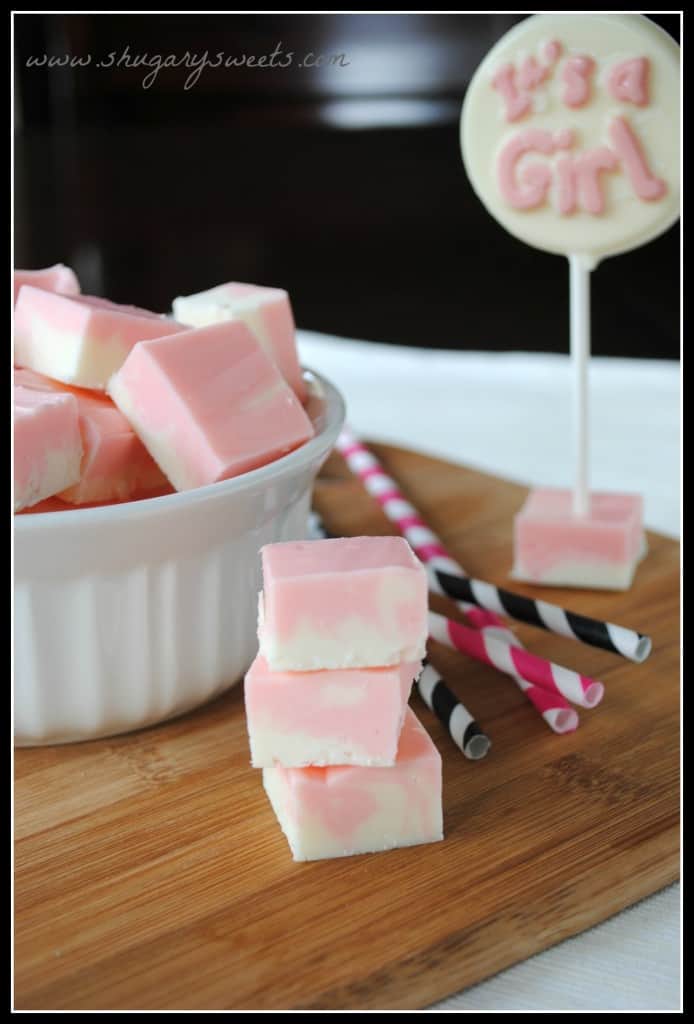 Needless to say, it's super exciting. And it was very pink!
Strawberry and Cream Fudge is easy and delicious! You can DO this! You can EAT this! You GOT this! You can learn how to make fudge! Sorry, getting carried away? Just excited about a new baby girl coming to our family around Christmas!!
I hope you're enjoying my new site! I'm still working on some features and updates and ironing out the kinks, so thank you for your patience!!
If you enjoy this Strawberry and Cream Fudge recipe, you may also enjoy these recipes…
Pistachio Fudge
– pistachio pudding mix and chopped pistachios make a unique fudge flavor, topped with dark chocolate!
Strawberry Swirl Fudge
Ingredients
2 cup granulated sugar
3/4 cup heavy cream
3/4 cup unsalted butter
pinch of salt
11oz white chocolate morsels
7oz jar Marshmallow creme
1 Tbsp strawberry gelatin mix
Instructions
In a large saucepan, melt butter with sugar, heavy cream and salt. Cook over medium-high heat until mixture starts to boil. Stirring constantly, boil for 5 minutes.
Remove from heat.
Using a mixer, beat in white chocolate and marshmallow creme until fully blended and smooth (about 1-2 minutes). Pour half into a parchment paper lined 9-inch baking dish.
To remaining mixture, beat in strawberry gelatin mix, 1 minute until smooth. Pour over first layer and using a knife, quickly swirl the two layers together.
Allow to set at room temperature for 4 hours or overnight. Cut into bite sized pieces and enjoy!