Orange Creamsicle Fudge
Orange Creamsicle Fudge is like your favorite ice cream treat from the truck – but it doesn't melt! Just the right amount of sweet for an afternoon jolt of happiness.
Be sure to sign up for my email…new recipes in your inbox!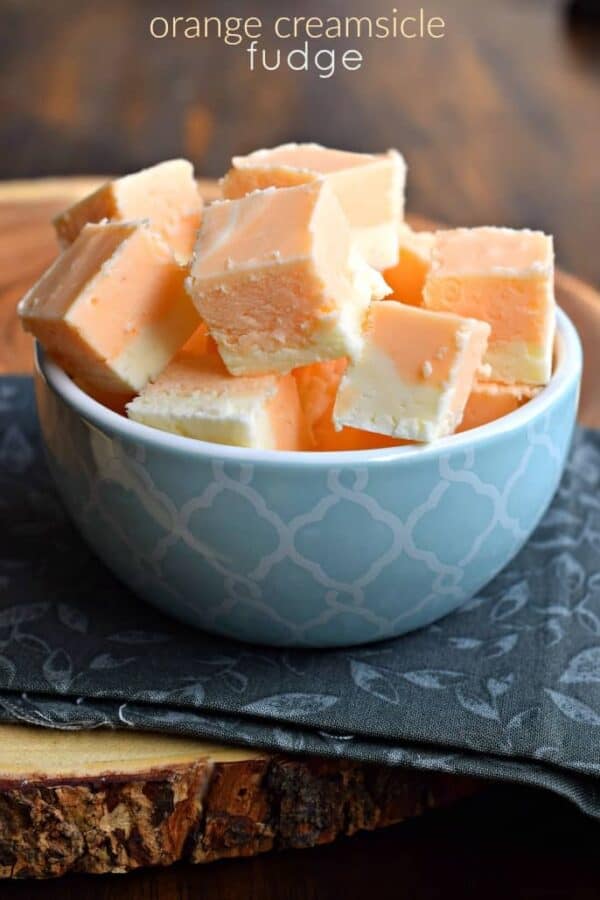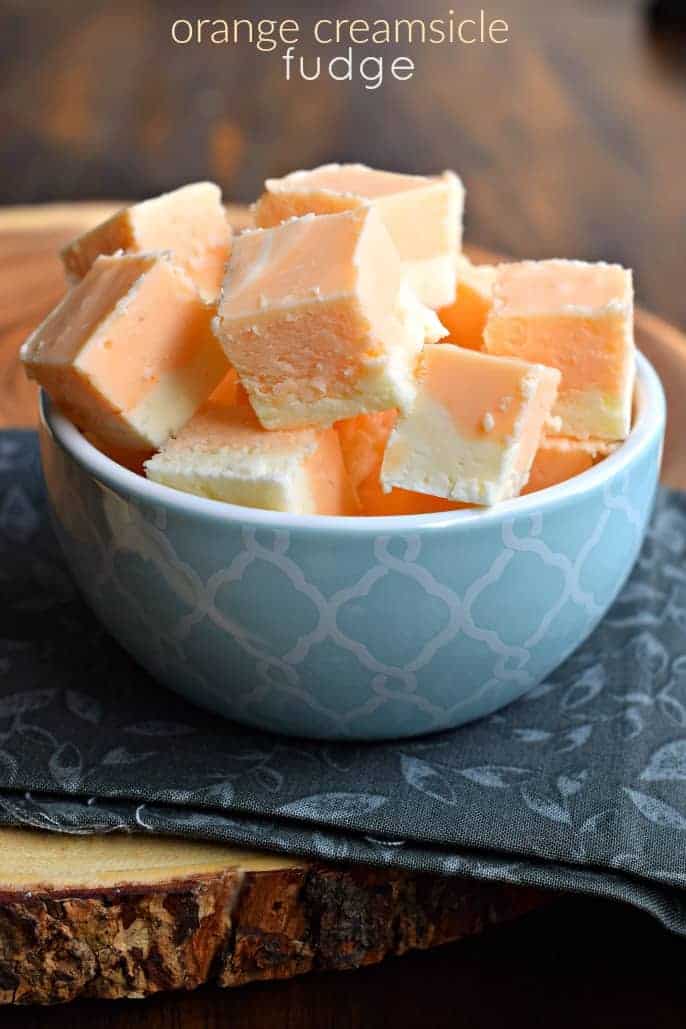 It may be January, and ya'll may be on healthy diets…but Valentine's Day is right around the corner and you better believe we all drop our diets for dessert. Am I right?
When we lived in Ohio there was this ice cream shop that served a delicious soft serve Orange Twist cone. It was Orange Sherbet swirled with Vanilla Ice Cream. Much like a Creamsicle, but served on a cone!
To get that same flavor, you can also put vanilla ice cream and pour Orange Crush soda over it to make and Orange Float. DELICIOUS.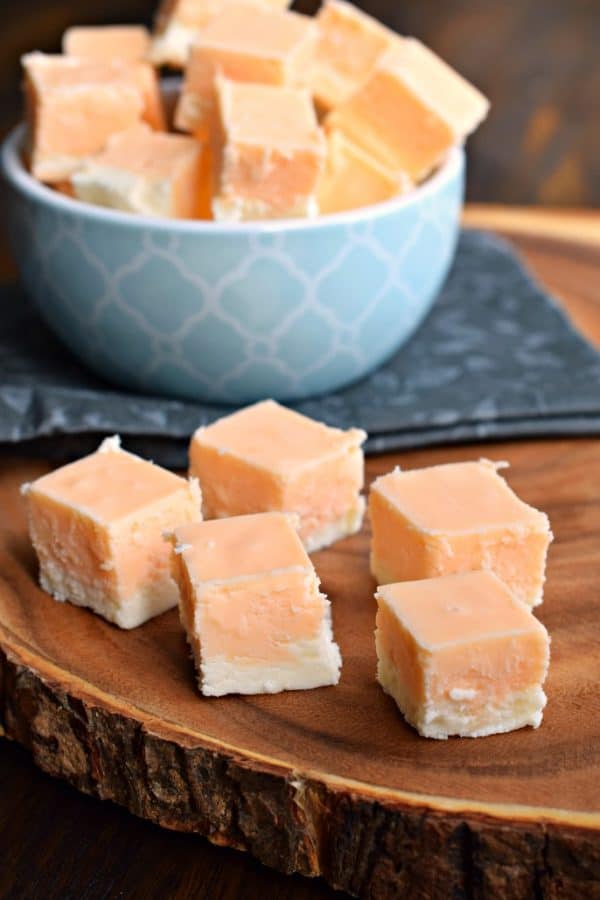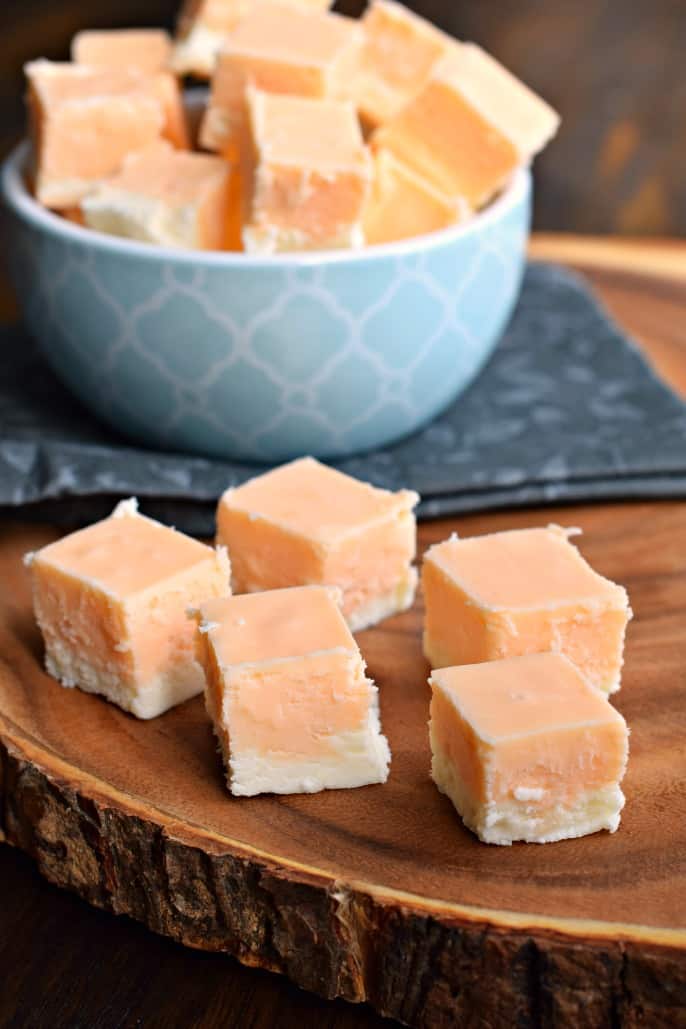 Or, you can achieve that same delicious flavor by making Orange Creamsicle Fudge. Serve this fudge chilled for best flavor!
How to make Orange Creamsicle Fudge

:
Have all your ingredients on hand before starting. Line an 8inch square baking dish with parchment paper.
Add your white chocolate chips and marshmallow cream to a mixing bowl before starting (no need to stir, just dump them in there).
When you boil your sugar, cream and butter mixture bring it to a ROLLING BOIL. No need for a candy thermometer, just set a timer for 4 minutes. Stirring constantly, continue to boil.
After 4 minutes, pour this hot mixture over your white chocolate chips and marshmallow. Using an electric mixer, blend until smooth (and white chocolate is melted). Mine takes about 1 minute. Immediately pour HALF OF THIS MIXTURE into prepared baking dish.
To the remaining half, add your Orange extract and 1-2 drops of Orange gel food coloring. Mix until smooth and pour this quickly over the white fudge in the dish.
REFRIGERATE for 3-4 hours until firm. Slice and enjoy. This can be stored in an airtight container at room temperature, however, I LOVE the Orange Creamsicle flavor chilled!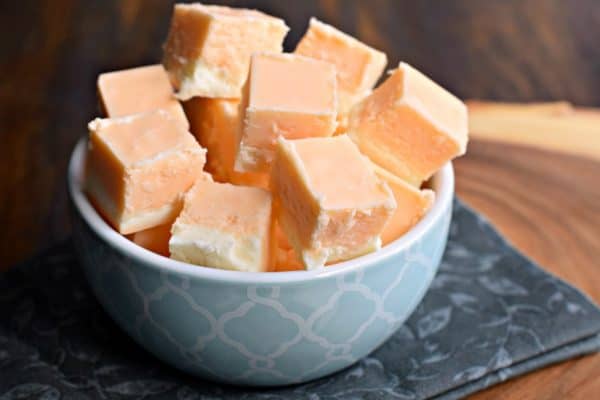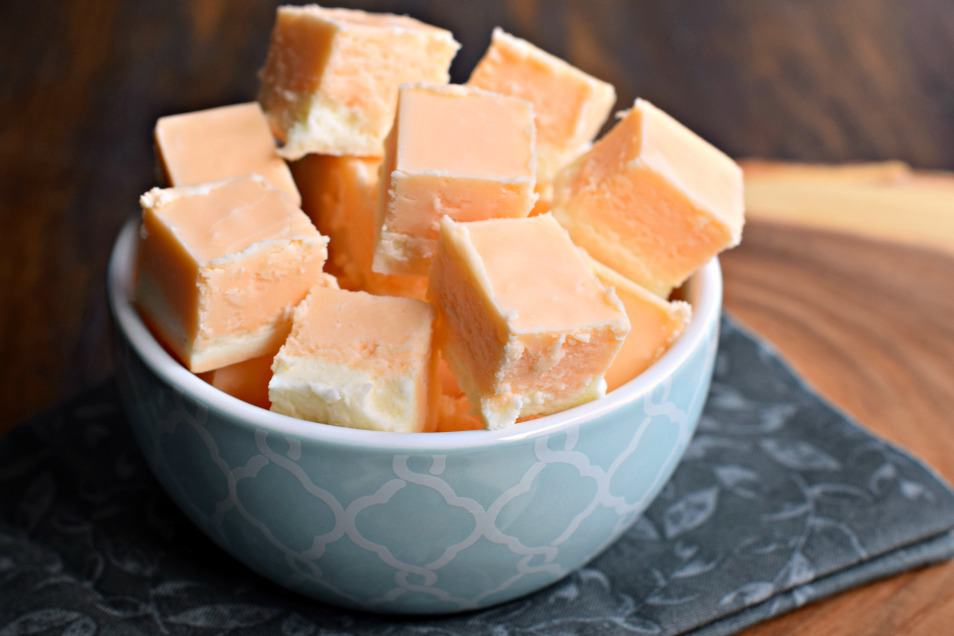 Check out some of my other favorite truffle and candy recipes! Be sure to stop over at Food Fanatic to print the Orange Creamsicle Fudge recipe!