Orange Creamsicle Fudge is like your favorite ice cream treat from the truck – but it doesn't melt! Just the right amount of sweet for an afternoon jolt of happiness. No candy thermometer needed!
Fudge is the perfect gift for a friend, or an easy dessert to share for holidays. Our readers love this delicious Butterfinger Fudge, as well as my basic Fannie May Fudge recipe!
Today's recipe is inspired by a childhood favorite frozen dessert: Orange Creamsicles!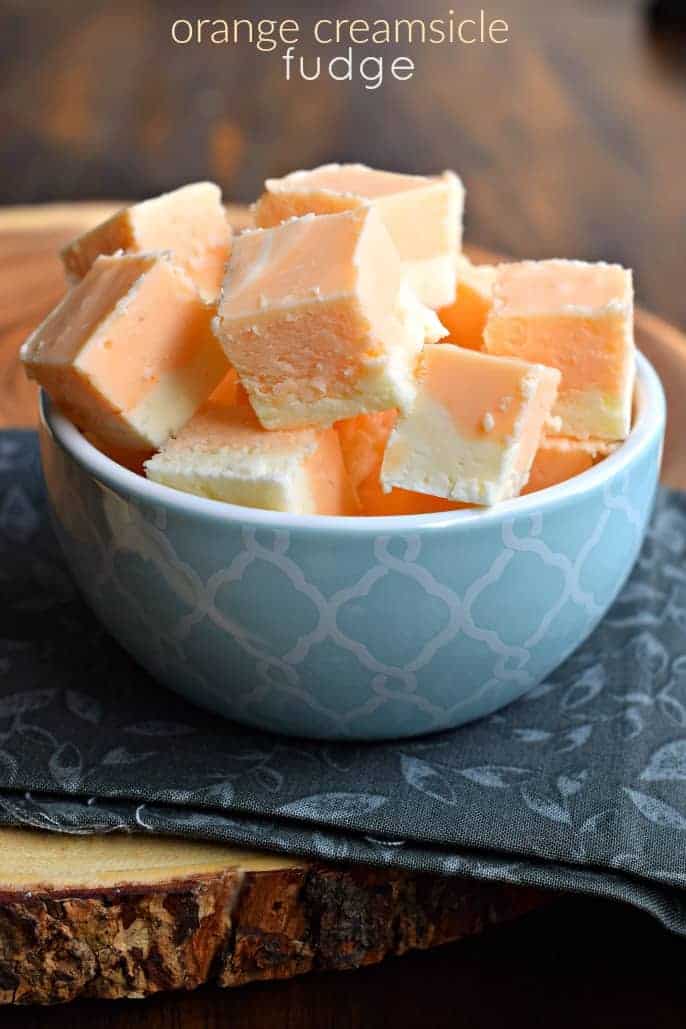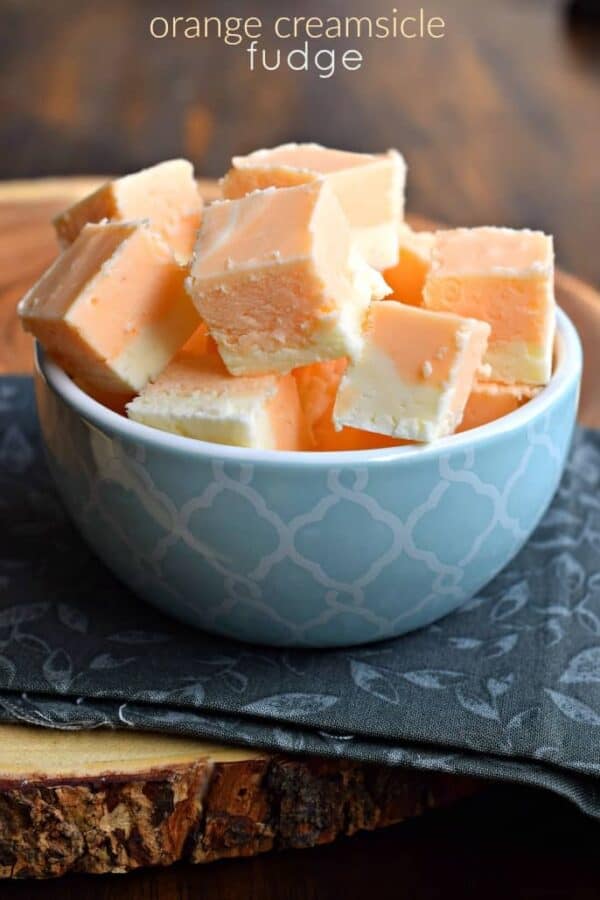 What is an Orange Creamsicle
For those of you who didn't grow up filling yourself with sugary ice cream bars that supposedly had something to do with citrus fruit, I'll try to explain.
Orange Creamsicles are orange flavored popsicles but instead of the icy texture of a typical popsicle, they have a creamy consistency and almost fudge-like flavor with a strong flavor of artificial orange. In short: everything a kid could want.
They were well worth chasing down the ice cream truck for on a hot summer afternoon.
The creaminess and orange flavor of those ice cream bars inspired me to turn it into an easy-to-make fudge. By adding orange extract and a little food coloring to a basic vanilla fudge recipe, I created a recipe that tastes even more delicious than the creamsicles I loved so much as a kid.
And bonus? They don't melt all over the place and make your hands all sticky. So you can take your Orange Creamsicle with you wherever you go. Don't forget to bring enough to share!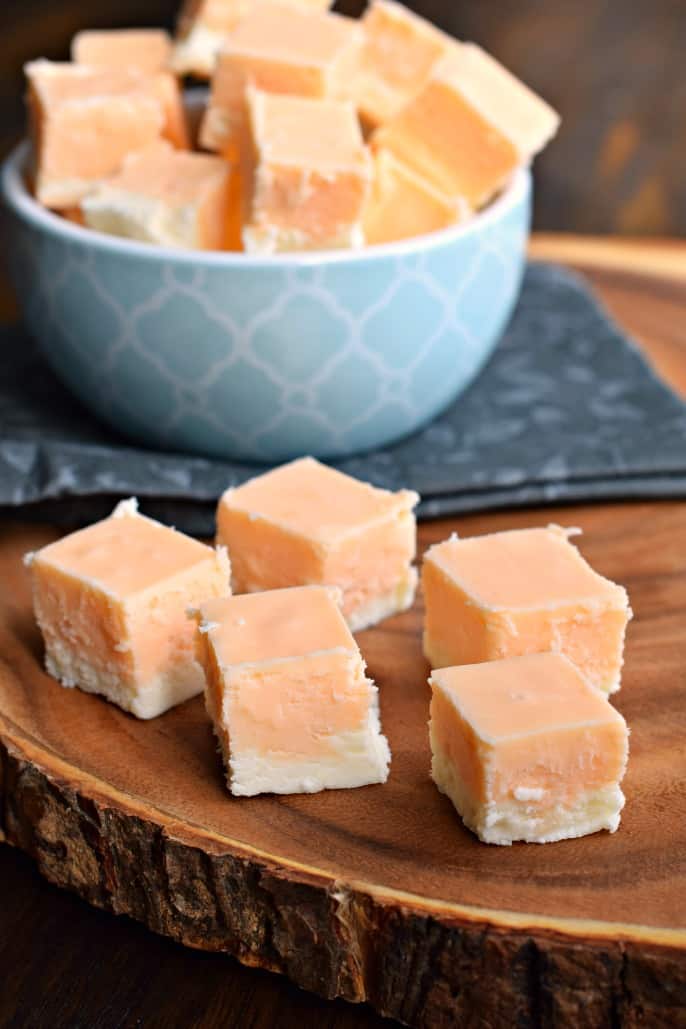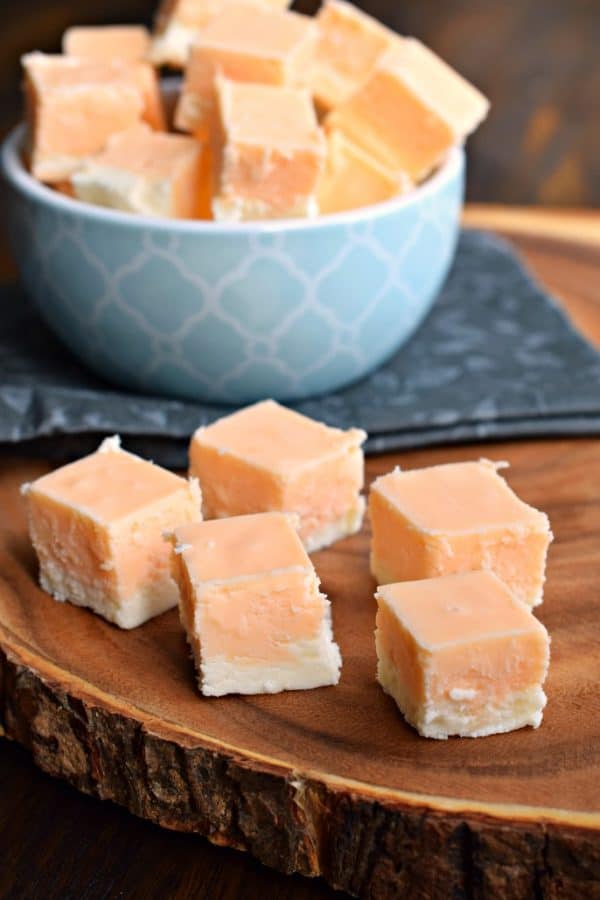 Ingredient Notes
Marshmallow Cream – This is also known as marshmallow fluff. It's my way of achieving a perfect fudge texture without needing a candy thermometer.
Food coloring – Orange gel coloring works best. You only need a small amount to turn the fudge a pale orange color that looks just like a creamsicle.
Orange extract – The concentrated orange flavor is key to the finished fudge. You can use imitation orange flavor instead if needed.
Easy Instructions
I've written before about How to Make Fudge and can't overstate how easy it is!
Start by boiling sugar, cream, salt and butter on the stove for about 4 minutes while stirring continuously. Then, pour this hot bubbling mixture over a bowl filled with marshmallow fluff and white chocolate chips.
Pour half the fudge mixture in a baking dish, then add orange extract and food coloring to the remaining half. Pour the orange layer over the white fudge layer and refrigerate until set.
I like to cut this fudge into small pieces to show off the layers of white and orange. Enjoy!
Recipe FAQs
How do you store this fudge?
You can keep the fudge at room temperature in an airtight container for about 2 weeks. I also like the taste when it's chilled in the fridge!
For best freshness, make sure to always store fudge in a sealed container with a lid. No one wants dry and crumbly fudge!
I also find that fudge tastes freshest when you eat it soon after slicing. So I store it in block form and cut only what we'll be eating right away.
Do you need a candy thermometer to make fudge?
Nope! That's what I love about this method. Just make sure to boil the cream and sugar for 4 minutes and the consistency will be perfect.
Can this be made without food coloring?
Yes, but it will just look like plain white fudge. The taste will still be citrus-y and delicious though!
Can you freeze Orange Creamsicle Fudge?
You sure can. After the fudge has set, cut it into squares and store in freezer bags with sheets of wax paper between fudge layers to prevent them from sticking together.
Let frozen fudge thaw in the refrigerator overnight or on the counter top for a couple of hours.
Raise your hand if you can't wait to try this Orange Creamsicle Fudge! Wrap it in a container with a ribbon to give for Christmas or go ahead and keep it all for yourself–I won't tell!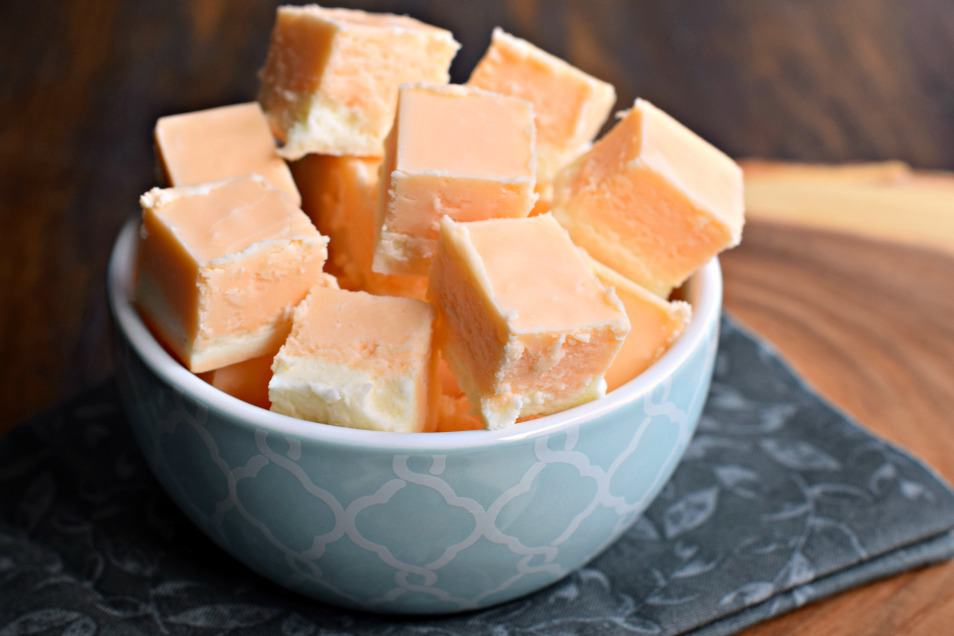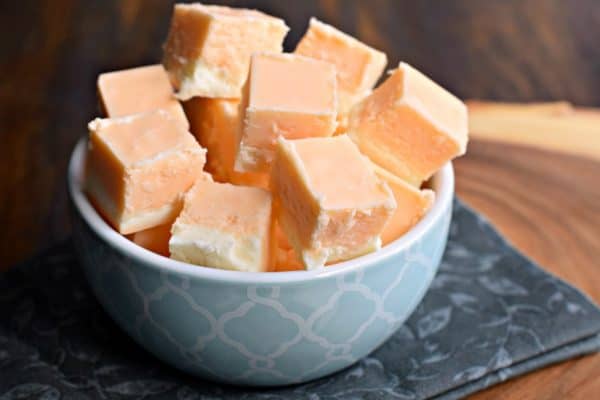 More Easy Candy Recipes