Turtle Fudge is a homemade candy with rich chocolate, caramel swirls and nuts. Pure decadence in every bite!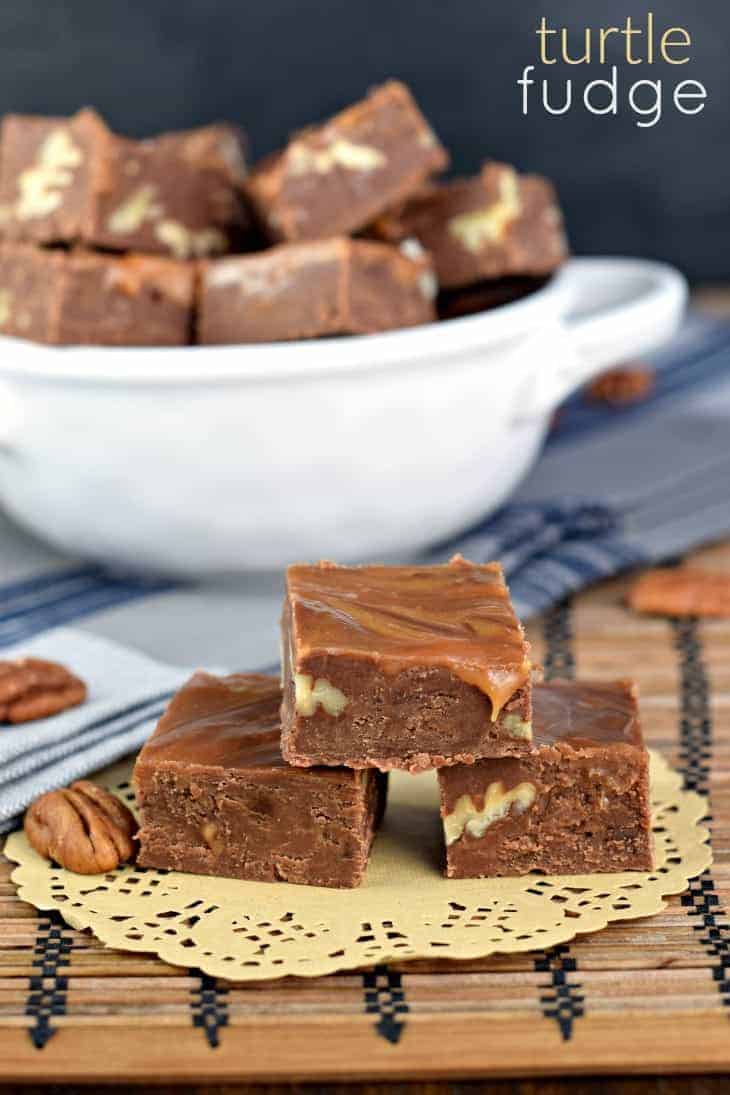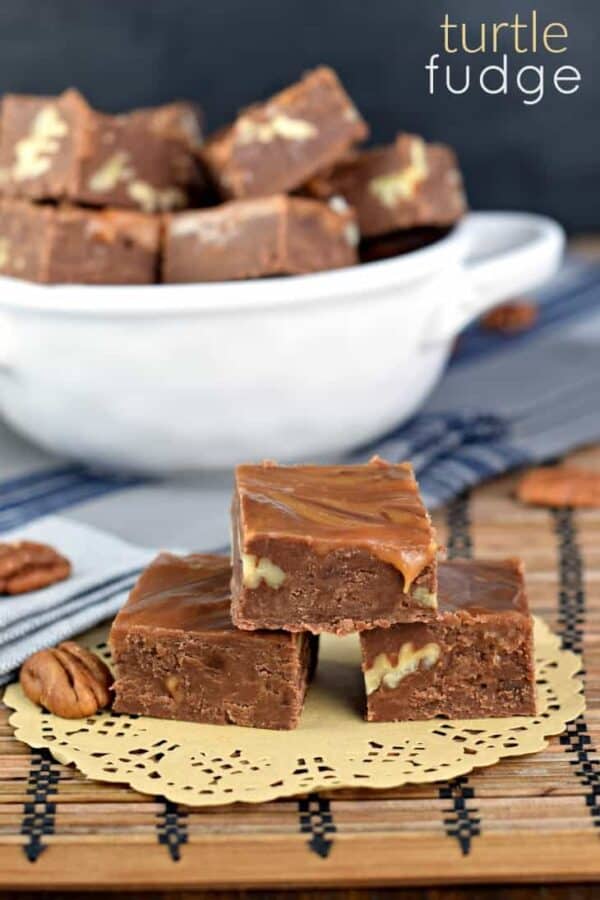 Caramel Pecan Fudge
What's better than chocolate fudge? Chocolate fudge with CARAMEL!
When you add pecans to the mix? All bets are off.
This caramel pecan fudge has it all: rich chocolate flavor, the buttery sweet caramel, and crunch pecans. Every square of this smooth fudge is packed with s
I call it "turtle fudge" because it tastes just like those chocolate covered caramel pecan candies of the same name. No turtles were harmed in the making of this fudge!
Call it whatever you like, but be prepared: this is a fudge you're going to want to keep all to yourself. If you can exercise at least a little self control, this fudge makes a perfect homemade gift for the holidays.
Velvety smooth chocolate fudge.
Pecans for a nutty crunch.
Drizzled with caramel.
Stays fresh and delicious for weeks!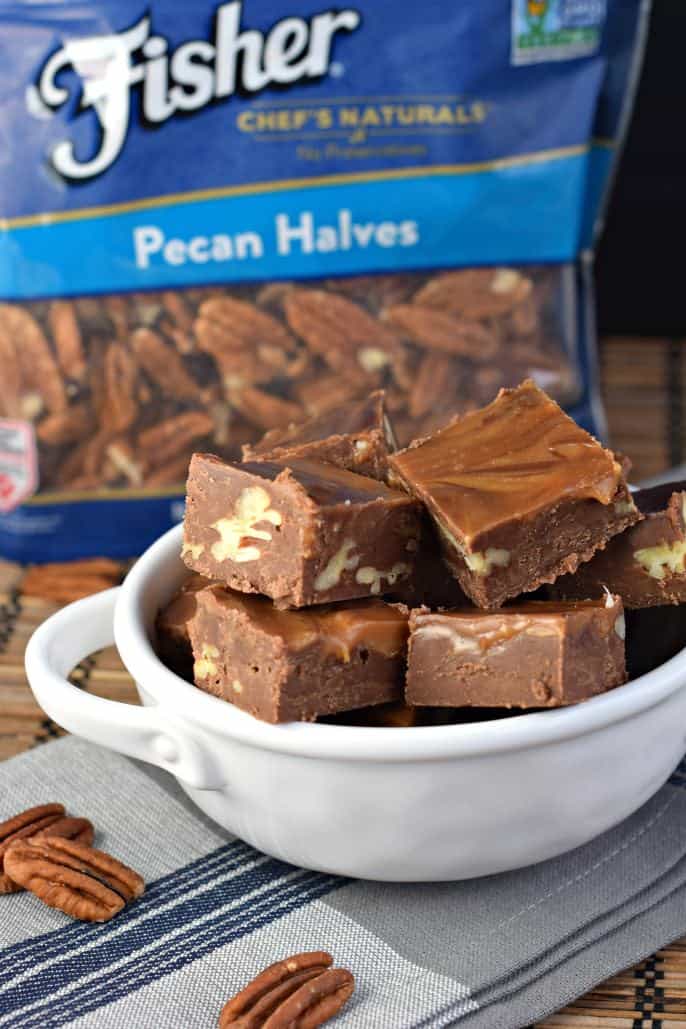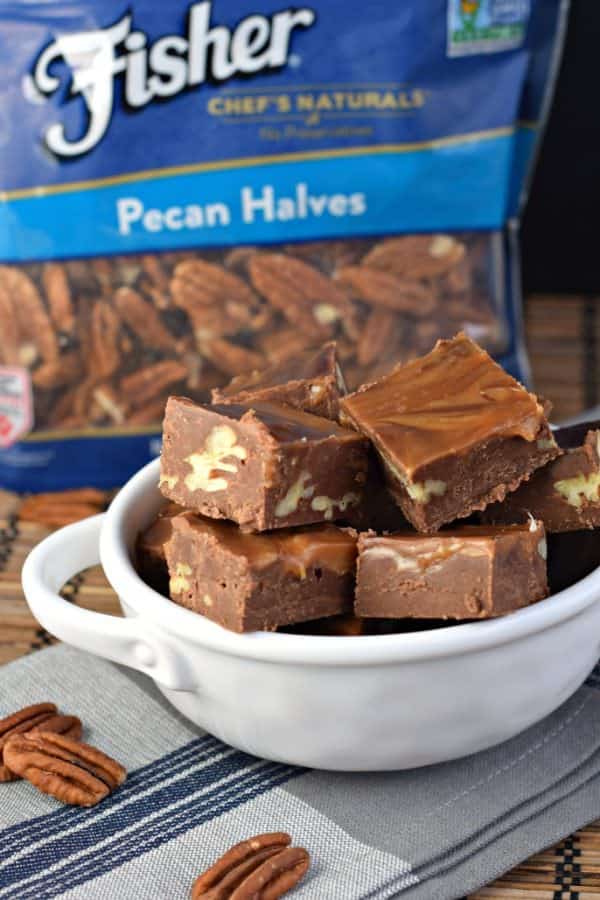 Ingredient Notes
To make the fudge base, you start by boiling a mixture of butter, sugar and heavy cream.
For making turtle fudge, you'll need these other ingredients.
Marshmallows – Creates a soft, smooth fudge consistency.
Chocolate – This recipe uses both chocolate chips and unsweetened baking chocolate squares for a perfectly rich cocoa flavor.
Caramel – You can use the caramel baking bits like I did, or substitute unwrapped soft caramel candies.
Heavy cream – A splash of this things the chocolate mixture without sacrificing the rich taste.
Pecan halves – You can add them straight from the package or toast them for an even deeper dimension of flavor and aroma. I use Fisher's brand.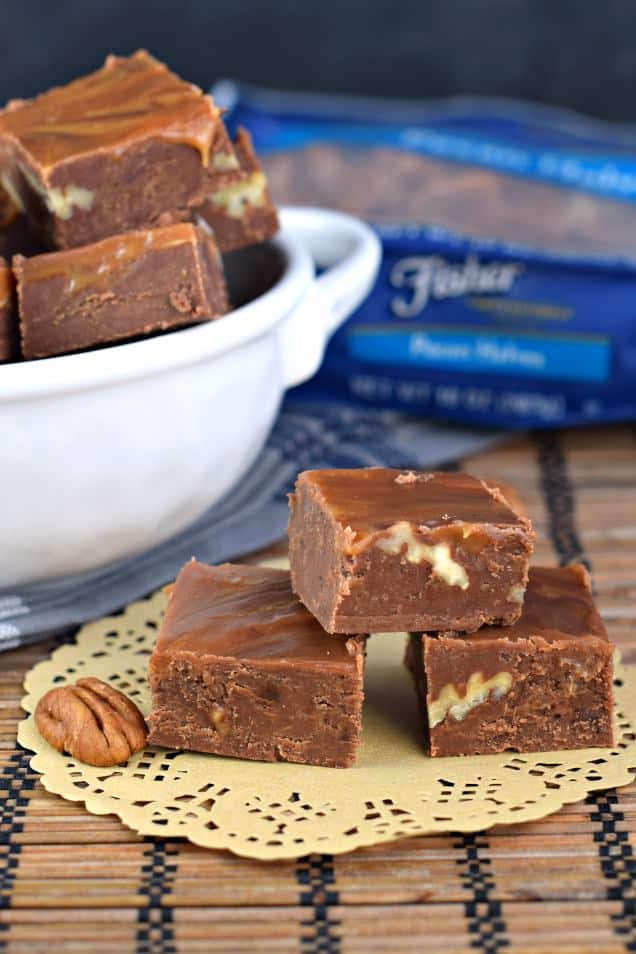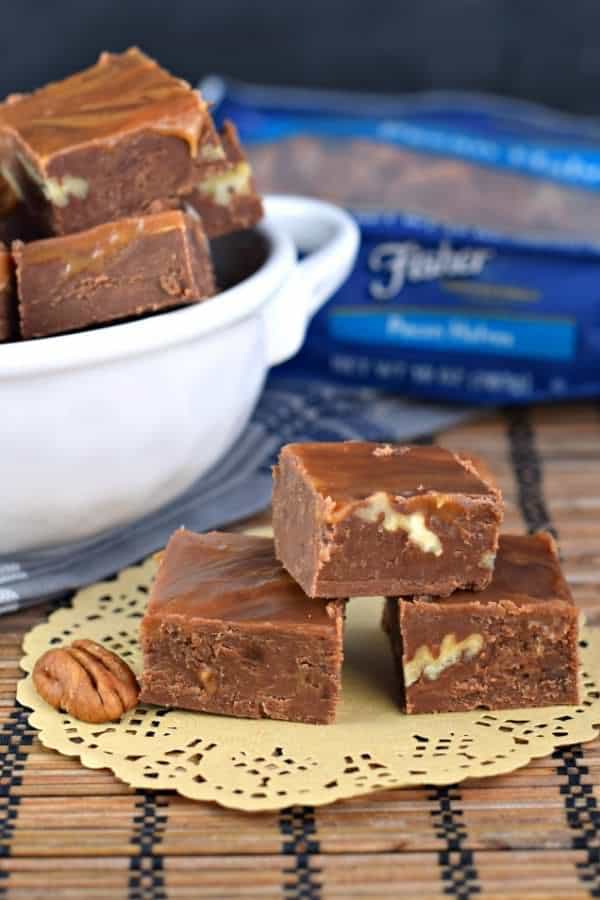 Tips and Tricks
I pour the fudge mixture into a 15 x 10 inch baking sheet to set. Make sure to line your pan with parchment paper first!
The final step in this fudge recipe is swirling melted caramel on top. Drizzle the caramel mixture over the chocolate fudge, then use the flat side of a knife to swirl it into the chocolate. Delicious and pretty!
One of the nice things about making candy for the holidays is that it can be made in advance. I usually make fudge a week or two before, and keep it (unsliced) in a ziploc bag until ready to use.
I have even outlined how to store fudge in my guide for how to make fudge! It's almost as good as my favorite Butterfinger Fudge recipe. Maybe even better.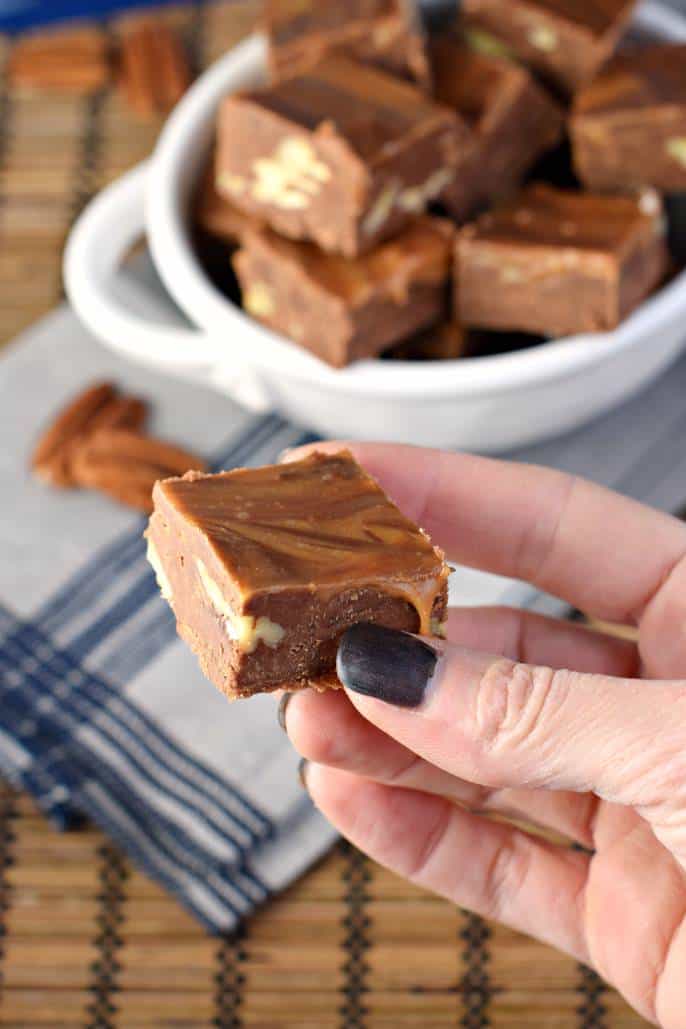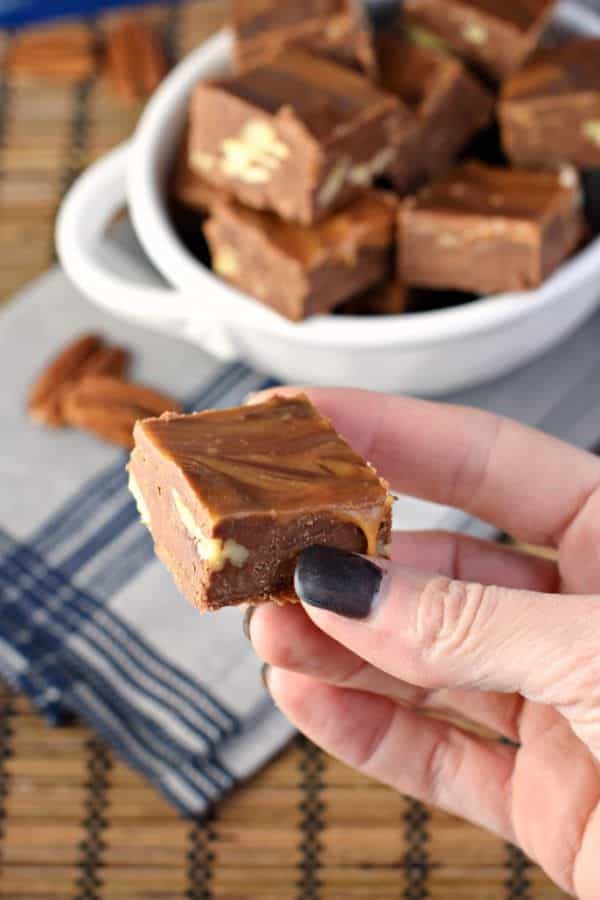 Recipe FAQs
What kind of milk is best?
You can use any kind of milk in this fudge recipe! I have made the turtle fudge with both skim and whole milk, and didn't notice a difference in the flavor either way.
Should I use regular marshmallows or mini marshmallows?
I used regular marshmallows. You can use mini marshmallows if that's what you have. Each regular marshmallow is the equivalent of about 10 mini ones, so adjust the amounts in the recipe accordingly!
Can I use dark chocolate chips instead?
You can, just expect the flavor to be less sweet. We preferred the taste of the fudge when it was made with both semi-sweet and milk chocolate morsels.
Can I make it without nuts?
Yes, feel free to omit the nuts for a delicious pecan-free chocolate caramel fudge.