Pistachio Fudge requires no candy thermometer or special fudge making skills! Pudding mix adds instant pistachio flavor to this delicious and easy homemade fudge recipe.
We love nuts in our fudge. This Butter Pecan Fudge is another reader favorite! It tastes just like the fudge you'd get on a seaside vacation.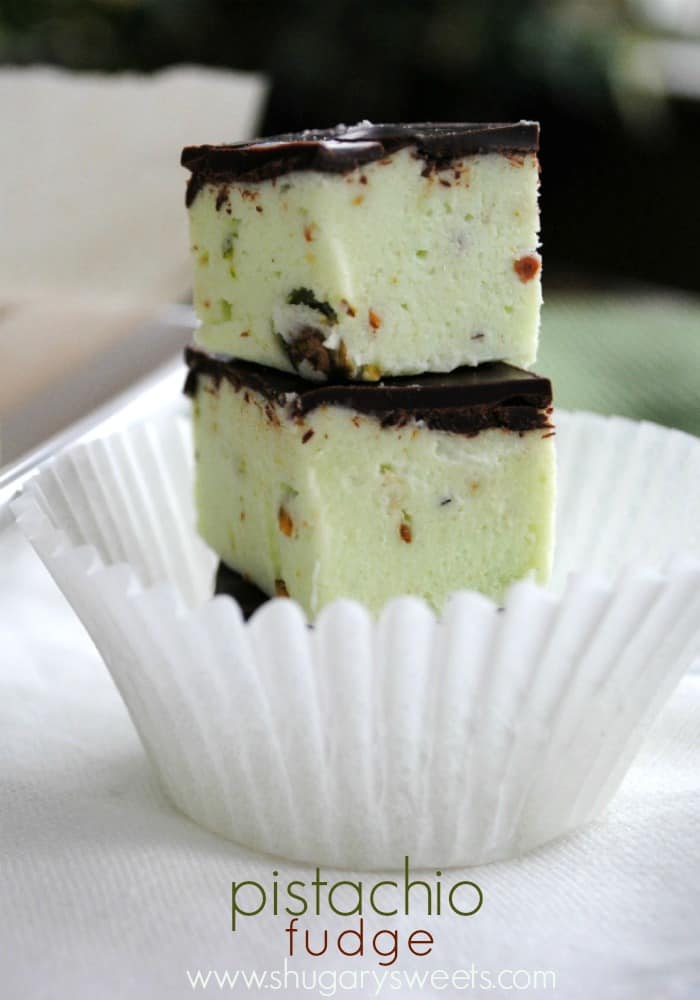 Have you ever used instant pudding in fudge?
Pudding mixes are among my favorite ways to add variety to countless dessert recipes. Mixing up flavors is so easy when you can just swap one kind of pudding mix for another!
This Pistachio Fudge recipe is no different. I took my basic vanilla fudge recipe and added some JELLO-O pistachio flavored pudding mix.
One bite of this creamy fudge told me my experiment was a success! A hint of nutty flavor and green tint layered under rich dark chocolate makes for a tasty spin on a familiar treat.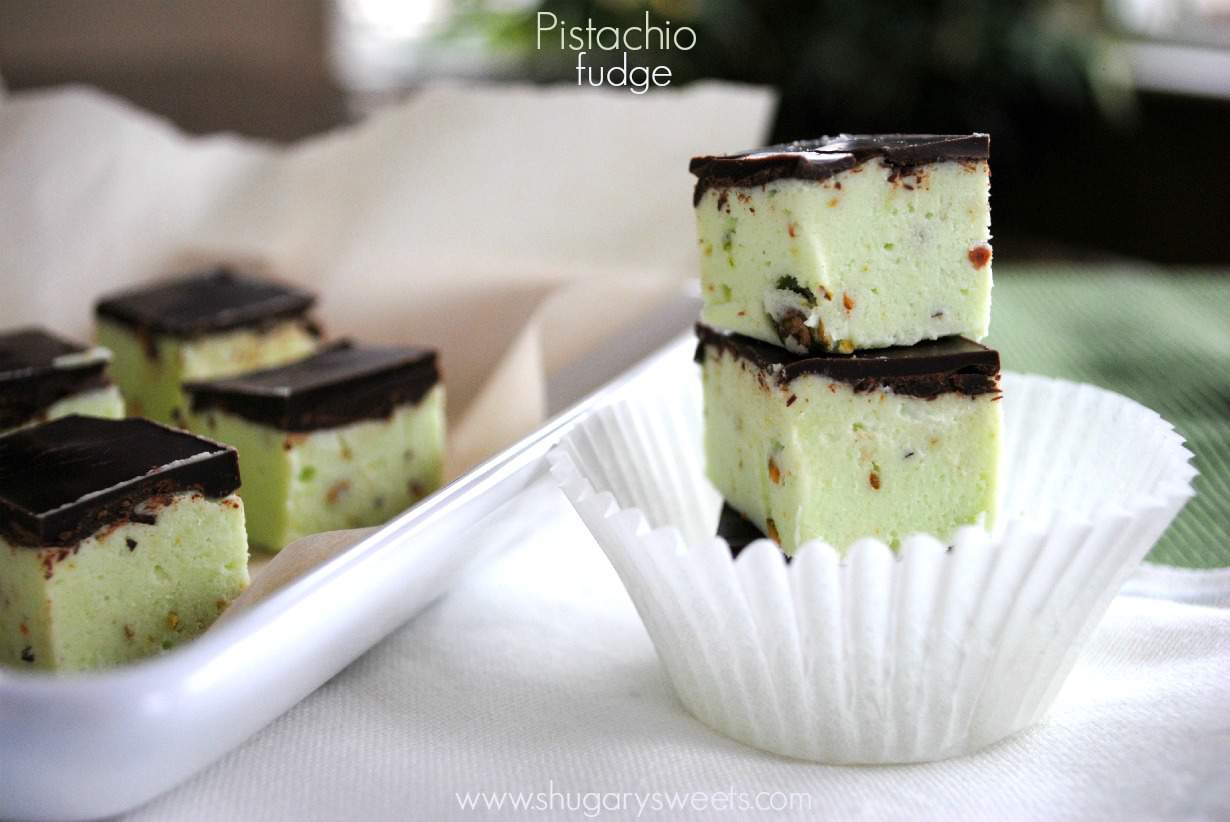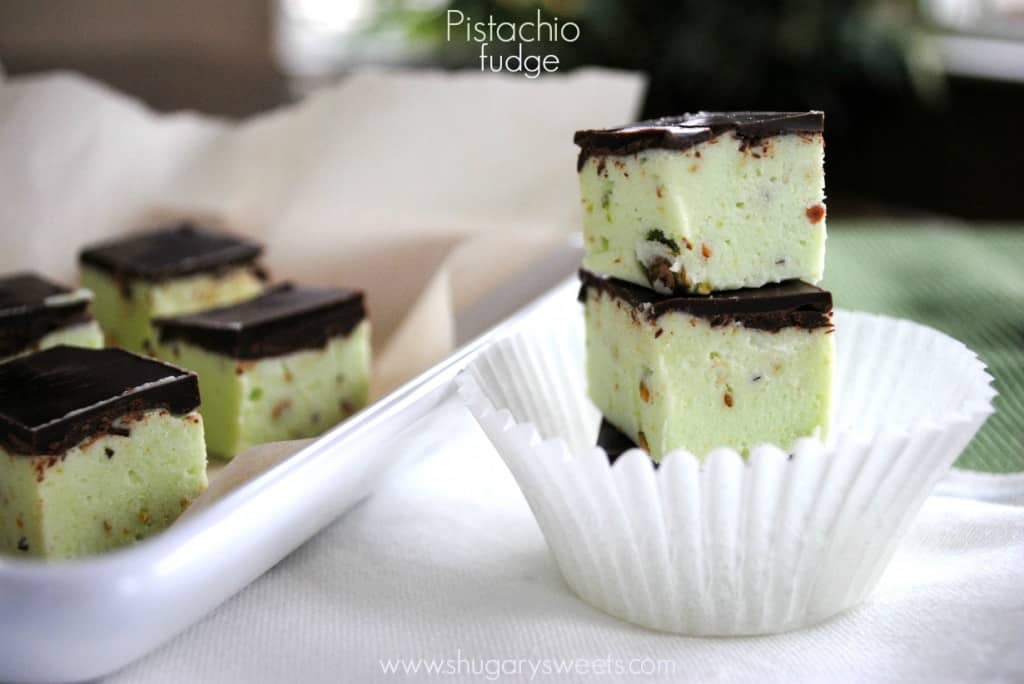 Pistachio Fudge
I'm ALL about pistachio desserts and baked goods–especially when chocolate is involved. These Dark Chocolate Pistachio Rice Krispie Treats and this Pistachio Cake get a lot of attention whenever I bring them to a party.
It was only a matter of time before I started making Pistachio Fudge, too! There's something about baking with pistachio that adds a touch of elegance to even the simplest treats.
Even though Pistachio Fudge is easy to make, it's as delicious and impressive as anything you could buy from a specialty shop. Even better? You can make this for far less than the cost of store bought fudge.
How to use pudding in fudge
In this recipe, you start by combining the pistachio pudding powder with marshmallow cream and white chocolate. [Do NOT add milk or any other ingredients to the pudding mix. You only need the dry powder from the packet.]
Then, melt butter on the stove and bring it to a boil with sugar, heavy cream and a bit of salt. After stirring it constantly for a few minutes, remove the pan from heat and pour the contents over the pudding-marshmallow mixture.
The white chocolate will start to melt upon contact with the boiling cream! Beat everything together until smooth and combined, then fold in chopped pistachios (shelled, naturally).
Pour everything into a square baking dish and pour a thin layer of melted dark chocolate on top. Let the pistachio fudge set for one hour or until it's firm. No refrigeration required!
Once the fudge is set, use a sharp knife to cut it into squares when ready to eat.
Can you make this without nuts?
Pistachio fudge still tastes delicious without the chopped nuts folded in, although I love the crunchiness and extra pistachio flavor they add.
Not a fan of pistachio desserts? I recommend giving this fudge a shot anyway. Even my friends who aren't excited about pistachios LOVED these sweet squares. The pistachio flavor pairs amazingly well with the dark chocolate layer and sweet marshmallow cream.
Fudge Recipes
For fudge recipes without pistachio, you may want to give one of my other many popular fudge recipes a shot instead!
Root Beer Float Fudge has all the refreshing taste of the refreshing summer drink, packed into candy form. You'll also love this Peanut Butterfudge for a classic boardwalk treat.
Everyone requests my Eggnog Fudge during the holiday season and you shouldn't let springtime pass by without adding Cadbury Egg Fudge to your baking list.
More tips for pistachio fudge
Set at room temperature: This fudge is best when you let it set on the counter top at room temperature.
How to store: You can keep this fudge at room temperature in an airtight container for a few hours. Longer than that and I recommend storing it in the fridge just so it doesn't get too soft.
Beat well: Be sure to thoroughly mix in the pudding with the marshmallow cream to get rid of any graininess. Likewise, use electric beaters or a stand mixer to incorporate the butter and cream mixture with the white chocolate and pudding.
Slicing fudge: I prefer to leave the fudge uncut until ready to serve. Cut squares are more prone to drying out. Store the fudge covered, then cut into desired squares just before eating for best taste and least amount of waste.
New to fudge making? Check out my guide on how to make fudge for plenty more tricks for making this fudge.
Whether you're a seasoned veteran of fudge making, or trying pudding in fudge for the first time, you'll love Pistachio Fudge!