This sweet Butter Pecan Fudge is just like you would get on a vacation. Creamy, buttery flavor that melts in your mouth and finishes with the crunch of pecans!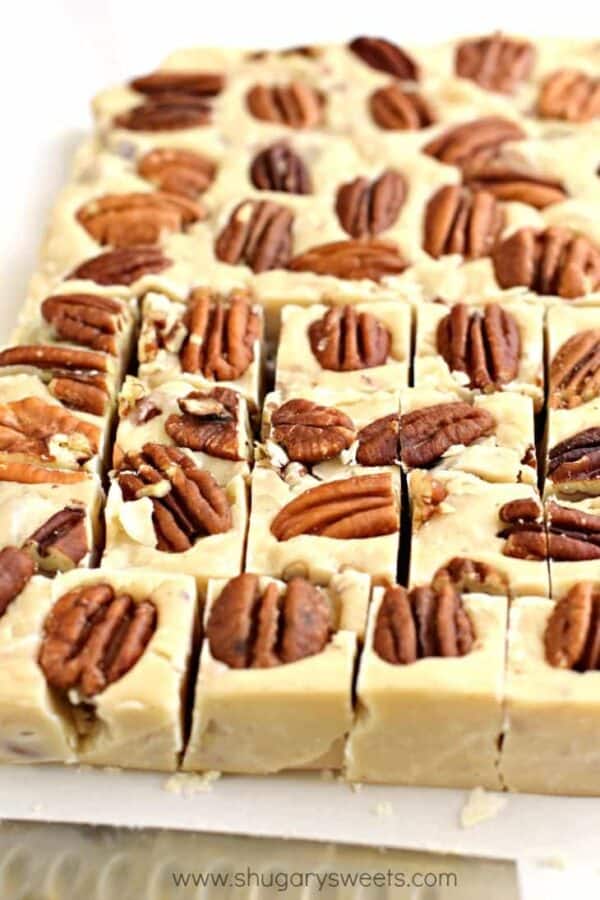 Summer. I always think I'm going to eat healthier and look amazing. And while I'm definitely more active in the summer….my diet gets sabotaged by nightly ice cream cones.
I can't help it. I have zero will power. And I'm not normally a "snack in the evening" type of girl. But if my family is dishing out some ice cream…or we head out to the local froyo place, I'm game.
There are so many delicious flavors of ice cream, and I would say Pralines and Cream and Butter Pecan are two of my absolute favorites. Without a doubt, I love the sweet and creamy, buttery flavor mixed with the crunchy nuts.
So, as I was trying to come up with another candy recipe for you all, I was inspired by a recent trip for ice cream.
A few months ago I made this White Chocolate Caramel Fudge. And my description of it was spot on to how I would describe the end of an ice cream sundae. You know, the melted vanilla cream with gobs of caramel in the bottom of the cup. That's exactly how that fudge tastes.
How to Make Butter Pecan Fudge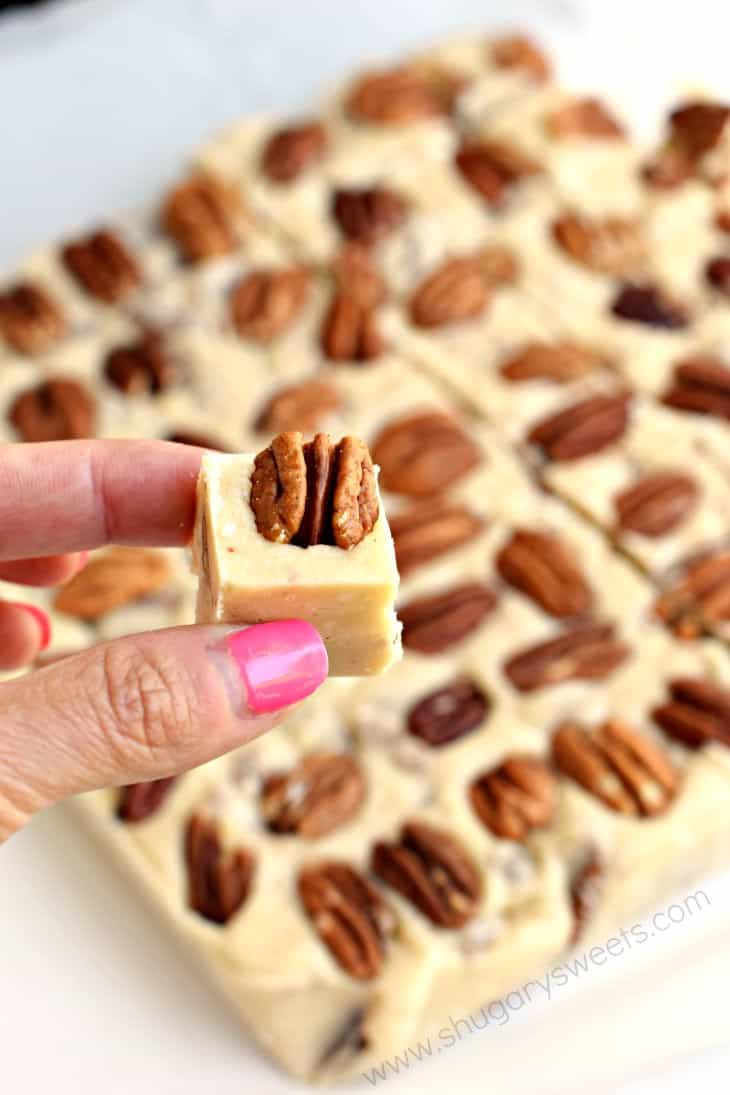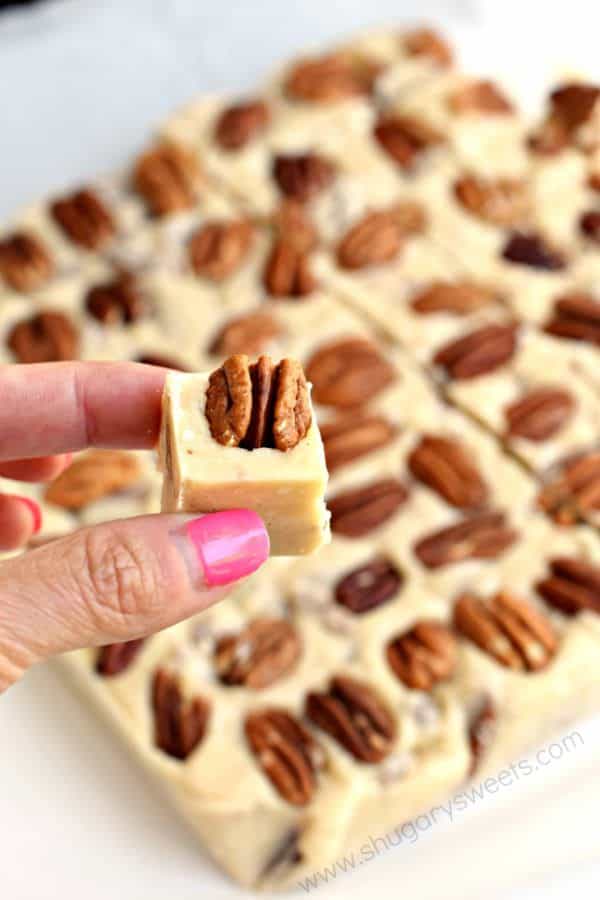 Today's Butter Pecan Fudge recipe is wonderful. The texture is closer to these Pecan Pralines, but the flavor is exactly what you would expect. Buttery. Nutty. Just perfect.
And, like nearly every other fudge recipe I make, it's easy. Which means, no candy thermometer required! I promise, knowing how to make fudge really is easy!
STEP 1: Line an 8-inch square baking dish with parchment paper. Set aside.
STEP 2: In a large saucepan over medium high heat, combine sugars, cream, butter and salt. Bring to a boil. Stirring constantly, boil for a full 4 minutes (ROLLING BOIL). Remove from heat.
STEP 3: Pour hot mixture into a mixing bowl and add in the vanilla and powdered sugar. Beat until smooth (several minutes). Fold in chopped pecans and pour into prepared baking dish.
STEP 4: Refrigerate for 3-4 hours until firm. Before cutting into pieces, allow to come to room temperature.
PRO TIP: I refrigerate it to get it to set up quicker, however, it's best to let it come to room temperature when you want to slice it into pieces. Otherwise, if it's too cold, it will begin to break into smaller shards. Which, if that happens, just toss it onto your ice cream sundae. See what I did there?
So, tell me, what's YOUR favorite ice cream? You know, in case I want to recreate it into a new fudge flavor!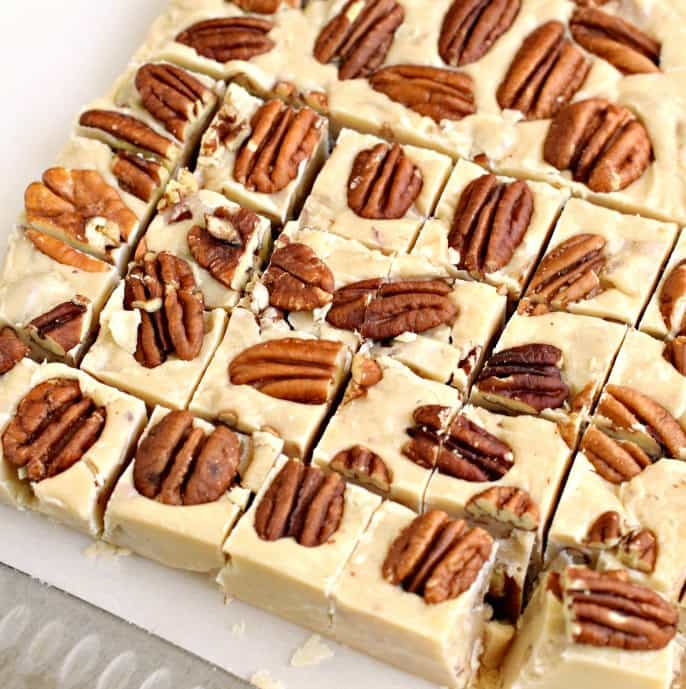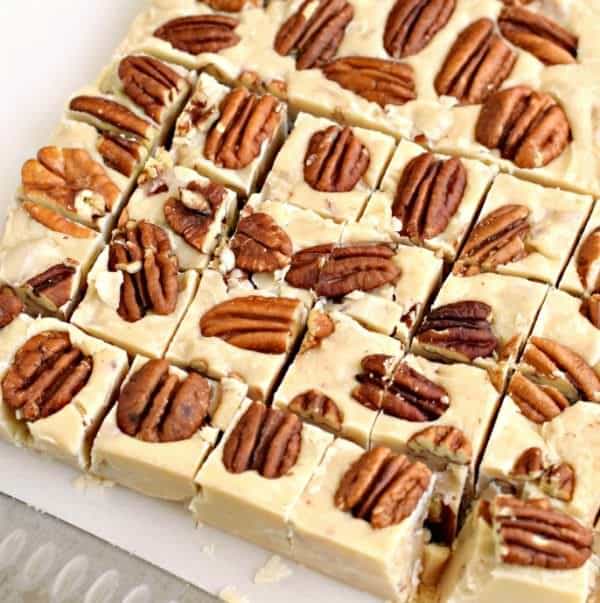 MORE Fudge Recipes:


Recipe originally published August 15, 2016