The Best White Chocolate Caramel Swirled Fudge recipe is a buttery, sweet perfection. This confection is simply irresistible and easy to make!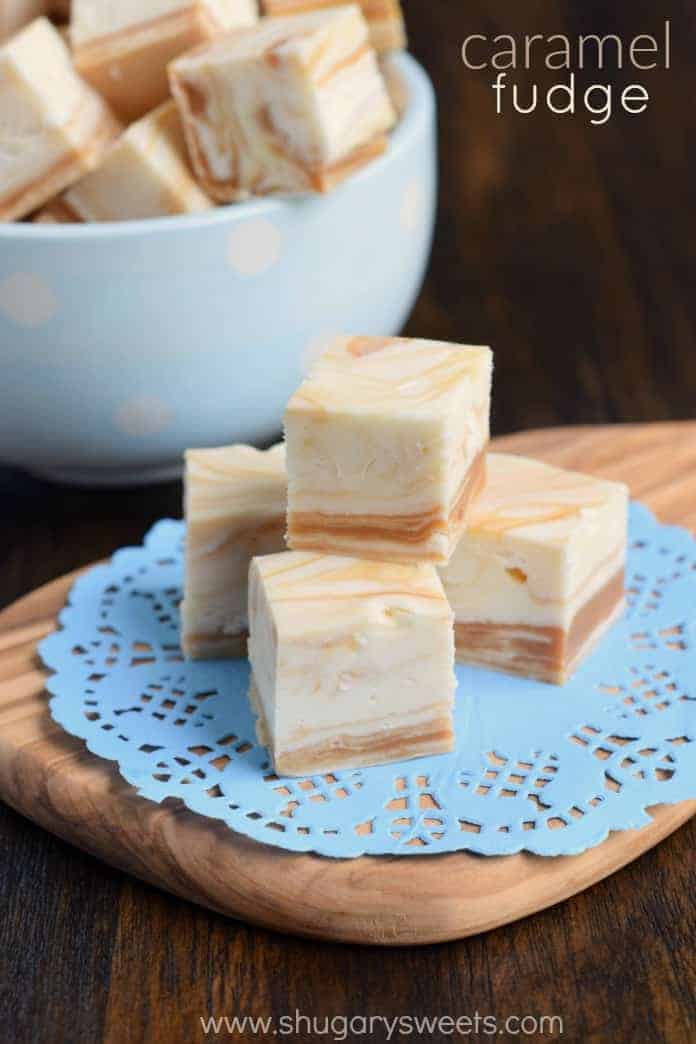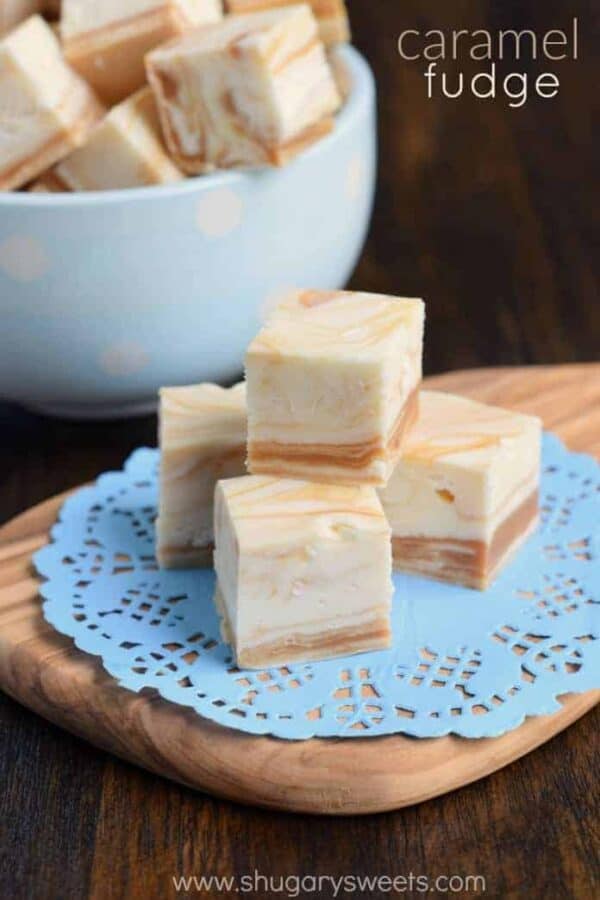 Click HERE to save recipe to Pinterest
It's almost CHRISTMAS!
This year seemed to fly by so fast. As I get older the faster the years seem to roll by, is it just me? We officially have a Junior in High School, a Freshman in High School and two that have already left the nest.
The second half of the year is going to fly by, and before we know it, it's going to be summer!
One of our favorite ways to celebrate summer is going to the local ice cream shop daily. Seriously, I could live on ice cream in the summertime! While normally I get a waffle cone with whatever flavor I'm craving that day, I will sometimes opt for a caramel sundae. I love big spoonfuls of hot caramel sauce!
Today's White Chocolate Caramel Fudge recipe, as I described it over on Instagram, is like eating the bottom of a vanilla sundae with the melted ice cream and puddle of caramel sauce. It's the best bite of the sundae in my opinion.
Knowing how to make fudge is super easy if you haven't done it before. This version uses NO candy thermometer. Easy right?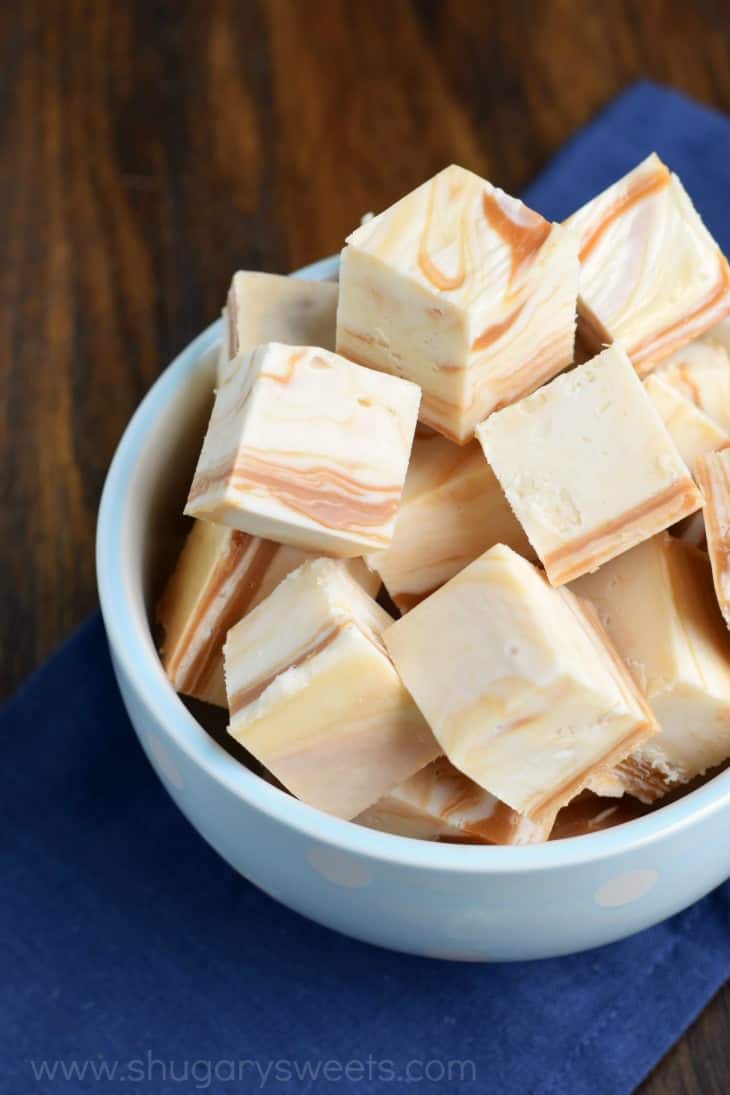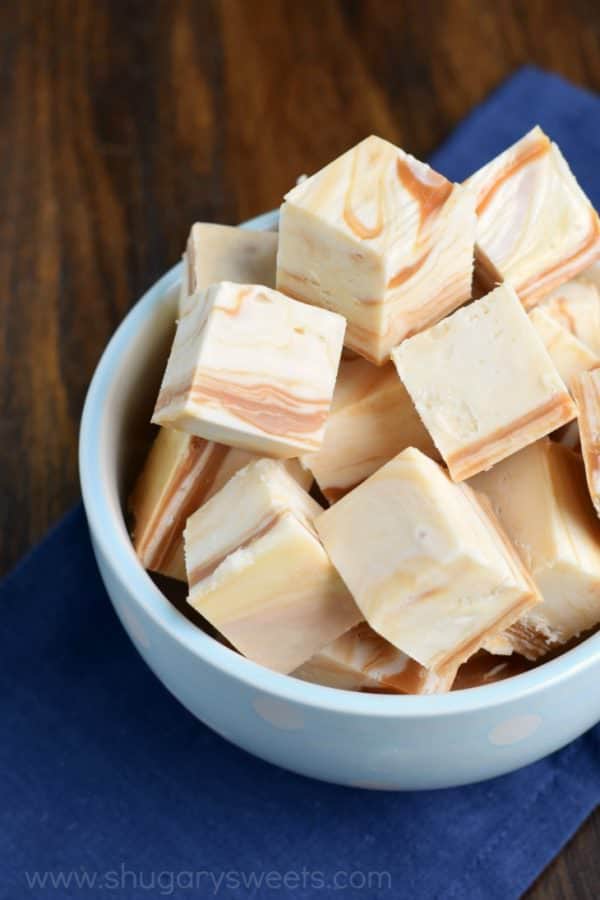 How to make White Chocolate Caramel Fudge
Line and 8 or 9 inch square baking dish with parchment paper before you begin. You'll need to work fast in the end.
Boil your butter, sugar, cream and salt on medium high heat. Bring it to a ROLLING boil and continue stirring for 4 minutes. Don't skimp on the time.
I add the marshmallow cream and white chocolate chips to a mixing bowl before beginning. Once the butter mixture has boiled for 4 minutes, pour that over the white chocolate and marshmallow. Using your electric mixer, you will only have to give it a few whirls for about 30 seconds until the white chocolate chips are completely melted.
I melted my caramels in a glass bowl with a teaspoon of heavy cream, in the microwave. Once the white chocolate was melted, I poured the melted caramel into the bowl. Gave it one stir with a wooden spoon then immediately poured it into my prepared pan.
Allow your fudge to set for about 4 hours or set up overnight until firm. Cut into pieces and enjoy!
Can you freeze fudge?
Yes absolutely. Today's Caramel Swirled Fudge recipe freezes wonderfully, with a few tips.
First, wrap the uncut fudge in plastic wrap then slide into a large ziploc freezer bag, pressing out all the air.
Freeze for up to two months.
To thaw, place bag on counter to come to room temperature (usually best overnight). Slice and enjoy!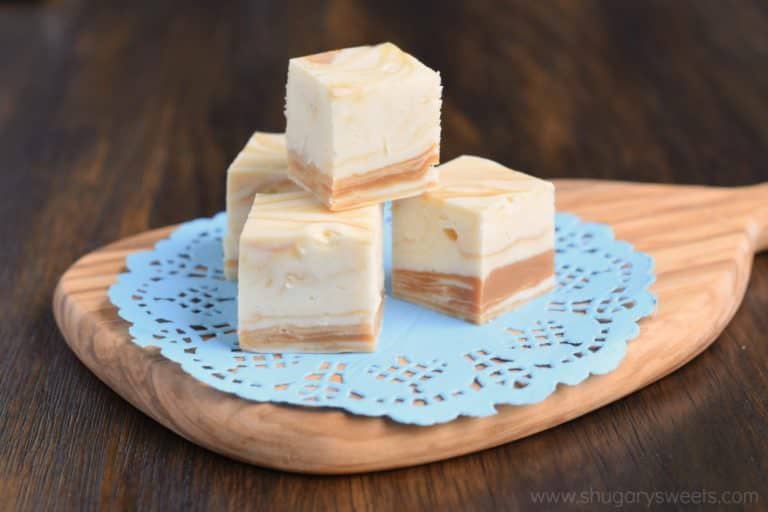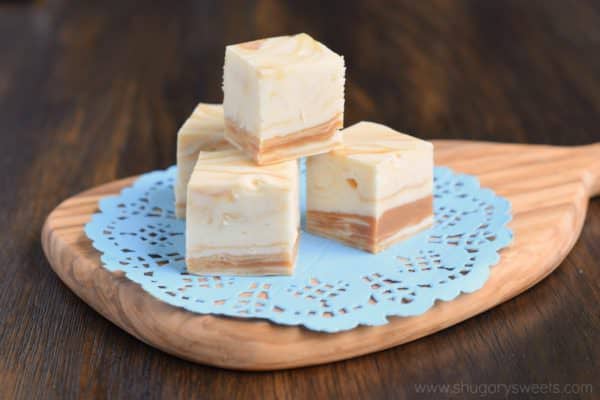 Tips on making Caramel Fudge
Use a good quality white chocolate chip. I opt for Ghirardelli because I think they taste amazing for the price point, and they melt smooth.
DO NOT USE caramel sauce in place of melted caramels. It will be too soft and gooey.
Want a rich chocolate caramel swirled fudge flavor instead of white chocolate? No problem. Swap out the white chocolate for Ghirardelli Dark Chocolate morsels. So good. You can also choose a semi sweet or milk chocolate chip too.
Some people choose to make fudge using sweetened condensed milk with white chocolate chips. While they swear by it, I personally don't like the flavor. Or the consistency. I find it it too soft and sweet. My fudge is made using the same base I do with all my flavors, and I find it's a great recipe when you're craving REAL fudge.
You may be wondering if you can use dulce de leche. In today's recipe, no. Don't do it. Again, it's too soft and will be too runny to set up properly. I promise if you follow my directions completely, this will be quick and easy and a new holiday favorite! As my kids would say, it's literally THE BEST White Chocolate Fudge Recipe ever!
LOVE salted caramel? Add a pinch of coarse sea salt to the top, or try this Salted Caramel Mocha Fudge recipe instead!


Want to make a candy platter? Here are some of my favorite fudge recipes
Eggnog Fudge is a better choice for your family cookie exchange. You'll stand out because it's awesome, and it's NOT a cookie!
Rich, decadent, copycat Fannie May Fudge. It's the perfect chocolate fudge recipe for any time of year, no candy thermometer needed!
Creamy, melt in your mouth Butterscotch Fudge is an easy recipe to make any time of year!
Sweet vanilla peppermint fudge packed with crushed candy canes! This Candy Cane Fudge NEEDS to be included on your holiday dessert plate this year!
This festive Grinch Peppermint Fudge is creamy and melts in your mouth! You'll love how easy it is to make, and it's fun to see on a plate of cookies and candy!
Connect with Shugary Sweets!
Be sure to follow me on my social media, so you never miss a post!
Facebook | Twitter | Pinterest | instagram
If you LOVE this recipe, share it on Instagram and tag me #shugarysweets so I can see it!
I created a fun little group on facebook and I'd love for you to join in! It's a place where you can share YOUR favorite recipes, ask questions, and see what's new with Shugary Sweets (so that you never miss a new recipe)! If you'd like to check it out, you can request to join HERE.
recipe originally posted on May 26, 2016 and has been republished in November 2018