This festive Grinch Peppermint Fudge is a fun twist on typical Christmas fudge recipes. Neon green color and red heart sprinkles turn peppermint fudge into a Grinch-themed treat!
Make the grown-ups at your holiday party happy with this Grinch Cocktail too! Or give our easy grinch cookies a try this holiday!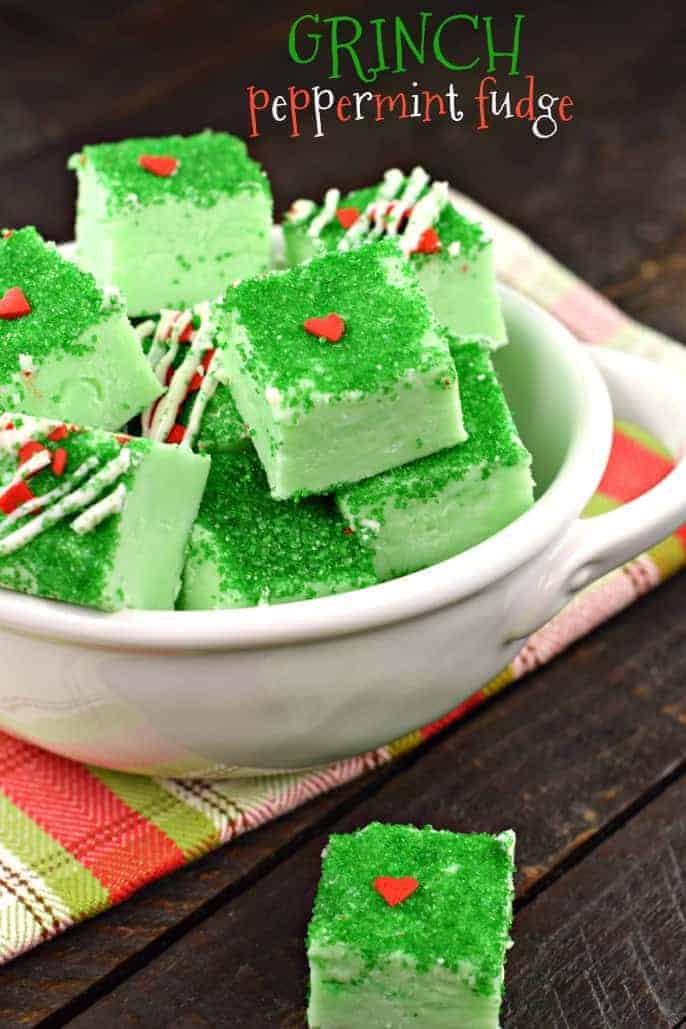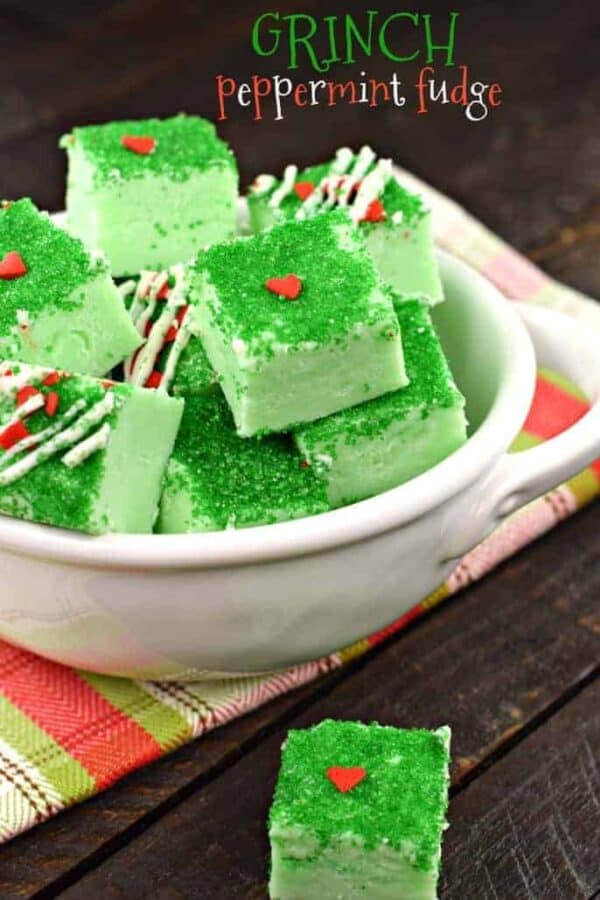 Grinch Desserts
I get the biggest kick out of Grinch themed Christmas desserts. With all the Santa and Reindeer themed treats around this time of year, it's fun to throw in a Grinch-y one to mix things up.
The bright green color of this fudge is inspired by the Grinch's iconic green fur. And if you've read the book or seen one of the movies, I bet you can guess why I added a red candy heart "two sizes too small."
Of course, at the end of the story the Grinch's heart grows THREE sizes, so you could swap the tiny hearts with big ones if you like too!
Cool, creamy peppermint fudge with a nod to Seuss is an eye-catching addition to this year's holiday cookie and candy trays.
Try our easy chocolate grinch donuts for breakfast next!
Ingredient Notes
Heavy cream – Use real heavy cream for best results (not milk or half and half).
White chocolate morsels – These melt best but you can sub a white chocolate bar broken into small pieces if needed.
Marshmallow cream – Sometimes called "fluff" this is the key ingredient to getting soft, melt-in-your-mouth fudge every time.
Food coloring – Green gel coloring gives the fudge it's Grinch-like appearance.
Sprinkles – Use green sugar sprinkles and heart-shaped sprinkles to garnish the fudge.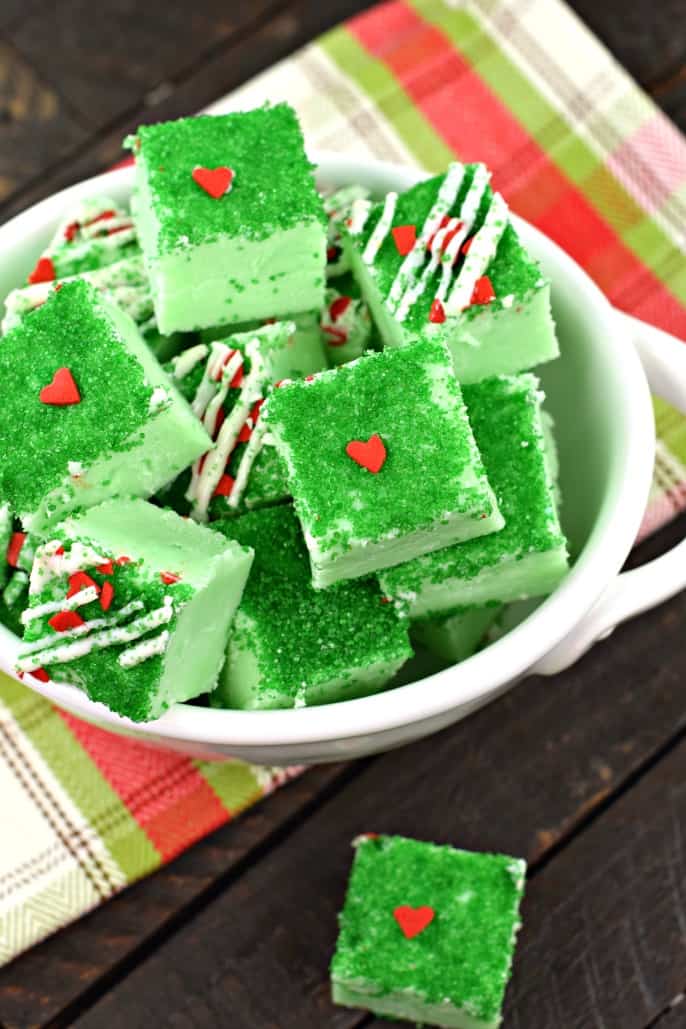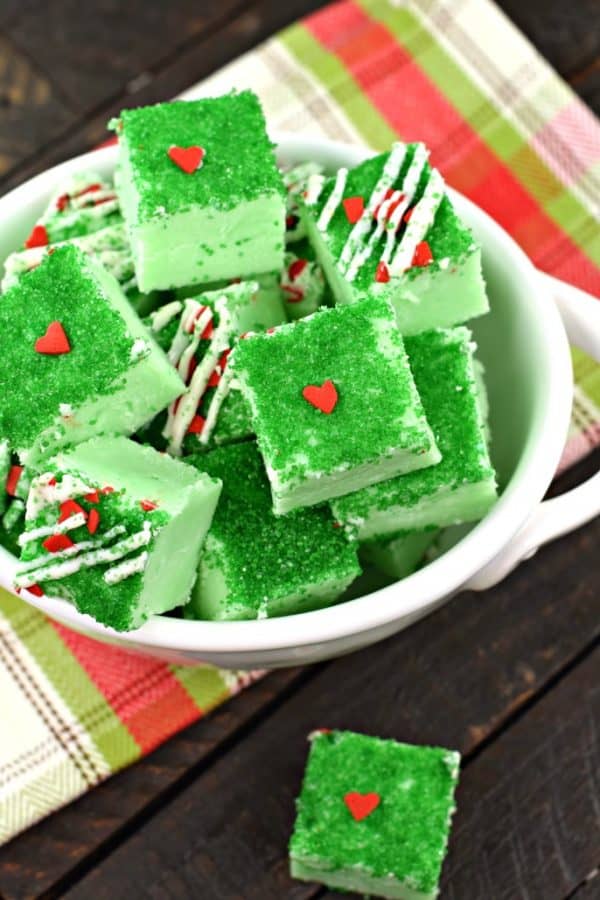 Step by Step Instructions
Don't know how to make fudge? Don't worry, it's easy! You don't even need a candy thermometer for this recipe.
STEP 1. Get your pan ready
Line a square baking dish with parchment paper and set it aside. This makes the fudge easy to get out of the pan later.
STEP 2. Combine white chocolate and fluff
Add your white chocolate chips, marshmallow fluff, peppermint extract and green food coloring to a mixing bowl. Set this aside, no need to mix just yet.
STEP 3. Boil butter and cream
Boil your butter, sugar, cream, and salt over medium heat. Once it begins to boil, keep it going for a full 4 minutes while you stir. This is important!
STEP 4. Combine
Pour the hot mixture into the mixing bowl with your other ingredients. BLEND WELL until all the white chocolate chips are melted. I use electric beaters or my stand mixer to make sure everything gets smooth and combined.
STEP 5. Let set
Pour immediately into your prepared baking dish and sprinkle generously with green sugar and red hearts in whatever design brings you joy.
Allow the fudge to set for about 2 hours. Keep the block of fudge in a ziplog bag or sealed container and only cut it as needed to keep it as fresh as possible.
Recipe FAQs
Does this need to set up in the fridge?
No need to chill this fudge, unless you prefer the taste of it cold. Mine firmed up well at room temperature within a few hours.
Do you need a candy thermometer to make this fudge recipe?
No candy thermometer needed! That's one of the reasons I love this kind of fudge recipe. Just boil for 4 minutes and it'll reach the correct temperature.
How long does this fudge keep?
Grinch Peppermint Fudge tastes best if enjoyed within 1 to 2 weeks. It stays freshest when you slice only the amount that you will be serving (or eating) immediately.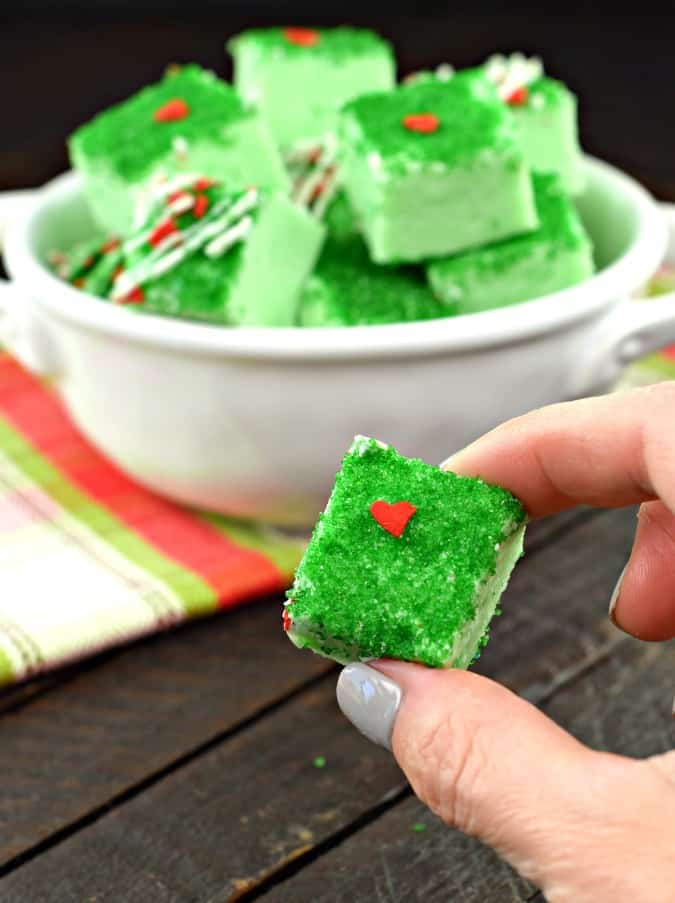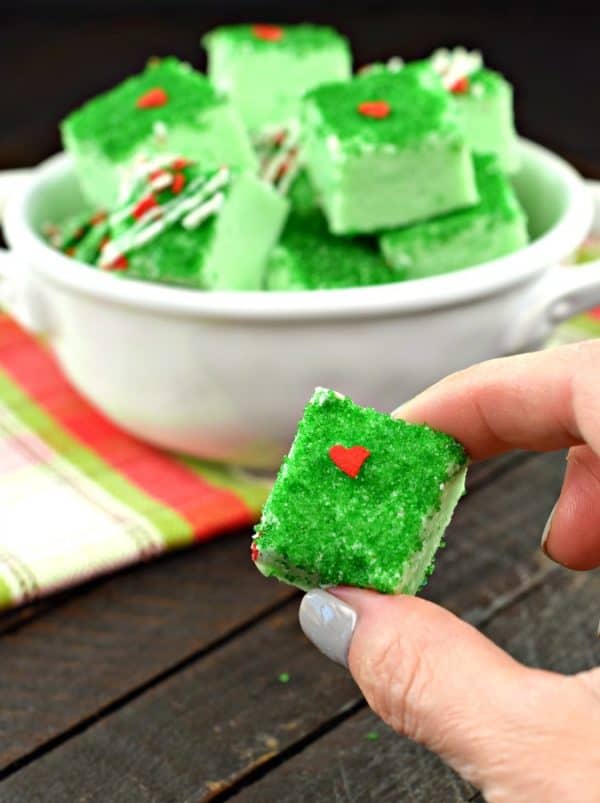 Still looking for holiday treats? These Holiday Scotcheroos are so easy to make and so festive too!
This Candy Cane Fudge is packed with peppermint flavor. Swap out the minty candy canes for some of the new fun flavored ones for a special treat!
Finally, let's not forget the Grinch Drink I made a few years ago. Fruity and fun, this adult beverage will be the star of your holiday!
Who's excited to add some Grinchiness to their Christmas? You'll love this easy peppermint fudge with a Grinch inspired look.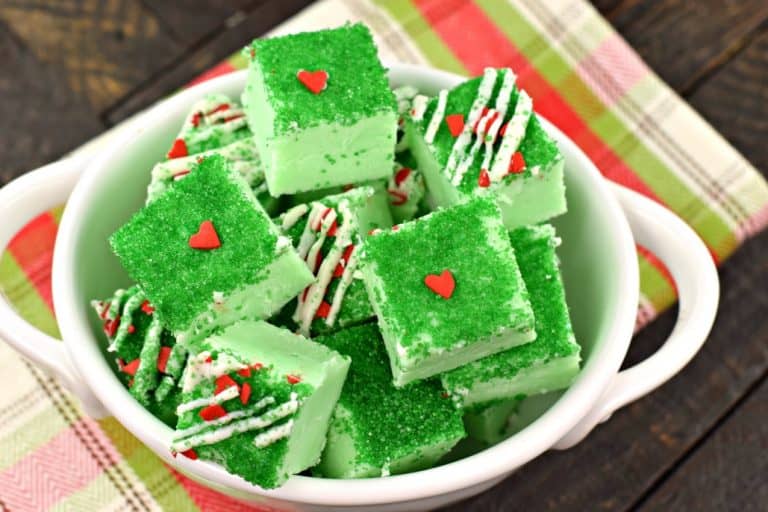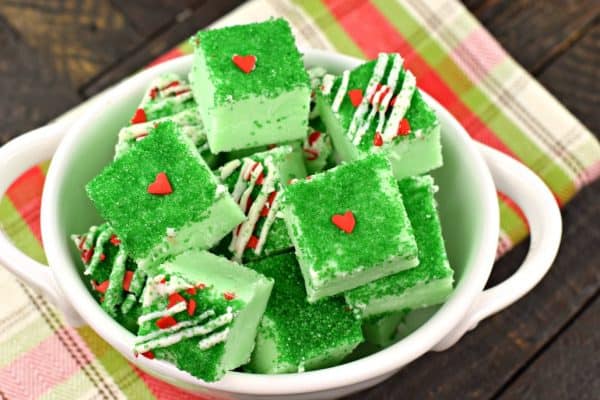 More Christmas recipes