Traditional OREO cookie balls shaped for the holiday season! Easy, impressive and delicious too!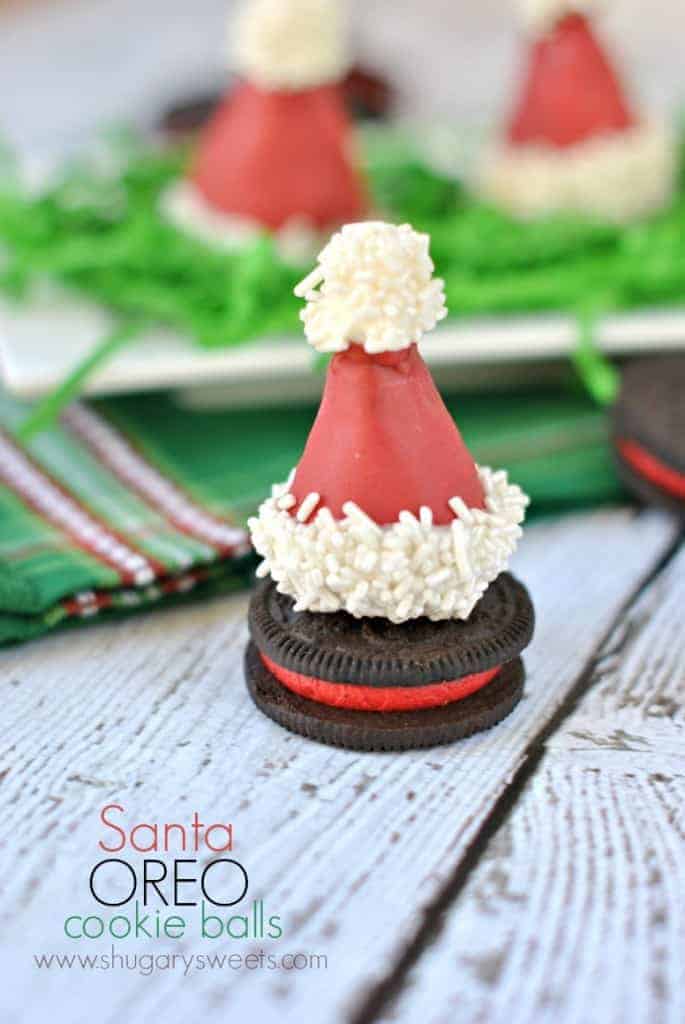 Please tell me you have had an OREO cookie ball.
You know, those candy coated bite sized treats made from crushed Oreos rolled with cream cheese? So easy peasy and always delicious. I love making Oreo cookie balls for parties or little gifts.
Almost as much as I love eating them!
Christmas Dessert
Today's cookie ball recipe was crafted with the upcoming holiday season in mind!
Of course, you can make regular Oreo balls for the holidays and everyone will enjoy them. But this year, I wanted to take things a step further and add a little more festivity to these treats!
Santa Oreo Cookie Balls are shaped like miniature Santa Claus hats. I know that jolly ol' St. Nick himself would heartily approve of these treats with their cheery pop of color and rich flavor!
If you're looking for an easy Christmas dessert to add to your party trays or family celebrations, you're going to LOVE this recipe.
Ingredient Notes
Here's what you need to make Santa Oreo Cookie Balls.
Oreos – Use original Oreos OR take it a step further and grab a package of the holiday Oreos (with the red filling). Mint Oreos would also be delicious here for a candy cane flavor!
Candy coating – You need both red candy coating and white candy coating to color and decorate the Santa hats.
Cream cheese – A full package of regular cream cheese, softened for a few minutes on the counter to make it easy to work with.
Mini-marshmallows – To make the bob on top of the hats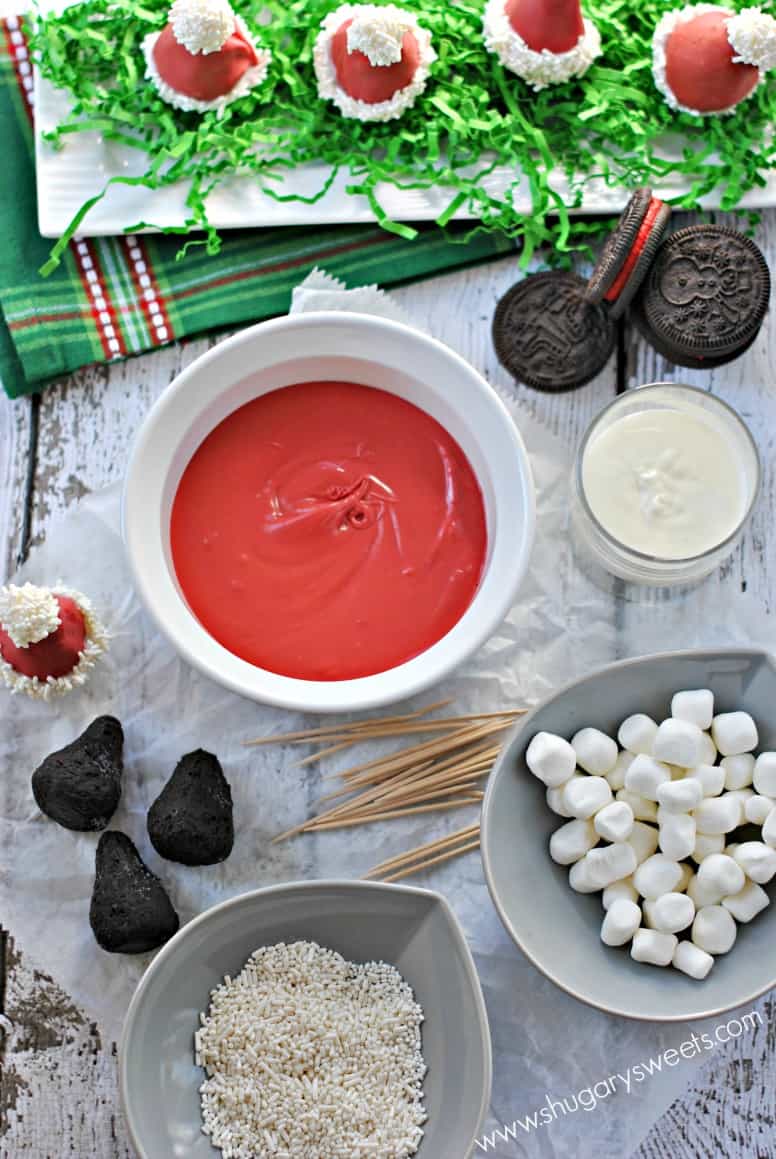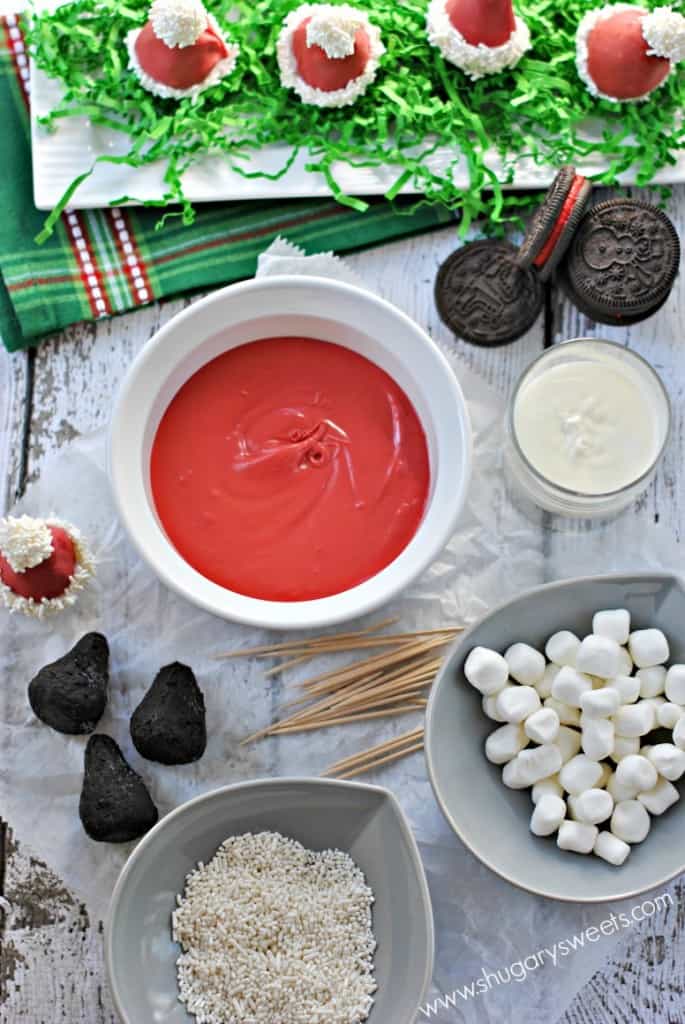 Step by Step Instructions
STEP 1. Make Oreo crumbs
Pulse the cookies in a food processor to form fine crumbs. Mix with the cream cheese to combine.
STEP 2. Form cones
Scoop a tablespoon of the cookie mixture and form into a cone shape with your hands by rolling it into a ball, then pinching the top. Place the cookie cones on a baking sheet lined with parchment paper.
Freeze for at least 1 hour until fully hardened.
STEP 3. Dip in candy
Use a toothpick to dip the santa hats into melted red candy coating one at a time. Return the hats to the baking sheet.
Dip the bottoms of mini marshmallows in the red candy coating and attach them to the top of each hat. Let the hats harden until set. (This takes anywhere from 15 – 30 minutes.)
STEP 4. Add white trim
When the red hats are set, melt the white chocolate candy coating. Dip the marshmallow end of each hat into the white coating then into a plate of white sprinkles.
Let harden for about 15 minutes, then repeat with the bottom ("brim") end of the hat.
Once set, the hats are ready to enjoy!
Tips & Tricks
A little of the white chocolate coating goes a long way. Try not to get too vigorous dipping the pointed ends of the hats into the melted candy–excess can drip down the hats creating a less than ideal look!
Don't worry if not all the Santa hats are perfectly shaped. A little variety is fun, including some "floppy" hats!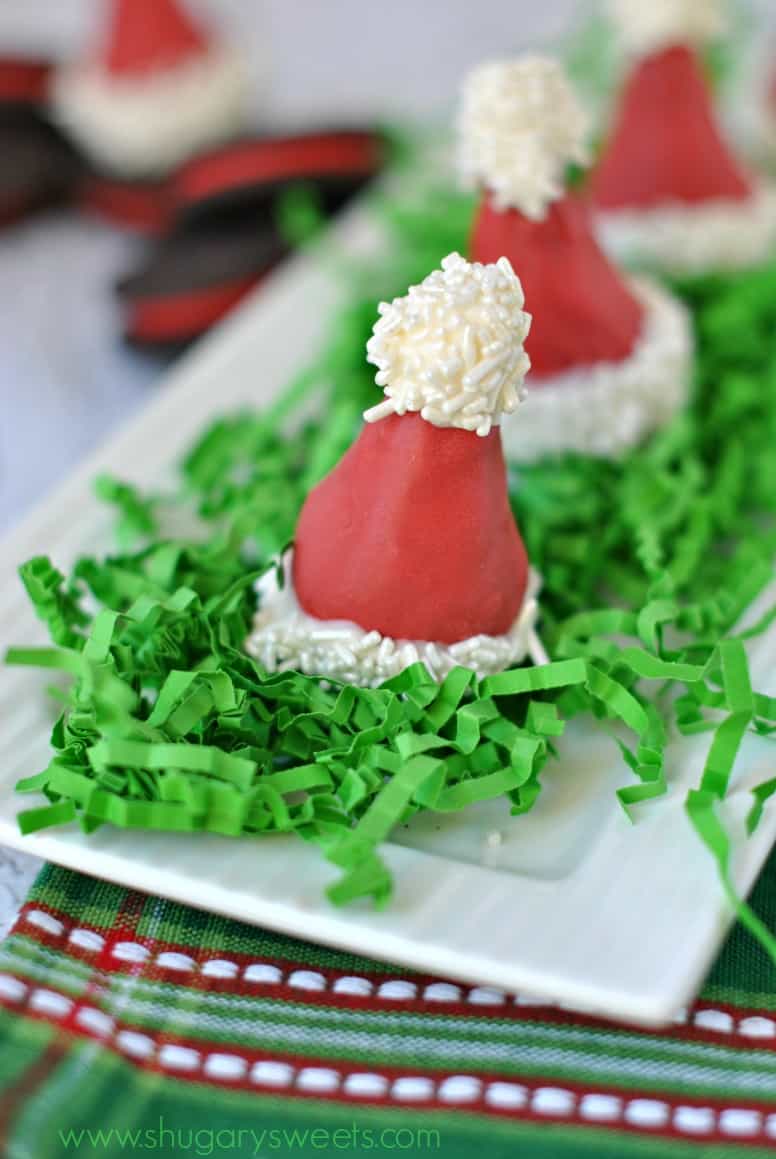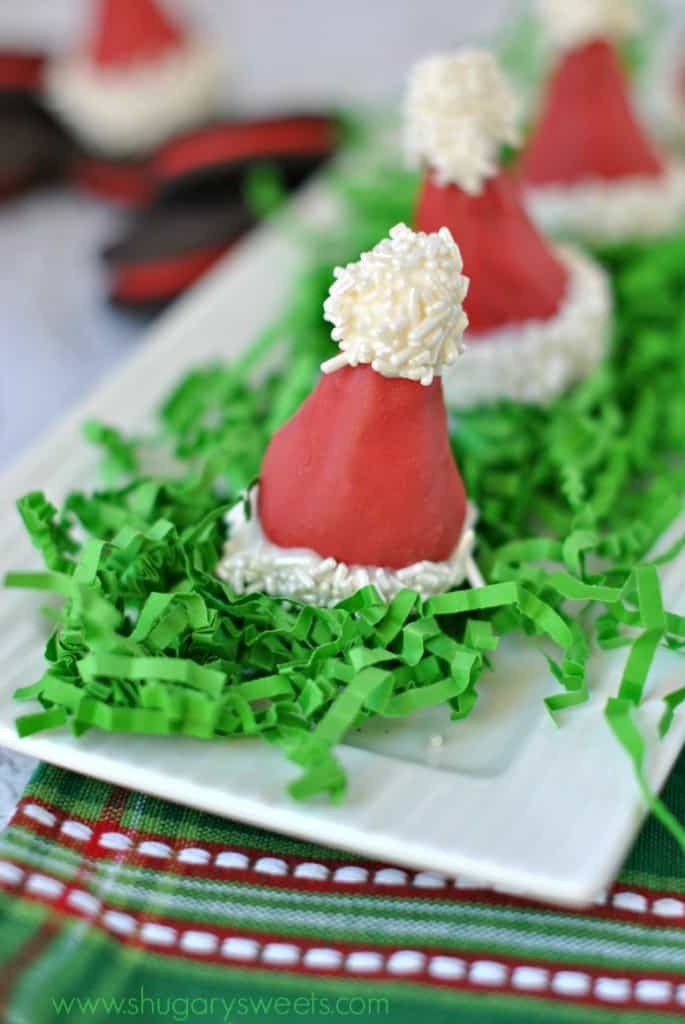 Recipe FAQs
How do you store Oreo Cookie Balls?
Keep these in the fridge until ready to serve, in an airtight container. They'll stay good for about a week.
Can you use food dye to make red candy coating?
If you can't find red melting candy coating, you can add red food gel to color white candy coating. However, the color won't be as vibrant.
Can you freeze these?
If you need to make these ahead of time, I recommend freezing the cookie balls before dipping in the melted candy. Make sure to transfer them to a freezer safe container after they're frozen solid and you can store them this way for several days before finishing the Santa hats!
Love OREO Cookie Balls?
It's not hard to understand we're pretty much in love with this easy treat. So spread some festive cheer and keep holiday spirits high with some Santa Oreo Cookie Balls this year!