Thick and fudgy Chocolate Brownies. Grinch Brownies with a green mint ganache, mint Oreos, and red hot candies! Perfect for Christmas.
We love creating delicious, minty desserts. Our mint oreo fudge is a family favorite, and gets devoured quickly! And let's not forget our delicious mint brownie recipe!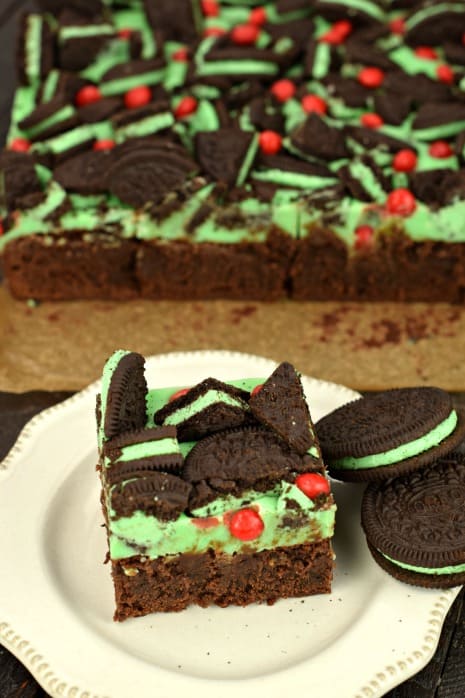 Why these Brownies are Best
Little known fact about me. I'm weak when it comes to brownies (and rice krispie treats).
If they're thick and fudgy, I can't resist them.
Today's brownie recipe has a delicious fudgy base and is topped with a white chocolate Oreo mixture, all decked out in Grinch style. Green ganache with little red "hearts."
I'm not usually very good at making creative, holiday treats. I don't have the patience for it, haha! But every year I try to come up with one easy Christmas recipe that the kids can help make AND eat!
You may remember these Holiday Scotcheroos or this Grinch Fudge!
How to Make Grinch Brownies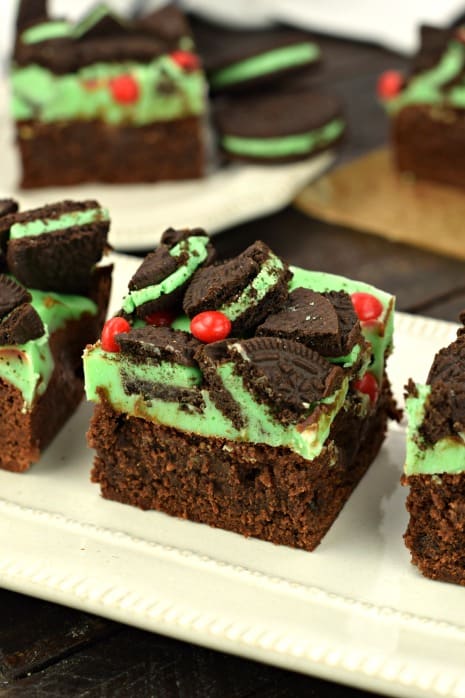 STEP 1. Bake a batch of brownies in a 9-inch baking dish. If using a 13×9 recipe, the brownies will be thinner (and so will the ganache topping)…but it will still be delicious.
I used my favorite bakery style brownies recipe, but you can also use this perfect dark chocolate brownie recipe or these buttermilk brownies as the base. 
Even a store bought mix will work!
STEP 2. After the brownies have cooled, prepare the mint ganache topping.
In a heat safe bowl or double boiler over simmering water, add white chocolate and heavy cream. Stir until chocolate has fully melted.
Remove from heat and stir in peppermint extract and green food coloring.
Pour ganache over brownies and top immediately with chopped Oreos and red hot candies.
Allow to set, for about one hour. Cut and enjoy.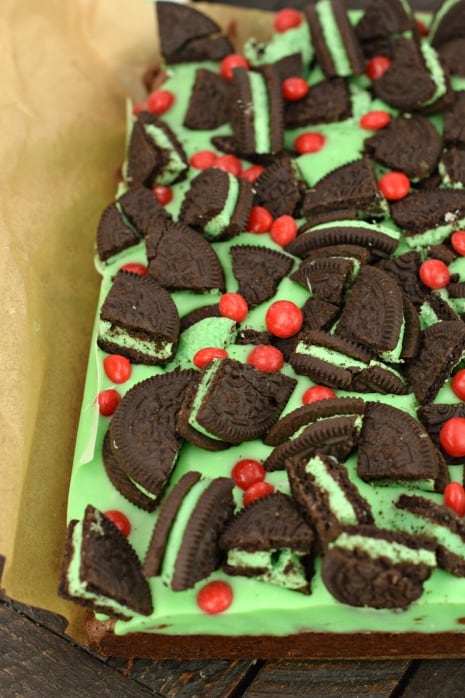 Tips for perfect Christmas brownies
Use a good quality white chocolate for the ganache. I like to use Ghirardelli. It not only melts well, but tastes delicious too.
Make sure to choose peppermint extract, NOT mint extract. The mint will taste more like a spearmint flavor tube of toothpaste. Just sayin.
Also, when adding food coloring to melted chocolate, I prefer to use a gel food coloring, like Americolor. The color is vibrant, and you only need a small drop. Plus, it doesn't cause the white chocolate to seize up!
The best way to cut brownies is with a plastic knife. For whatever reason it keeps the brownies from sticking to the knife while slicing. You've got to try it!

Can you freeze Holiday Brownies?
Yes! But just remember the texture will change slightly after thawing. The Oreo cookies will be softer, and the peppermint candies may be sticky.
I suggest you freeze the brownies without the topping, then top these brownies when ready to serve.
BUT, if you do choose to freeze the brownies as leftovers or whole, wrap in plastic wrap, then slide into a ziploc freezer container (or airtight container) for up to 30 days.
Thaw at room temperature overnight.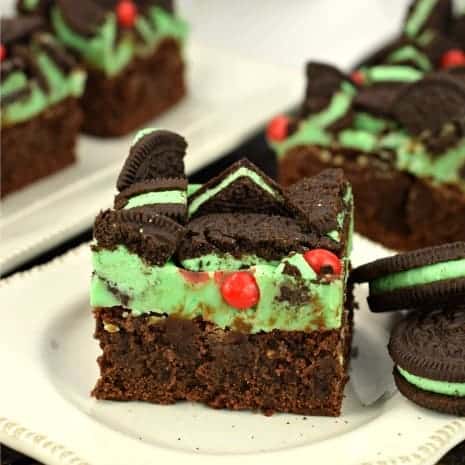 More Christmas recipes