The Best White Chocolate Caramel Swirled Fudge recipe is a buttery, sweet perfection. This confection is simply irresistible and easy to make!
If you love caramel desserts, our caramel brownies are top notch! Readers can't get enough of our delicious caramel bread pudding recipe!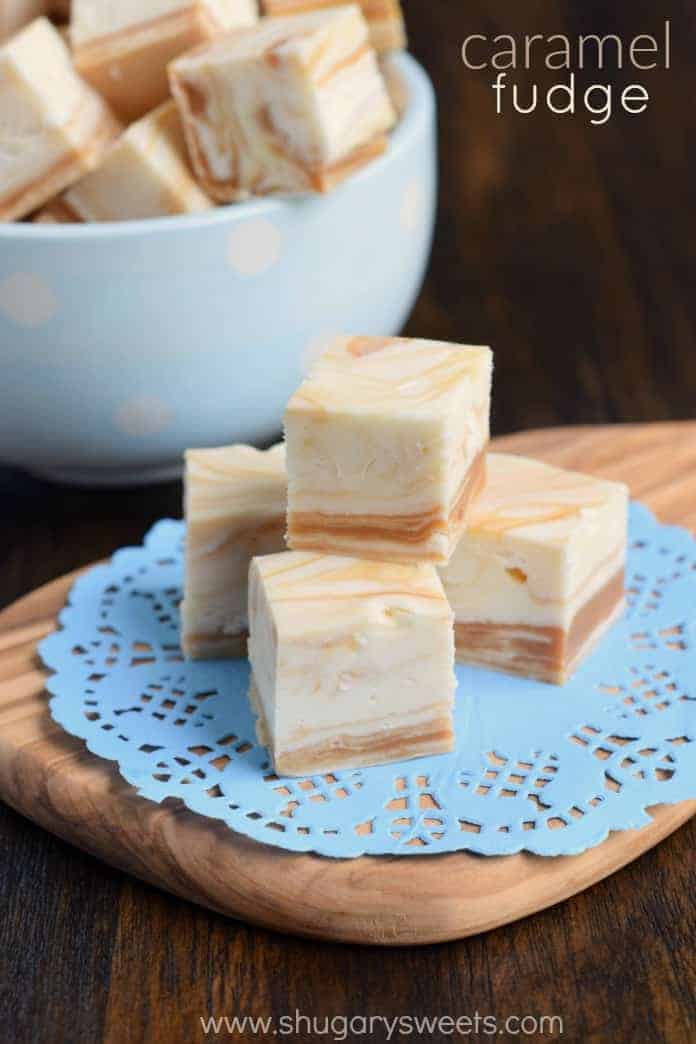 Why This Recipe Works
Homemade fudge is actually really easy to make – and this one has all kinds of delicious flavor!
We've got white chocolate chips, marshmallow fluff (creme) and an easy heavy cream caramel mixture to tie it all together.
No candy thermometer needed for this fudge! We're using my favorite easy boil method instead and it works great.
The swirls of caramel in this fudge are beautiful and a fun flavor pop!
Great for serving a crowd! This recipe makes 64 small squares, so it's a perfect dessert for a big group. It also makes a fantastic gift for neighbors, friends and family!
Ingredient Notes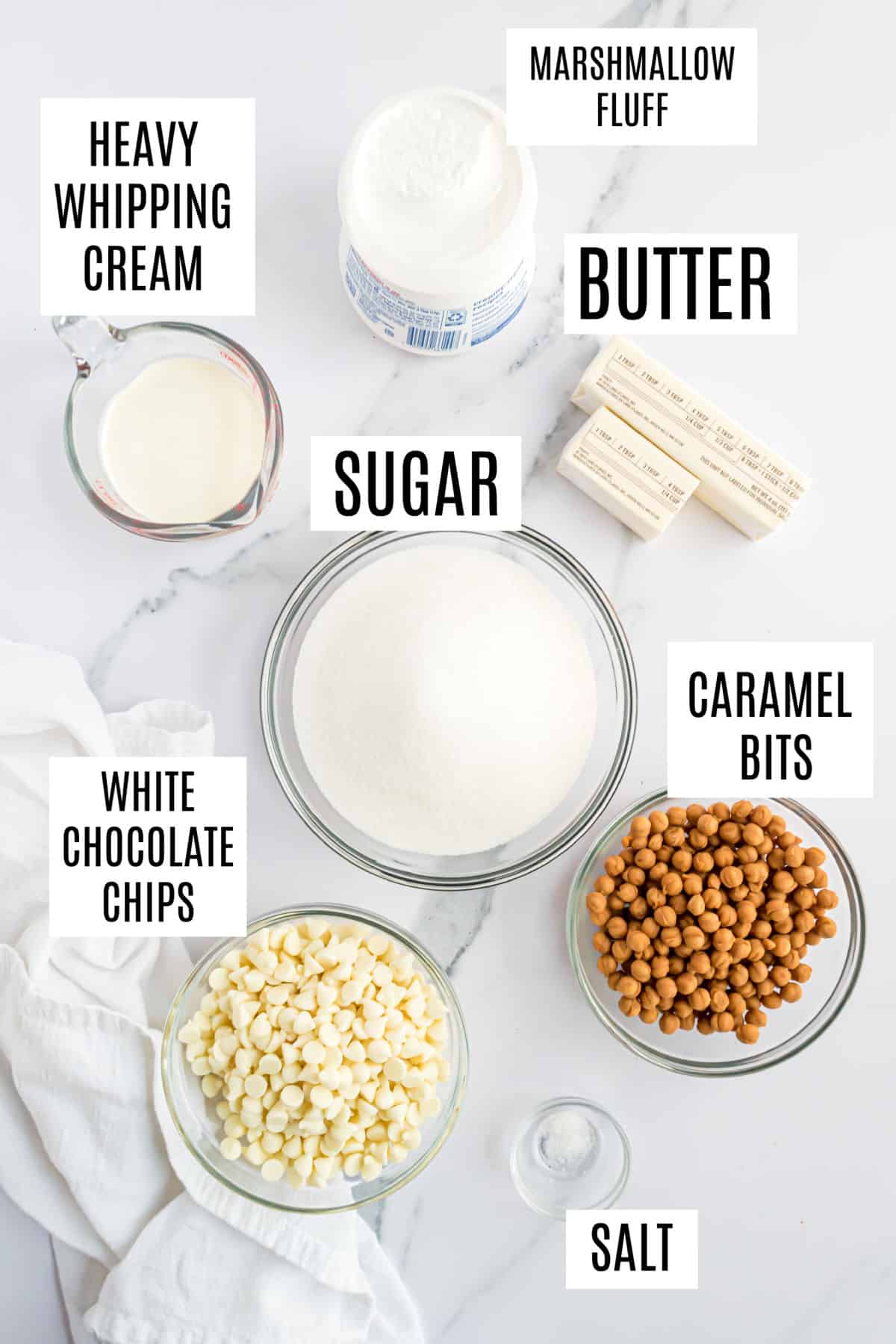 White chocolate chips – Choose a good brand like Ghirardelli since this flavor is key to a delicious tasting fudge.
Marshmallow cream – Also called marshmallow fluff, this helps give the fudge its soft texture.
Caramel baking bits – Find these in the baking aisle near the chocolate chips; or use chopped up caramel candies instead.
Butter- we use unsalted butter so that we can control the salt in our baking. If using salted butter, omit the extra kosher salt.
Heavy Whipping Cream- use the full fat cream, don't try to substitute with half and half or evaporated milk.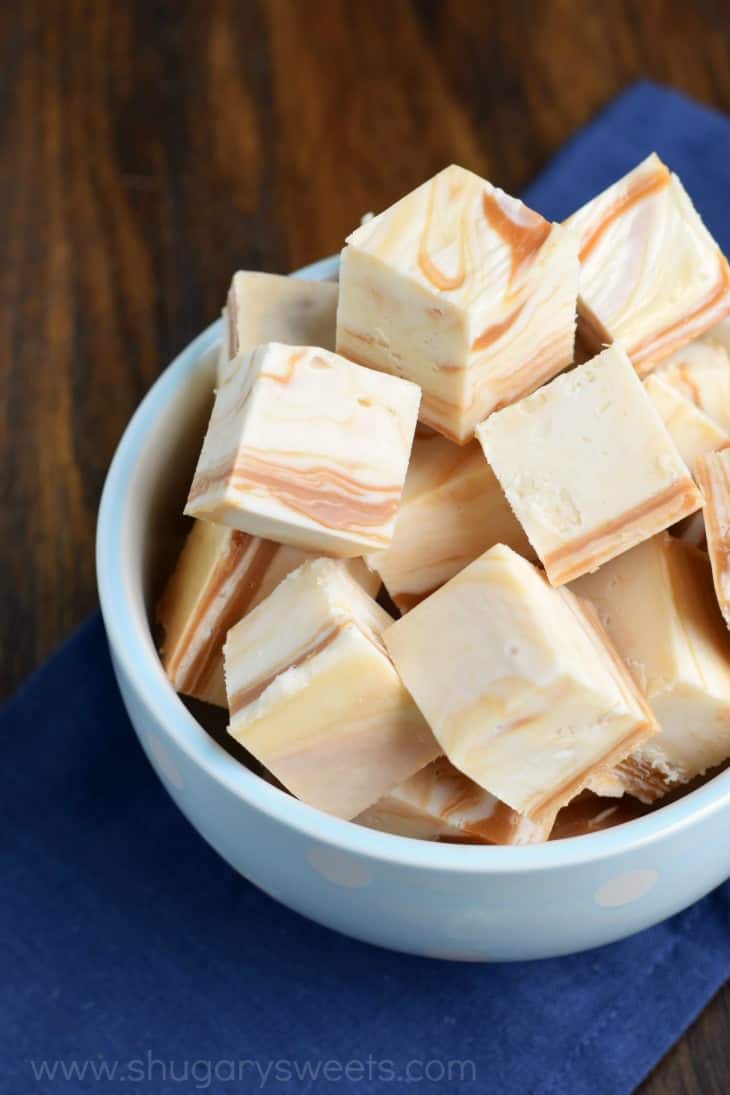 Easy Instructions
Prepare the base ingredients. Add the white chocolate chips and marshmallow fluff to a bowl. No need to stir or mix, but this should be ready to go.
Boil the cream mixture. Heat the butter, heavy cream, sugar and salt over medium heat and bring to a boil. Let it boil for 4 minutes then pour the mixture over the ingredients in your bowl.
Melt the caramels. Add the caramel bits and 1 teaspoon of heavy cream to a microwave safe bowl. Heat for 30 seconds and stir. Repeat 3-4 times until the mixture is smooth and melted. If you have some of our homemade caramels, you can melt those too!
Beat the fudge mixture. Beat the butter mixture with the white chocolate chips and marshmallow fluff for about one minute using the whisk attachment, just until white chocolate chips are melted. Add in the melted caramel and stir once with a wooden spoon.
Pour into pan and let set up. Pour the fudge mixture into a parchment paper lined 9×9 pan and let set up for at least 4 hours. Then cut into squares and enjoy!
Tips and Tricks
Line your baking dish with parchment paper before adding the fudge mixture. Once the fudge is set, you can grab the corners of the paper to remove it from the pan and cut squares for serving.
Slice as you go. Only cut your fudge as you plan to use it. This helps keep the remaining block as fresh as possible.
Store fudge at room temperature in an airtight container for up to 1-2 weeks.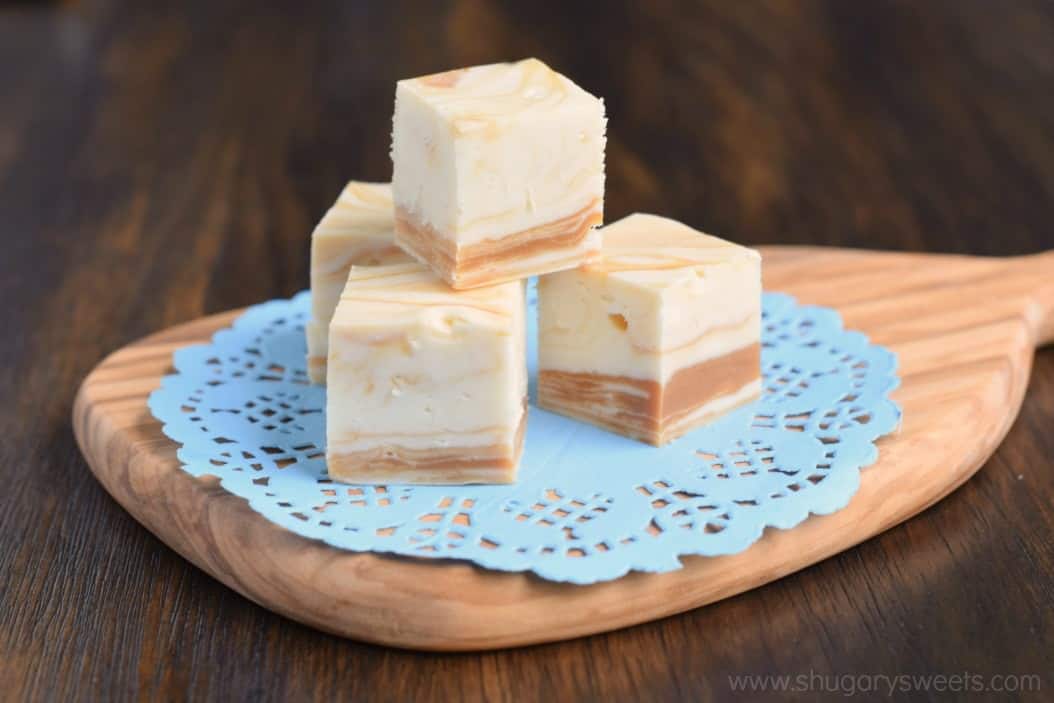 Recipe FAQs
What is marshmallow creme?
Marshmallow cream – or marshmallow fluff – is a spread with the flavor of marshmallows. It is thick but pourable and helps this fudge achieve the perfect texture without having to boil sugar for hours or use a candy thermometer.
What size pan do I need for making fudge?
I make my fudge recipes in a 9×9 inch square baking dish. An 8×8 inch square pan works well too!
Do I need to refrigerate fudge?
No. For best results, store fudge in an airtight container at room temperature. I prefer to leave the fudge UNCUT until ready to serve, as this helps keep it from drying out. (However, you can refrigerate fudge to extend the shelf life. Or if you simply prefer it served cold.)
Can I freeze white chocolate caramel fudge?
Yes, you can freeze fudge! Place in an airtight freezer safe bag then squeeze all the air out before placing it in the freezer. Let thaw in the refrigerator overnight before enjoying.
More Candy Recipes