Chocolate Cookie Dough Fudge Recipe
I've combined two of the best things in life: chocolate and cookie dough. This Chocolate Cookie Dough Fudge recipe will have you drooling in no time!
Be sure to sign up for my free email subscription…new recipes in your inbox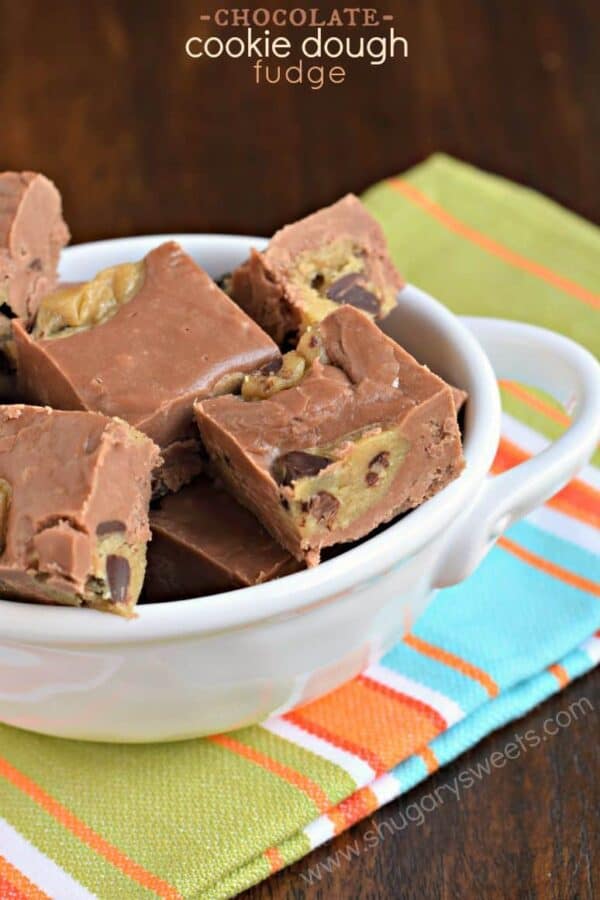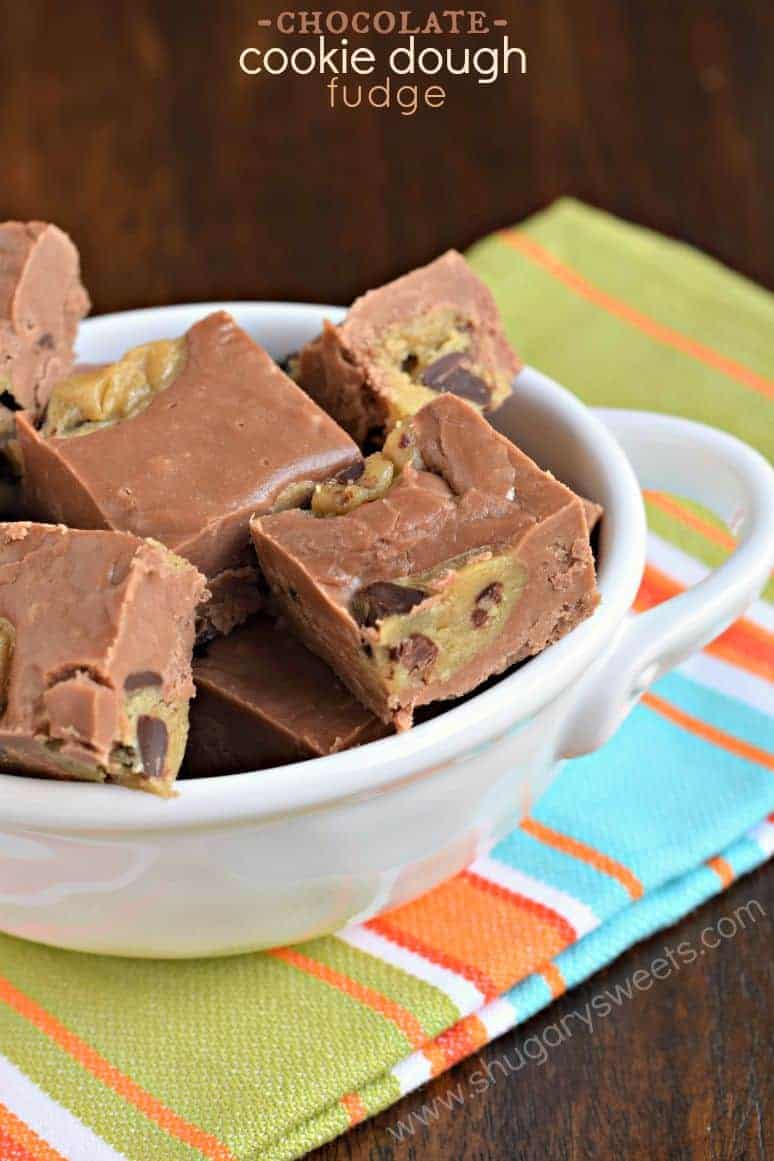 Click HERE to save recipe to Pinterest!
Every once in awhile I find myself coming home from the grocery store with random items. A box of Noodle-Roni, a can of spaghettios, or a package of refrigerated cookie dough.
While I normally am in the "from scratch" camp, I do occasionally give in to packaged foods. And if I'm being honest…there are a few things from childhood that I love!
For example: Bologna. I love it. I buy it maybe once every couple years…but oh man, yum. Take a piece of toast with butter, toss your bologna in the microwave for about 15 seconds and then on top of the toast. Good grief I should be ashamed of myself for admitting this!
Boxed mac and cheese. While I love homemade mac and cheese, more than nearly any other side dish…I can't help but purchase this blue box. And when I make a quick box for my kids, I find myself shoveling forkfuls into my mouth! It's what I lived on in college!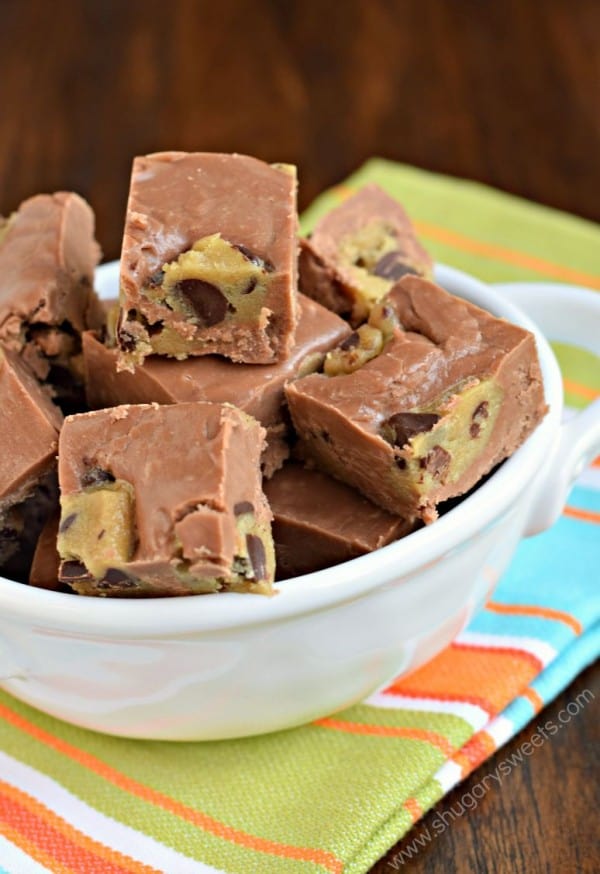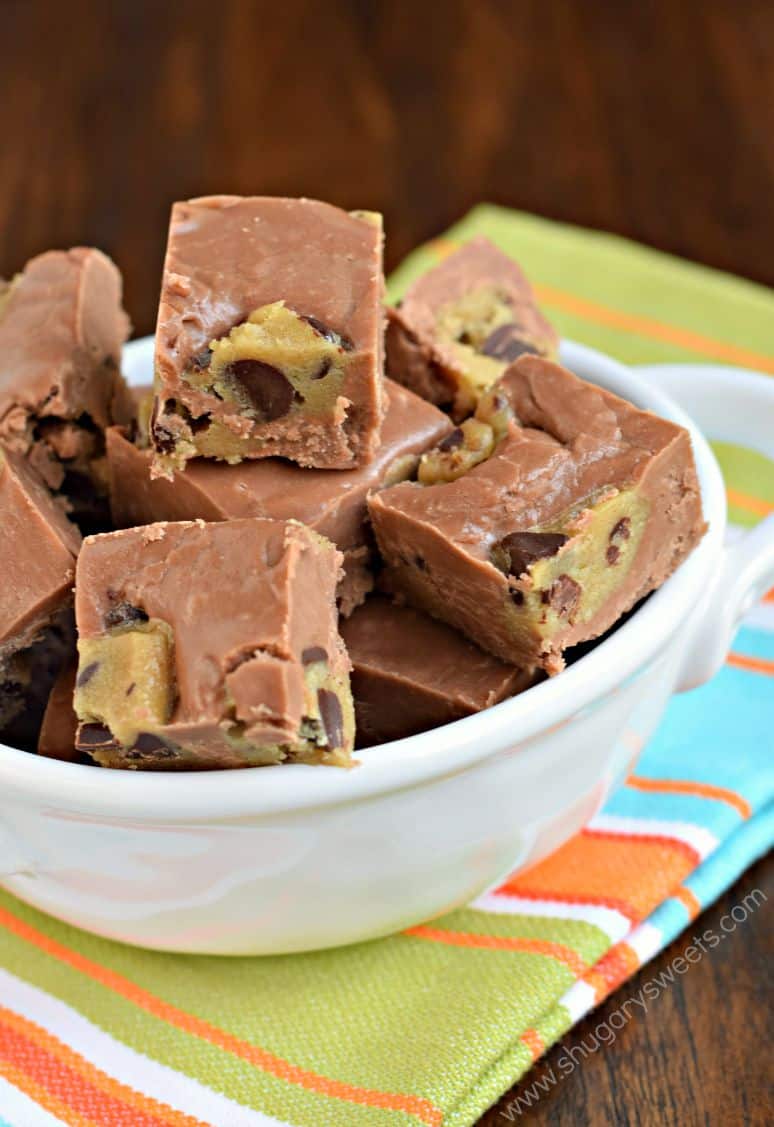 This dessert blogger has a confession. One of my husband's favorite desserts is a roll of cookie dough, broken into small balls. I drop those into a mini muffin tin, bake and immediately press a Reese's Peanut Butter Cup into them. Two ingredients. Zero work. ONE happy husband!
Last month I found myself with a roll of said cookie dough and no peanut butter cups. I tossed that roll of cookie dough into the freezer, thinking to myself, I'll take it out some other time when I'm fully stocked up on pb cups!
A week later, while making some Macadamia Nut Fudge , the thought came to me, what if I stirred in some hunks of frozen cookie dough into my milk chocolate fudge? Would it stay solid and not melt? Would it taste good? How do I make cookie dough fudge?
I immediately got to work in the kitchen and tested those thoughts. I wanted to make a Chocolate Cookie Dough Fudge. As it turns out, it was perfect. The cookie dough stayed soft (not melted) and the creamy chocolate fudge was the perfect pair. If you have a cookie dough lover in your house, you must try this!! And then you have to confess to me what your childhood favorite food is, even if it's embarrassing. Don't leave me hanging out to dry by myself!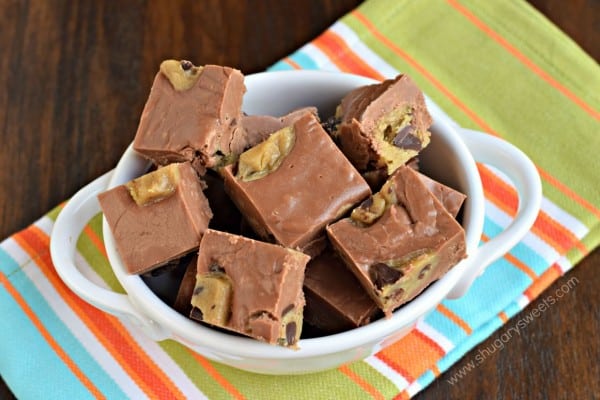 Connect with Shugary Sweets! Be sure to follow me on my social media, so you never miss a post!
Facebook | Twitter | Google+ | Pinterest | instagram 
Sign up to receive an email in your inbox for each new recipe:
Chocolate Cookie Dough Fudge recipe: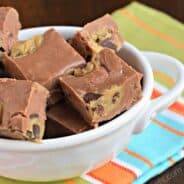 Chocolate Cookie Dough Fudge
Yield: 64 servings
Prep Time: 5 minutes
Cook Time: 5 minutes
I've combined two of the best things in life: chocolate and cookie dough. This Chocolate Cookie Dough Fudge recipe will have you drooling in no time!
Ingredients:
2 cups granulated sugar
1/2 cup skim milk
1/2 teaspoon pure vanilla extract
1/2 cup unsalted butter
3/4 cup marshmallow cream
12 ounces milk chocolate chips
8 ounces refrigerated chocolate chip cookie dough, frozen
Directions:
In a large saucepan, combine sugar, milk, vanilla, and butter.
Bring to a boil over medium high heat, stirring constantly. Once boiling, keep at a rolling boil for a full two minutes (still stirring).
For this next step, I use a stand mixer with whisk attachment (a hand mixer would work too). Combine the marshmallow cream and milk chocolate chips in mixing bowl. Pour hot mixture over these ingredients and blend until smooth. I turn my mixer on medium speed and blend for 1-3 minutes, scraping down sides of bowl as needed.
While this is mixing, line an 8-inch square baking dish with parchment paper. Crumble half of the frozen cookie dough (in small 1inch chunks) into bottom of baking dish. Set aside.
Once mixture is smooth, pour into prepared dish. With the remaining cookie dough, press small chunks into the top of the fudge. Refrigerate for 4 hours, or overnight. Cut and enjoy.
Store fudge in airtight container for up to 1 week.
MAKING THIS RECIPE? Share it with me on Instagram using the hashtag #ShugarySweets so I can see what you're cooking up in the kitchen!

*This Chocolate Cookie Dough fudge recipe was originally published on Shugary Sweets on August 13, 2015 and has been republished in April 2018.