Try making this fun, delicious Monster Cookie Dough Fudge for Halloween this year! Candy eyeballs add an extra spooky touch to fudge filled with M&Ms and peanut butter flavor!
Make your Halloween party the spookiest! Serve up a batch of Halloween Muddy Buddies, or stick with the monster cookie theme and make a plate of Monster Sugar Cookies!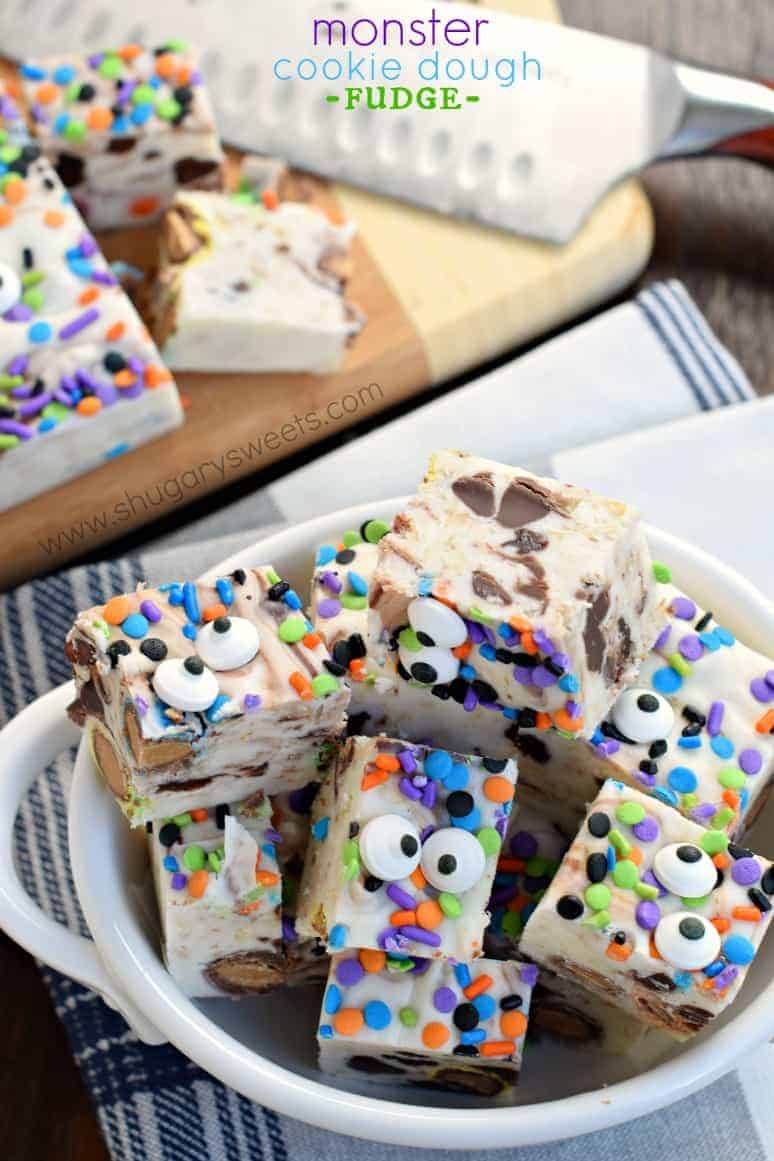 Halloween Fudge
I may or may not have a little obsession with Monster Cookies this week. How can you not love the flavors packed into one treat? And today's fudge is no exception.
Chocolate, oats, raisins, M&M'S Peanut Butter all packed into this crazy fun fudge recipe!
Let's talk about this fudge quick. It's made using my favorite no thermometer needed vanilla bean fudge base.
Just more proof that knowing how to make vanilla fudge will get you far in life.
I added a bunch of my favorite Monster Cookie ingredients including peanut butter M&Ms and raisins. Some multi colored sprinkles and googly eyes turned the tasty treat into a silly, spooky Halloween fudge.
As for those additions, this recipe can be made any time of year by mixing up how you decorate the fudge!
Ingredient Notes
Here's what I added to my vanilla fudge to turn it into cute Monster Cookie Fudge!
Chocolate Chips – Semi-sweet regular sized morsels or mini morsels will work.
M&Ms – Peanut butter M&Ms are my favorite. You can use regular M&Ms too, add about 1/4 cup of peanut butter to the fudge to give it a PB kick!
Raisins – Substitute craisins if you prefer or leave them out if you're not a raisin fan.
Oats – For that crunchy "monster cookie" element! Be sure to use quick cooking oats.
Sprinkles and candy eyes – Change up the sprinkles and decorations to suit the occasion. Red and green sprinkles turn this into a Christmas fudge. Or use some heart shaped sprinkles for Valentine's Day. It's all in what you make of it.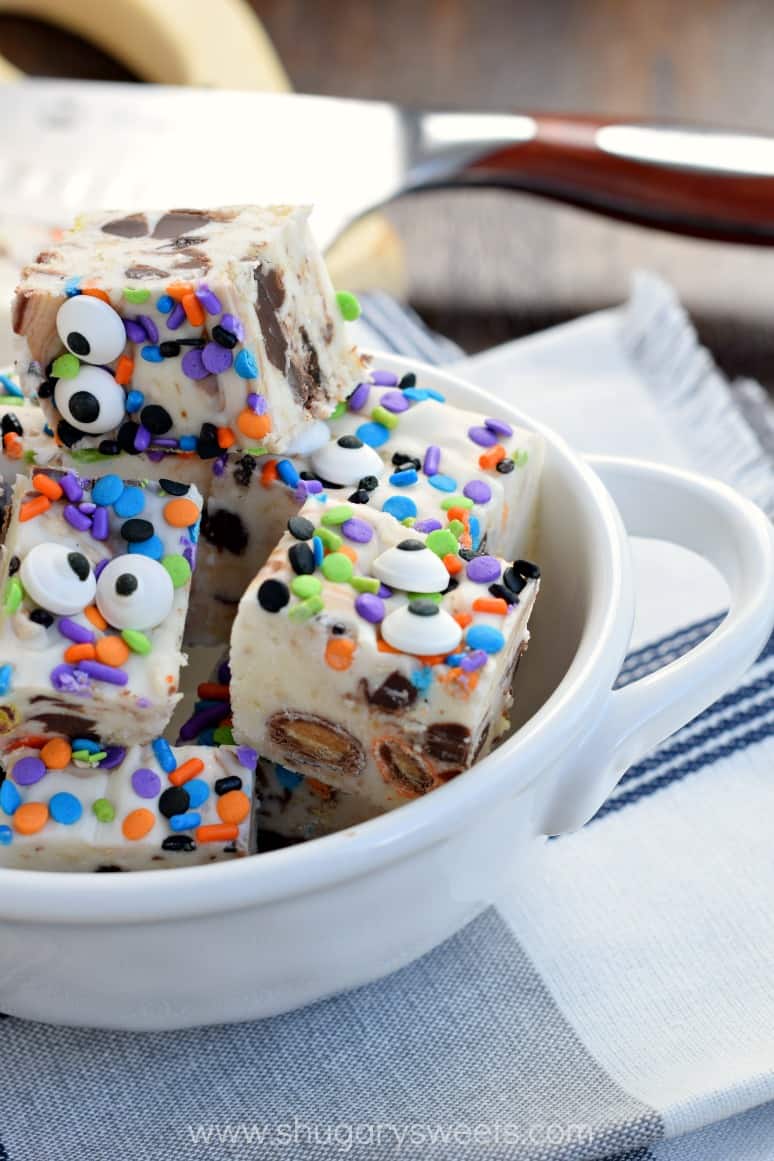 Step by Step Instructions
STEP 1. Make the vanilla fudge
Add marshmallow cream, white chocolate chips, and oats to a large mixing bowl. Set aside.
In a large saucepan, combine sugar, cream, butter and salt. Bring to a boil over medium high heat, stirring frequently for four minutes. Pour this mixture over the ingredients in the mixing bowl.
STEP 2. Add mix-ins
Beat the fudge mixture for about one minute until everything is melted and smooth. Fold in your raisins, M&Ms, oats and chocolate chips.
STEP 3. Decorate
Pour the fudge into a prepared pan lined with parchment paper. Decorate the top of the fudge immediately with sprinkles and candy eyeballs!
STEP 4. Chill
Let the fudge set up in the fridge for about 4 hours. Cut into squares and serve!
Tips and Tricks
Store fudge in an airtight container in the fridge for up to 2 weeks. You can freeze the fudge too but the sprinkles may bleed color when the fudge thaws.
If using google eyes, you can pair them together or space them out to make this into adorable "cyclops" fudge!
Try arranging sprinkles to make the shape of a mouth and nose to complete your monster faces.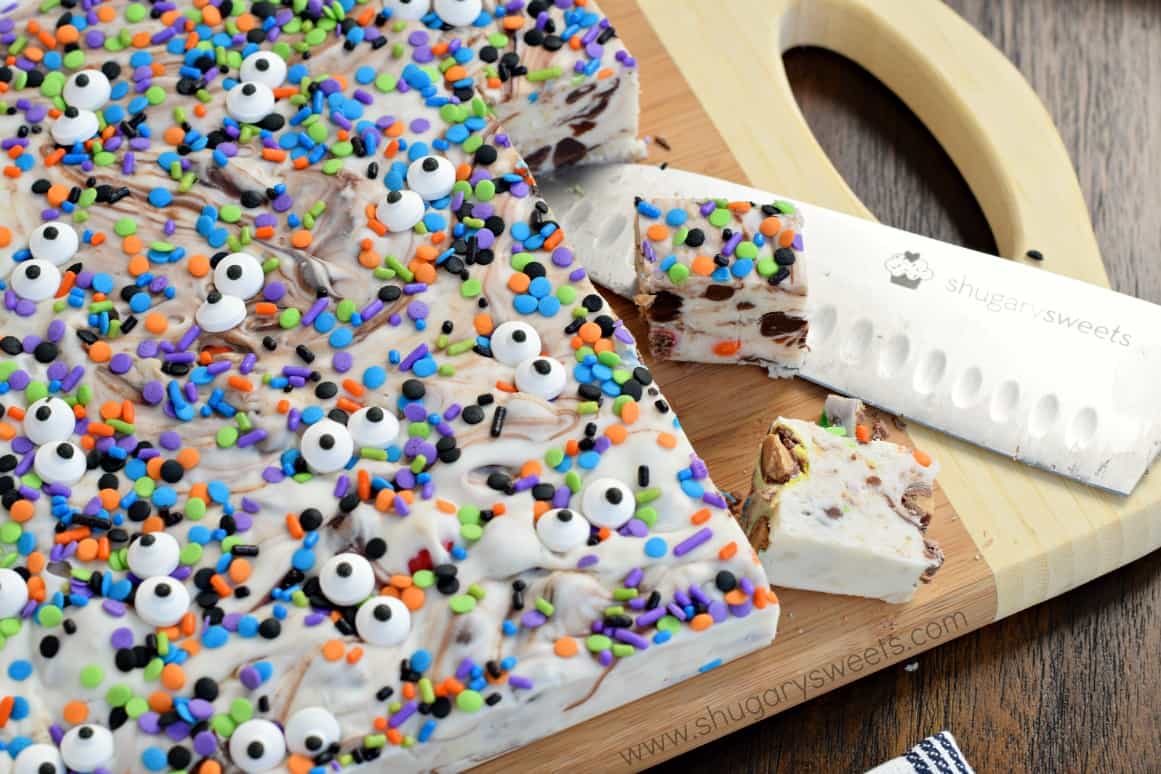 Recipe FAQs
Can I omit the raisins in monster cookie dough (fudge)?
If you can't stand the idea of raisins in your fudge, go ahead and leave them out. I love the contrasting texture and flavor!
Can I use different candies in place of the M&Ms?
Absolutely. Reese's pieces would be a great and nutty substitute for the peanut butter M&Ms.
Do you need to keep the fudge in the refrigerator?
I like to keep it in the fridge but it will also hold up fine at room temperature once set, unless your house runs warm!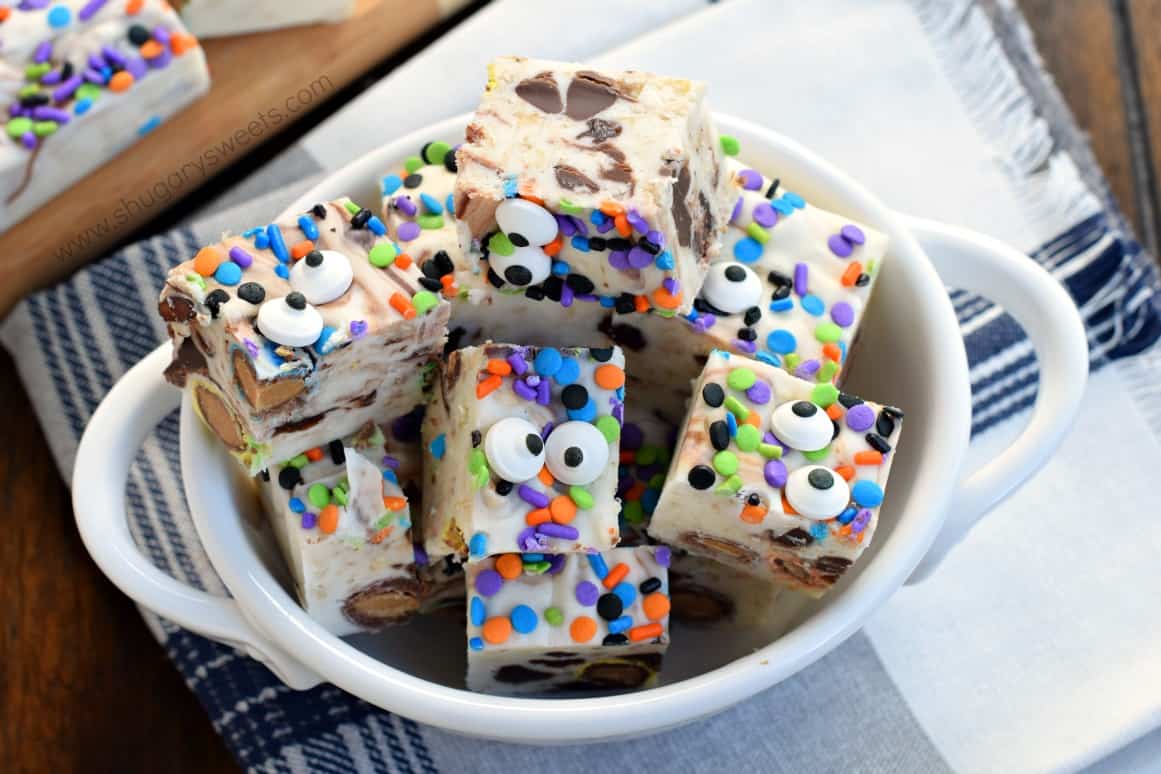 Cute and spooky Halloween Fudge with all the ingredients of your favorite Monster Cookies! How can you NOT make this Monster Cookie Dough Fudge this year?