Delicious, smooth Vanilla Bean Fudge made with Rodelle Vanilla Beans. Scroll down below to be entered to win your own gift basket of Rodelle Vanilla goodies!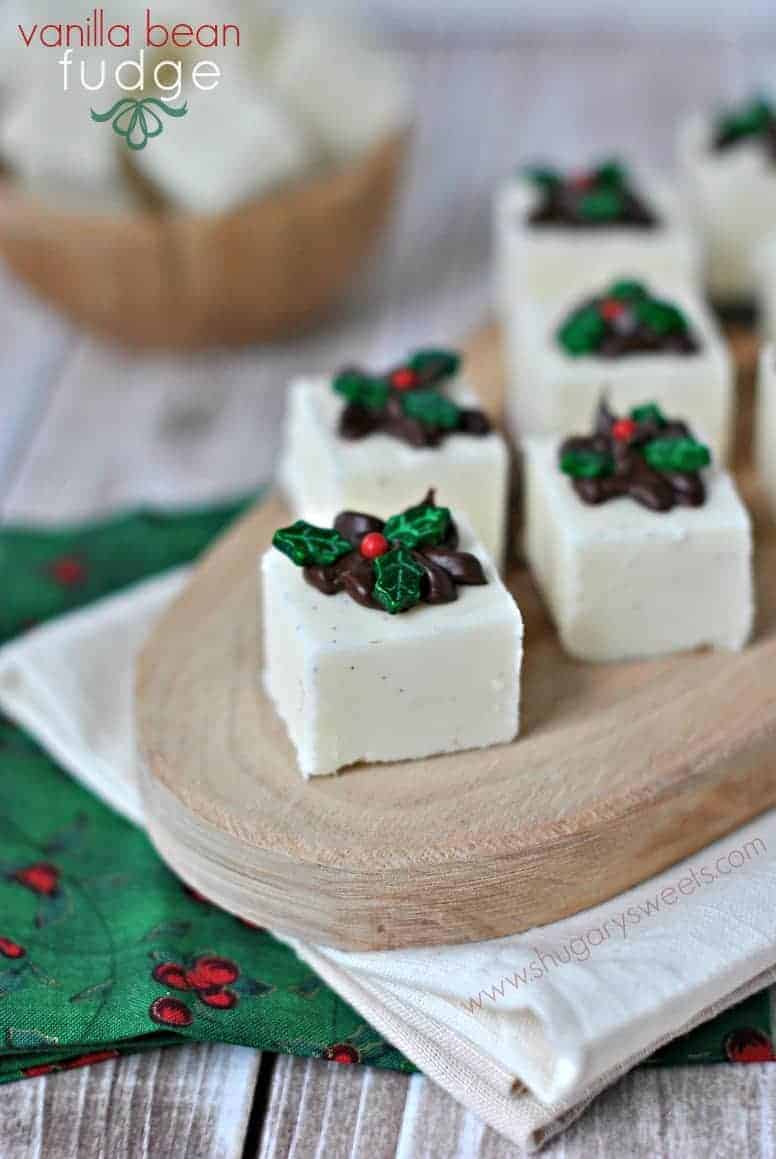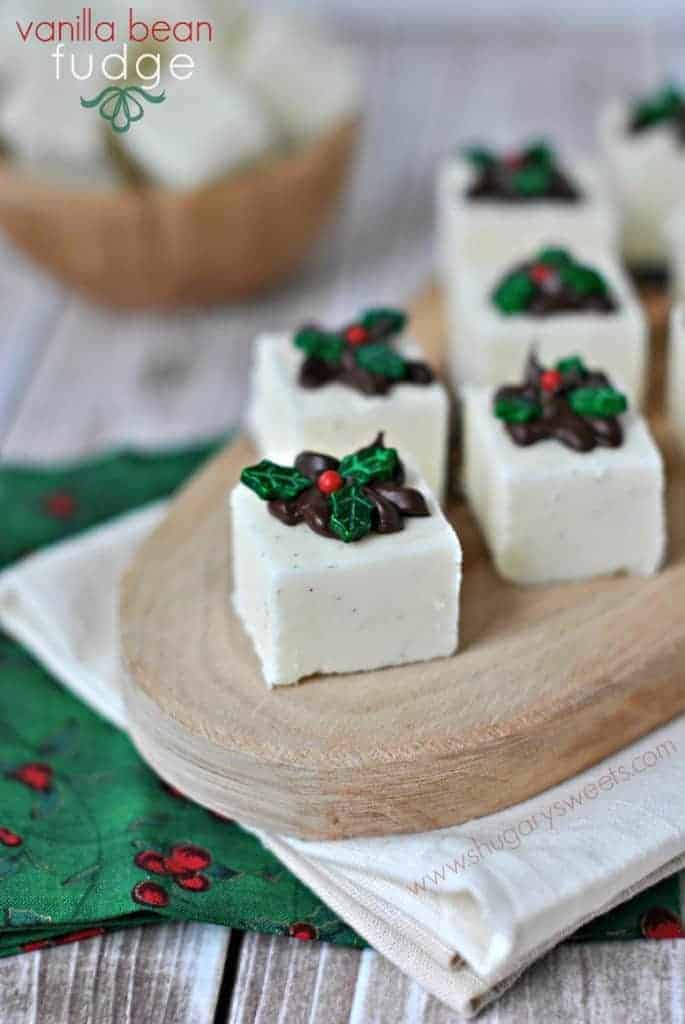 Vanilla Bean fudge has been on my mind for a very long time. With all the flavors of fudge I've made over the years, I've never done vanilla bean. Shocking, right?
The Root Beer float fudge and the Strawberry Swirl fudge have the base of the vanilla fudge, but it's not quite the same until you add the vanilla beans. Just like vanilla ice cream and vanilla bean ice cream are very different, so is today's fudge!
I know what you're thinking. Vanilla Beans are expensive. It's true. I use them sparingly and only in the BEST recipes.
Like today. You could just do vanilla fudge. Sure. But why not take that extra step and create something special? I love those little flecks of vanilla bean! I also used plenty of sprinkles to give this fudge a holiday flair. Feel free to leave off the extra chocolate and sprinkles to keep it simple, yet classy.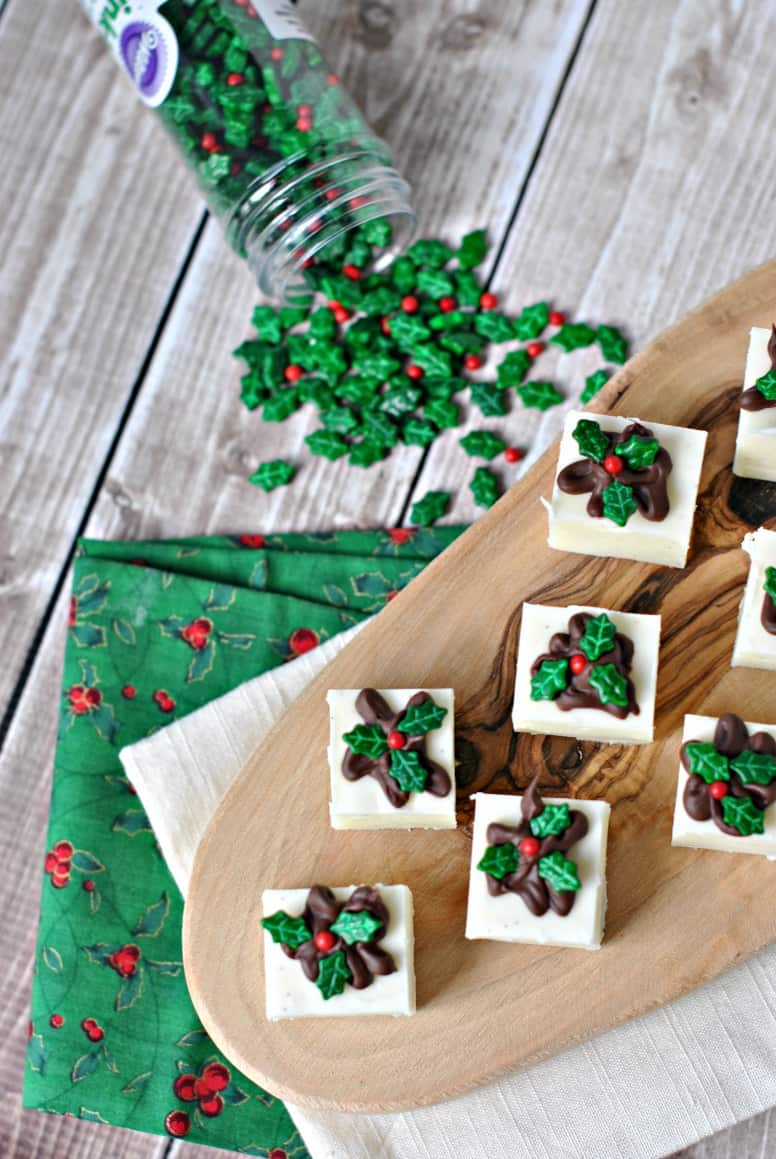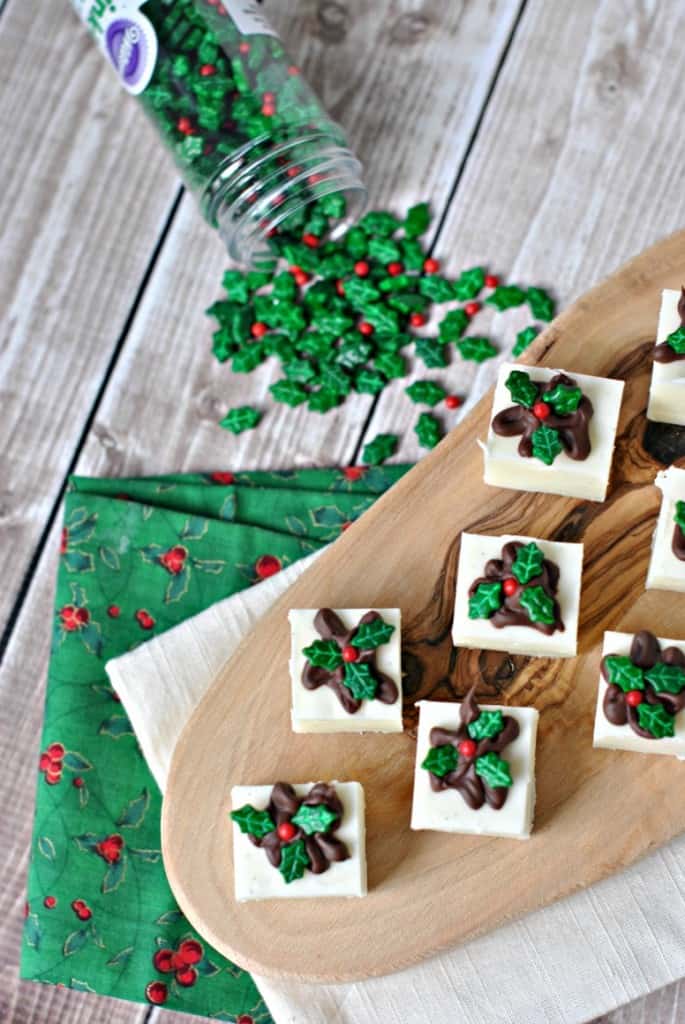 And, if you want to stretch your dollar, make vanilla sugar. It's so easy. Once you've scraped your vanilla bean, put it in a mason jar and cover it with granulated sugar. Put a lid on the jar, shake, and let it set. I keep a jar (or two!) on my counter (or in my cabinets) and use the vanilla sugar in recipes like cupcakes, snickerdoodles, and lemon knots. It adds such a depth of flavor. Seriously. It's perfect to add into any baked good that calls for sugar and vanilla extract together, use your vanilla sugar!
I replace the sugar in my jar several times before removing the bean. Then I add another bean (after I scraped out the good stuff!). It's a cycle that is hard to stop!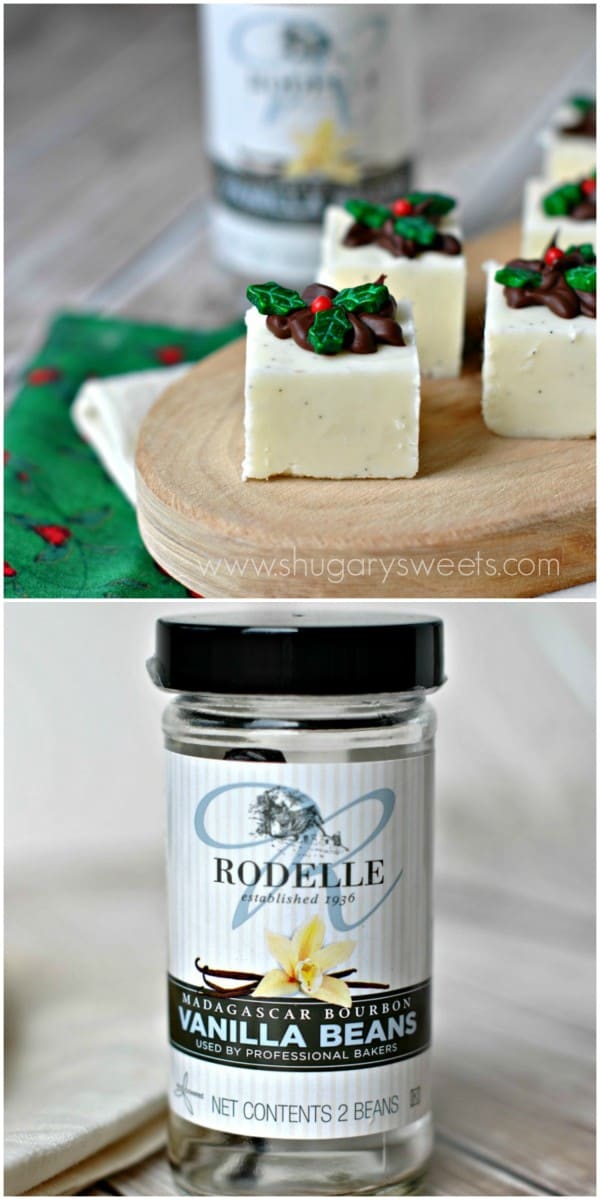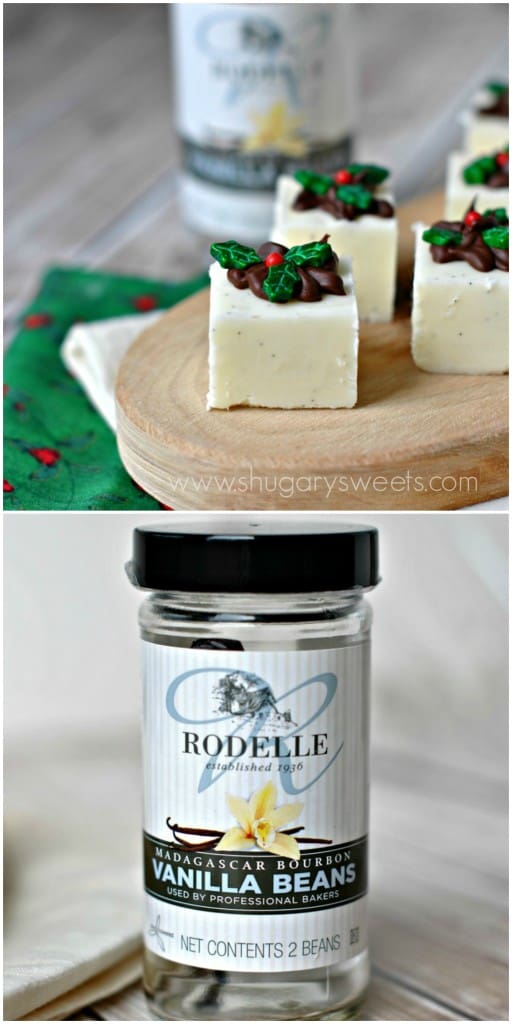 Another thing I don't go cheap on is Vanilla Extract. I have always bought Rodelle. Sure it's more expensive, but it's quality that counts, right? I mean, I can bake up dozens of mediocre cookies…but why not bake up DELICIOUS cookies instead by using a few quality ingredients? After all, you're taking the time to bake!
Make sure to check out my guide for how to make vanilla fudge for more fudge-making tips!
Today, Rodelle will be providing TWO lucky Shugary Sweets readers with a fun gift basket with Rodelle Cocoa, Vanilla Beans and Vanilla Extract! Be sure to enter the rafflecopter below the recipe!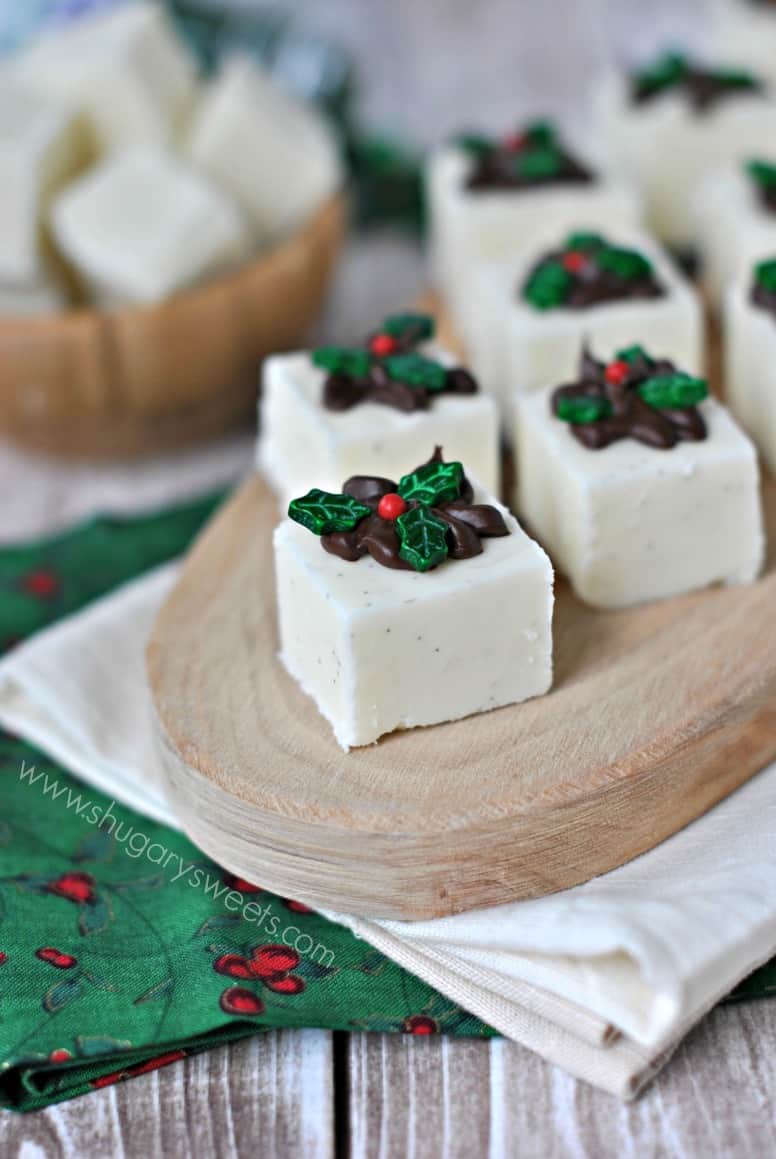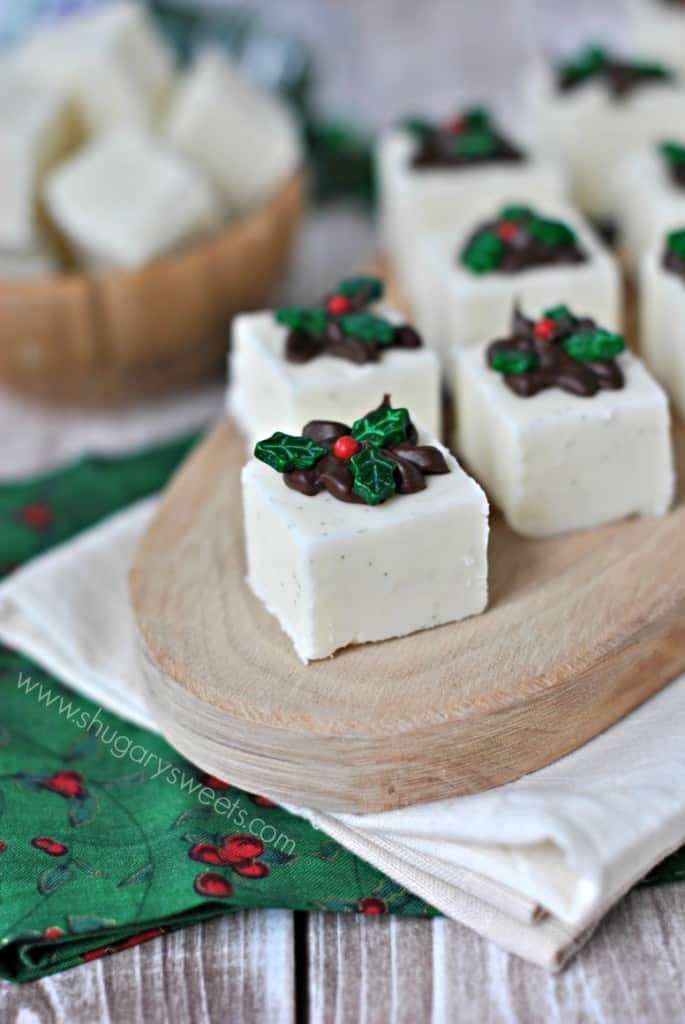 Connect with Shugary Sweets! Be sure to follow me on my social media, so you never miss a post!
Facebook | Twitter | Google+ | Pinterest | instagram | Bloglovin'
Save your favorite recipes to your personal recipe box with the

button on all my recipes! Create a Meal Plan with your "favorited" recipes and the ingredients will automatically be added to your own Grocery List!
Yield: 64 pieces
Vanilla Bean Fudge
Prep Time
2 hours
20 minutes
Total Time
2 hours
30 minutes
Delicious, smooth Vanilla Bean Fudge made with Rodelle Vanilla Beans.
Ingredients
2 cup granulated sugar
3/4 cup heavy cream
3/4 cup unsalted butter
1/8 tsp kosher salt
1 jar (7oz) marshmallow cream
1 pkg (11oz) white chocolate morsels
1 vanilla bean, scraped
1/2 cup semi sweet chocolate, melted (optional)
sprinkles (optional)
Instructions
Line an 8inch square baking dish with parchment paper and set aside.
Prepare your mixing bowl by adding the marshmallow cream, white chocolate morsels and vanilla bean. Pour these ingredients (unmelted) into the mixing bowl and set aside.
In a large saucepan, melt butter with sugar, heavy cream and salt over medium high heat. Bring to boil. Stirring constantly, boil for a complete 5 minutes. Remove from heat.
Pour hot mixture over ingredients in your mixing bowl. Using an electric mixer with whisk attachment, beat on medium until smooth and creamy (about one minute). Pour into prepared baking dish.
Refrigerate hot fudge for two hours, until set (or overnight).
Remove parchment paper and cut into bite size pieces.
If desired, pour melted chocolate into a ziploc sandwich bag, snip off the corner and drizzle over tops of fudge pieces. Add sprinkles and enjoy.
Store fudge in an airtight container in the refrigerator for up to 3 weeks. ENJOY.
Notes
To scrape a vanilla bean, slice it lengthwise from end to end. Using the tip of the knife "dig" out the beans until all have been removed. Save used vanilla bean and place it in a jar of granulated sugar to make Vanilla Sugar.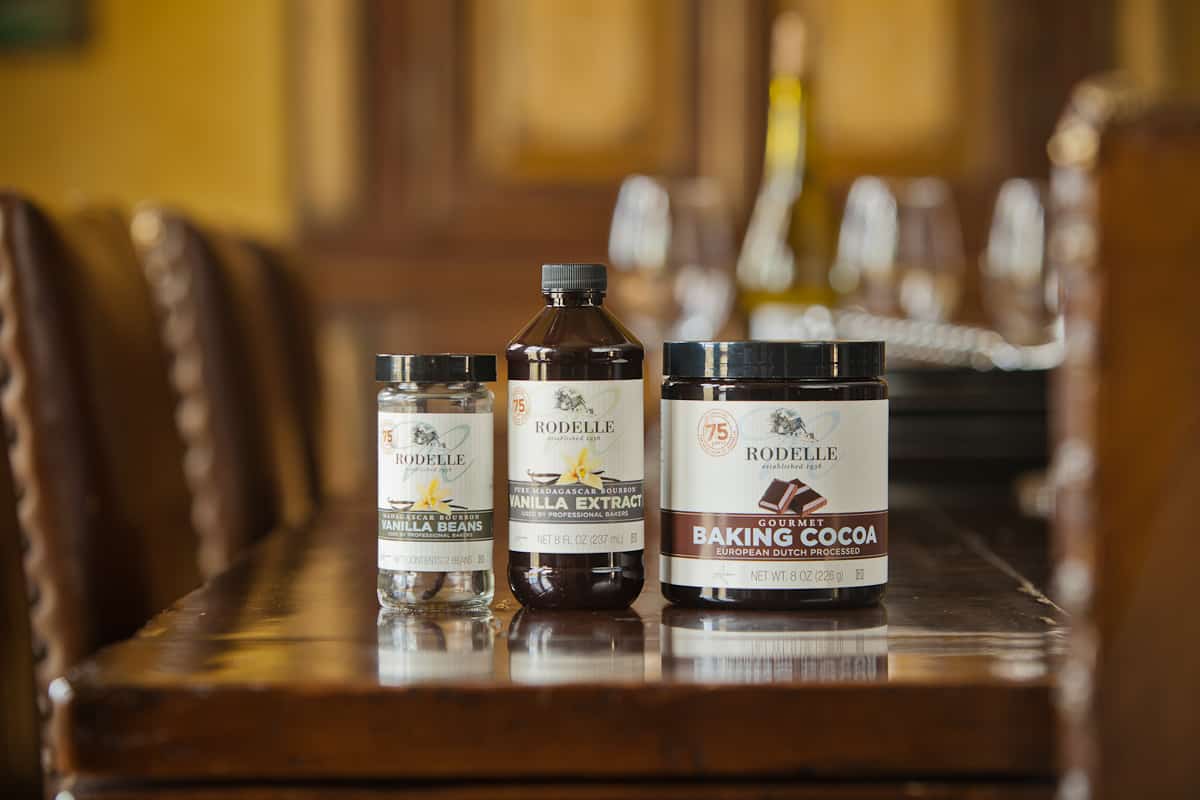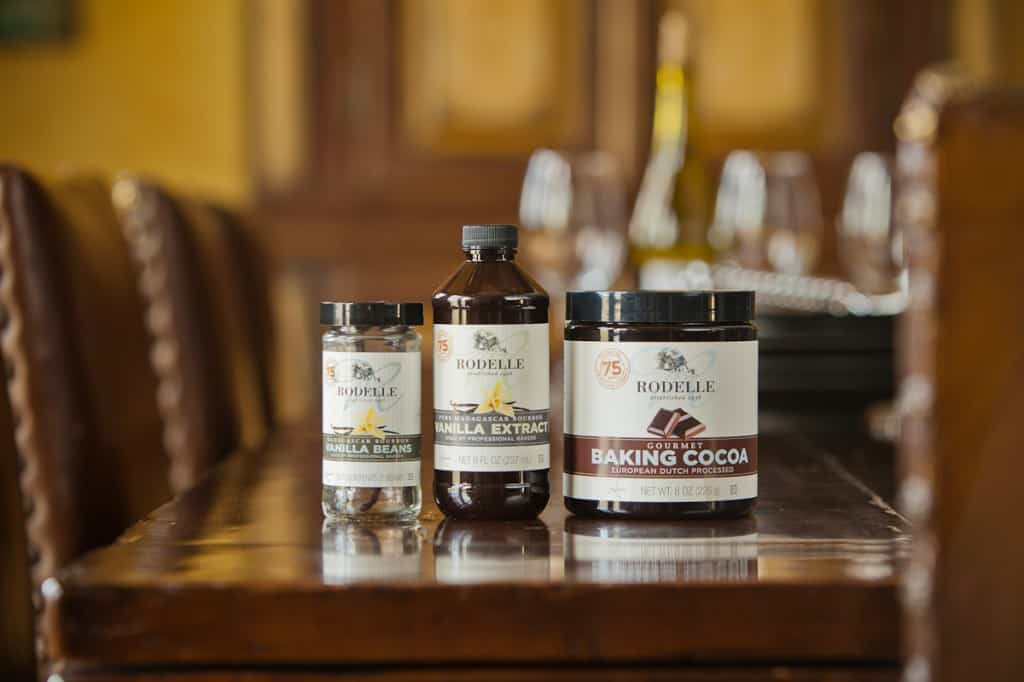 **I am an ambassador for Rodelle Kitchens. I have been provided free product as well as product to give away to my readers. I have received no other compensation. All opinions, of course, are 100% my own!