Delicious, smooth Vanilla Bean Fudge is the BEST white fudge you will ever taste. Made with fresh Vanilla Beans, this easy fudge is incredible on its own or with pretty candy toppings!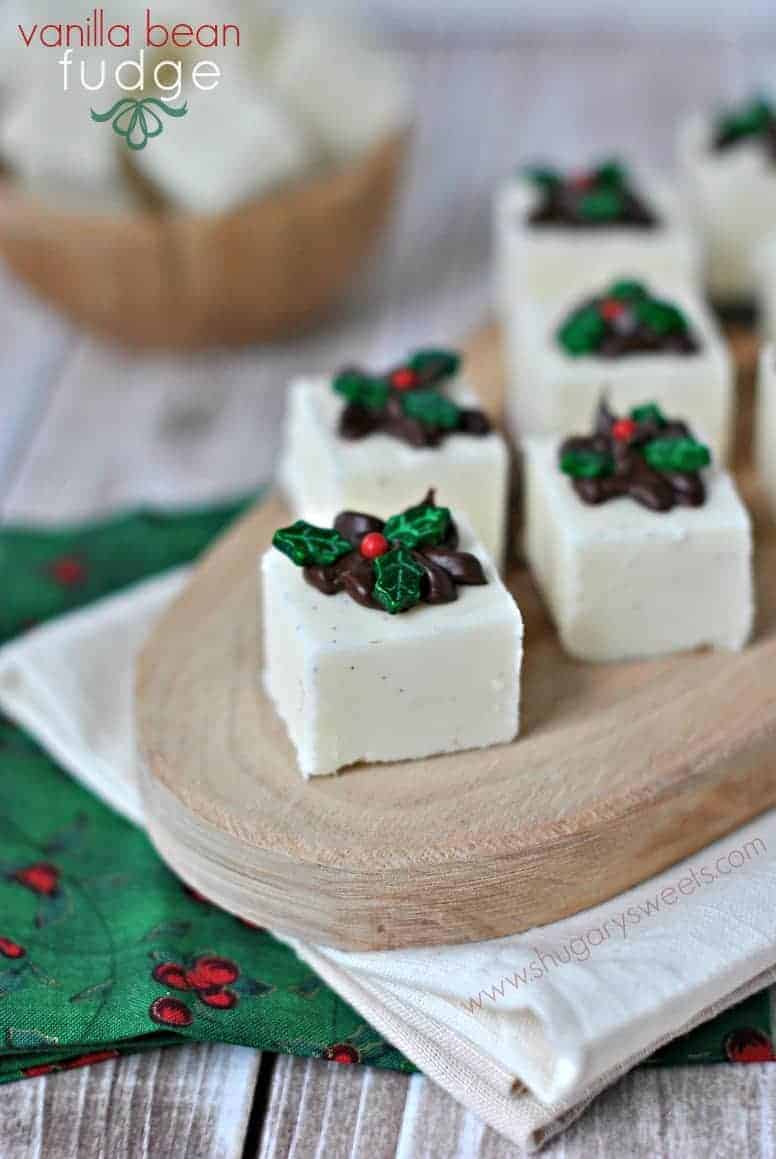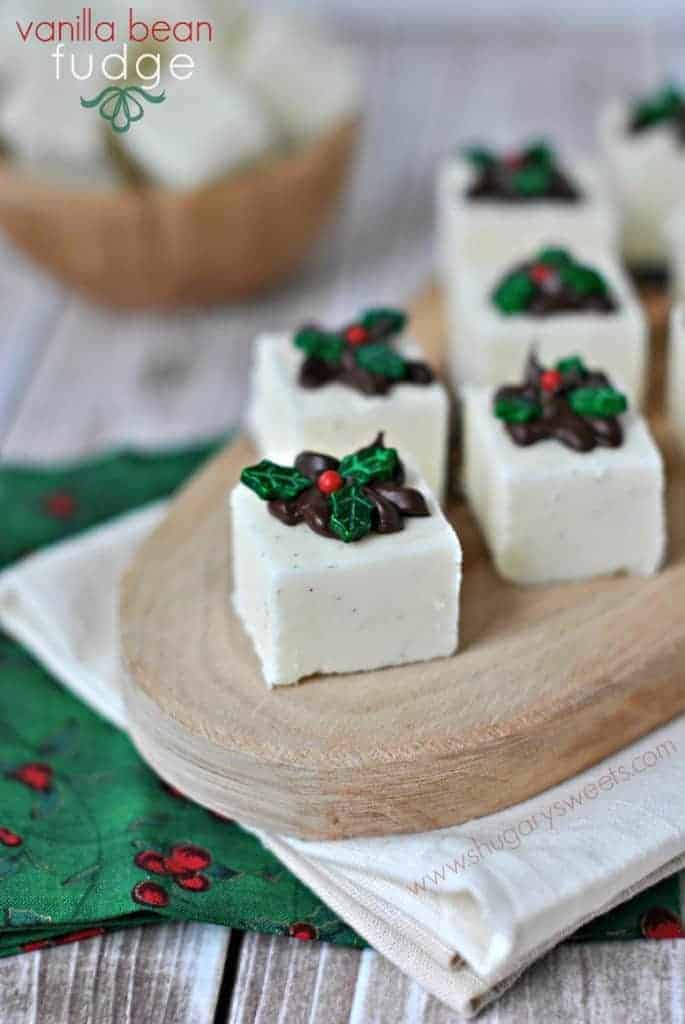 Why this Fudge is Best
Anyone who says vanilla fudge is boring hasn't tried fudge made with real whole vanilla beans. The rich and aromatic flavoe of seeds scraped fresh from the bean pod can't be matched by vanilla fudge made with extract.
Like all my favorite fudge recipes, this fudge comes together without any special equipment–not even a candy thermometer.
The velvety texture and sweet taste make it perfect for eating alone; or you can use this recipe as a base and add mix-ins or toppings like nuts, chocolate chips and sprinkles.
Make it in advance to have a stress free holiday!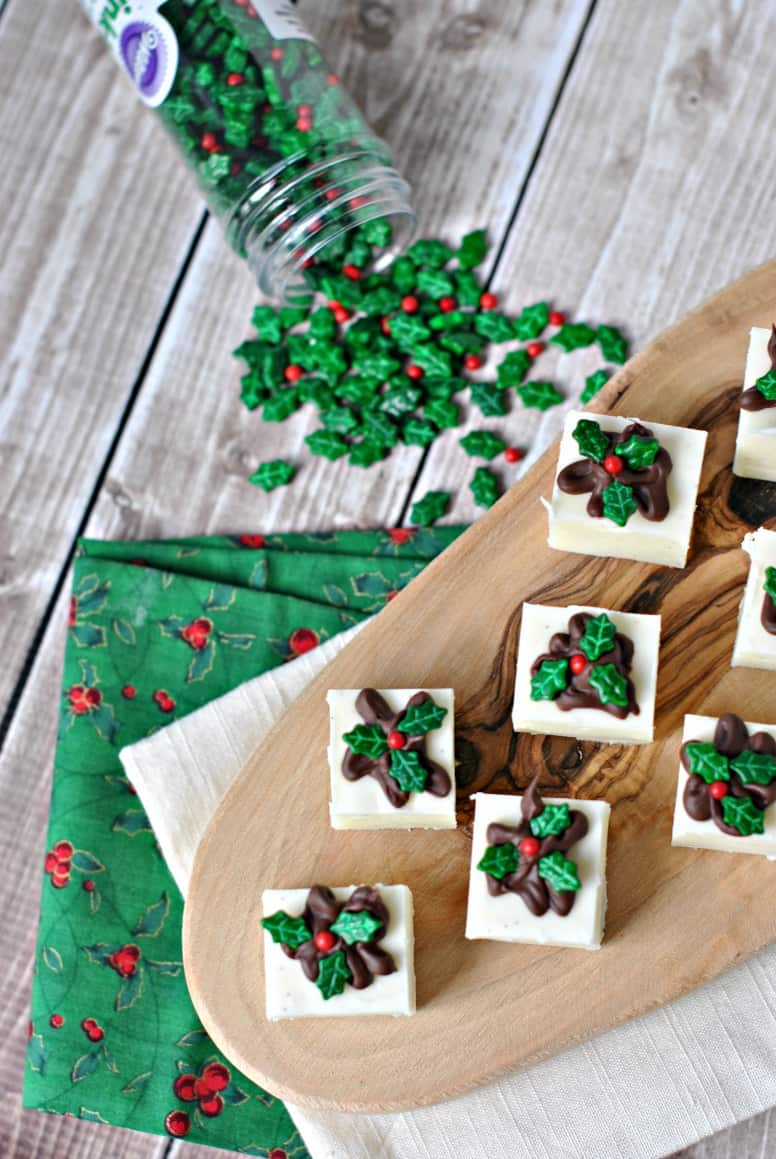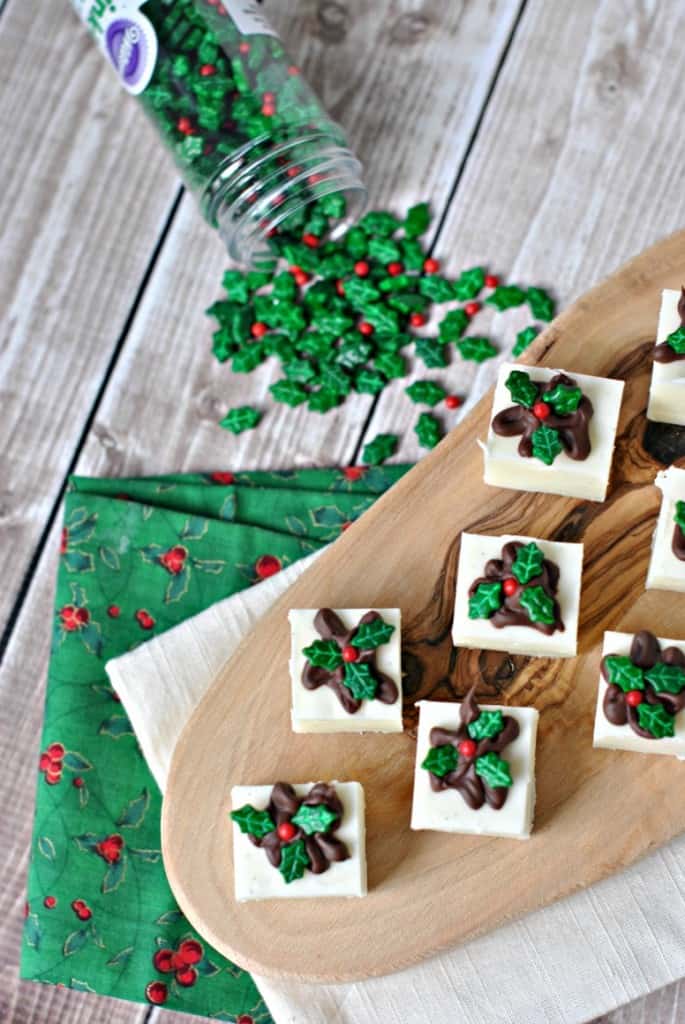 Ingredient Notes
Vanilla Beans – Find dried whole vanilla beans in the baking aisle, at specialty food stores or online. You'll scrape the seeds from the pod before adding them to the fudge (see below).
White chocolate – I use the baking morsels for melting into the fudge. You can also substitute a white chocolate bar cut into tiny pieces.
Marshmallow cream – This is also called "marshmallow fluff" and melts quickly and easily in with the other ingredients to make the fudge smooth.
How to Scrape a Vanilla Bean
First, cut a whole vanilla bean in half lengthwise. Hold one end of the bean pod up with the bottom against a cutting board or over a bowl. You'll see a sticky black substance inside–those are the beans.
Run the tip of a sharp paring knife under the beans and scrape downward to remove them from the pod. Repeat with the other half of the bean pod.
Don't throw that pod away once you're done! Stretch your dollar by tossing it in a container with granulated sugar to make homemade vanilla sugar. It's so easy.
I keep a jar (or two!) on my counter (or in my cabinets) and use the vanilla sugar in recipes like cupcakes, candy, and snickerdoodles. It adds such a depth of flavor. Seriously.
It's perfect to add into any baked good that calls for sugar and vanilla extract. Instead of adding both ingredients separately, use your vanilla sugar!
I replace the sugar in my jar several times before removing the bean. Then I add another bean (after I scraped out the good stuff!). It's a cycle that is hard to stop!
Back to fudge.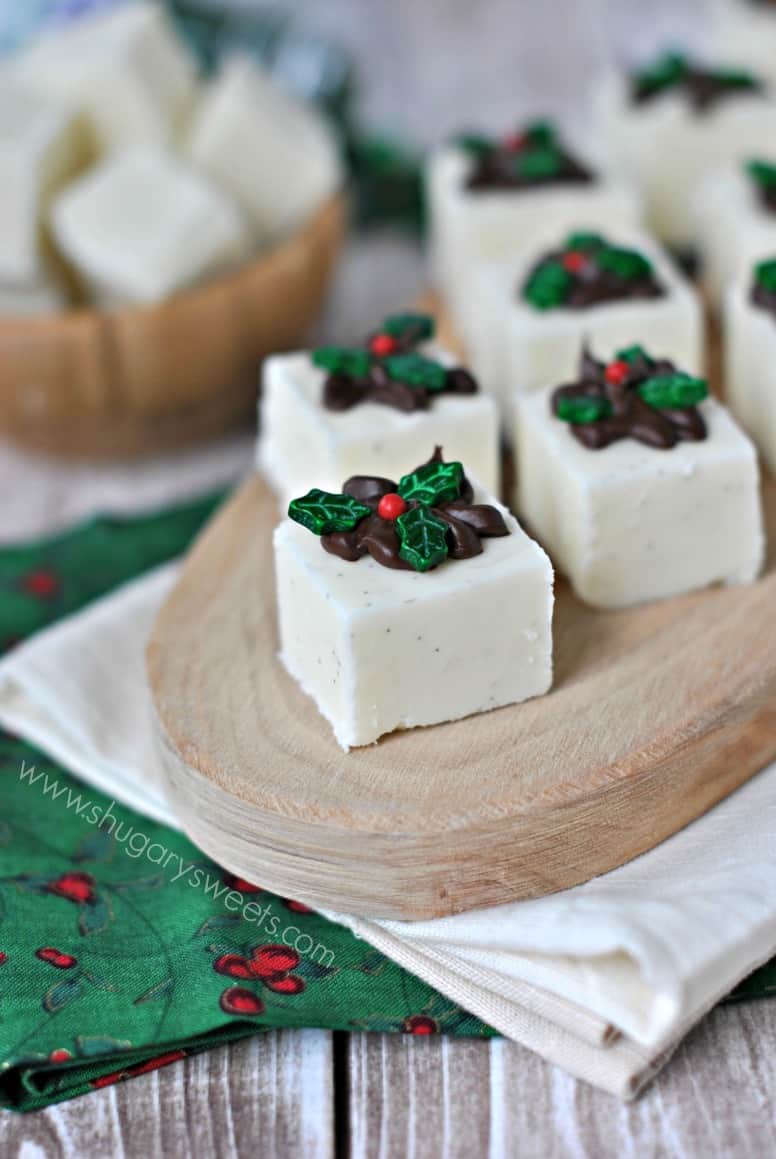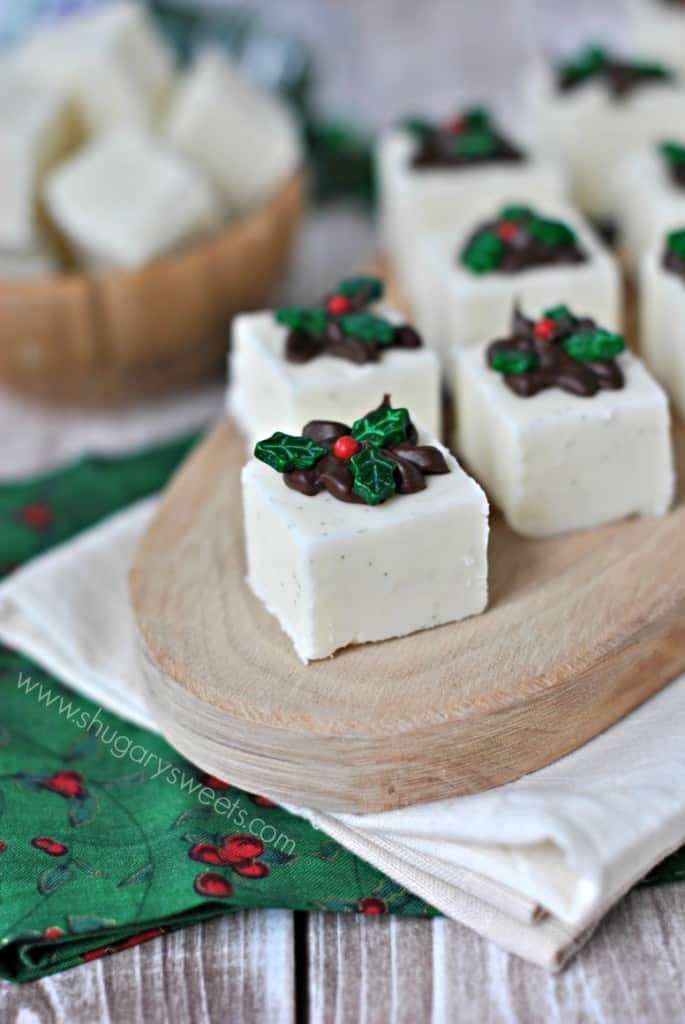 Easy Instructions
You won't believe how easy it is to make Vanilla Bean Fudge! If you've made any other of my fudge recipes before, you'll be familiar with the method.
Start by heating butter, sugar and heavy cream on the stove top and letting the mixture boil for 5 minutes while stirring constantly. Pour the hot mixture over a bowl filled with the white chocolate, marshmallow cream and vanilla beans and beat with an electric mixer until everything is smooth and combined.
From here, just pour the fudge into a baking dish, let chill in the refrigerator for a couple of hours and serve.
To make this delicious fudge more festive for the holidays, I added a garnish of melted chocolate and Christmas sprinkles before serving, too!
If you don't want to mess with the toppings, feel free to just cut into squares and serve the fudge plain. The deep vanilla flavor will shine through!
Recipe FAQs
Can I substitute vanilla extract in this recipe?
You can but then it wouldn't be vanilla bean fudge! Check out my recipe for regular Vanilla Fudge for a version that uses extract instead of the whole beans.
How do you store this fudge?
Once the fudge is set, I store it in an airtight container at room temperature. For best freshness, I like to store the while batch as a block and only slice up what we will eat right away.
Homemade fudge should keep for about 2 weeks at room temperature if stored correctly–that is, if you can resist eating it all at once!
Can you freeze Vanilla Bean Fudge?
Yes, this fudge can be kept in the freezer for about 3 months. Let it thaw overnight in the refrigerator before serving.
More Easy Dessert Recipes
Ready to make the best ever Vanilla Bean Fudge recipe to impress your friends? Make sure to check out my guide for how to make vanilla fudge for more fudge-making tips!