An easy, delicious candy recipe that you can make in the microwave! With caramel, almonds, peanuts, pecans and chocolate these Caramel Nut Clusters have something for everybody.
Whether you love making homemade peppermint patties, or you want an easy candy like our rocky road fudge, I've got all the tips and tricks in every recipe to give YOU success!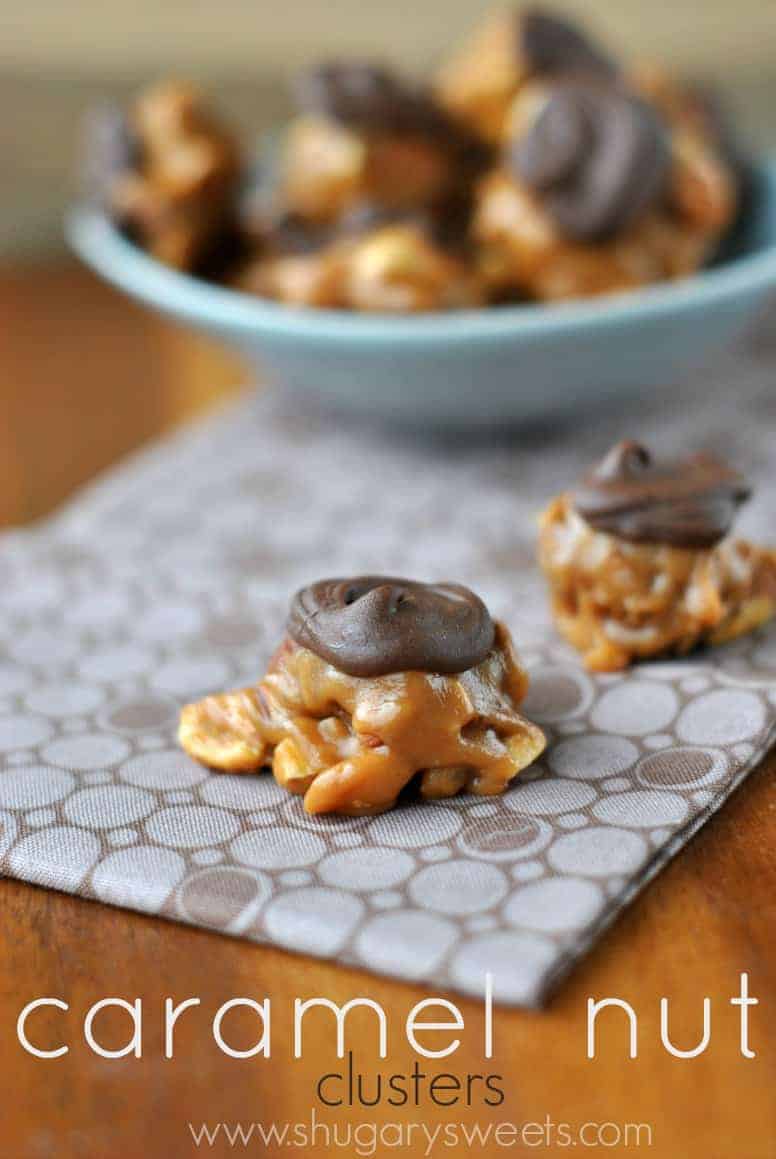 Easy Microwave Candy Recipe
Homemade candy is one of my favorite things to make for people, especially around the holidays. A plate of peanut butter fudge or a bag filled with Saltine toffee created with love feels extra special!
These Caramel Nut Clusters are one of the easiest candies you can make and they test AMAZING! If you love my Turtle Fudge Recipe or Snickers candy bars, these are going to be right up your ally.
All you need for this recipe is a
microwave
a baking sheet
and a few basic ingredients
Whip up a batch of holiday candy today!
Ingredient Notes
Nuts – I used a combination of peanuts, almonds and pecans. You can swap out these with other nuts you like with chocolate if desired, just make sure they are roasted and salted for best flavor. We like to toast the nuts for extra flavor.
Caramel bits – If you can't find caramel baking bits, substitute unwrapped caramel candies.
Milk chocolate – Substitute melted dark or white chocolate if preferred.
Butter – The nuts will already be salted so be sure to use unsalted butter so the clusters don't get overwhelmingly salty.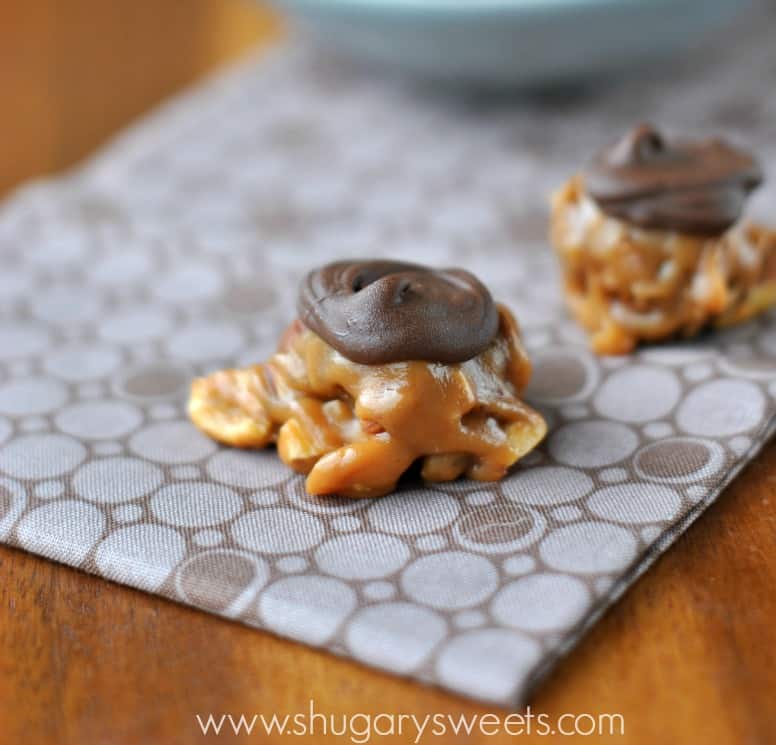 Tips and Tricks
When you're using your microwave to melt and combine ingredients, be sure to stir regularly. I start with one minute in the microwave to melt the butter with the caramel, then stir before heating another 30 seconds or so.The amount of time it takes to get everything melted and smooth will vary depending on the strength of your microwave so you may need more or less time than I did.
Line your baking sheet with parchment paper before placing the nut clusters on it to set to prevent sticking and make clean up easier.
Use your fingers to shape the clusters into a more attractive round shape after plopping them on your baking sheet and before adding the melted chocolate.
Place a batch of these Caramel Nut Clusters in a mason jar topped with a ribbon for an easy holiday gift! I love having homemade treats on hand to give as small tokens of appreciation to people in my life.
Recipe FAQs
Can caramel clusters be made without a microwave?
Definitely! If you don't have a microwave or prefer not to use it, you can heat the butter, caramel and cream in a stove pan on low to medium heat to get everything melted and combined. Stir constantly while heating and be careful not to let it boil.
For melting the chocolate sans microwave, you will need to use a double boiling method.
How do you store Caramel Nut Clusters?
Store these in an airtight container in the refrigerator. They will keep for about one week.
Can this be made without the peanuts?
Absolutely. If you need this to be peanut free, you can sub more almonds or pecans in their place.
Serve them alongside some Pecan Praline Candy with a few squares of Candy Cane Fudge or all on their own. It really is THAT easy to create your own delicious candy at home.
More Candy Recipes
Skip the expensive box of holiday chocolates, put down the candy thermometer and make these Caramel Nut Clusters instead!