Chocolate Peppermint Grahams are the perfect last minute holiday treat. Peppermint Bark gets a chocolate graham cracker boost! These holiday treats covered in chocolate and peppermint are easy enough for the kids to make.
Tis the season for festive treats. Whether you make an easy batch of these Christmas tree Cherry Hand Pies or some chocolate covered Oreos, we've got what you're looking for!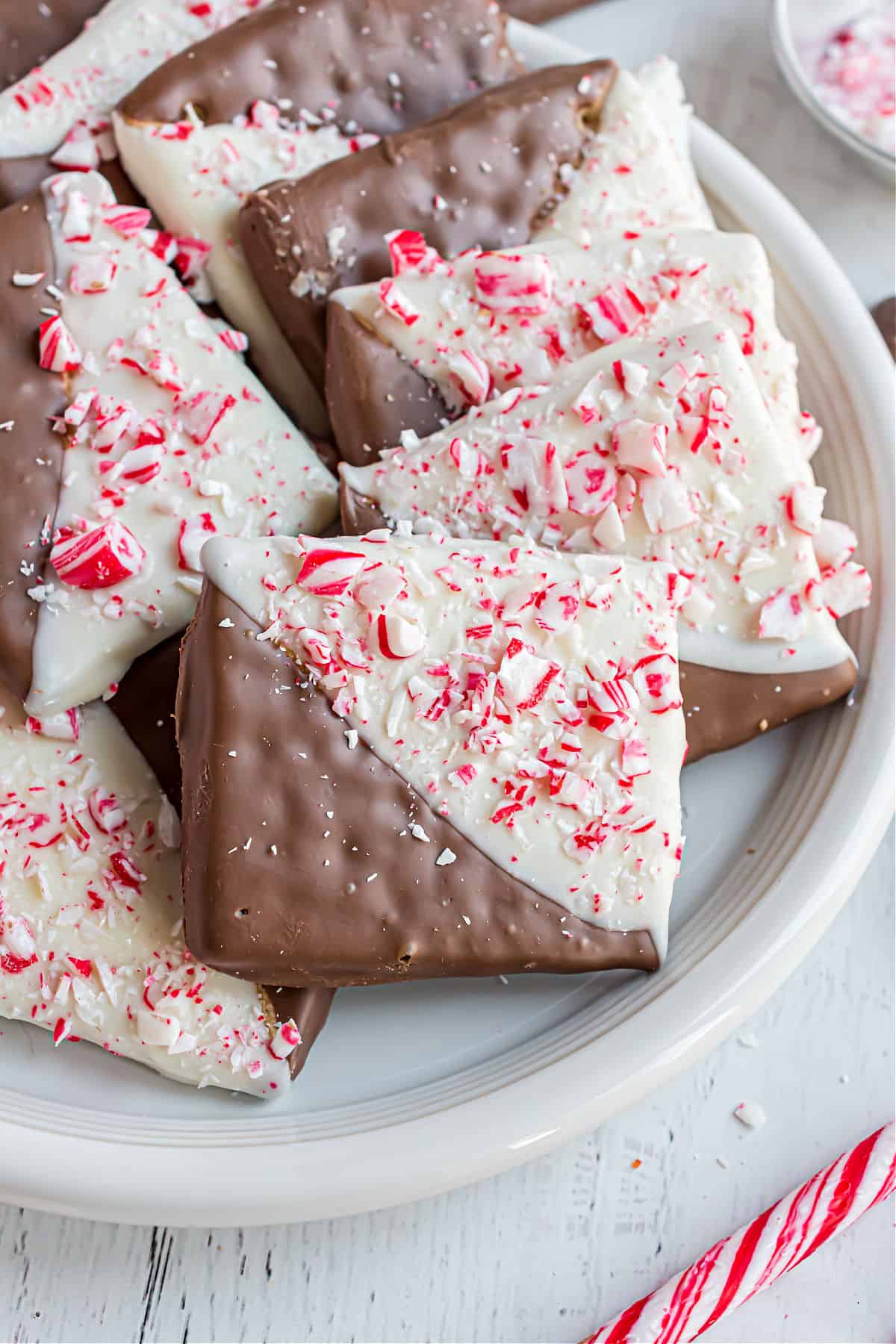 Why this Recipe is Best
I'm extra excited about sharing this recipe with you today. After sharing a lot of eggnog flavored treats in preparation for Christmas, I've gotten a few requests for some Christmas Candy treats that AREN'T eggnog themed.
How about Peppermint? Even better: Chocolate peppermint bark?
No bake dessert!
Easy enough for the kids to help dip and add sprinkles of peppermint.
Tastes amazing and looks so pretty on your dessert plates.
If your oven is as busy as mine this time of year, you're breathing a huge sigh of relief right now. I feel like all I do in November and December is take things in and out of the oven.
This recipe lets you make your homemade peppermint bark while other Christmas favorites like White Chocolate and Cranberry Cookies and Cranberry Bliss Bars are baking in the oven.
For those of you with young kids at home, this recipe is ideal for a first Christmas candy recipe to make together. They'll have so much fun dipping the ends of the grahams into the melted chocolate!
Once you've mastered these easy grahams, you'll have to try our hot cocoa bombs recipe next!
Ingredient Notes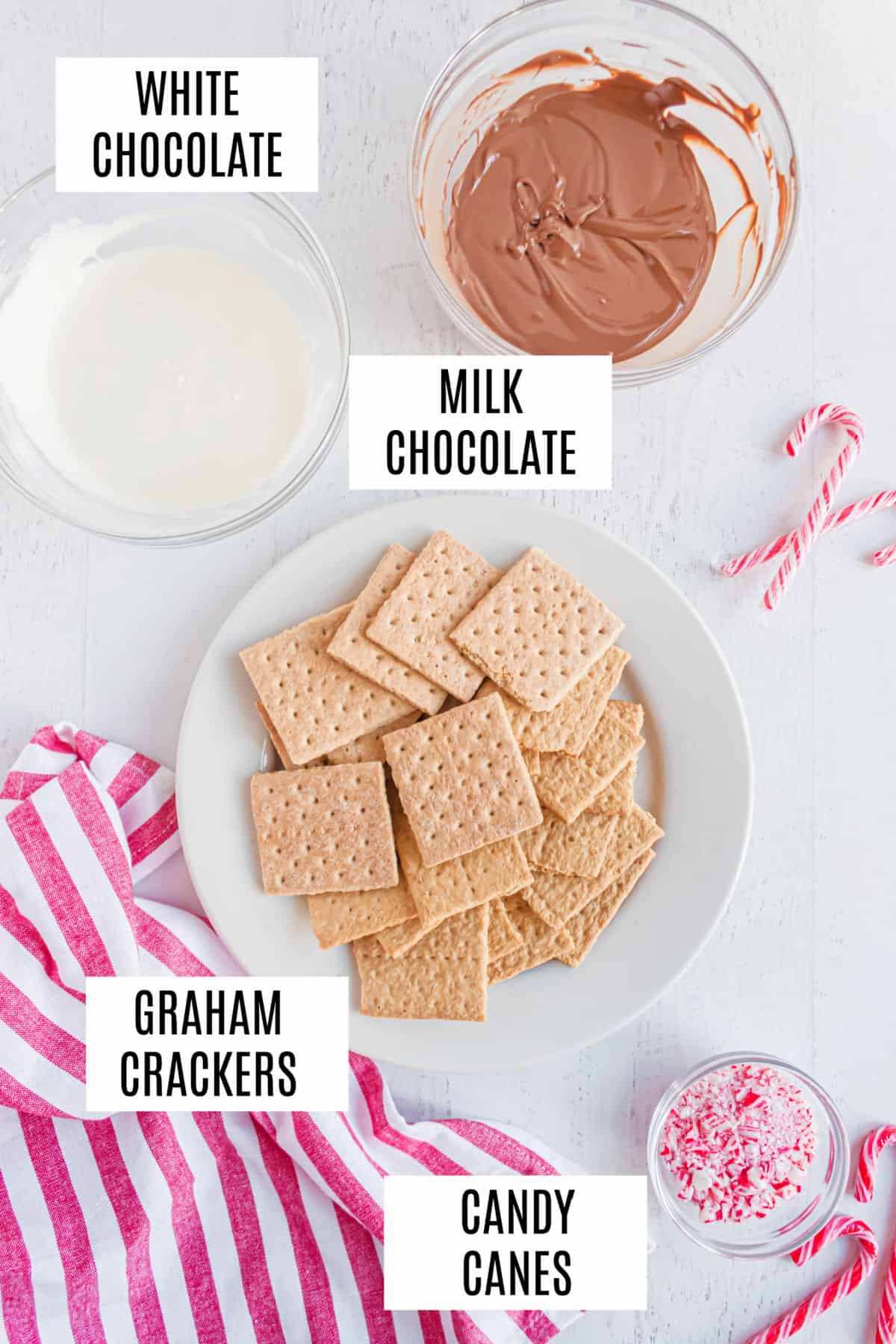 Milk Chocolate- I love using Ghirardelli milk chocolate wafers. They not only taste great, but melt smooth and dry quickly. Milk chocolate morsels will also work. We also use the dark chocolate wafers!
White Chocolate- Ghirardelli white chocolate wafers melt smooth and taste delicious. SOmetimes white chocolate chips can be thick and finicky when melting, so choose the wafers or almond bark if you prefer.
Graham Crackers- the delicious base for todays recipe. Can also use Chocolate grahams.
Candy Canes- peppermint candy canes or starlight mints work great here. Add festive sprinkles if desired.
Easy Instructions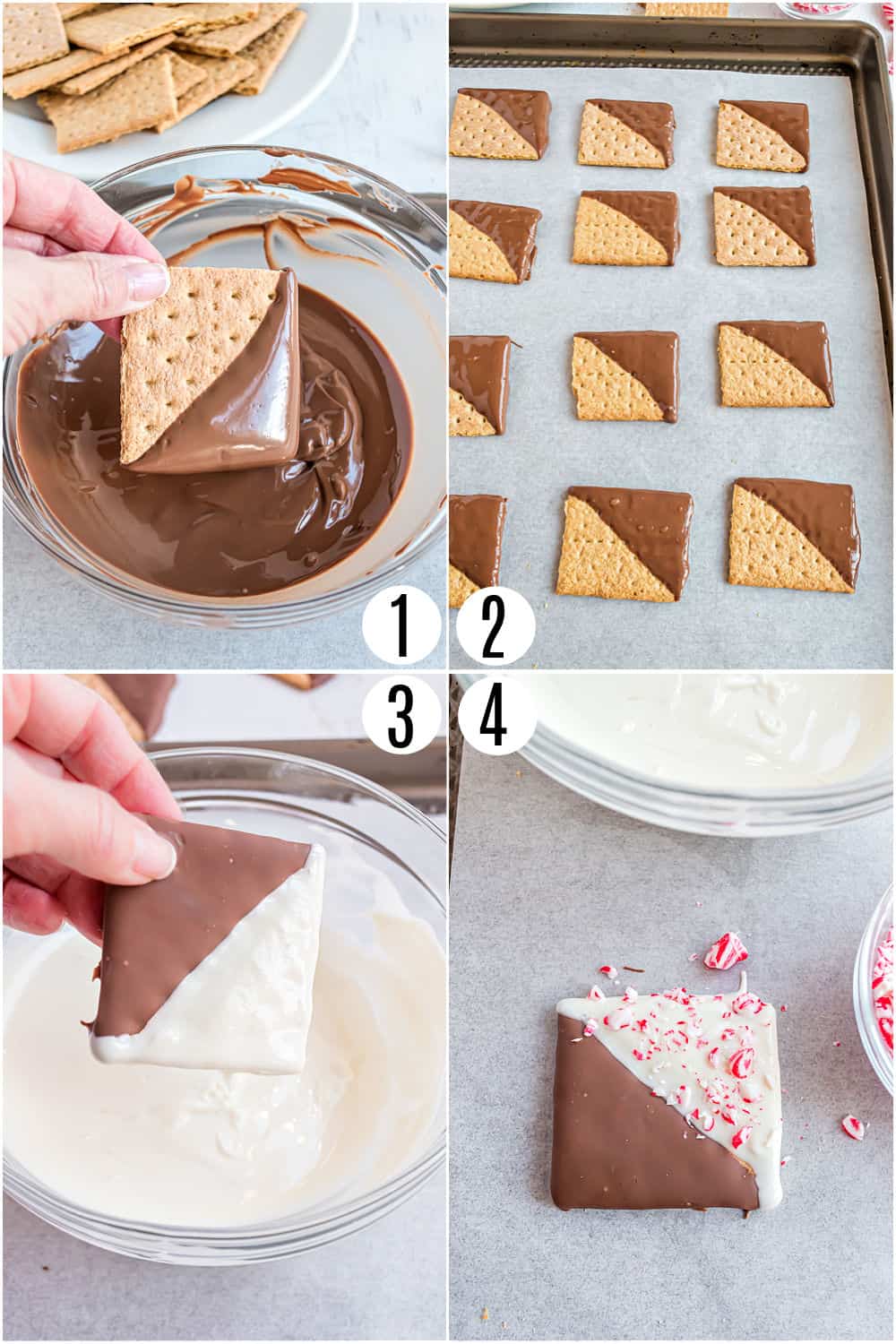 Start by melting dark or milk chocolate wafers in one bowl.
Cut or break your graham crackers into squares and line a large cookie tray with parchment paper. You can also find the "fresh stacks" of graham crackers that are already broken into squares.
Dip one end of the graham cracker into the milk chocolate so it coats half off the cracker square. Place it on the parchment paper and repeat with the remaining graham cracker squares. Let set until firm.
Melt white chocolate, then dip the opposite end into the melted white chocolate and sprinkle with crushed candy canes. Let set at room temperature or in the fridge until the chocolate is firm.
Enjoy right away or transfer to an airtight container, jar or ziploc bag.
Tips and Tricks
I know some of you out there with little ones at home are cringing when you think about the potential messiness of letting your kids work with melted chocolate. Believe me, I get it!
I've been there. And I HATE messes, especially when they involve sticky hands and chocolate covered faces to wipe clean.
To keep clean up easy, cover your work surface with parchment or wax paper first. Then, no matter how much the chocolate drips, you can remove it from your counter top in one step.
Another method for reducing chocolate splashes and drips is to make sure to tap the excess chocolate off of each graham cracker square on the side of the bowl. You can also use a fork or spoon to level off any excess chocolate.
Put the kids in charge of crushing the peppermints. Place in ziploc bag and roll with a rolling pin or use meat tenderizer to crush.
Use festive sprinkles if desired.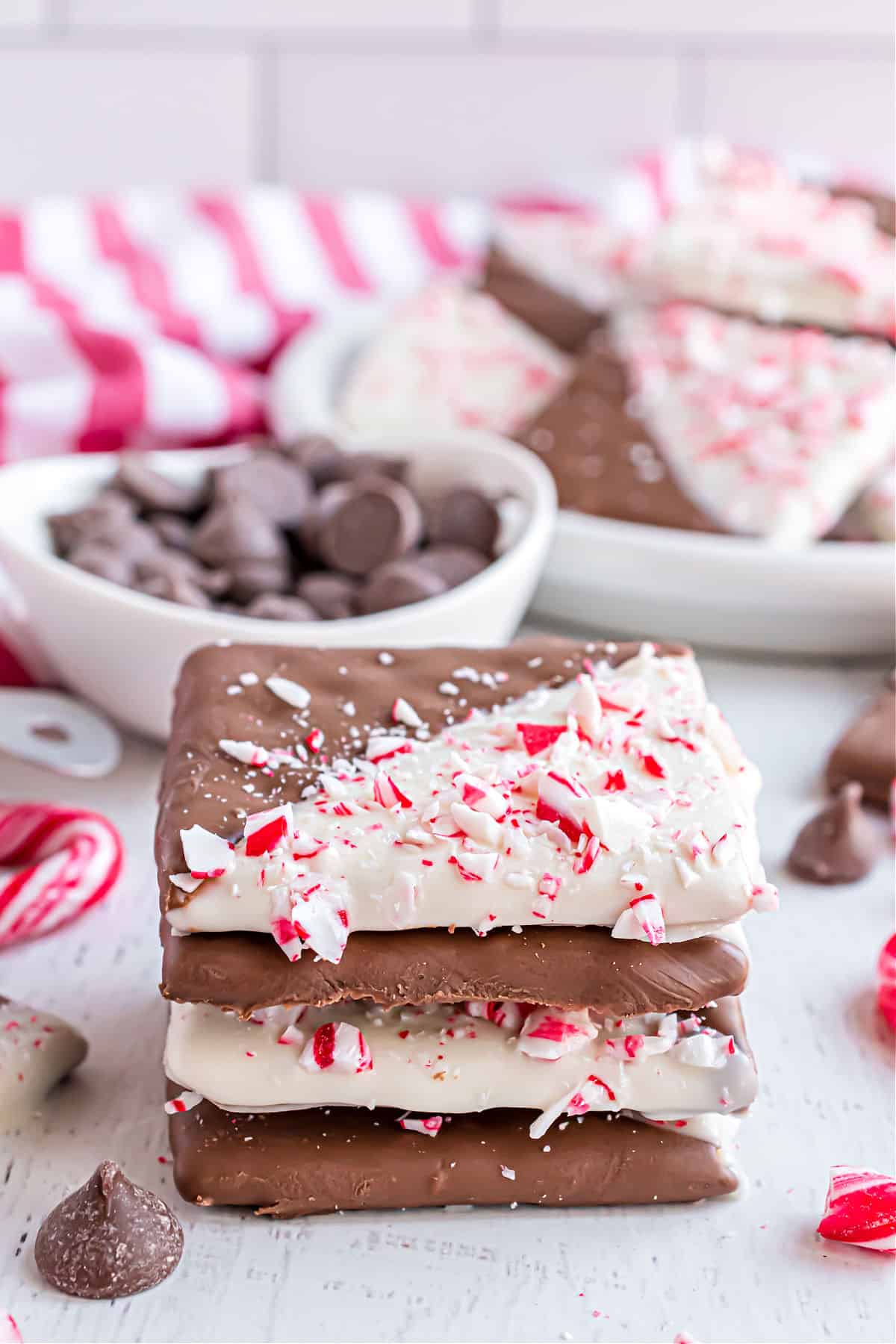 More Tips & Tricks
Want the chocolate to set more quickly? Place the dipped graham crackers in the fridge for about 15 minutes.
How to store: Once set, transfer these to an airtight container or jar and keep covered at room temperature. If you like the texture cold, you can also store these in the fridge.
Crushing candy canes: I crush my candy canes by placing them in a plastic bag and running my rolling pin over them a few times. Kids get a big kick out of this!
Chocolate substitutes: Dark chocolate fans can easily substitute it for the milk chocolate in this recipe.
More: swap out the graham crackers for CHOCOLATE graham crackers. A delicious twist. Love salty? Use saltine crackers or Ritz crackers instead.
If you love this easy recipe, be sure to try our chocolate peanut butter grahams too!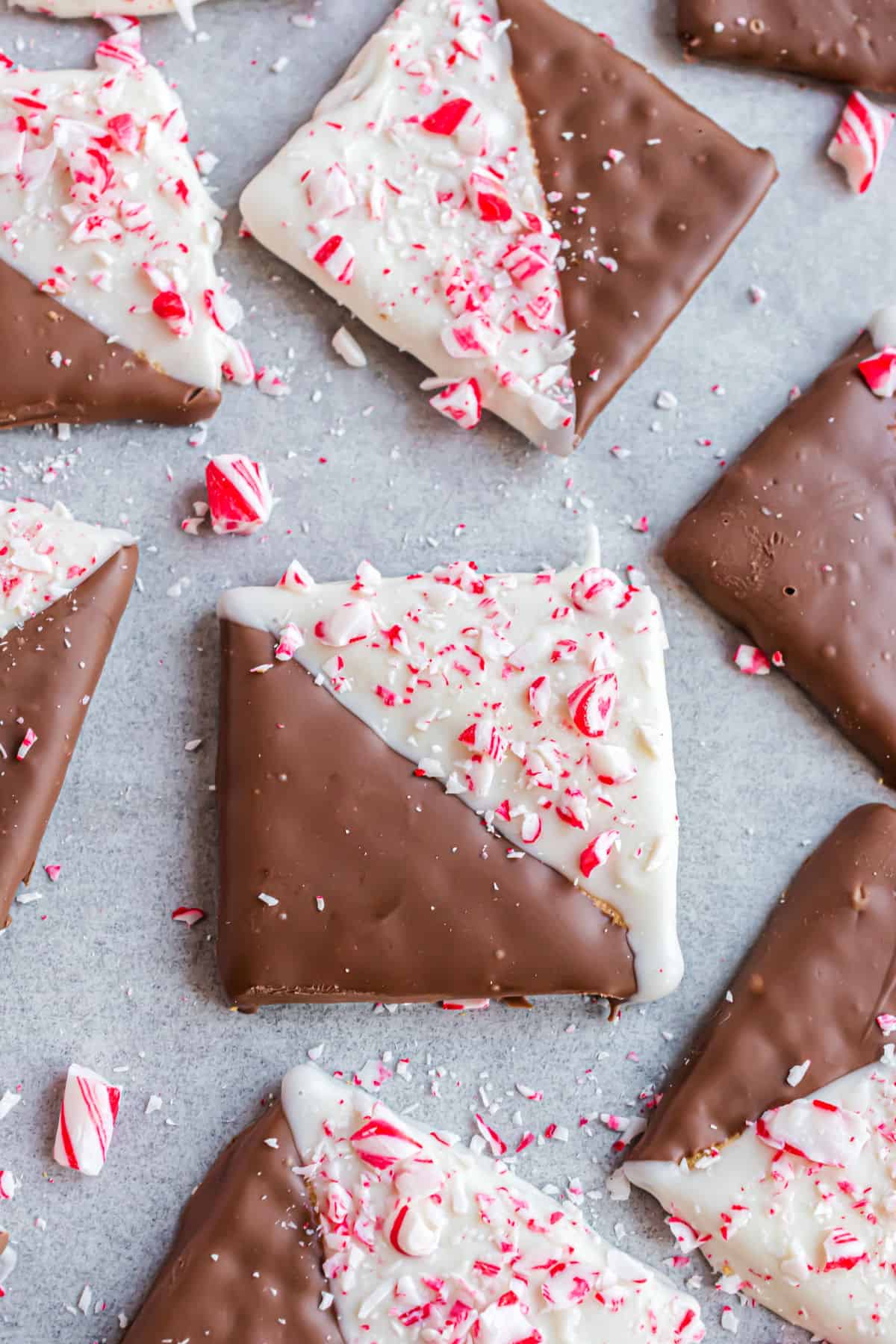 Make this delightful holiday treat with the kids this year! Homemade Peppermint Bark with graham crackers makes a wonderful Christmas gift or addition to your season's cookie trays.