Butterscotch Toffee Cookies are the ultimate chewy cookie! Made with real toffee bits and butterscotch, these giant cookies are irresistible, especially paired with a glass of milk.
I love the caramelized buttery taste of toffee in all kinds of desserts. Try these Toffee Cashew Cookies next! Or give our chocolate chip toffee bars a try for a thick and chewy treat.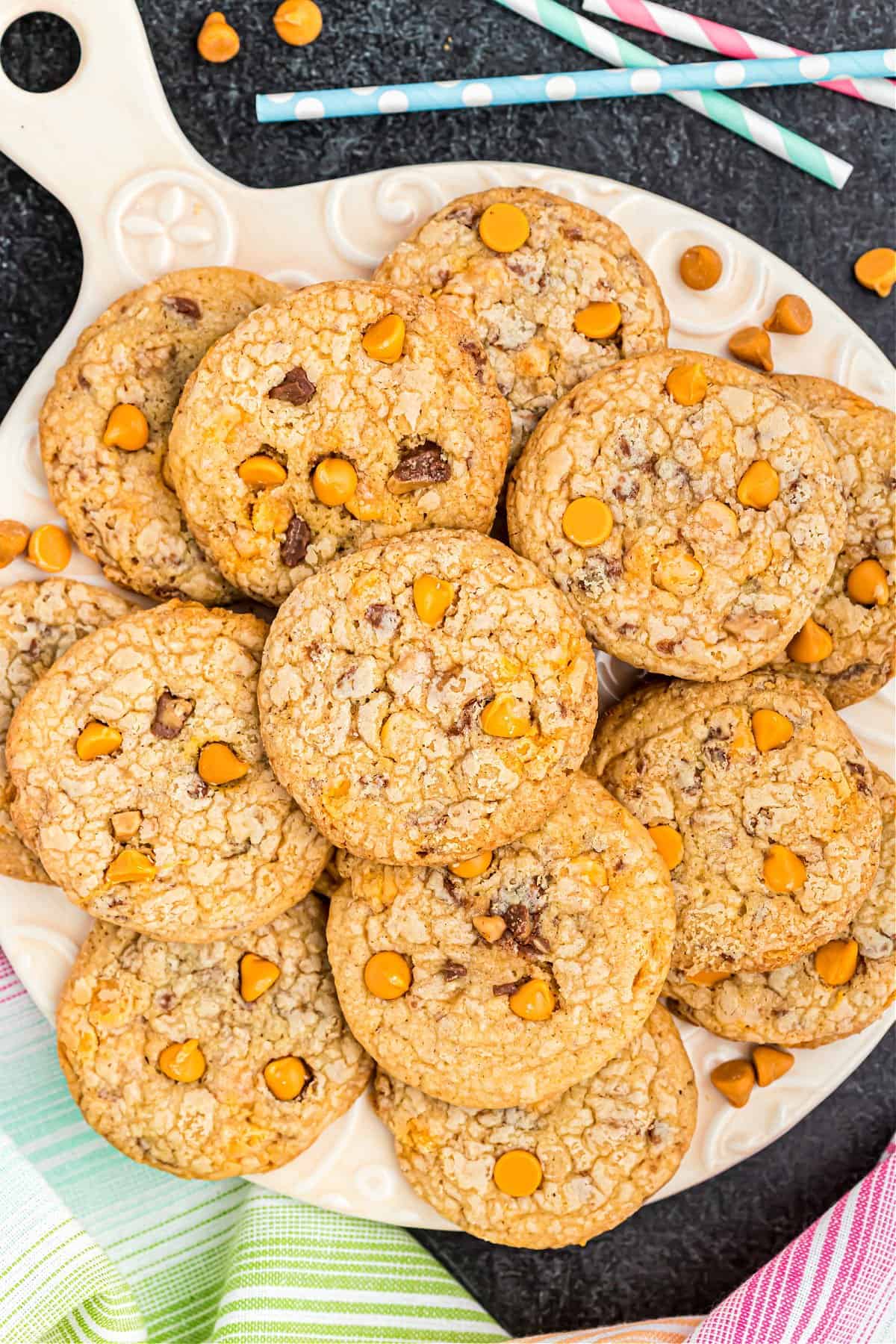 Why this Recipe Works
I know a thing or two about cookies by now. And these cookies are some of my best!
I feel like butterscotch is always so under-represented, I am changing that NOW.
Butterscotch Toffee Cookies may be the chewiest cookies ever!
Brown sugar and butterscotch caramelize together in these cookies as they bake for an incredible flavor.
The dough expands and spreads in the oven to create giant cookies!
Toffee bits and butterscotch morsels is a winning combination.
You can whip up some English toffee at home, and use some of the broken bits and pieces in today's recipe!
Ingredient Notes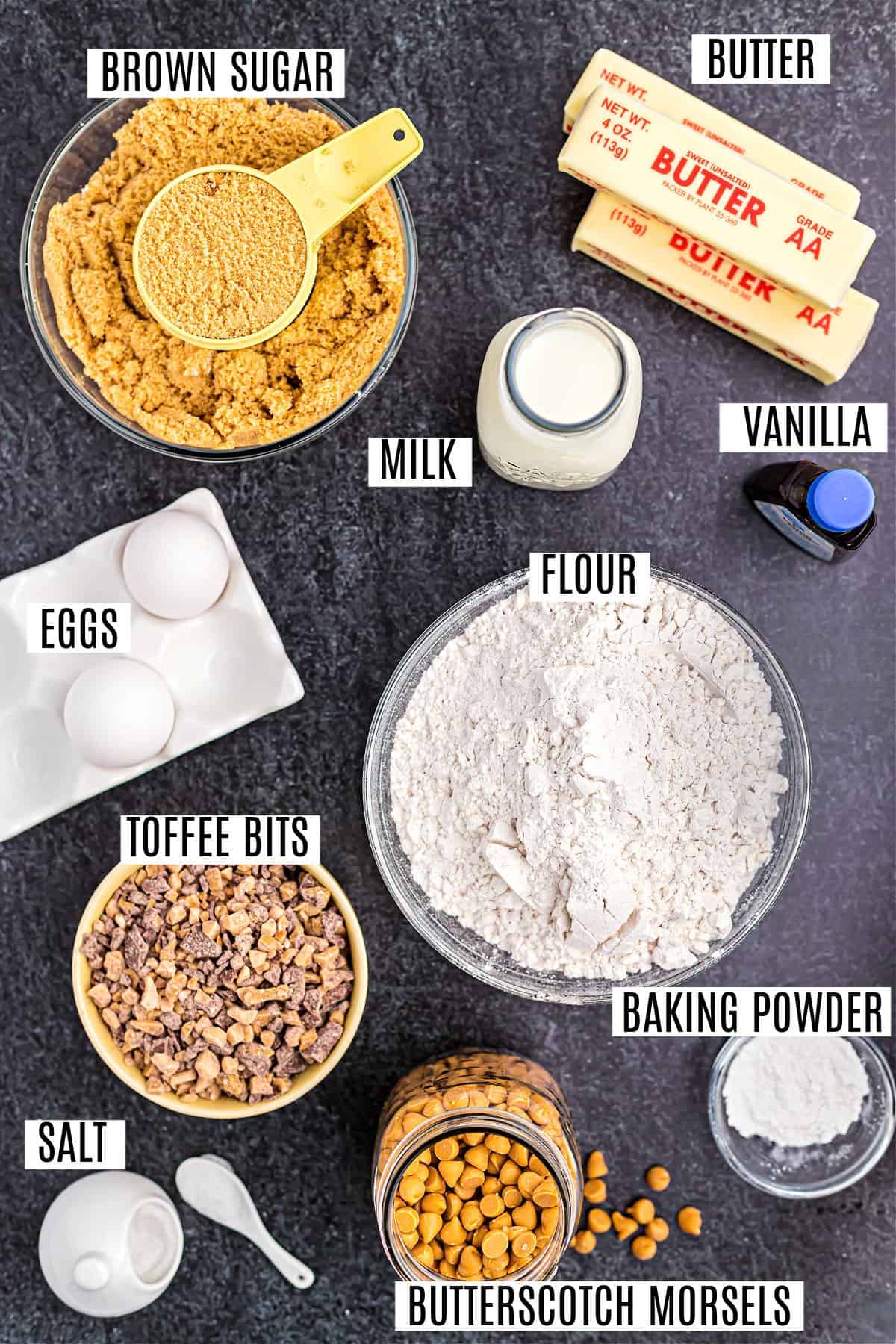 Unsalted butter tastes best in butterscotch toffee cookies. It allows you to control the saltiness of the finished cookies.
Light brown sugar combined with the butter gives these cookies a caramelized flavor and super chewy texture.
Butterscotch morsels are found in the baking aisle near the chocolate chips. They soften into the cookies as they bake for bits of buttery, creamy heaven.
Toffee bits – I use the Heath brand, also found in the baking aisle. They add a little crunch to the soft, chewy cookies that makes them that much more delicious.
PRO TIP- We love making our own homemade vanilla extract, but if using store bought, be sure it's pure extract, not imitation (for best flavor).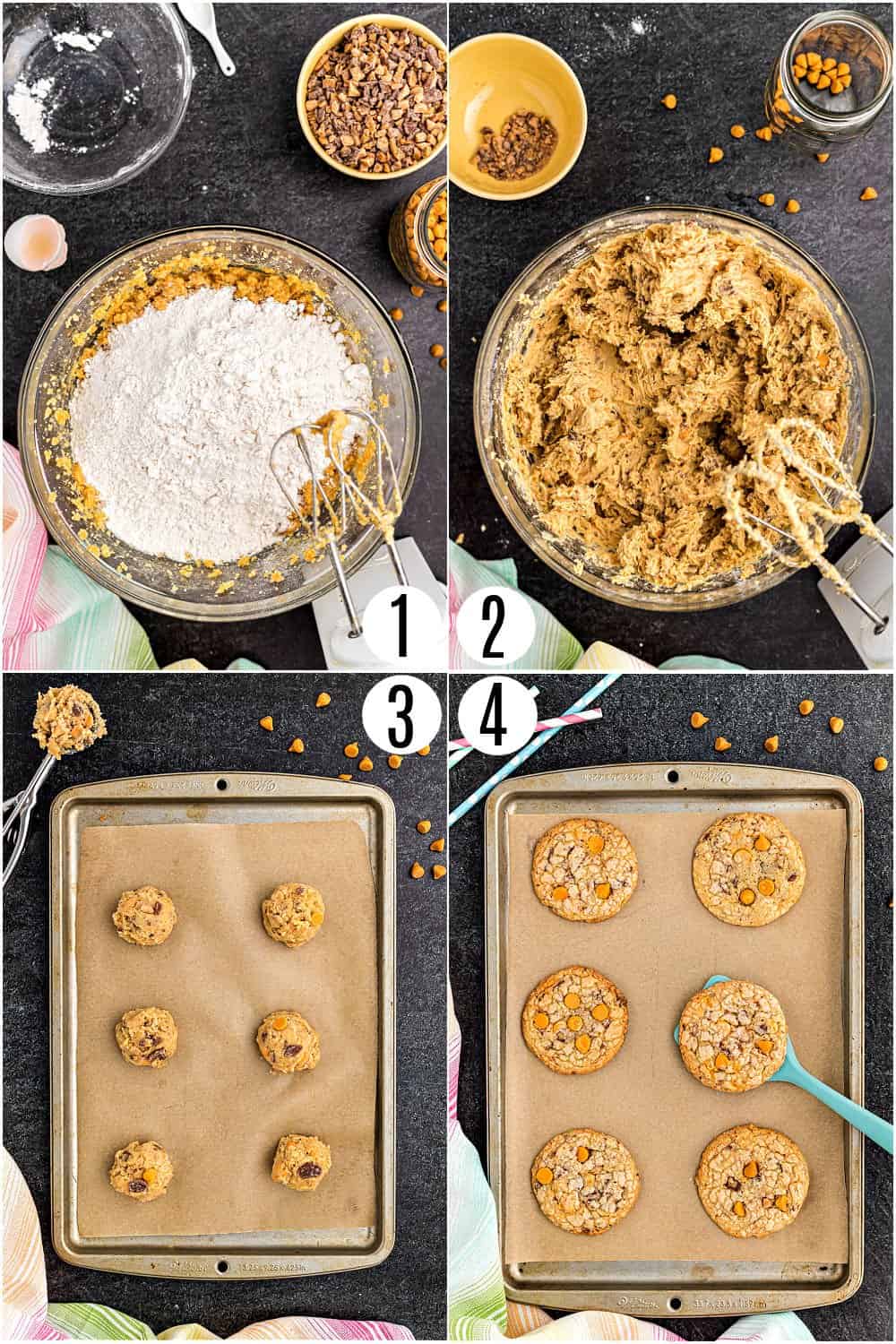 Tips and Tricks
Refrigerate the dough! This is a must. If you don't, the cookies will become flat as the butter and brown sugar caramelize. Chilling allows them to spread just enough.
Space cookies 3 inches apart. I used my 2 Tbsp scoop and even so, these cookies are BIG! Give them enough space so they don't spread into each other.
Do not over cook. They'll still look slightly soft when they come out. They continue to set up as they cool.
Use parchment paper. All the brown sugar and toffee makes this cookie dough rather sticky, so remember to line your cookie sheet.
Freeze. Use our guide on how to freeze cookie dough for best results!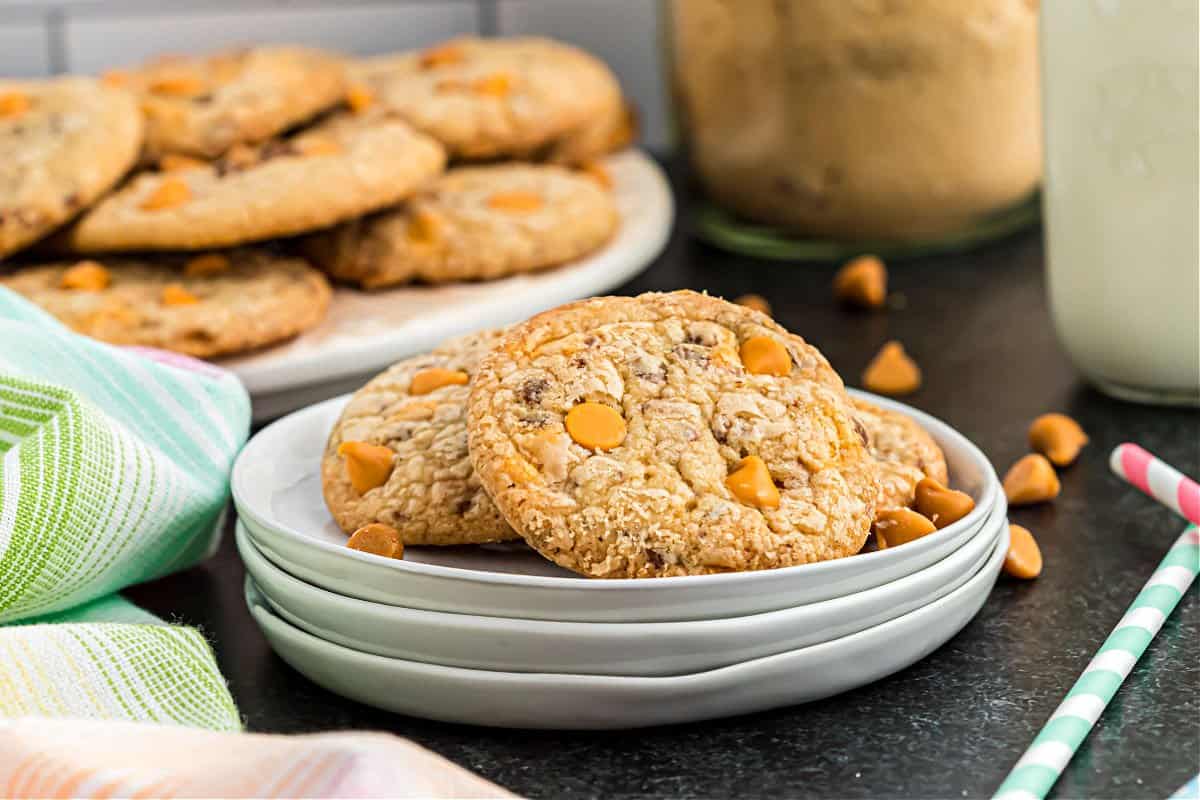 Recipe FAQs
I can't find toffee bits. What can I use instead?
If toffee baking bits aren't available, you could use toffee bark broken into tiny pieces in these cookies. Or leave them out and make plain butterscotch cookies instead!
How long do I need to chill the dough?
The dough needs at least an hour to chill in the refrigerator. For quicker chilling, stick it in the freezer for about 20 minutes. If you want to store it in the fridge longer, wrap it tightly with plastic wrap and use within 2-3 days.
What's the best way to store baked cookies?
Stored these Butterscotch Toffee Cookies in an airtight container at room temperature. Enjoy within 1 week.
More Easy Desserts
If you love chewy cookies and sticky sweet toffee flavor, you'll love this Butterscotch Toffee Cookie recipe!