Everyone should know how to brown butter. This easy guide takes you through the process of warming butter on the stove to bring out a fragrant, nutty taste that enhances the flavor of any dish!
Why Make Browned Butter
Browning butter is the process of gently heating butter on the stove top to alter its color and accentuate its flavor. It takes just a few minutes to brown butter and the time is well spent.
Butter is already delicious, but the browning process brings out a slightly toasted, nutty flavor that you have to taste to fully understand. The bold aroma and richness are ideal for sweet and savory dishes alike.
Best of all, you don't need any special equipment or culinary skills to make it.
Once you know how to brown butter, you'll be ready to try it in everything from sauces to cookies!
Ingredient Notes
Butter is the only ingredient in browned butter! You can use salted or unsalted butter, depending on what your recipe calls for.
This recipe uses a half cup of butter as a starting point. While you can use more or less, I don't recommend adding more than one cup of butter to the pan at once.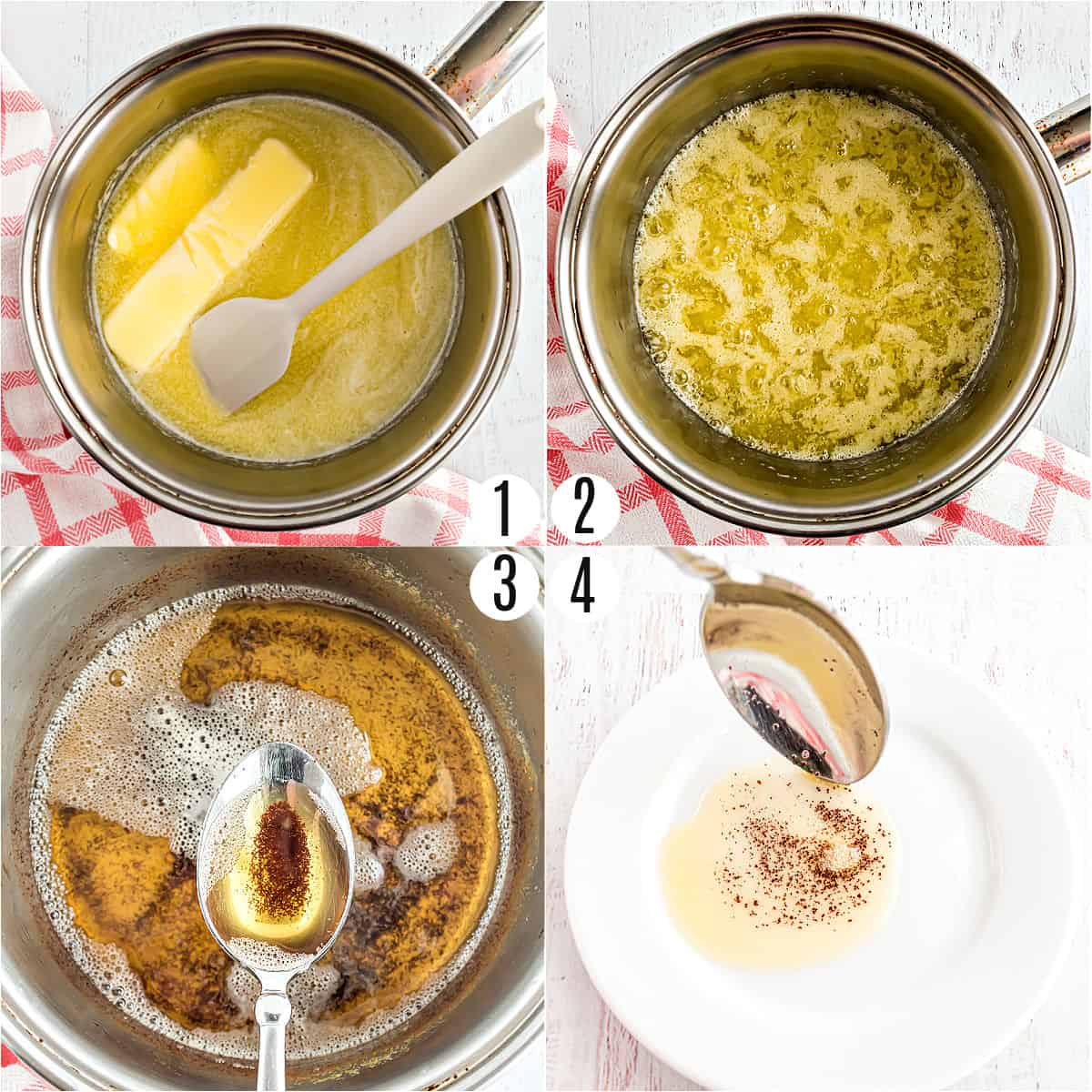 Tips and Tricks
Use a pan with a light colored bottom. It is easier to monitor the color against a light surface which is helpful for preventing burning.
Melt butter on low heat first. Then increase the heat a bit and use a rubber spatula to stir the butter as it sizzles and foams.
Keep an eye on the brown flecks at the bottom of the pan to prevent burning. When the butter is a light golden brown color and smells pleasantly nutty, remove it from heat.
Immediately pour browned butter into a bowl and let cool.
Measure the butter both before browning and after. The cooking process may cause some of the liquids in the butter to evaporate so you end up with a tablespoon or two less than you need. If this happens, just brown more butter to give you the amount you need.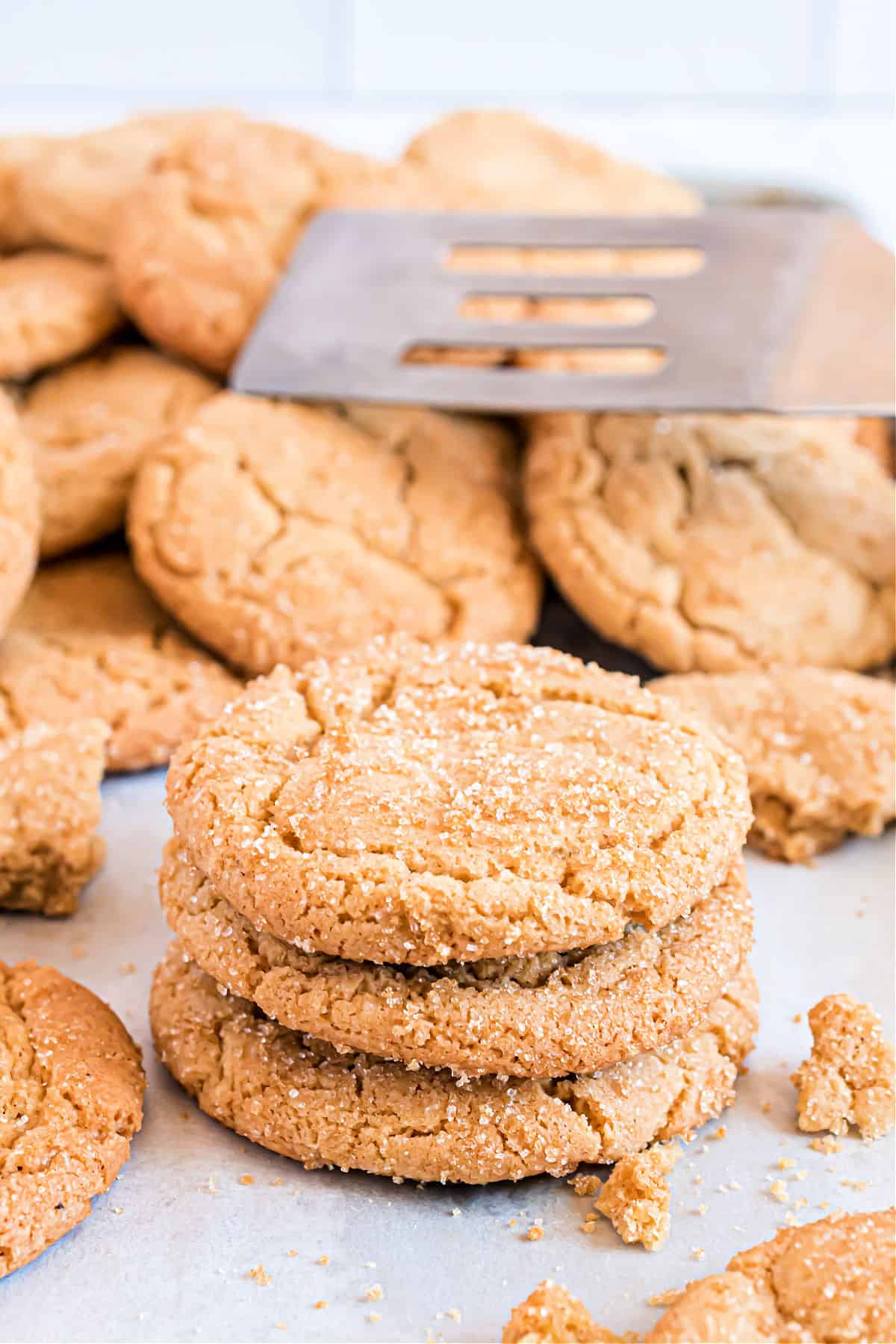 How to Use Browned Butter
Now you can use your browned butter right away or store it for later. Here are a few of my favorite ways to cook and bake with browned butter.
Baking: I love using browned butter in desserts. It's the perfect addition to these chewy Butterscotch Cookies and any recipe that calls for melted butter like these Peanut Butter Brownies recipe.
Sauces: Tossing brown butter with garlic, herbs and other seasonings creates a simple sauce you'll love on meats, pastas and vegetables. Or whisk it with flour to create a roux for cream sauces and gravies.
Topping: A drizzle of brown butter makes a stack of pancakes or waffles even more irresistible. It's also great on other starches like baked potatoes and rolls.
Cooking: Give any stove cooked dish more flavor when you use brown butter instead of oil or regular butter. Use it to saute your greens, pan fry chicken, or make a quick grilled cheese sandwich.
Rice Krispie Treat Recipes Use browned butter in our famous rice krispie treats for a depth of flavor that is irresistible.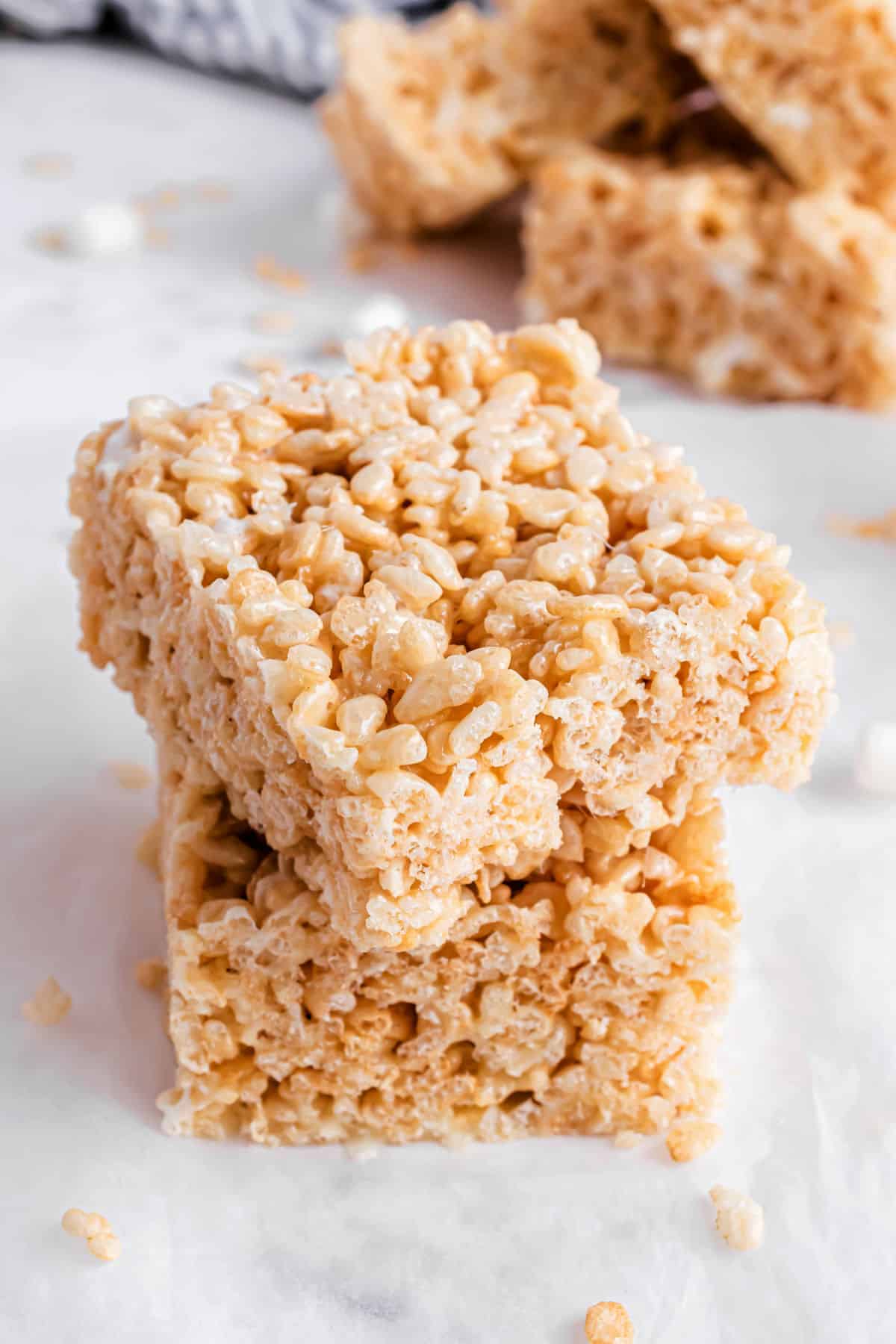 Recipe FAQs
How do you make brown butter without burning it?
It's not difficult to make brown butter; it's also not difficult to burn your butter by accident! Butter solids may look perfectly golden brown one second then turn black in the blink of an eye. To prevent your butter from burning, remove it from the pan immediately when the butter turns from golden brown to a darker brown. Do not leave the butter in the pan to cool or it will continue heating and end up burnt.
If your butter turns from pale yellow to dark brown almost instantly, your stove is too hot. I brown butter on medium heat but you may need to use a lower setting if your stove runs hot.
Can I brown butter ahead of time? How do I store it?
Yes, you can brown butter in advance and store it in an airtight container at room temperature or in the refrigerator.
How long does browned butter stay good?
Browned butter stays good at room temperature for 5 days. In the refrigerator it keeps well for up to 2 weeks.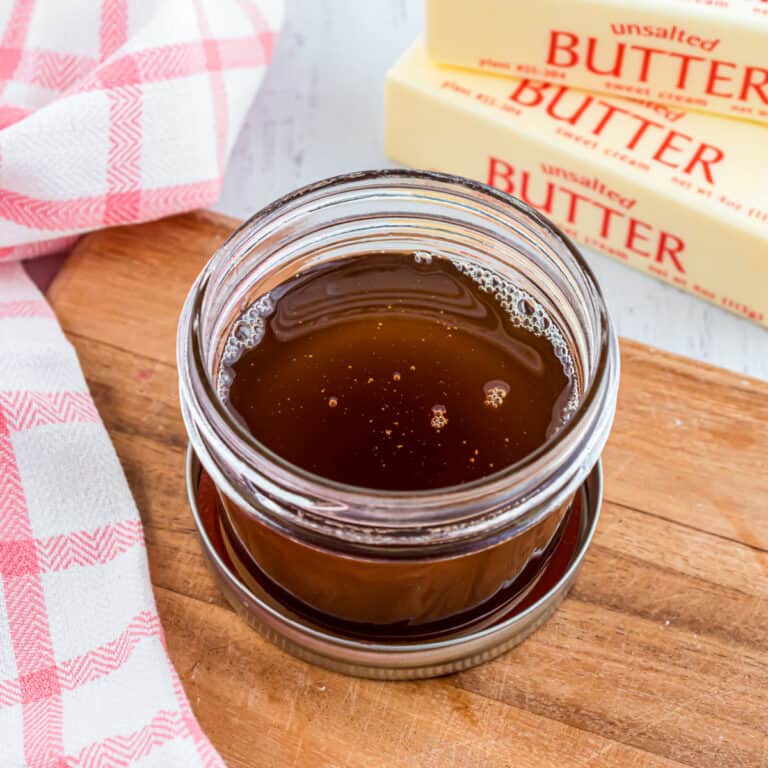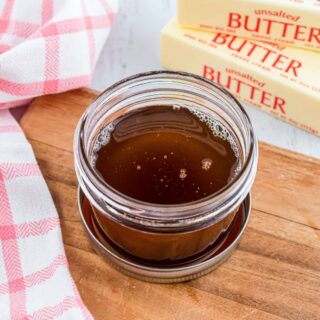 How to Brown Butter
Everyone should know how to brown butter. This easy guide takes you through the process of warming butter on the stove to bring out a fragrant, nutty taste that enhances the flavor of any dish!
Instructions
In a small saucepan or skillet, add butter and melt over low heat.

Once the butter has melted, increase the heat to medium. Continue heating for about five minutes, stirring constantly with a rubber spatula. The butter will start to foam at this point.

With the rubber spatula, move the foam aside to monitor the brown flecks on the bottom of the pan. The butter will begin to smell nutty and develop into a golden-brown color.

Continue to heat until desired level of browning is achieved. At this stage, close monitoring of the butter is very important. The butter can go quickly from browned to burnt, depending on the heat level.

When done browning, immediately pour the browned butter into a heatproof bowl to cool. Do not cool in the pan as it will continue to brown.
Notes
Browned butter can be stored, in an airtight container or jar, at room temperature for 5 days or in the refrigerator for up to 2 weeks.
Salted or unsalted butter can be used, depending upon the recipe. Adjust the measurement of butter you need for the recipe. I don't recommend browning over 1 cup of butter at a time, as it's hard to get an even browning unless you have a large pan.
Working with a pan with a light colored bottom is helpful because you can't see the browning of the milk solids if you use a dark colored pan, and it is easy to burn the butter.
A rubber spatula is a good tool to use for this because it helps keep the butter moving, allows the solids to be swirled off the bottom, aiding in the butter browning evenly.
Stirring the butter frequently throughout the process helps to release the bubbles and reduce the amount of splatter.
During the process, lifting some of the brown bits up with a spoon or even spooning a small amount onto a plate can help check the level of browning.
Leaving the butter in the saucepan or skillet after browning can result in over browning, or even burning, from the residual heat.
The goal is to brown the milk solids somewhere between a light golden brown and a dark brown. If the solids are black, the butter is burnt.
Measure the amount of butter needed for the recipe, after browning the butter. There is a slight evaporation of liquid during the cooking process. I usually add an extra Tablespoon of butter to be browned. For instance, if the recipe calls for 1/2 cup of browned butter, melted…I will melt 9 Tablespoons then measure out 1/2 cup after melting.
Nutrition
Serving:
1
Tablespoon
,
Calories:
102
kcal
,
Fat:
12
g
,
Saturated Fat:
7
g
,
Polyunsaturated Fat:
3
g
,
Cholesterol:
31
mg
,
Sodium:
91
mg