Chewy on the inside, crunchy on the outside, these Butterscotch Cookies only get better with time! You'll love the sugar coating and rich butterscotch flavor.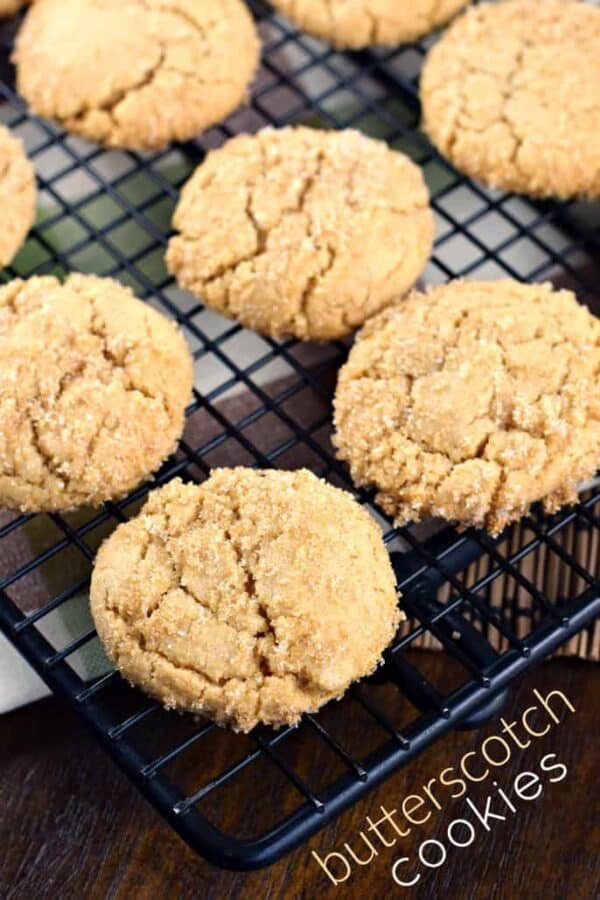 Butterscotch Cookies
These cookies are chewy and crunchy, especially the day after baking. They taste great as a dessert, snack, dipped in your morning coffee–whatever! Just like a buttercotch candy baked into delicious cookies.
With brown sugar and browned butter, this recipe creates perfect butterscotch flavored treats in no time.
Why brown butter?
One of the keys to creating that authentic butterscotch taste in this cookie recipe is using browned butter.
Heating butter on the stove brings out a toasty, almost nutty flavor in the unsalted butter. That added dimension of flavor and aroma interacts with the brown sugar to create a taste that can only be described as "heavenly."
How to brown butter for cookies
Place your butter in a small skillet over the stove on low to medium heat. I recommend a light bottomed skillet, if possible. It makes it easier to tell when the butter reaches the right color.
Use a rubber spatula to lightly stir the butter as it heats. It'll start to froth up and then begin to darken. Stirring as it browns will help keep the butter from splashing out of the pan. You can also use a splatter screen for this if you like. For this amount of butter, I found stirring was just fine.
For Butterscotch Cookies, remove the butter from heat when it's just starting to brown. It'll turn a golden color and develop a nutty aroma.
It smells soooo good. But wait until you try the finished cookies!
How to Make Butterscotch Cookies
Add the browned butter and brown sugar to an electric mixer. Mix on medium speed as add salt, eggs and vanilla. Stir in flour along with the rest of the dry ingredients. Mix until combined.
In a separate smaller bowl, combine more brown sugar with cinnamon. Use a cookie scoop or ice cream scoop to form the cookie dough into bowls.
Roll each ball in the cinnamon sugar mixture then place on a prepared baking sheet.
Bake the cookies for 10 minutes. Let them cool for a few minutes on the baking sheet for a few minutes, then transfer to a wire rack to finish cooling.
Fresh from the oven, Butterscotch Cookies are delightfully chewy with a little crunch thanks to the cinnamon sugar topping.
I, however like them even better the next day!
The outsides get crispy, making them perfect for dipping into my coffee. You have my full permission to enjoy cookies for breakfast. And make yourself an extra cup of coffee in the afternoon for more cookies!
How to Store Cookies
Once cooled, keep these cookies at room temperature in an airtight container or ziploc bags. They'll keep for a week, but good luck not eating them all within a couple of days.
Can you freeze butterscotch cookies?
Yes, Butterscotch Cookies keep beautifully in the freezer! They'll lose some of their crunchiness after thawing but the flavor will still be good.
Tips and Tricks
Can you substitute the brown sugar for white?
Not in this recipe. The molasses in the brown sugar is essential for creating the caramel-y, buttery flavor.
Can you leave off the sugar topping?
Yes, but I love the added element of texture and the touch of cinnamon it adds to Butterscotch Cookies.
Can you substitute the butter for margarine, vegan butter or shortening?
I do not recommend this as other fats won't brown like butter does and the flavor won't be the same. Browning happens when the milk proteins in butter begin to cook, so non-dairy substitutions won't recreate the taste the same way.
Can this be made without a stand mixer?
Sure thing! You can use electric handheld beaters instead or use a heavy wooden spoon to cream everything together really well.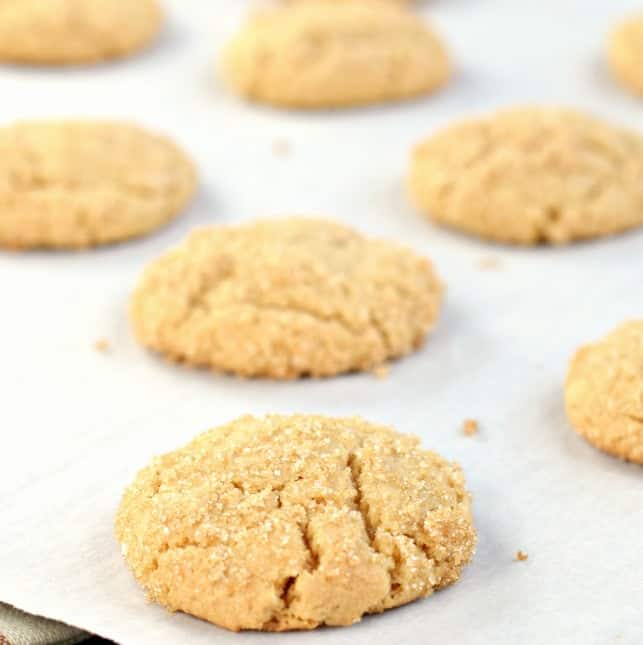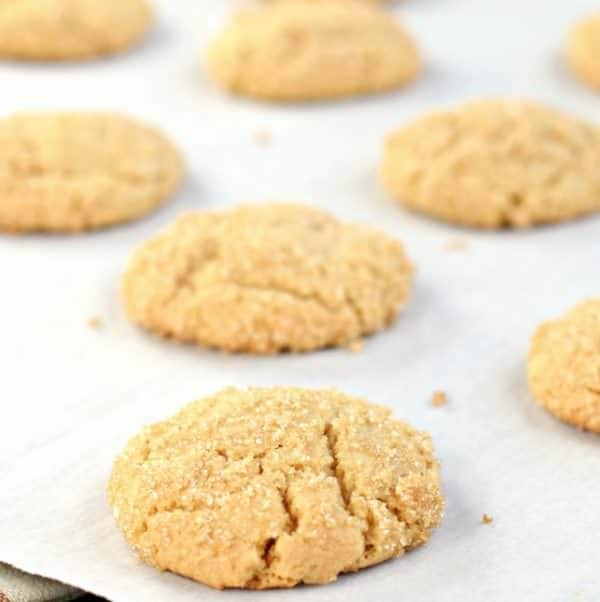 Yield: 4 1/2 dozen cookies
Butterscotch Cookie Recipe:
Chewy on the inside, crunchy on the outside, these Butterscotch Cookies only get better with time! You'll love the sugar coating!
Ingredients
12 Tbsp butter
2 cups brown sugar, divided
½ tsp salt
2 eggs
1 tsp vanilla
2½ cup flour
½ tsp baking soda
1 tsp baking powder
2 Tbsp granulated sugar
Instructions
Heat butter in small skillet on medium heat. Allow to froth up, then brown. Here is a great article on how to brown butter (for today's cookies you want the butter to JUST begin the browning process) Remove from heat.
In large mixing bowl, add browned butter and 1 3/4 cups brown sugar. Mix on medium speed, add salt, eggs and vanilla. Stir in flour, baking soda and baking powder.
In small bowl, mix 1/4 cup reserved brown sugar and 2 Tbsp granulated sugar together. Using a 1 Tbsp small scoop, scoop up dough (will be consistency of play-doh) and roll into a ball. Then roll in sugars. Place on cookie sheet with parchment paper. Bake in a 375 degree oven for 10 minutes. Enjoy (and don't forget the milk)!!!
Nutrition Information:
Yield:
50
Serving Size:
1
Amount Per Serving:
Calories:

80
Total Fat:

3g
Saturated Fat:

2g
Trans Fat:

0g
Unsaturated Fat:

1g
Cholesterol:

15mg
Sodium:

73mg
Carbohydrates:

12g
Fiber:

0g
Sugar:

8g
Protein:

1g
*Nutrition facts are an estimate and not guaranteed to be accurate. Please see a registered dietitian for special diet advice.
Pour yourself a glass of milk and get ready to enjoy the best ever Butterscotch Cookies you've ever tasted!