Butterscotch Cookies
Chewy on the inside, crunchy on the outside, these Butterscotch Cookies only get better with time! You'll love the sugar coating!
Be sure to sign up for my email…new recipes in your inbox!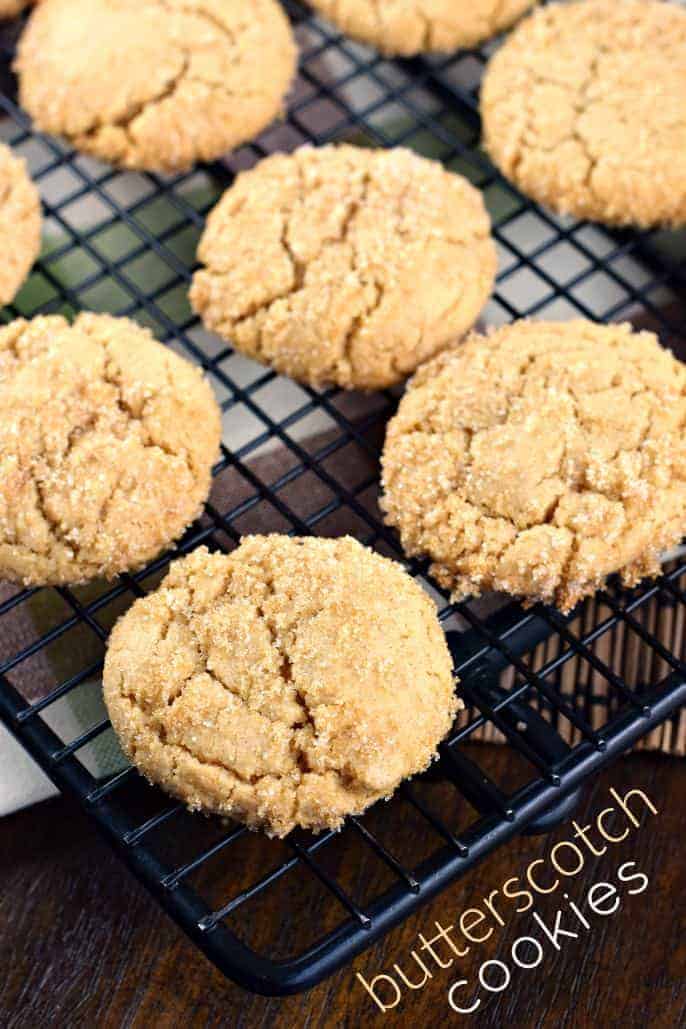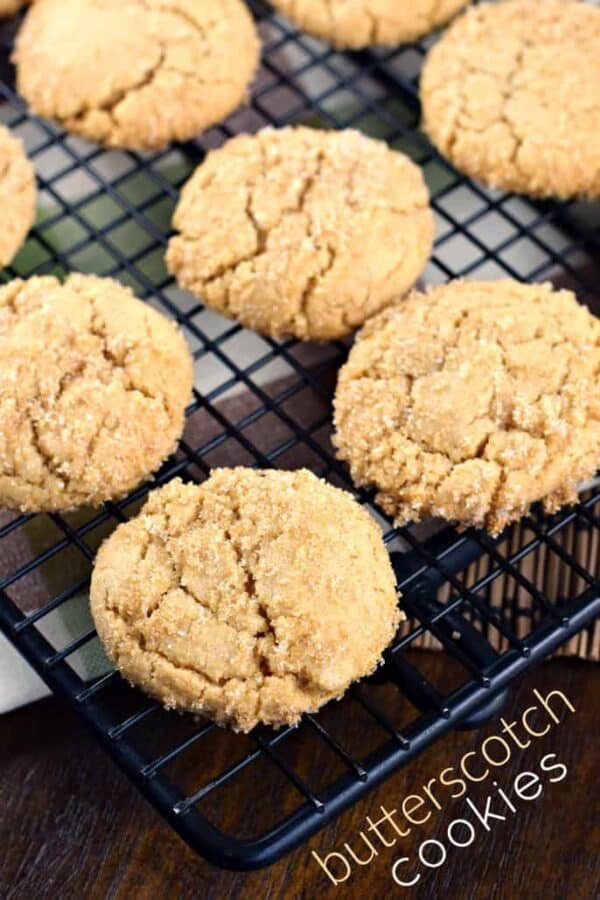 **photos updated January 2017**
I know. This is the third cookie recipe this week. However, in my defense, it's been raining all week, and cookies are comfort food. The house smells so good, since all the windows have to be closed. Plus, these butterscotch cookies are little. You're probably thinking, what does that have to do with anything?
Well, if you saw my earlier cookie recipes, Peanut Butterfinger cookies, and Double Chocolate Oreo cookies, you would know that this hardly counts as a cookie recipe. It's more like a bite of a cookie recipe. And the calories are minimal when you compare to the others.
Anyways, these cookies are awesome. They are chewy and crunchy, (especially on day two), they taste great dipped in my morning coffee for breakfast, lunch, dinner, dessert, whatever!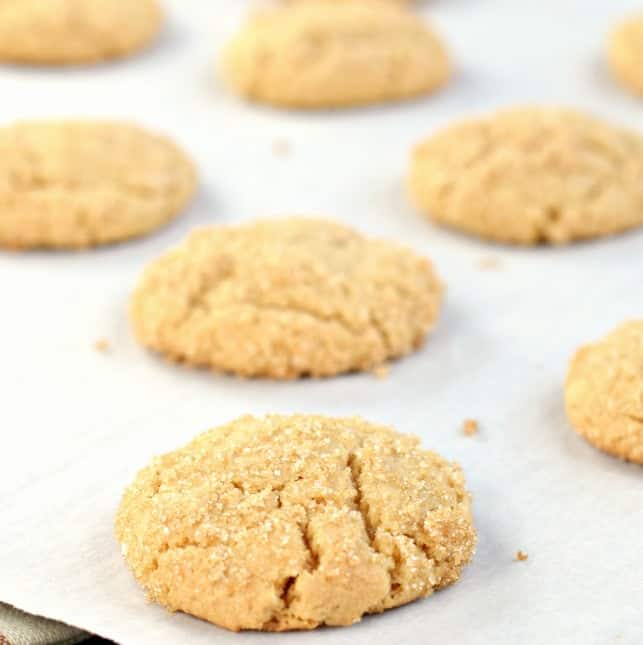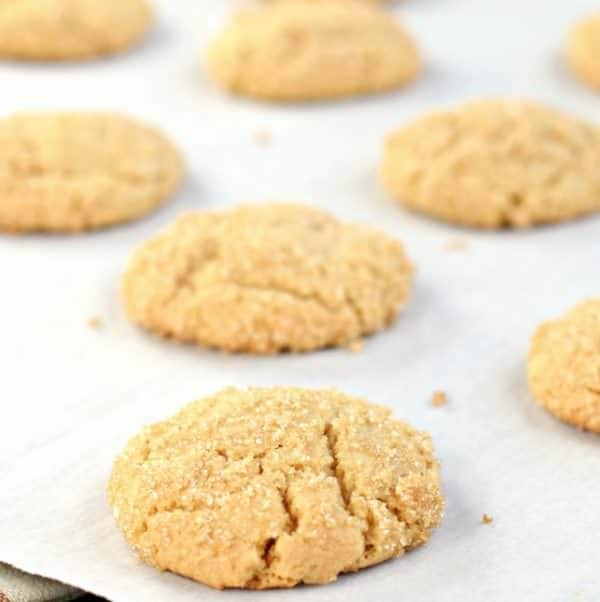 Be sure to follow me on Instagram and tag #shugarysweets so I can see all the wonderful SHUGARY SWEETS recipes YOU make!
Connect with Shugary Sweets! Be sure to follow me on my social media, so you never miss a post!
Facebook | Twitter | Google+ | Pinterest | instagram | Bloglovin'
Sign up to receive an email in your inbox for each new recipe:
Yield: 4 1/2 dozen cookies
Butterscotch Cookie Recipe: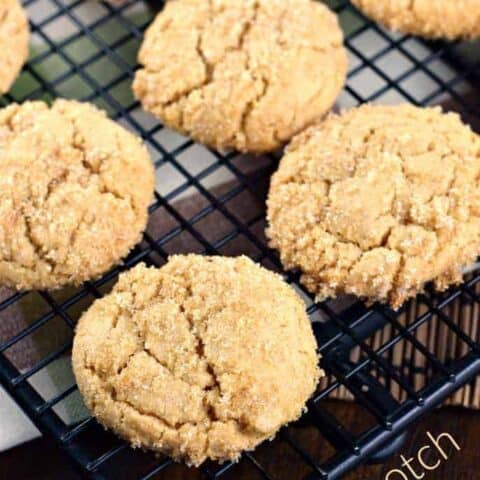 Chewy on the inside, crunchy on the outside, these Butterscotch Cookies only get better with time! You'll love the sugar coating!
Ingredients
12 Tbsp butter
2 cups brown sugar, divided
½ tsp salt
2 eggs
1 tsp vanilla
2½ cup flour
½ tsp baking soda
1 tsp baking powder
2 Tbsp granulated sugar
Instructions
Heat butter in small skillet on medium heat. Allow to froth up, then brown. Here is a great article on how to brown butter (for today's cookies you want the butter to JUST begin the browning process) Remove from heat.
In large mixing bowl, add browned butter and  1 3/4 cups brown sugar. Mix on medium speed, add salt, eggs and vanilla. Stir in flour, baking soda and baking powder.
In small bowl, mix 1/4 cup reserved brown sugar and 2 Tbsp granulated sugar together. Using a 1 Tbsp small scoop, scoop up dough (will be consistency of play-doh) and roll into a ball. Then roll in sugars. Place on cookie sheet with parchment paper. Bake in a 375 degree oven for 10 minutes. Enjoy (and don't forget the milk)!!!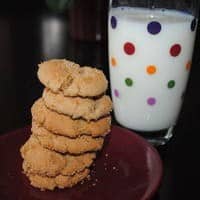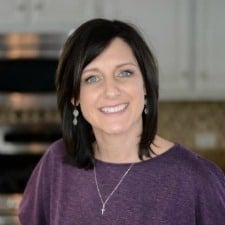 Aimee is a dessert lover (specifically rice krispie treats), workout enthusiast, self-taught foodie, and recipe creator. Her recipes have been featured in over 15 magazines, and her passion is to share her love of cooking with the everyday home cook! Learn more about Aimee.