The red marbling on these Raspberry Lemon Cookies is incredibly unique. It's impressive enough to stand out at any potluck, holiday tray, or dessert spread. Even better, they're tasty and easy to make. No special skill or decorations required. It's all in the delicious fruit filling!
Love soft and chewy cookies? Readers give great reviews for our cookies and cream cookies. And our rugelach cookies are a hit for the holidays.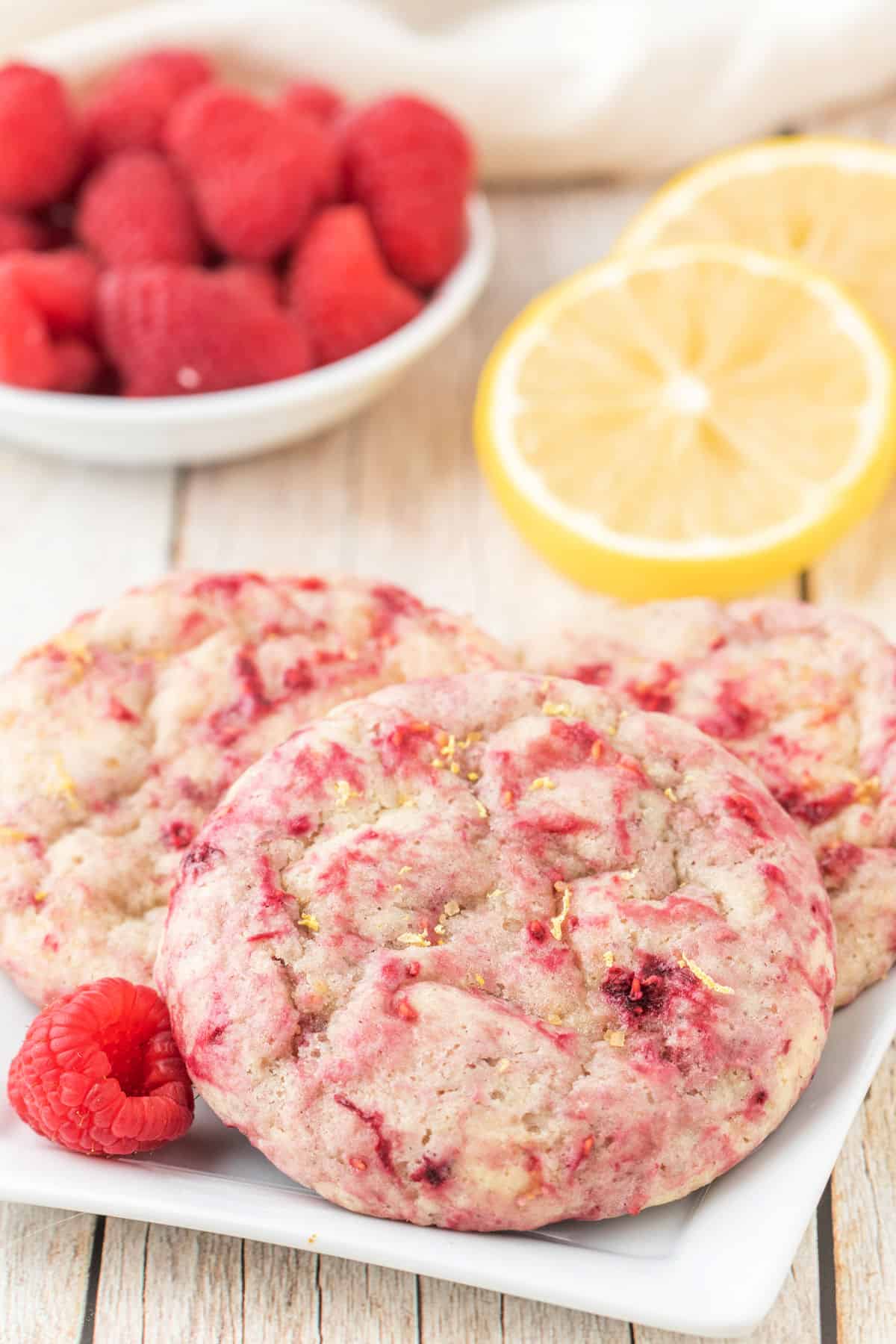 Why these Cookies are Best
These cookies look great, and they taste great too. I love that the fruit marbling stands out immediately, and doesn't require any special decorations or ingredients.
Here are a few more reasons I think you'll love them too,
They're so soft! My secret ingredient is greek yogurt. It keeps the cookies deliciously moist with the perfect amount of chew.
All natural ingredients. Lemon zest and frozen raspberries make for a punchy flavor and give these cookies their unique marbled appearance.
Prep time is only 10 minutes. Most visually interesting desserts take a good chunk of time to prep and top. Not so here. Easy to make, easy to eat – that's the motto.
Love raspberry desserts? Be sure to add our raspberry cheesecake and raspberry cheesecake cookies to your baking list!
Ingredient Notes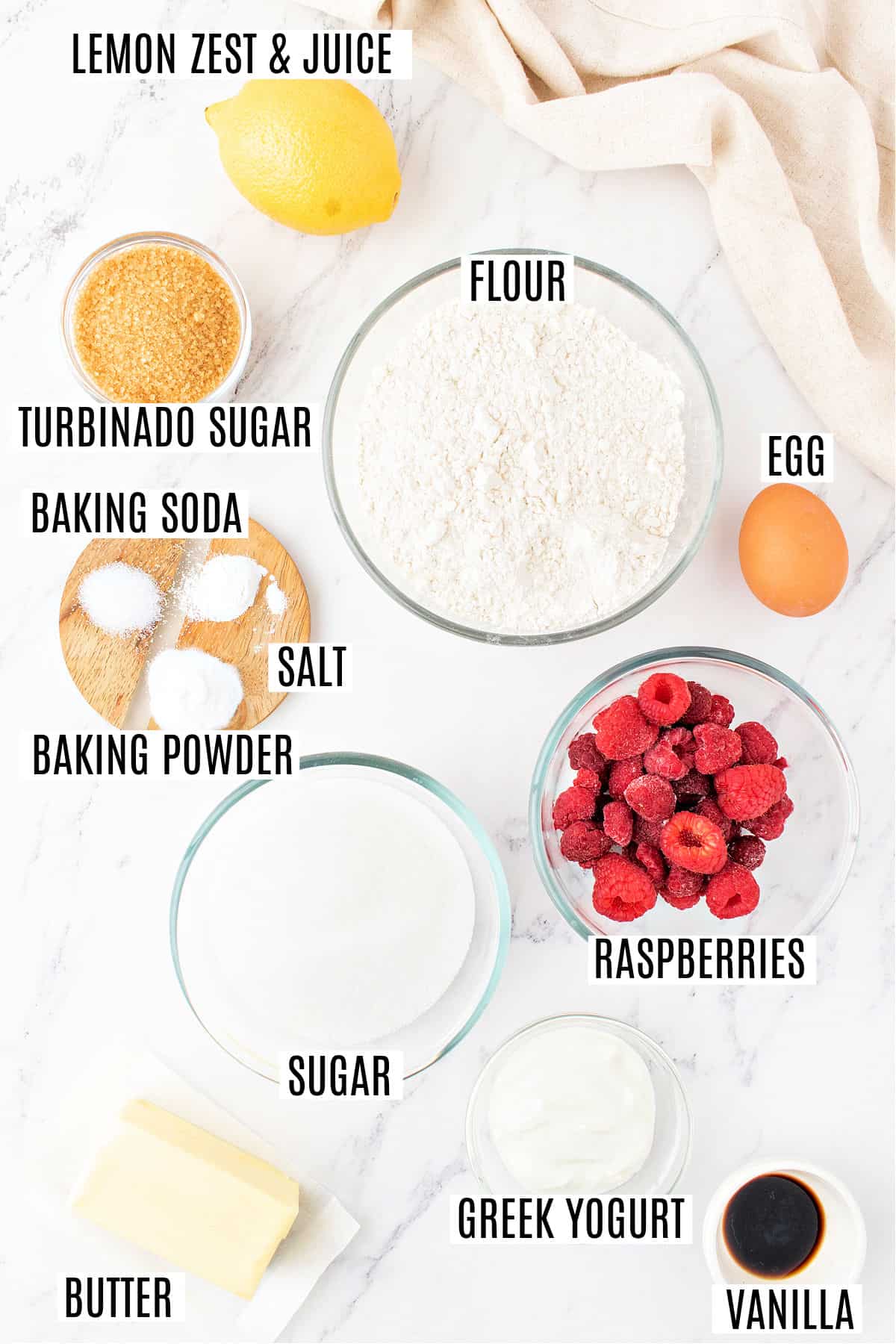 Flour – All-purpose flour works best in this recipe and delivers the ultimate cookie consistency.
Baking Powder & Baking Soda- Both baking powder and baking soda are used in this recipe for the perfect rise. Don't skip either one, or try to use one for the other.
Salt
Butter – This recipe will need soft, room-temperature, unsalted butter. If you only have salted butter on hand, you can use it, but skip the additional salt in the recipe. Be sure to check out our tips on how to soften butter quickly.
Vanilla Extract – Pure vanilla is best. Our homemade vanilla extract is incredible.
Lemon Juice & Zest – Since you'll be using juice and zest, pick a lemon with unblemished skin. Skip any that are wrinkled, too soft, or bruised. You'll also want to wash the lemon thoroughly to remove any wax, dirt, or pesticide residue. Get more tips and tricks here on how to zest a lemon.
Greek Yogurt – Plain or vanilla-flavored yogurt tastes delicious in this recipe. If you don't have any greek yogurt, you could use an equal amount of sour cream instead.
Egg
Frozen Raspberries
Turbinado Sugar – Turbinado sugar is chunkier than granulated sugar. It adds a satisfying texture to each bite while providing the decoration for these naturally colorful cookies.
Easy Instructions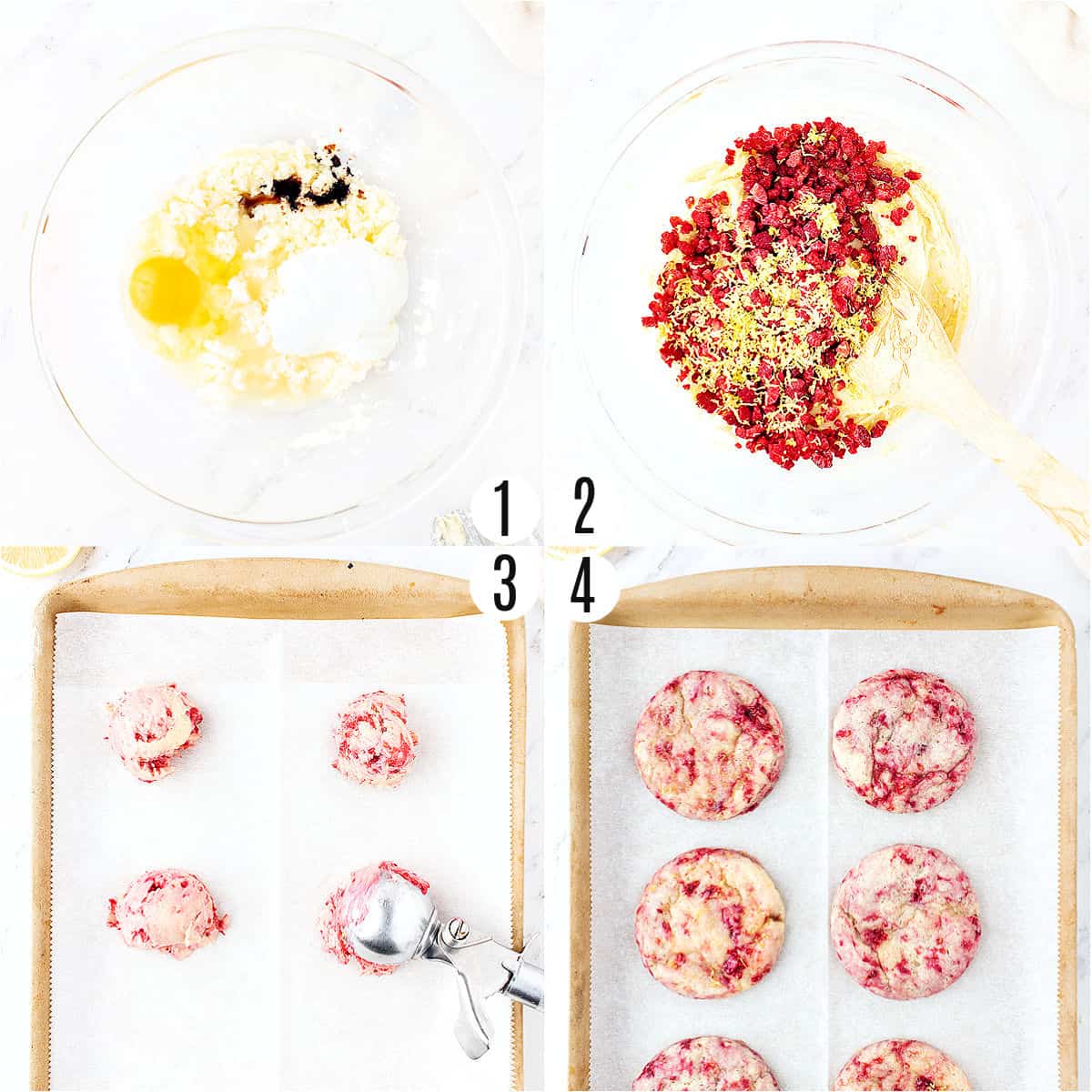 Prep the dough. Cream the butter and sugar in a medium-sized mixing bowl. Then incorporate the wet ingredients one by one. In a second bowl, combine all of the remaining dry ingredients. Then introduce the dry bowl, little-by-little, to the wet. Mix as you go.
Fold in the fruit. Break the frozen raspberries into small pieces, and fold them into the dough alongside the lemon zest. Stop once the fruit is well-distributed.
Scoop, top, and freeze. Portion out dough across 2 parchment-lined baking sheets with a cookie scoop. There should be enough to create 6 dough balls on each sheet. Sprinkle with turbinado sugar, cover with plastic wrap, and cool for 10 minutes in the freezer.
Bake them. Bake at 350°F for 12-16 minutes until the edges turn golden.
Tips and Tricks
Don't overmix the dough. This can lead to flat cookies that are extra-dense because of gluten development. Use a spoon instead of a mixer for this task. You'll know the dough is ready when there's no more powdery flour showing and the dough pulls away from the sides of the bowl.
Use a cookie scoop. Yes, a large dining spoon will probably work, but a dedicated 2 or 3-tablespoon cookie scoop is a much better tool for the job. It should give you 12 cookies from this recipe and save a lot of mess, dough stick and cleanup hassle.
Freezing the dough isn't absolutely necessary. You can bake without freezing. However, chilled dough won't spread as much as room-temperature dough in the oven. So for taller and thicker cookies, don't skip the chilling step.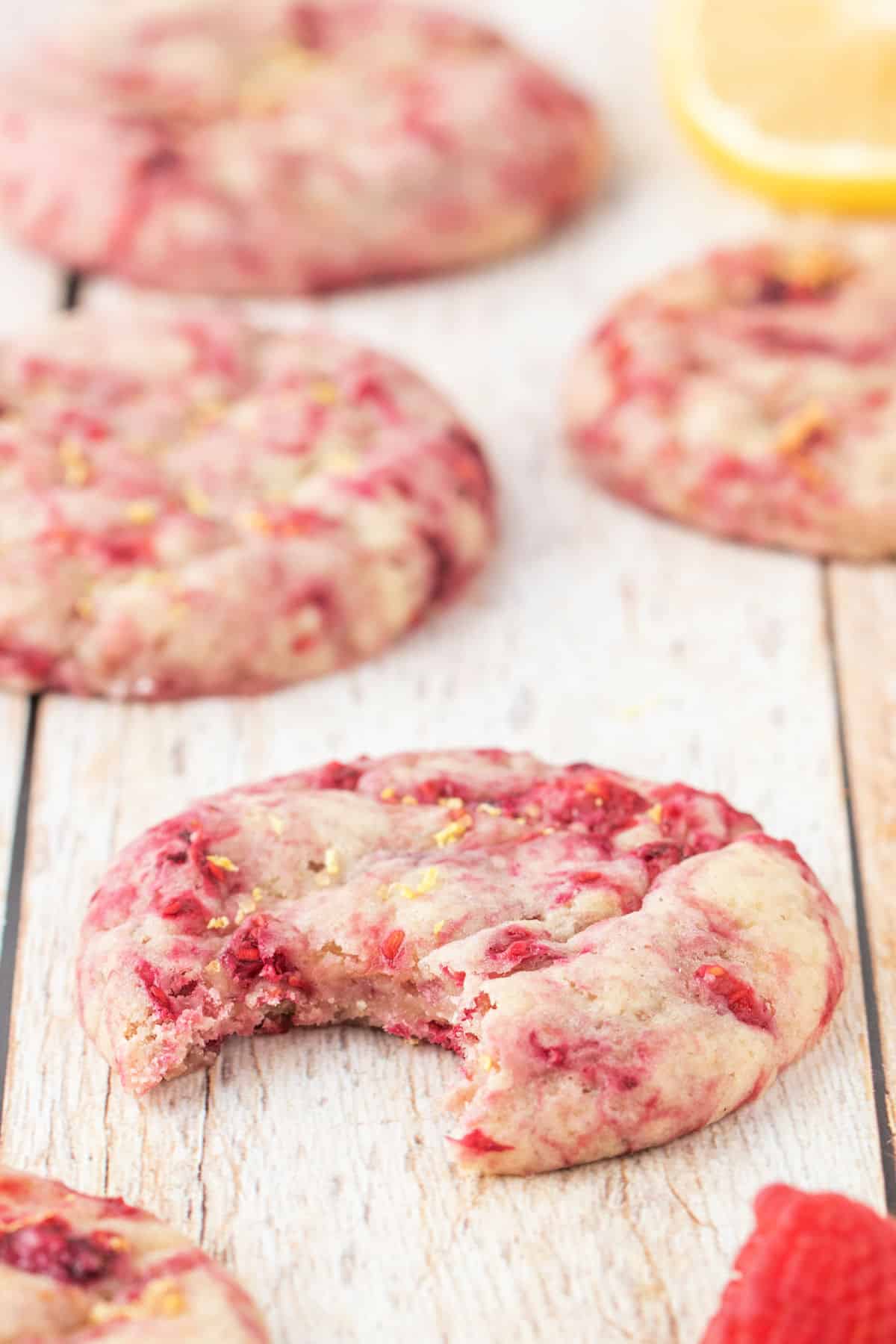 Recipe FAQs
Can I freeze the cookie dough for storage?
If you don't want to bake the cookies right away, you can store them in the freezer for about 9 months. First, portion the dough onto a parchment-lined baking sheet. Then, wrap the entire sheet in a few layers of plastic wrap and transfer it to the freezer. Then, whenever a sweet craving arrives, you can pop 1 or 2 cookies onto a baking sheet and have a warm Raspberry Lemonade Cookie in minutes!
Do I have to use frozen raspberries?
I don't recommend using fresh raspberries since they're too mushy and will add a lot of moisture to the cookies as they're heated. Similar to our raspberry cheesecake cookies, you can use an equal amount of freeze-dried raspberries instead of frozen ones if you'd like.
Why do I need to avoid over-mixing the cookie dough?
Over-mixing cookie dough can overdevelop the gluten in the flour. This can lead to a very dense and hard cookie consistency.
More Easy Dessert Recipes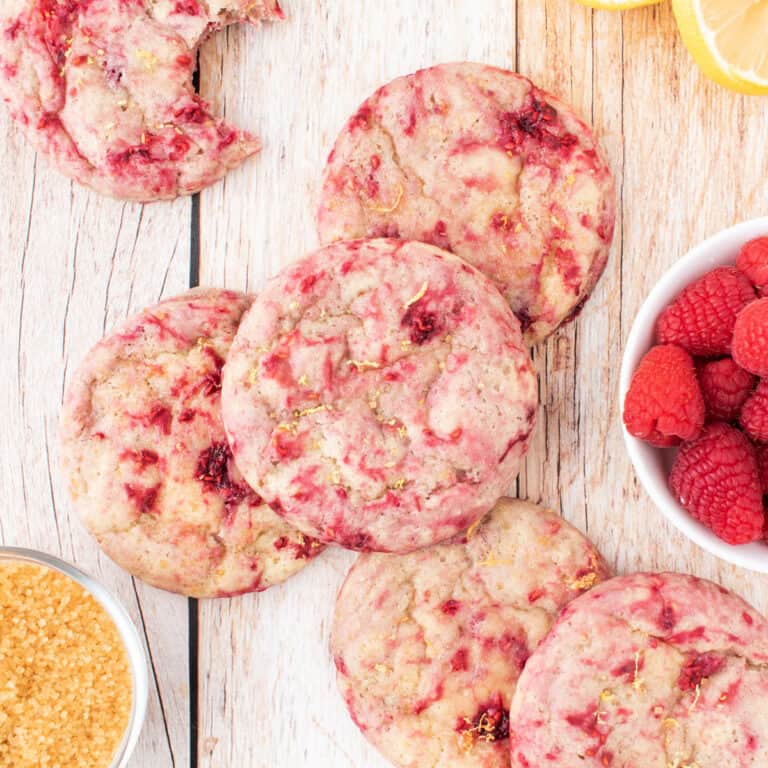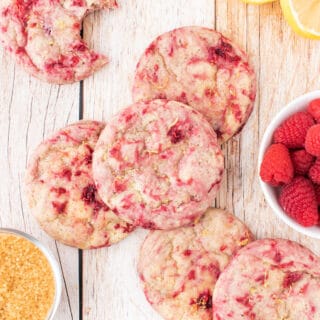 Raspberry Lemon Cookies
The red marbling on these Raspberry Lemon Cookies is incredibly unique. It's impressive enough to stand out at any potluck, holiday tray, or dessert spread. Even better, they're tasty and easy to make. No special skill or decorations required. It's all in the delicious fruit filling!
Ingredients
2 ⅓

cups

all-purpose flour

½

teaspoon

baking powder

¼

teaspoon

kosher salt

½

teaspoon

baking soda

½

cup

unsalted butter

softened

1

cup

granulated sugar

1

teaspoon

vanilla extract

2

Tablespoons

lemon juice

¼

cup

greek yogurt

plain or vanilla flavored

1

large egg

zest of 1 lemon

⅔

cup

frozen raspberries

¼

cup

turbinado sugar for topping
Instructions
Preheat the oven to 350°F. Line 2 baking sheets with parchment paper and set aside.

In a medium mixing bowl, combine the flour, baking powder, salt, and baking soda with a whisk. Set aside.

In a separate large mixing bowl, beat the butter and sugar until well combined.

Add the vanilla extract, lemon juice, Greek yogurt, and egg. Mix until combined.

Add half the dry ingredients to the wet ingredients and mix with a spoon then add the rest of the dry ingredients and continue mixing until a dough forms.

Break up the frozen raspberries into smaller pieces. Fold in the raspberry pieces and lemon zest until evenly distributed throughout the dough. Do not overmix.

Using a 2 or 3 Tablespoon scoop, scoop 6 dough balls onto each baking sheet. Sprinkle each cookie
with turbinado sugar.

Freeze for 10 minutes before baking (optional for thicker cookies). Bake the cookies at 350°F for 14-16 minutes or until the edges are golden.
Notes
Swap out the Greek yogurt for sour cream if needed.
Much like our raspberry cheesecake cookies, you can substitute freeze dried raspberries instead!
Nutrition
Serving:
1
cookie
,
Calories:
255
kcal
,
Carbohydrates:
42
g
,
Protein:
4
g
,
Fat:
8
g
,
Saturated Fat:
5
g
,
Polyunsaturated Fat:
3
g
,
Cholesterol:
36
mg
,
Sodium:
109
mg
,
Fiber:
2
g
,
Sugar:
22
g