This Slow Cooker Hot Fudge Cake is warm, gooey and full of rich chocolate flavor! Plus, it's just 6 ingredients and only takes 5 minutes to prep (and no one will know it starts with a cake mix)!
Today's recipe is similar to our delicious chocolate lava cake. Moist fudge cake with a hot fudge filling. Top it off with a drizzle of our homemade chocolate syrup.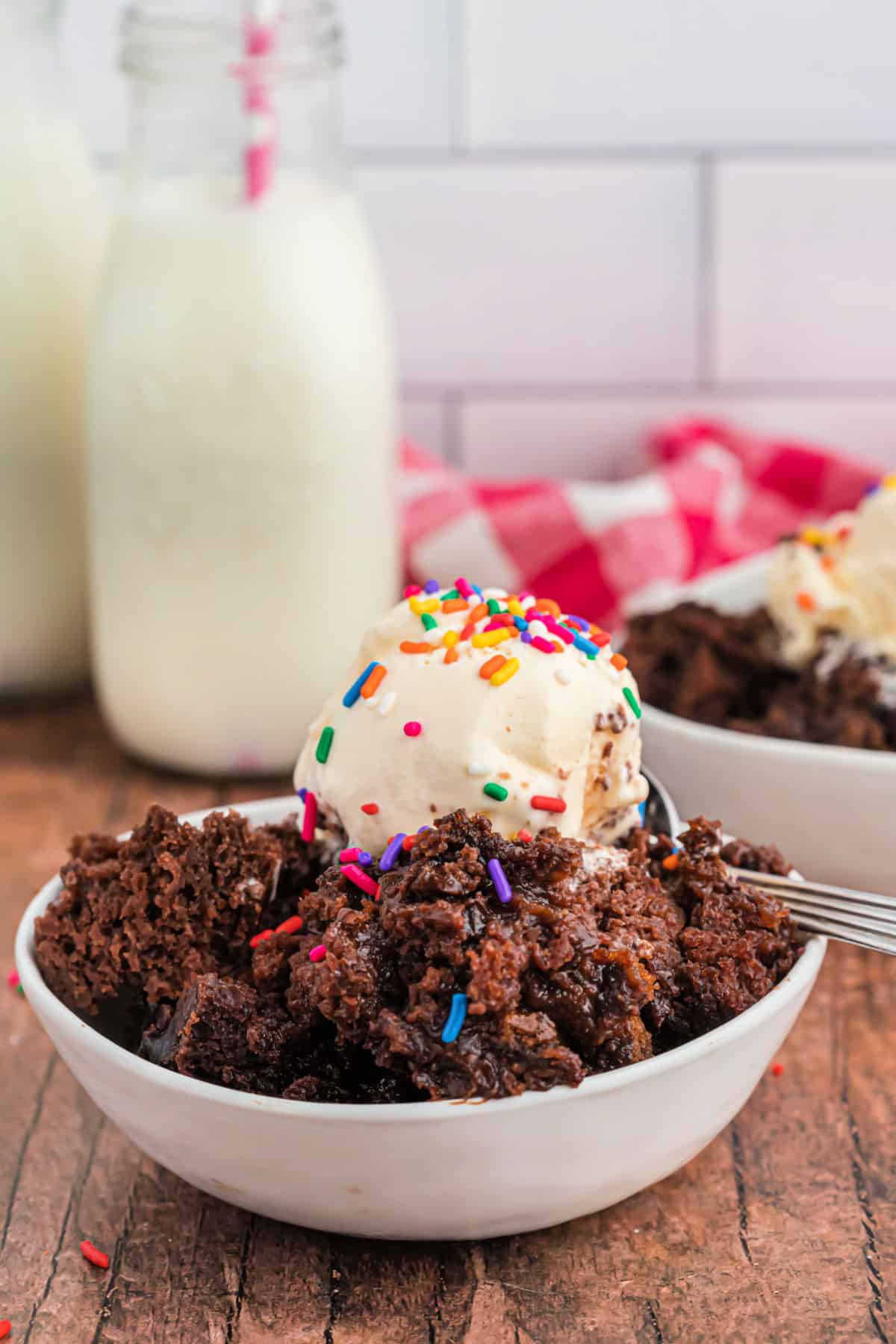 Why This Recipe is Best
Slow cooker hot fudge cake is super easy and hands-off, with just a few simple ingredients.
Layer the cake batter, chocolate pudding and chocolate chips in your slow cooker, then set it and forget it!
A store-bought chocolate cake mix makes this super simple – and fast – to put together.
The chocolate pudding layer adds richness and tons of moisture to the cake.
The whole thing is sprinkled with chocolate chips that get melty and gooey and are the perfect addition.
Serve your hot fudge cake with some whipped cream or ice cream and get ready to be wowed!
If you've never made a cake in your crockpot, try our slow cooker apple cake next. Delicious!
Ingredient Notes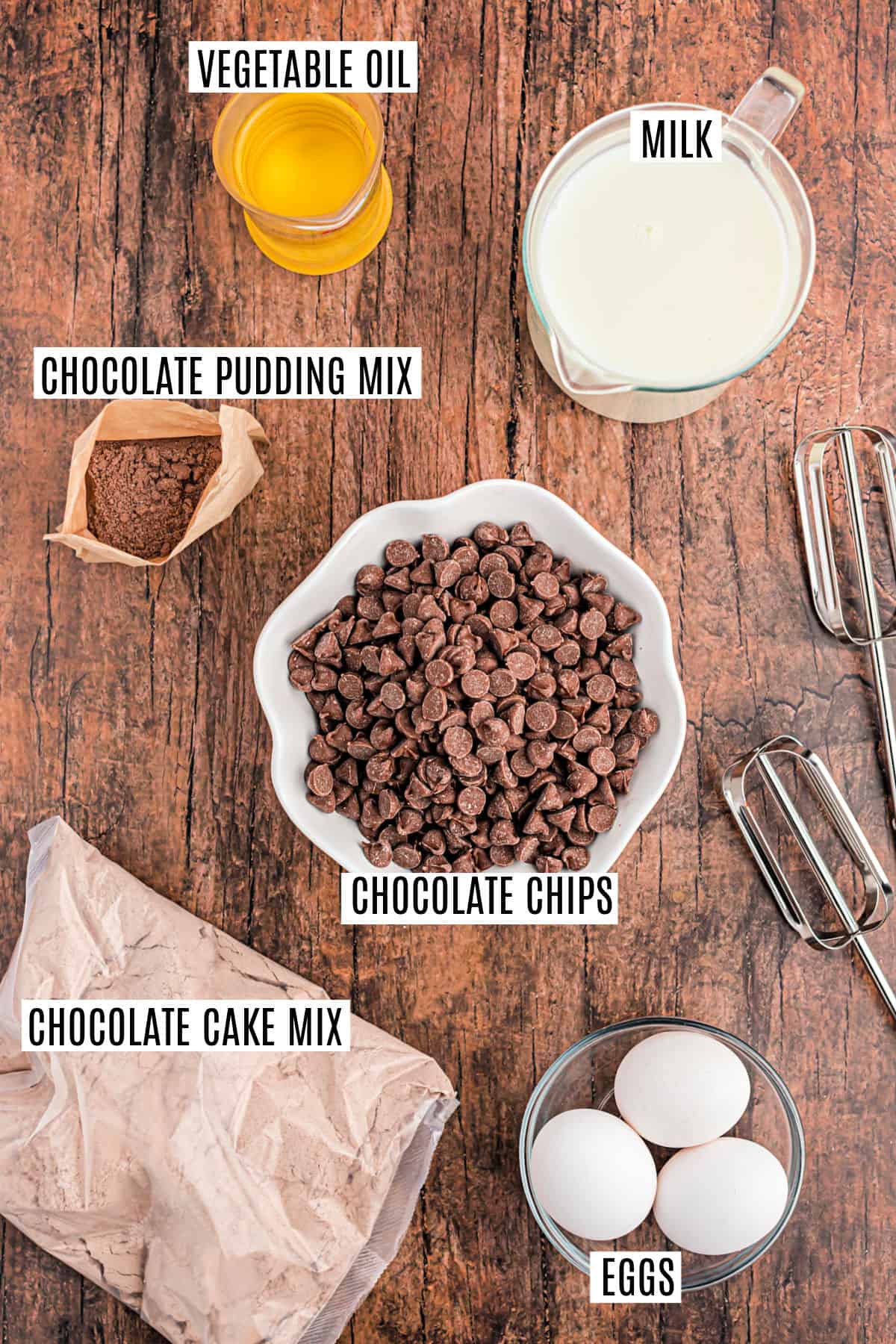 Chocolate cake mix – Any brand will do! You can use traditional chocolate, Devil's Food mix or dark chocolate fudge in this recipe.
Milk – Whole milk will add extra richness to the cake, but it's OK to use 2%, 1% or skim milk as well, if that's what you have on hand.
Instant chocolate pudding mix – Make sure you are using an instant pudding mix and not the kind you have to cook.
Chocolate chips – Milk chocolate chips are a great flavor here, but you could also substitute semi-sweet chocolate chips or dark chocolate chips.
Easy Instructions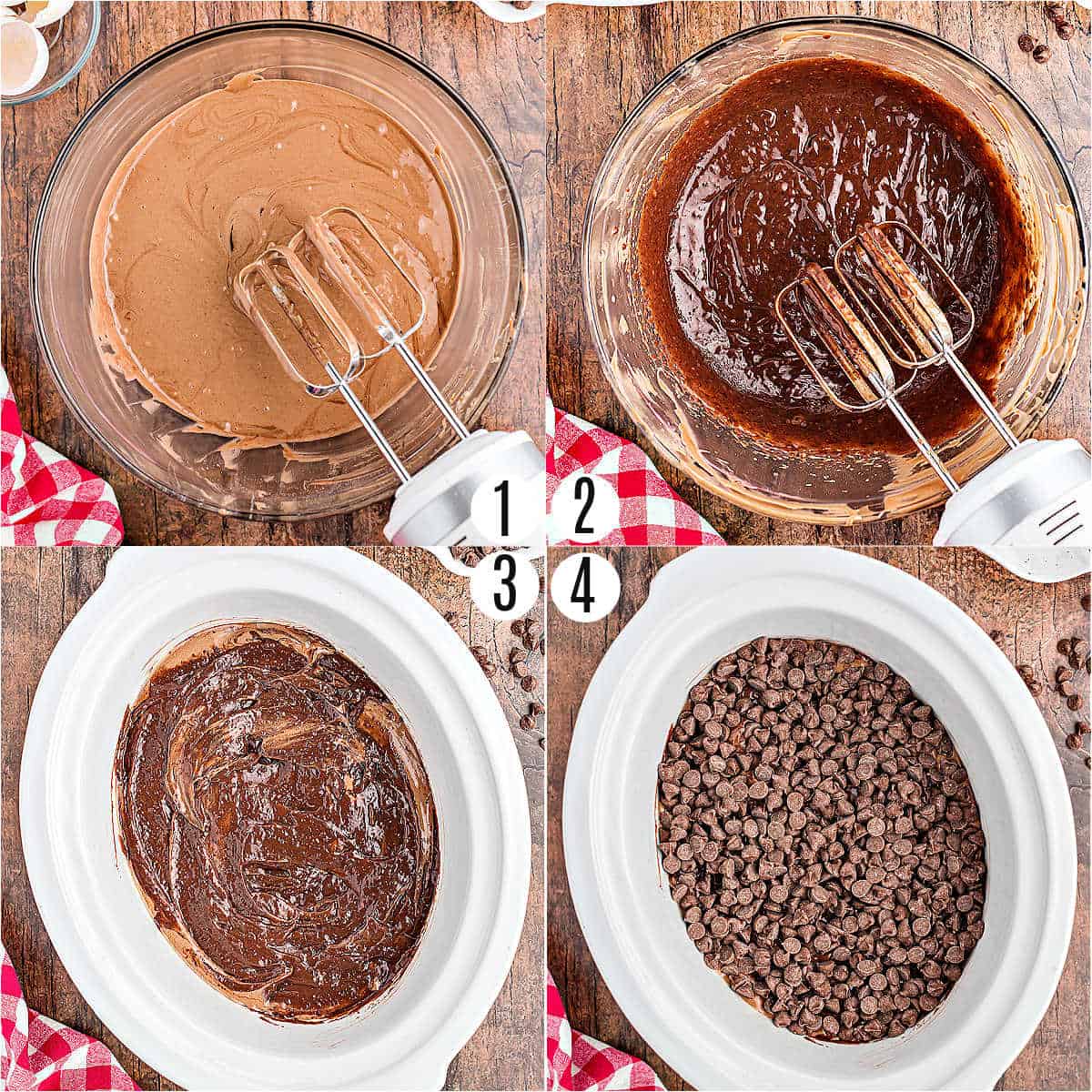 STEP 1. Make the cake batter. Combine the cake mix, 1 ¼ cups milk, vegetable oil and eggs. Mix for about 2 minutes, until smooth. Pour into a crockpot that's been sprayed with cooking spray.
STEP 2. Make the chocolate pudding. Beat the pudding milk with the remaining 2 cups of milk until smooth.
STEP 3. Swirl on top. Pour pudding over the cake batter in the crockpot.
STEP 4. Sprinkle with chocolate chips and cook. Add the chocolate chips on top, then cover and cook on high for 2 1/2 hours. That's it!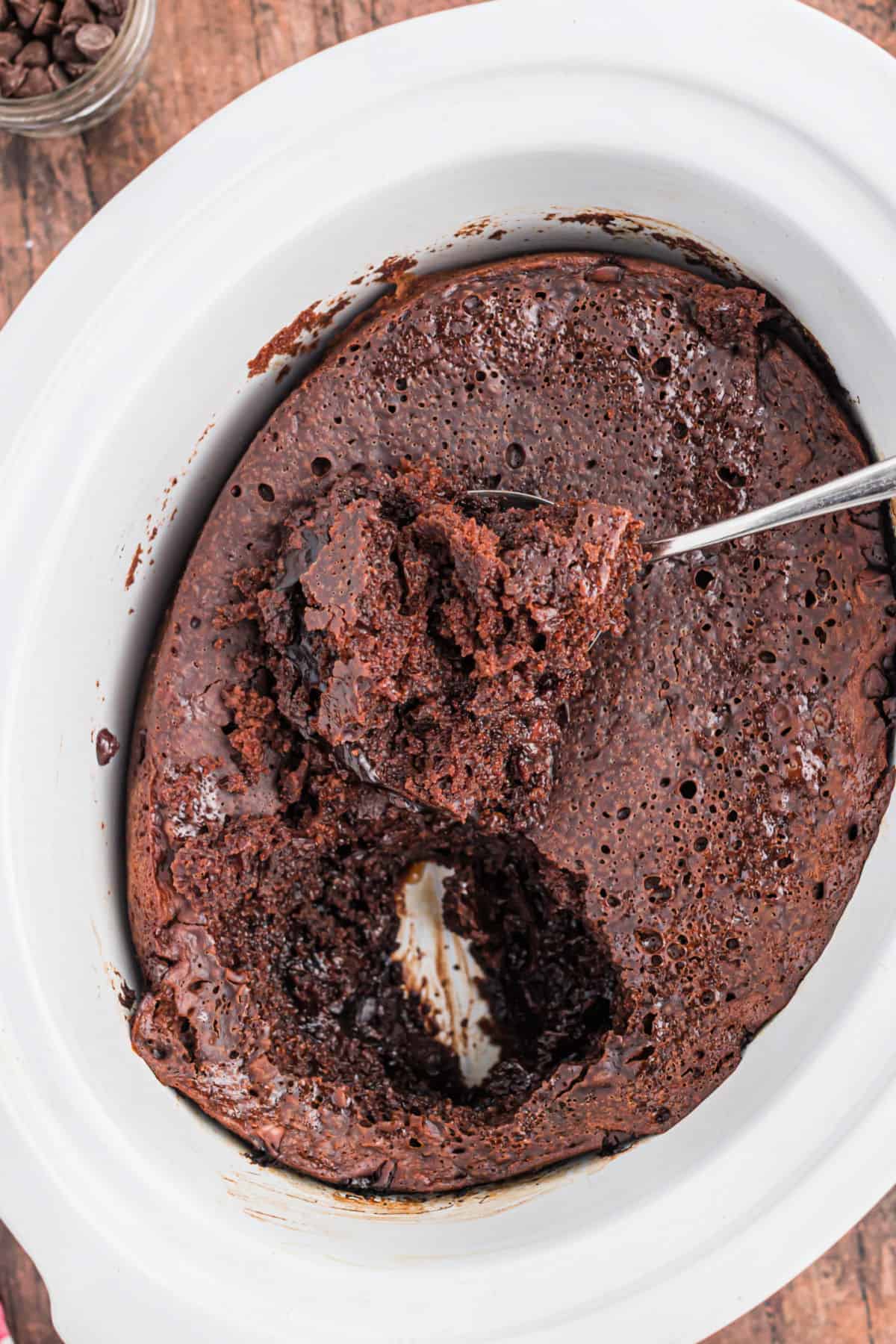 Tips and Tricks
Layer the hot fudge cake ingredients into the slow cooker as directed – the cake batter, the pudding mix and then the chocolate chips. Don't stir them all together!
No peeking! Removing the lid of your slow cooker releases moisture. That's moisture that your cake needs to stay soft and delicious.
Serve the cake warm with a big scoop of vanilla ice cream or homemade whipped cream!
Recipe FAQs
What kind of chocolate cake mix do I need?
Any brand of cake mix will do. Also, you can use a traditional chocolate mix or go with a Devil's Food or dark chocolate fudge cake mix for this recipe.
How do I store leftovers?
Leftover slow cooker hot fudge cake can be scooped out of the slow cooker and stored in an airtight container in the refrigerator for up 5 days.
Can I freeze this cake?
Yes! You can transfer leftover cake to a freezer-safe ziploc or airtight container and freeze for up to 3 months.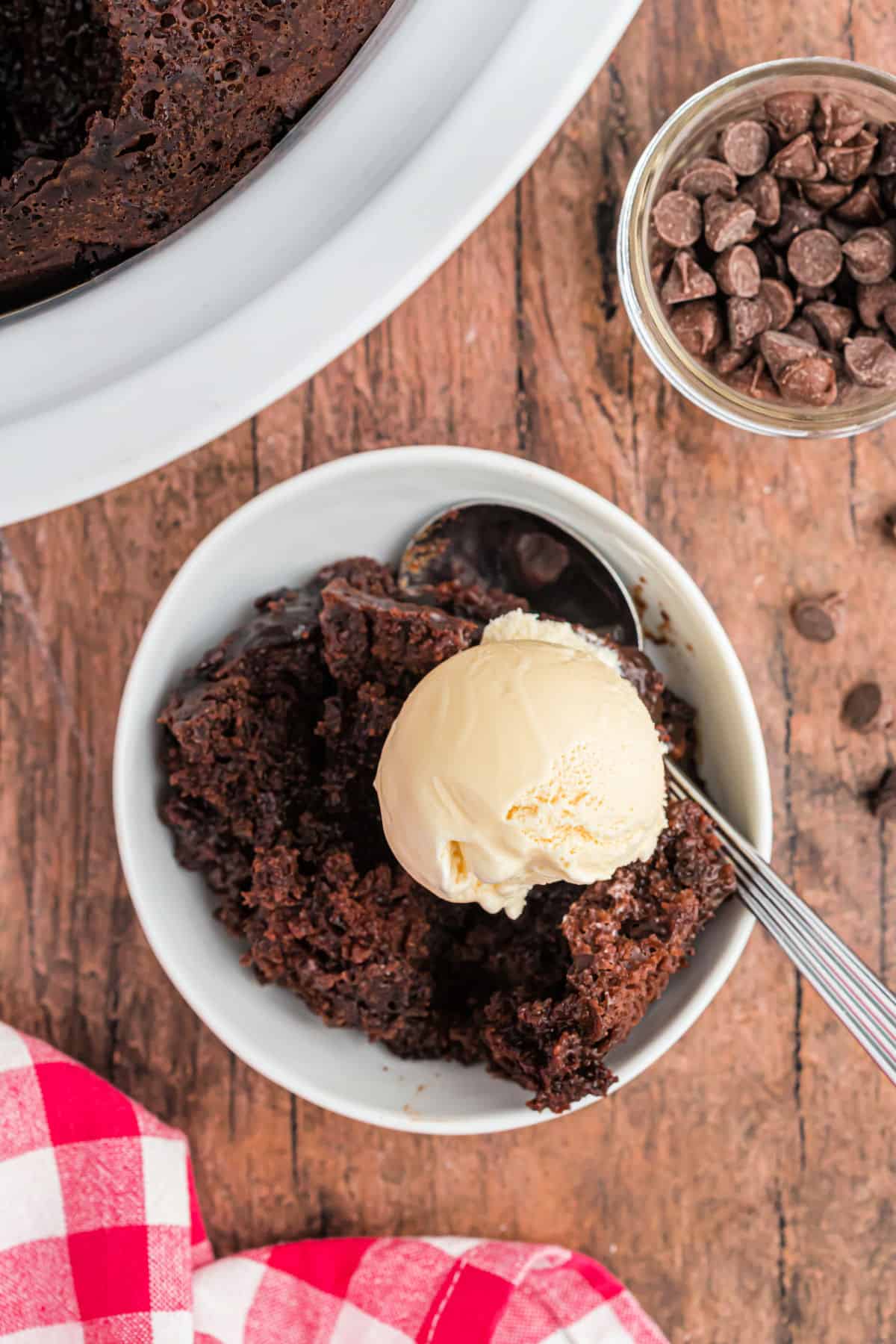 More Easy Dessert Recipes