Rich and fudgy, these Individual Molten Chocolate Cakes are the perfect recipe for dessert! Whether you are feeding your family, or having guests for dinner, this easy, decadent treat can be made ahead of time and served warm with chocolate ice cream!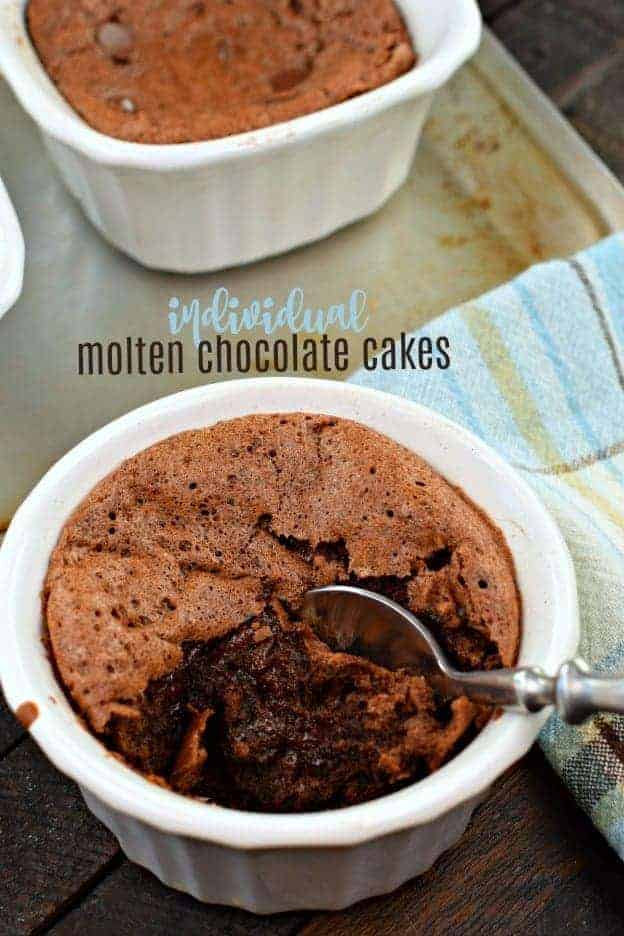 What are Molten Chocolate Cakes
Don't let this unassuming looking treat fool you. 
What I love is that the center is more like a rich fudgy brownie that is a tad undercooked, if that makes sense.
Served warm with a scoop of ice cream or homemade whipped cream is the way to go with this decadent dessert.
I should add, this is also a great idea to make for guests.
You can make these ahead of time (without baking them) and have them all prepped and ready to go in the oven.
While you sit down to dinner, pop a tray of these Individual Molten Chocolate Cakes into the oven.
Not only will they smell amazing and entice your guest to indulge in dessert, they'll be ready to eat when dinner is over!
More reasons why these lava cakes are amazing?
Makes portion sized desserts
Easy to find ingredients
Eat immediately after baking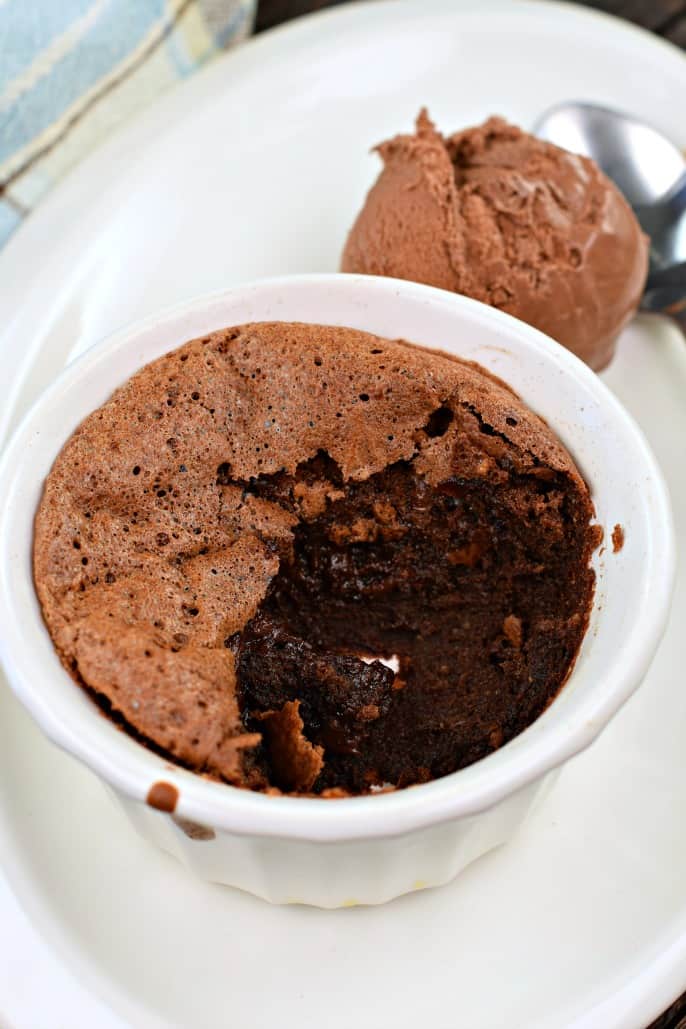 Easy Instructions
Step 1. Prep the dessert.
Preheat the oven to 400 degrees F. Spray eight 6-oz ramekins with baking spray. (You can find them on amazon if you don't have some already!) Place the ramekins on a large baking sheet and set aside.
Step 2. Melt chocolate.
Using a double boiler, melt butter and chocolate together. If you don't have a double boiler, place a heat proof bowl over a pan with 2-inch of simmering water in the pan.
Stir butter and chocolate until smooth, then remove from heat.
Step 3. Make the batter.
In a large mixing bowl, with whisk attachment on an electric mixer, beat eggs, extra egg yolk, sugar, vanilla, and salt on high speed until the mixture TRIPLES in volume. Color will be pale, and the process takes about 5 minutes.
Add chocolate mixture to the bowl and sprinkle the flour on top. Gently fold everything together until blended. FOld in chocolate chips.
Scoop (or ladle) the batter into prepared ramekins.
Step 4. Bake.
Place on middle rack in preheated oven for 12-14 minutes, until cakes have puffed up and there is a thin crust on top. The center will be slightly jiggly.
Remove from oven and serve hot with chocolate or vanilla ice cream on top!
Recipe FAQs
Can chocolate lava cake be made ahead of time?
You can make and refrigerate chocolate lave cake without baking for up to 8 hours (return to room temperature for about 30 minutes before baking).
How do you invert molten chocolate cakes onto a plate?
To invert, run a thin knife around the inside edges of the ramekin to loosen the cake, while hot. Invert onto a serving plate and allow the cake to release itself from the ramekin (mine popped out immediately, but it could take a minute). Remove ramekins and sprinkle with powdered sugar if desired.
Tips and Tricks
Chocolate. Use a high quality chocolate as this is the prominent flavor you will be tasting. Don't go cheap here!
Ramekins. My recipe uses 6oz ramekins. If yours are larger or smaller you may need to adjust the cook time.
Cupcake Tin. No ramekins? A quick fix is to use a cupcake tin. You'll want to then invert them onto a plate to serve.
Toppings. Ice cream, Whipped cream, and berry sauce are all delicious ideas. Or drizzle some caramel over the top!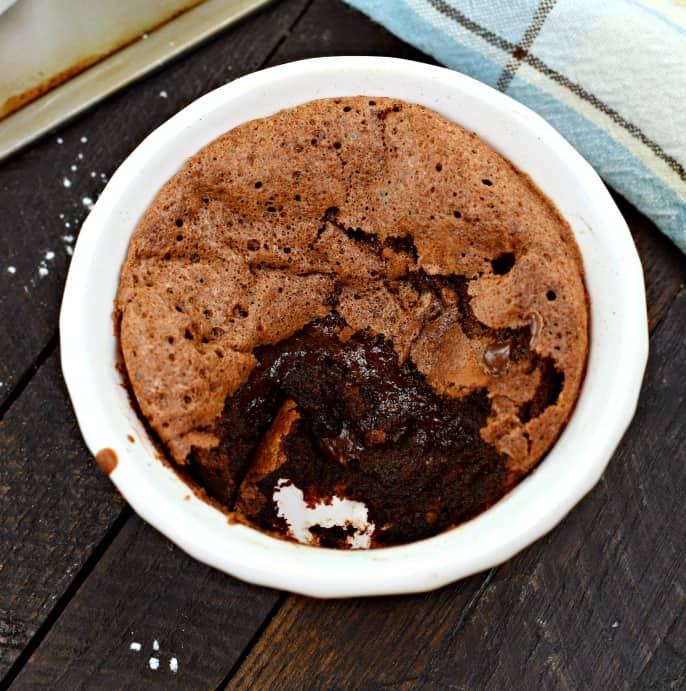 More Delicious Chocolate Recipes