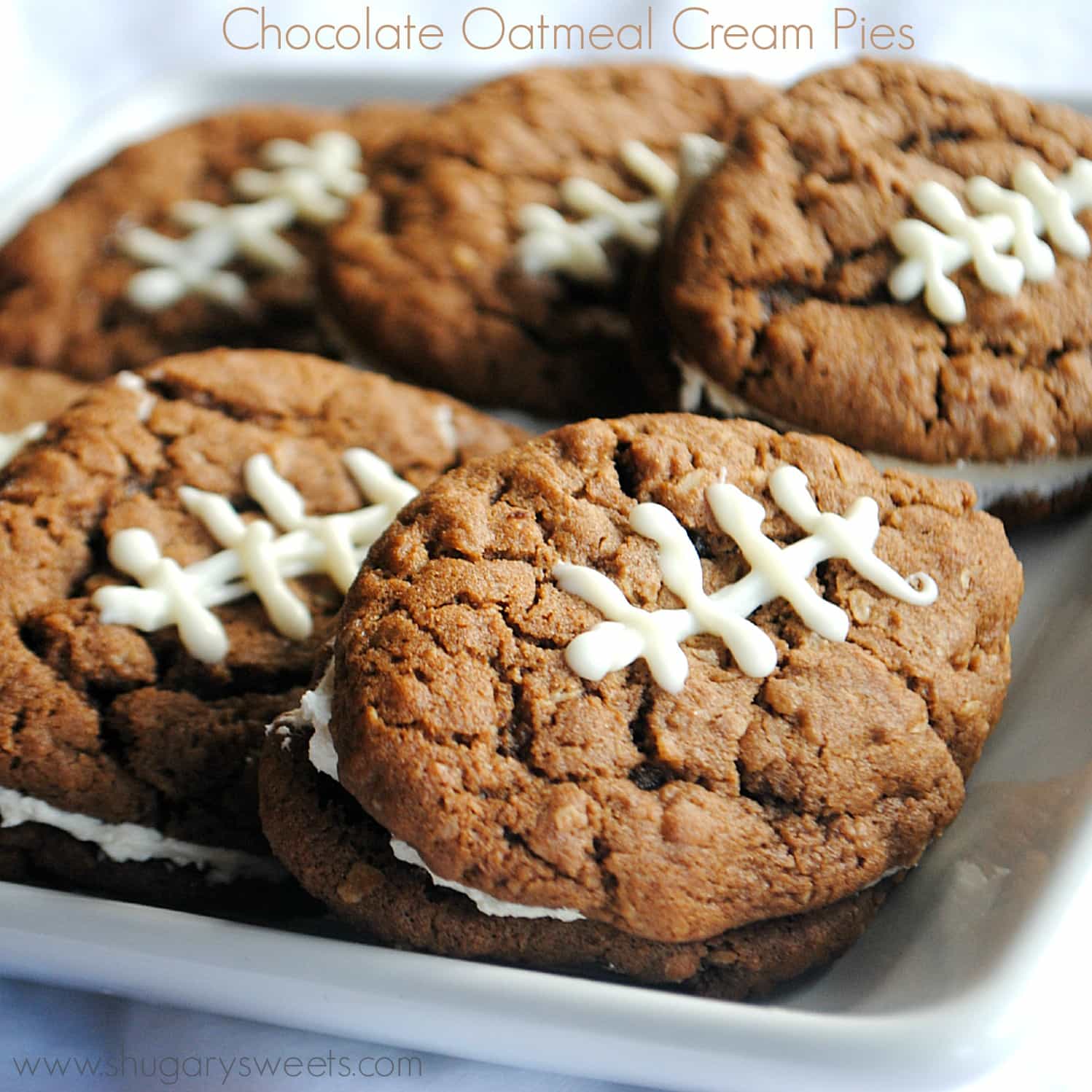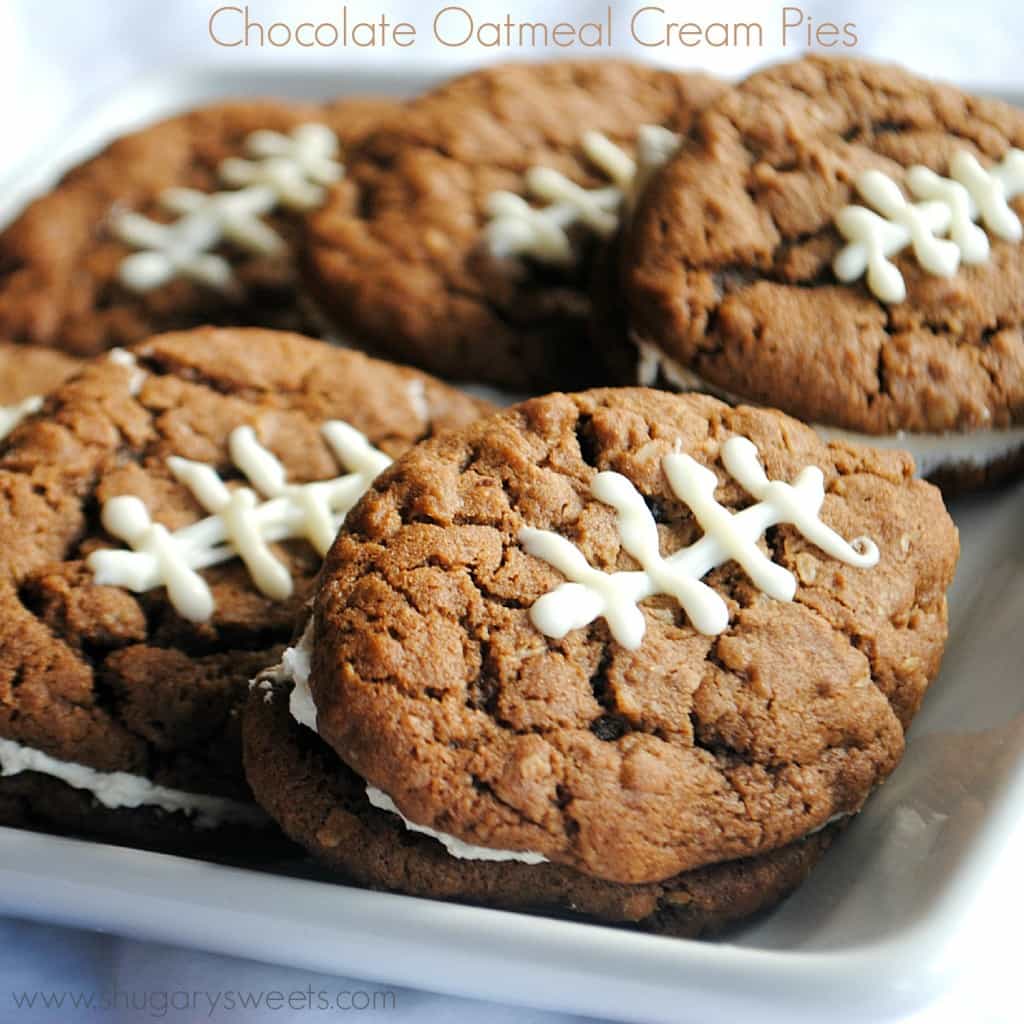 Need a cute Superbowl treat to bring to the game this weekend?
These are so easy to make and delicious to eat! They would look perfect on the dessert table! Just like the classic, Little Debbie Oatmeal Cream pie, except these are made with chocolate. So soft and delicious!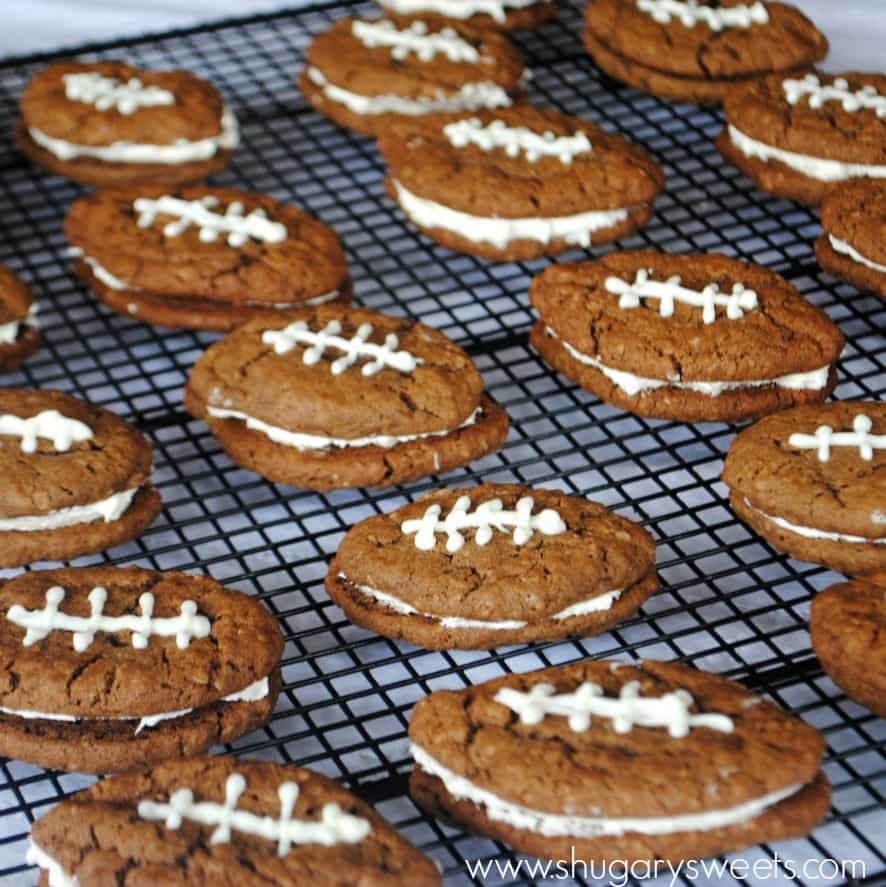 Other Football food ideas…
ENJOY!!
Chocolate Oatmeal Cream Pie Footballs
Ingredients
For the Cookies:
1 cup butter flavored Crisco
¾ cup brown sugar
½ cup granulated sugar
1 Tbsp molasses
1 tsp vanilla extract
2 eggs
1½ cup flour
½ tsp salt
1 tsp baking soda
¼ tsp cinnamon
1/4 cup unsweetened cocoa powder
1½ cup quick oats
For the Filling:
1 Tbsp very hot water
pinch salt
10oz Marshmallow Fluff
¾ cup butter flavor Crisco
2/3 cup powdered sugar
1 tsp vanilla
For the Topping:
4 oz white chocolate, melted
Instructions
Step 1
In large bowl, beat Crisco, brown sugar, granulated sugar, molasses, vanilla and eggs. Add flour, salt, baking soda, cocoa and cinnamon. Mix in the oats.
Step 2
Drop by ONE tablespoon onto a parchment lined cookie sheet (shape into an oval). Bake 7-8 minutes in a 350 degree oven, until just starting to brown around the edges. DON'T OVERCOOK! Pinch edges of cookies into a football shape if they have rounded too much.
Step 3
After cookies have cooled, combine hot water with salt and mix until salt is dissolved. In large bowl, beat marshmallow fluff with Crisco, powdered sugar and vanilla. Beat on high until fluffy.
Add in salt water and mix until well combined. Spread filling on one cookie and press second cookie on top.
Step 4
Using melted chocolate, drizzle the top to look like a football. Allow to set about ten minutes. Enjoy!