Dark chocolate and mint collide to create the best ever Mint Crinkle Cookies. With pieces of Andes baked right in, these cookies are sweet, satisfying and downright decadent!
Love chocolate mint desserts? Try our thick and fudgy chocolate mint brownies. Or give this easy chocolate mint poke cake recipe a try next!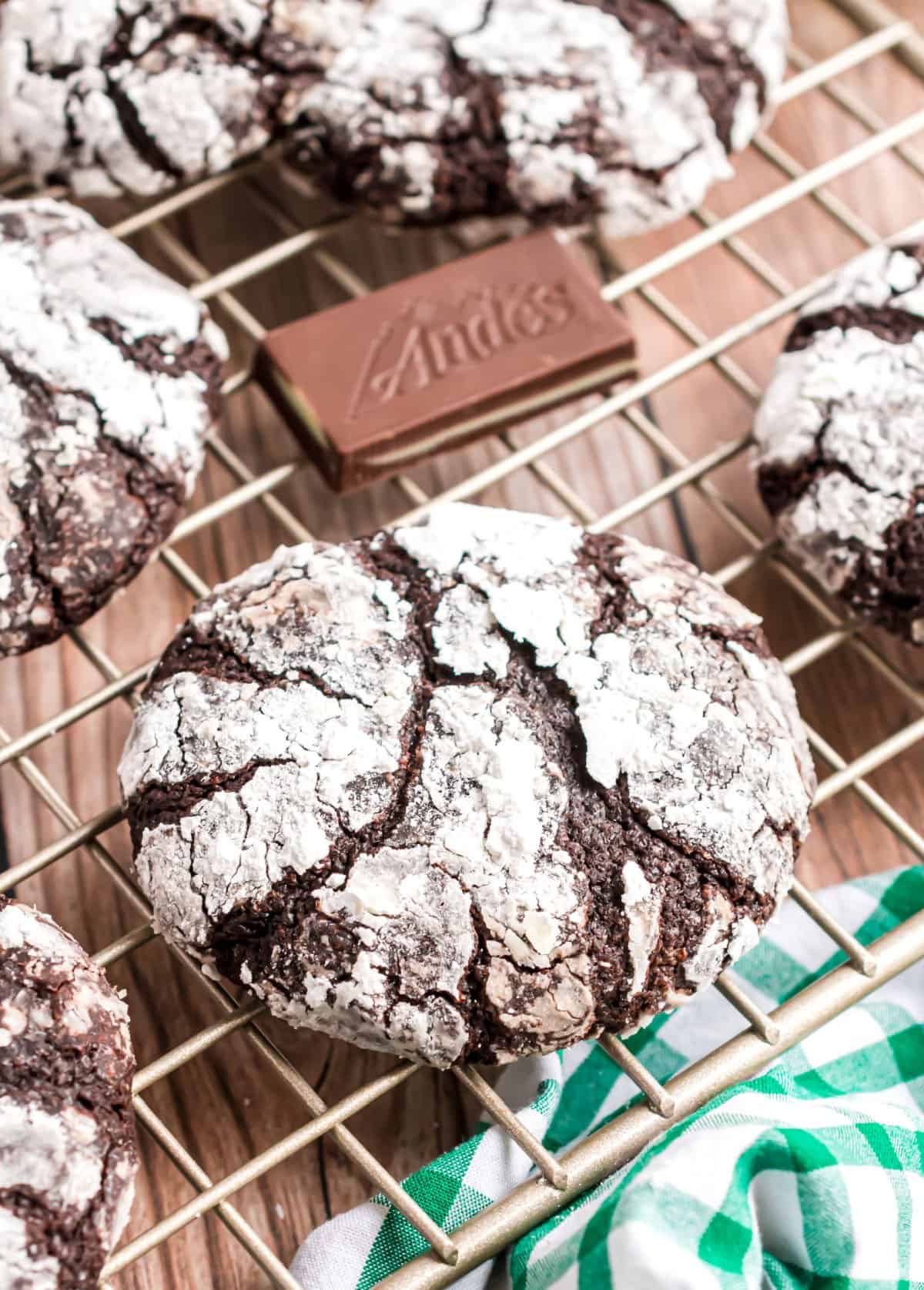 Why this Recipe is Amazing
Crinkle cookies bring me so much joy! You put put mounds of cookie dough into the oven and pull out perfect cookies with a crackly top. Sprinkle on some extra powdered sugar and you get a beautiful treat that takes very little effort to make.
I have wanted to make minty chocolate crinkle cookies for a long time now. But I wanted them to be from scratch. And I wanted them to be decadent.
Why have a chocolate cookie if it's not going to be rich, decadent and full of dark cocoa flavor, right? Otherwise, I might as well just grab a bar of dark chocolate.
It's these Andes Cookies that inspired me to turn my Chocolate Crinkle Cookies into MINT Chocolate Crinkle Cookies! I chopped up pieces of the classic after dinner mint and folded them into the dough for the perfect touch of cool mint (plus extra chocolate, of course!).
Ingredient Notes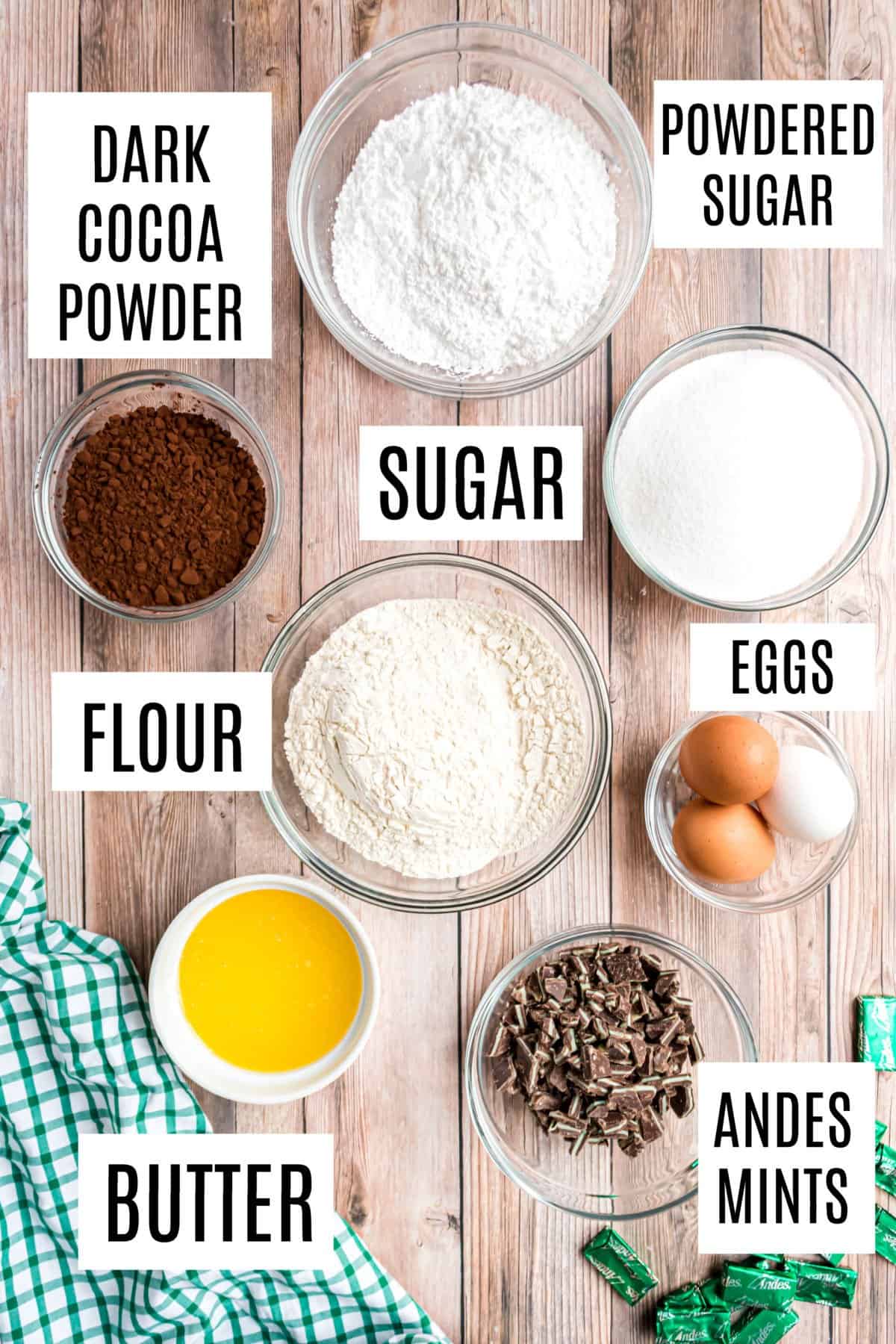 Dark Chocolate Cocoa Powder – Use a good quality unsweetened cocoa like Ghirardelli. Hershey's special dark cocoa would be a good alternative too.
Mint Chocolate Bars – We love using Andes mint candy bars, but if you can find a bag of the prechopped candies those will work great too.
Powdered sugar – Dusting the tops of the crinkly cookies with powdered sugar gives them that snow-kissed look that's perfect for the holidays!
Easy Instructions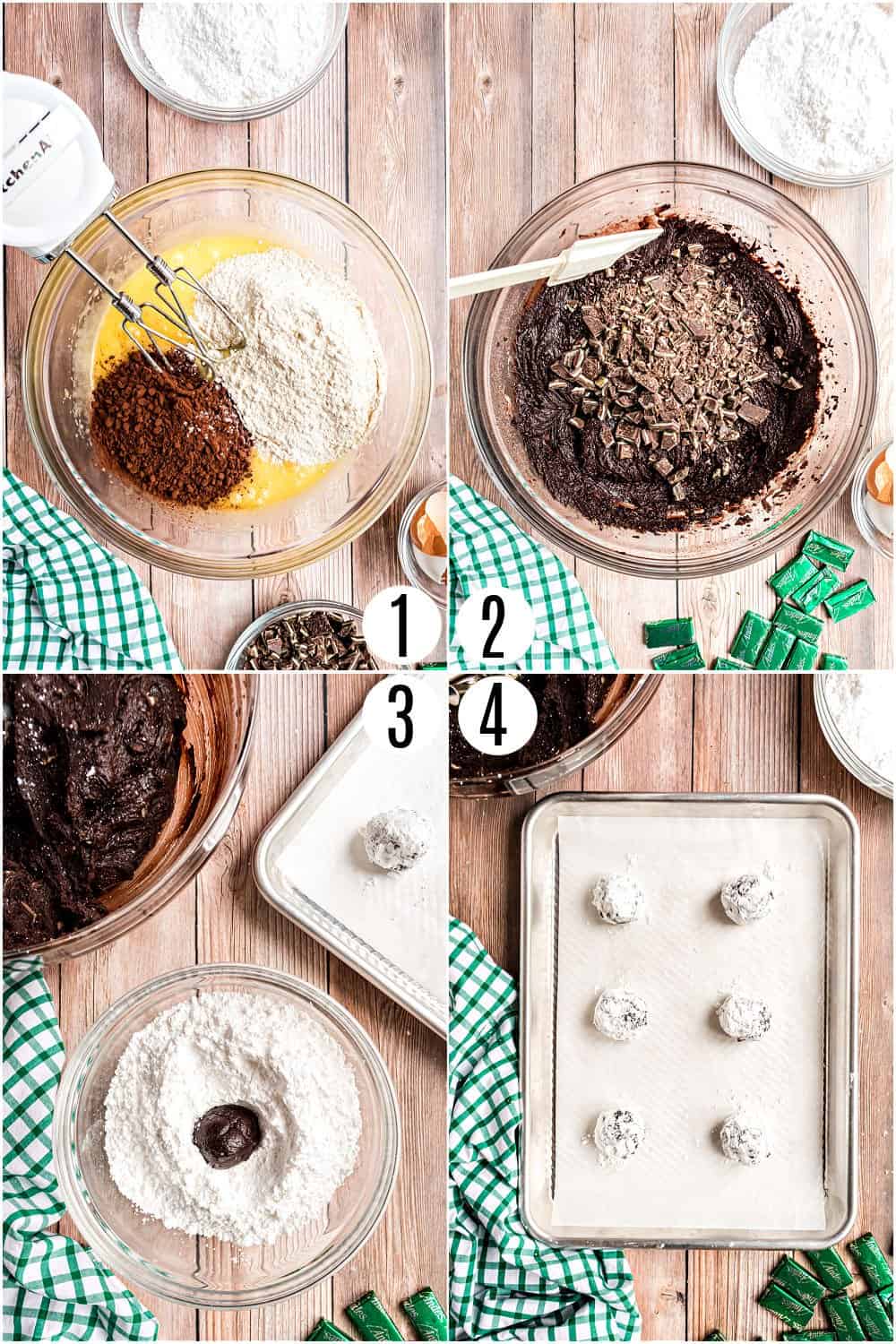 When you need an impressive looking (and tasting) cookie but don't have time to decorate, Chocolate Crinkle Cookies are the solution. The contrast of dark cocoa and white sugar makes them look so pretty without any messing with frosting.
To make the cookies, beat butter and sugar together until creamy. Add in three eggs (one at a time), followed by flour and cocoa powder.
Fold in the chocolate pieces. Wrap the dough in plastic wrap and refrigerate for at least one hour (or up to overnight).
Pinch off sections of the dough and roll them into balls. Roll each ball GENEROUSLY into powdered sugar.
Bake on parchment paper lined cookie sheet for 10 – 12 minutes.
Let the cookies cool completely and enjoy! So easy and you'll love the light crackly tops and rich indulgent chocolate flavor.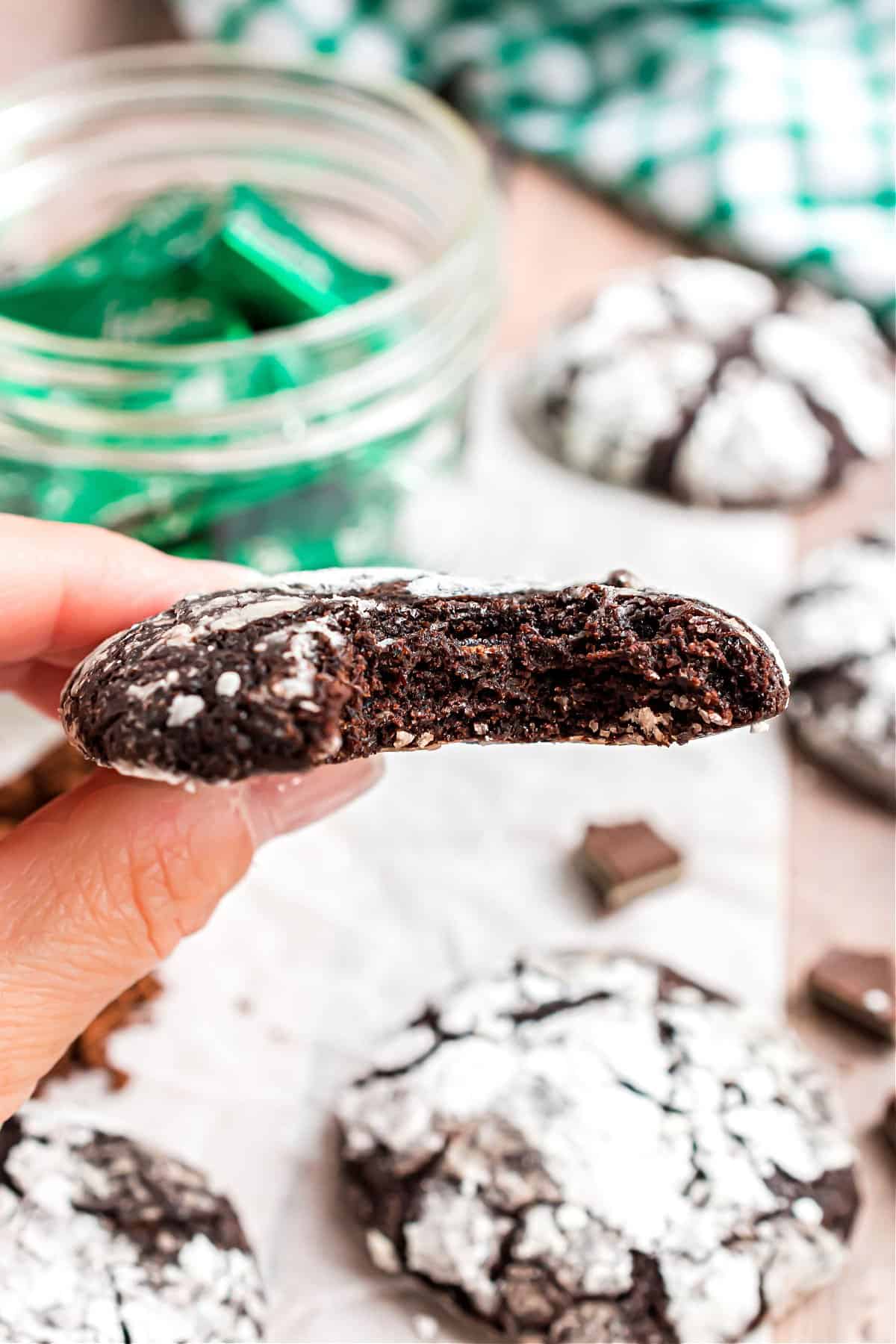 Tips and Tricks
Make ahead. You can prep the dough the day before and leave it in the fridge over night to chill. Then, when you're ready to bake just roll them in sugar while you preheat your oven.
Use parchment paper. Crinkle cookies can easily stick to a baking sheet. Prevent this by lining your cookie sheet with parchment paper first.
Be careful not to overbake. Dark chocolate cookies are easy to over bake because you can't see them browning like you can with lighter cookies. When in doubt, remove them from the oven earlier rather than later. It's better to have a slightly underdone chewier cookie than a burned one!
Let them cool on the pan. The cookies will still be soft when you remove them from the oven. Leave them on the pan for 10 minutes before transferring them to a rack to cool completely. They'll keep baking on the hot pan but won't burn or get overdone.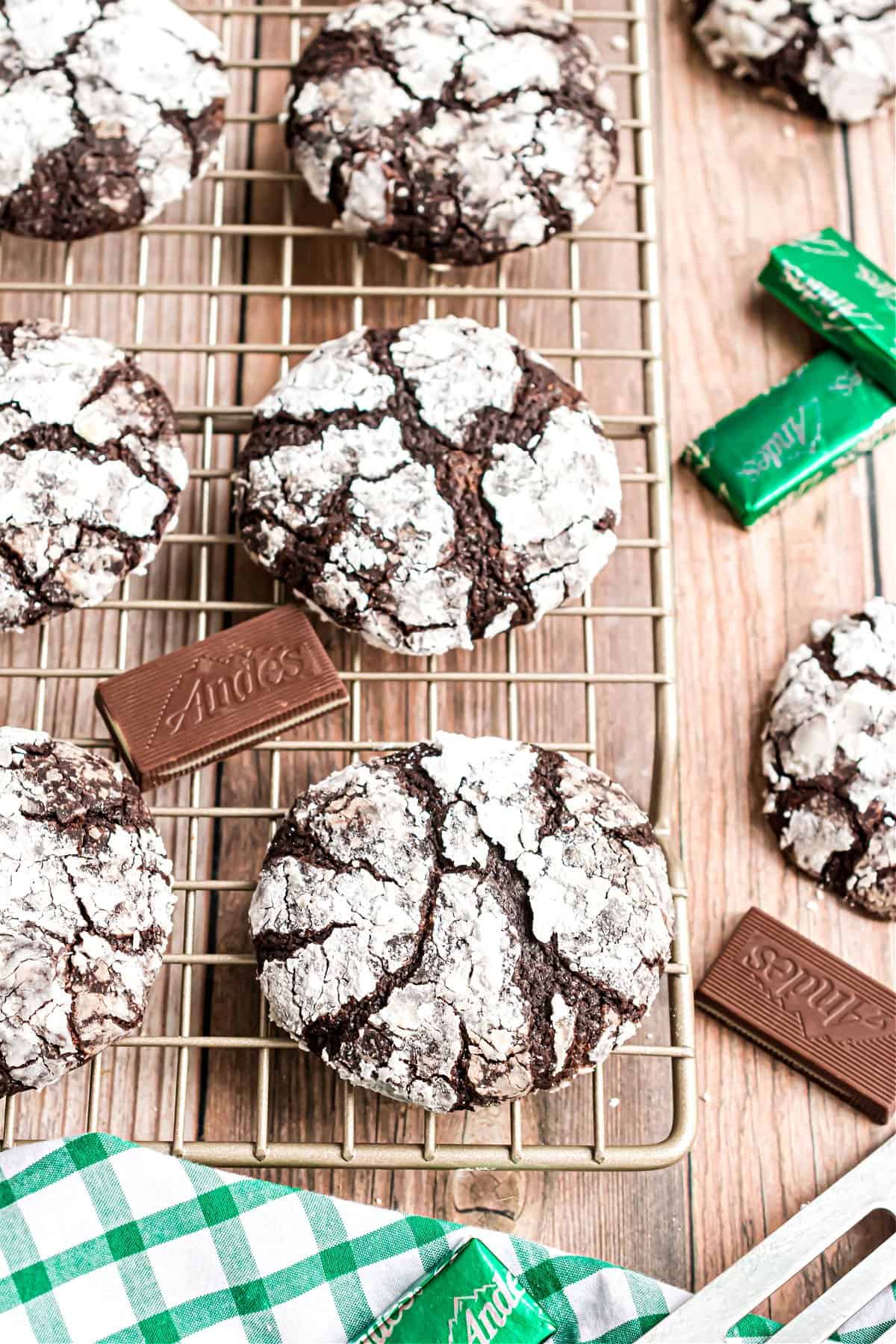 Recipe FAQs
Can I use regular cocoa powder instead of dark?
Yes, but be sure the cocoa powder is high quality. I find Nestle and some of the other cheaper brands leave a bitter taste in crinkle cookies.
Can this be made without mint?
Sure–go ahead and substitute a regular bar of dark chocolate instead of a mint infused one. Dark chocolate chunks would make a great swap too!
How do you store chocolate crinkle cookies?
Keep cooled and baked chocolate crinkle cookies in an airtight container for up to 1 week. I don't recommend freezing them as the crinkle tops will soften after thawing, losing them of the signature crackly texture.
Brownie recipe– thick and fudgy!
Love mint and chocolate? You'll swoon for these Chocolate Mint Crinkle Cookies! Easy to make and perfect all year round, this is a must try cookie recipe.