Layers of Cookies 'n Cream ice cream, Oreos and vanilla ice cream sandwiches make the perfect dessert any time of year!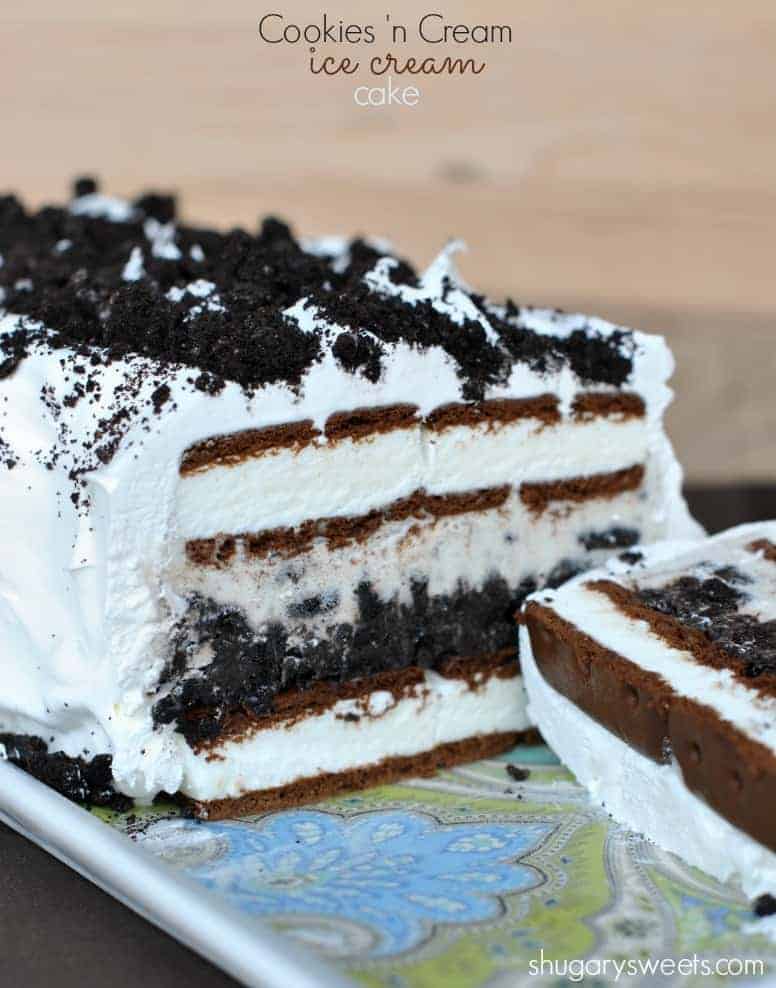 Easy Ice Cream Cake
I know many people think ice cream is a summer dessert only. However, in our house, we eat ice cream for dessert several times a week.
And when there is a special occasion or a birthday, I love putting together a quick and delicious treat!
Enter….the Oreo Ice Cream cake. (almost as good as a strawberry shortcake ice cream bar!)
This treat seriously takes minutes to assemble. And it stays well in the freezer until you are ready to serve. While summer is definitely over, and the cooler weather is upon us, try making this treat using seasonal ice creams to mix it up!
This is NOT like a store bought ice cream cake with ice cream inside an actual cake. Instead, you layer ice cream sandwiches with MORE ice cream, hot fudge and cookies then freeze it solid. You can slice it just like a regular cake but it's almost all ice cream–with just the right amount of fudge.
For a birthday, a holiday or any celebration, you can't do better than this easy Ice Cream Cake!
Ingredient Notes
Ice cream sandwiches – The classic rectangular ice cream sandwiches with the chocolate cookies work best.
Cookies 'n' Cream Ice Cream – Or substitute your favorite ice cream flavor like chocolate or strawberry. You can also use seasonal flavors to make this for a special holiday occasion.
Oreos – Any Oreo flavors that go well with your ice cream flavors will be delicious!
Step by Step Instructions
STEP 1. Ice cream sandwich layer
Place 3 ice cream sandwiches on the bottom of a foil-lined loaf pan.
STEP 2. Ice Cream layer
Spread the ice cream over the sandwiches in an even layer.
STEP 3. Oreo
Crush 12 of the Oreo cookies and combine them in a bowl with hot fudge sauce. Spread the fudge mixture over the ice cream.
STEP 3. Freeze
Top with 3 more ice cream sandwiches, cover the loaf pan with foil and freeze the cake for at least 3 hours or up to over night.
STEP 4. Cool Whip
Take the cake out of the freezer and invert it onto a plate. Spread cool whip over the top and sprinkle with the remaining crushed Oreos.
You can eat the ice cream cake right away or stash it in the freezer for later!
Recipe FAQs
Why is my ice cream too hard to spread?
You probably didn't let it soften first! To make my ice cream spreadable, I let the carton sit on the counter for 5 minutes or so before adding it to the ice cream sandwich cake.
How do you store this cake?
Keep the cake covered with foil in the freezer until ready to serve.
How long does it keep?
This cake will taste best if eaten within 3 – 4 days.
Oreo Ice Cream Cake is a recipe everyone should know how to make. With just a few ingredients and a few minutes of prep time, this dreamy, creamy frozen dessert is as easy as it is delicious.