Nothing can match the refreshing taste of a Root Beer Float! It's even better when you swap the store bought soda for homemade root beer. You'll want to make these all summer long.
Check one off the summer bucket list! This recipe isn't just for a homemade root beer float. I'm also going to teach you how to make root beer without one of those fancy soda machines.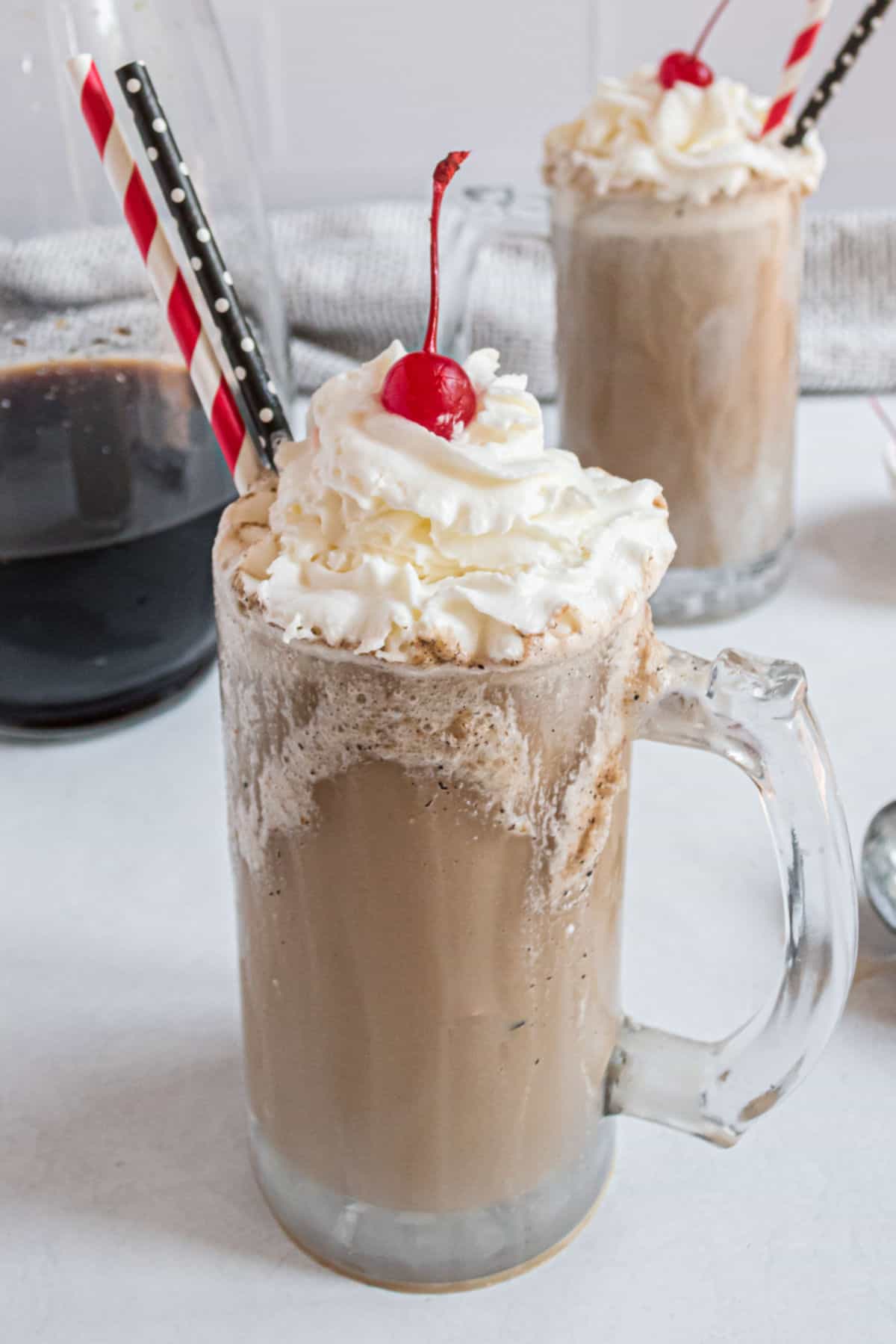 Why this Recipe is Best
I've been buying bottles of McCormick Root Beer Concentrate since I made this root beer float fudge.
On the back of the bottle is a recipe for homemade Root Beer. I was intrigued by this, having never tried my hand at it before. It had never occurred to me I could make one of my all time favorite summertime sodas at home.
The recipe on the bottle was a little plain, so I added a bit of my own pizzazz.
Ingredient Notes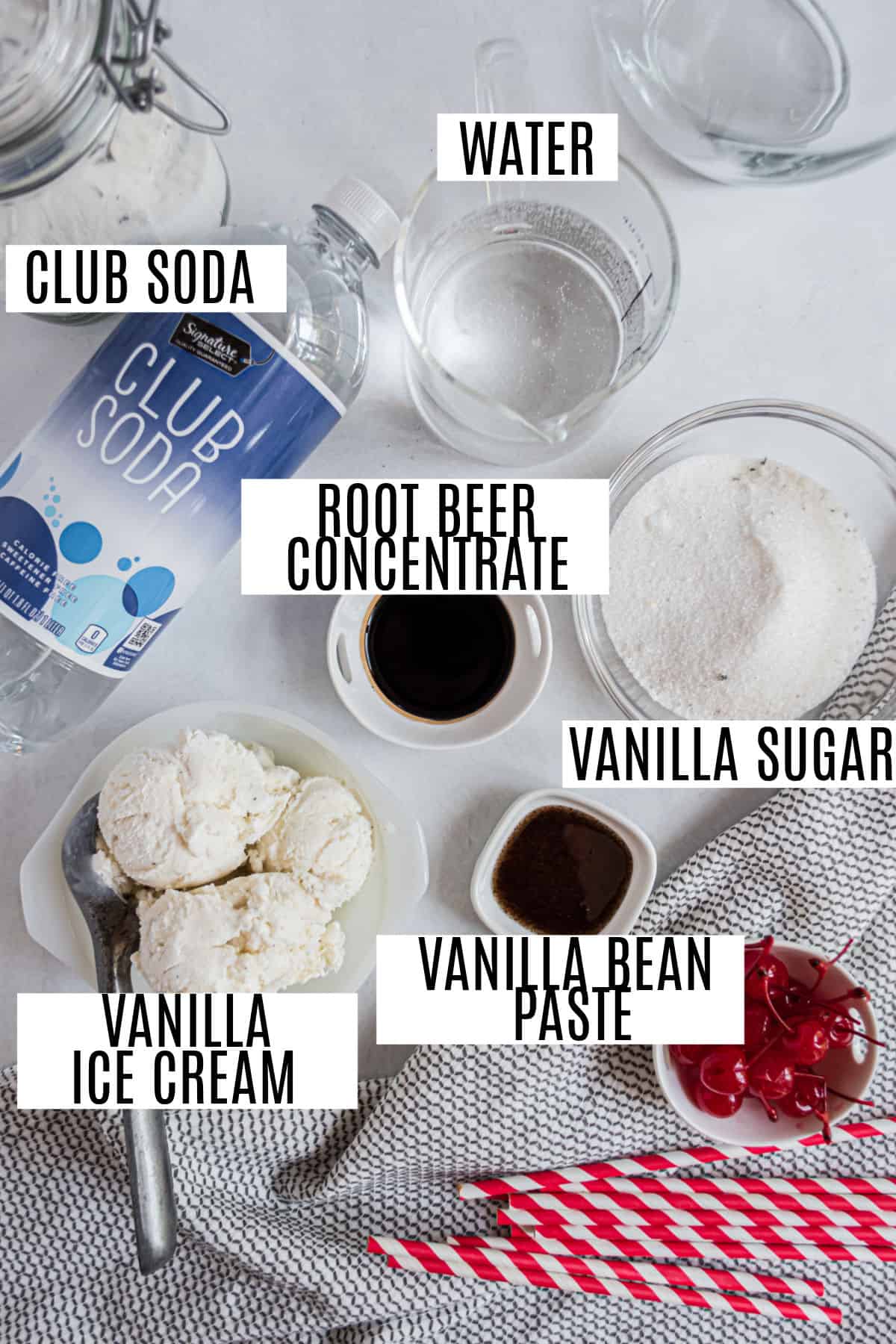 Ahhhh. . .cool, sweat and creamy perfection! The homemade root beer is so much better than almost any bottled version I've tried. And if you're going to have a root beer float you might as well go all out!
Easy Instructions
It's much easier to make the root beer than I would have ever thought. You make a syrup from the root beer concentrate and then combine it with club soda.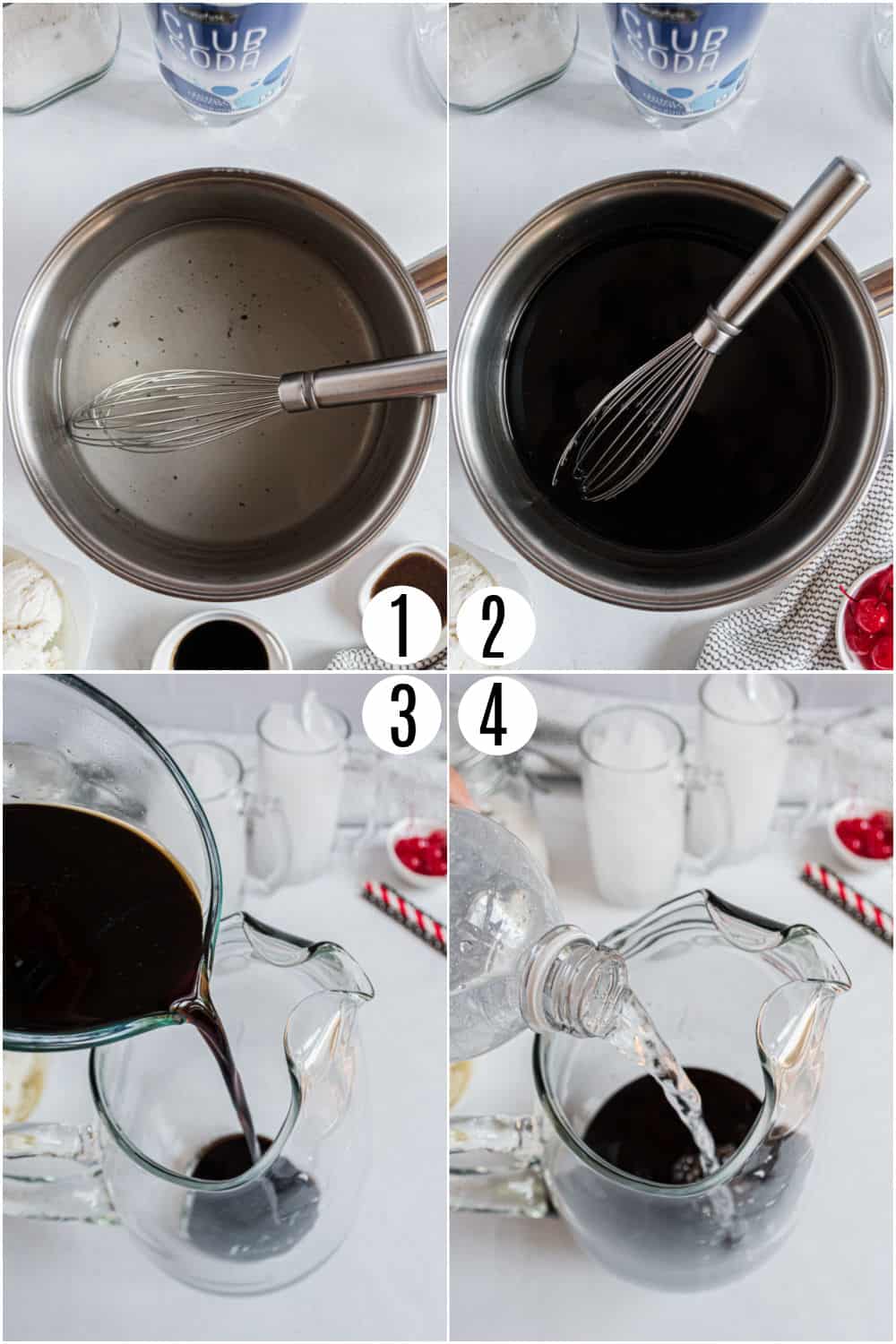 To make the root beer syrup:
Boil water and whisk in vanilla sugar until it's dissolved. Then, you remove the sugar water from heat and stir in the concentrate and vanilla bean paste. Refrigerate this mixture for at least 30 minutes.
If you won't be serving the root beer right away, you can also leave this syrup concentrate in the fridge until ready to use!
Note: When you mix in your club soda you need to serve your root beer immediately or it will go flat.
How to make root beer float:
When you're ready to enjoy the root beer, pour the syrup into a large pitcher and top with club soda. Serve right away in a glass over ice for a refreshing beverage OR with a scoop of ice cream for a root beer float.
Be sure to add whipped cream and cherry on top!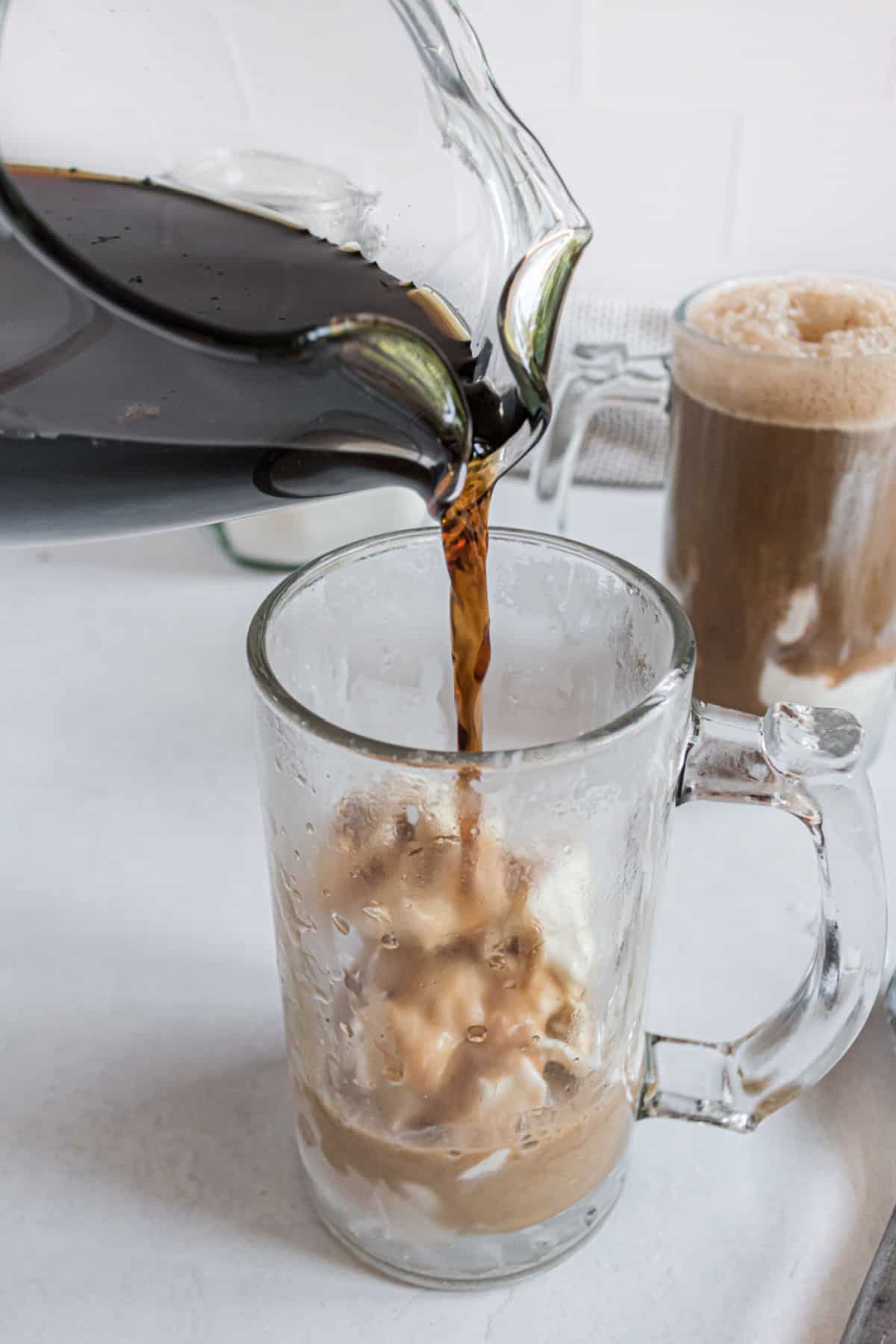 Serving Suggestions
Vanilla is the traditional ice cream for a root beer floats and the one I reach for most often. The vanilla flavor helps bring out the vanilla notes in the root beer while softening the sharper spicier flavors. I recommend an ice cream made with real vanilla beans for best taste.
You could also substitute all or half of the vanilla ice cream for chocolate. In some regions this creamy drink is called a brown cow or a black cow!
Cookies and cream ice cream is also a delicious twist to this classic root beer float!
Tips and Tricks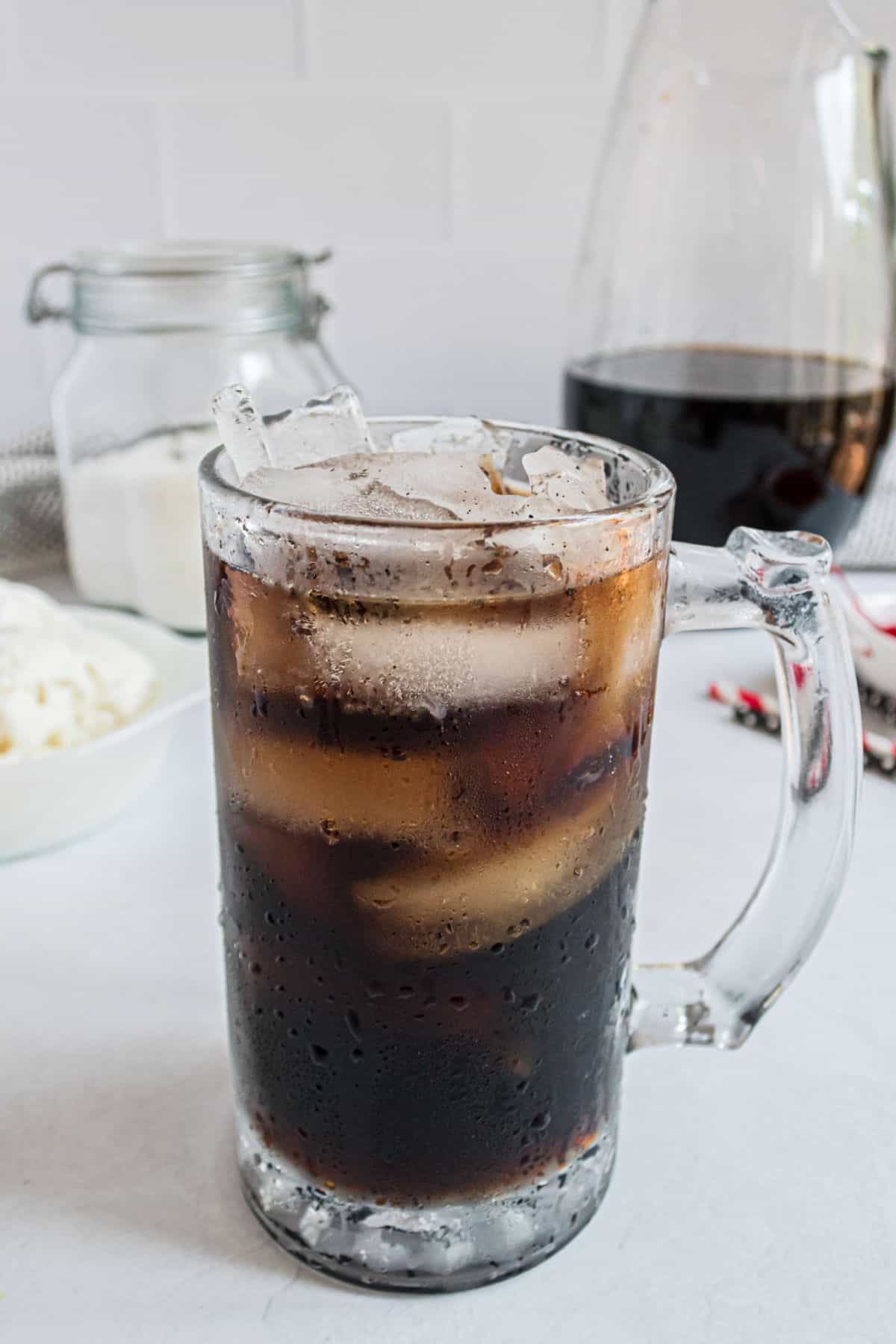 More Root Beer Concentrate Recipes
I know how frustrating it can be to spend money on a bottle of flavoring you hardly ever use. Root beer concentrate is a worthwhile purchase if you love root beer and root beer flavored desserts.
There's also a good chance you'll want to just keep making this homemade root beer over and over until the bottle runs out!
Use your homemade root beer recipe in our delicious Root Beer Pulled Pork (yes you read that right)! So delicious.
More Easy Summer Recipes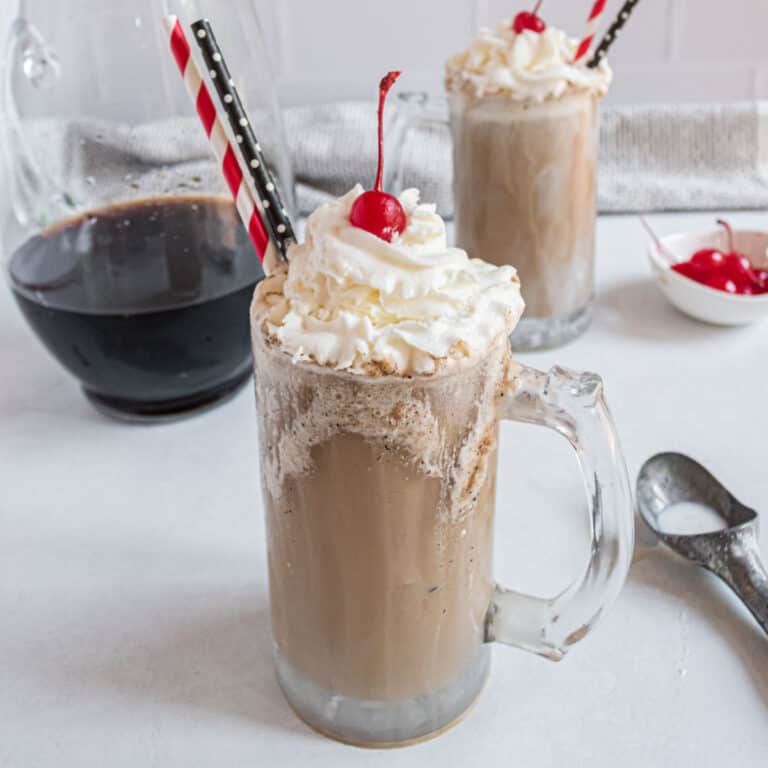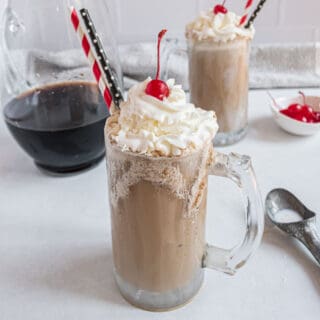 Homemade Root Beer Floats
Nothing can match the refreshing taste of a Root Beer Float! It's even better when you swap the store bought soda for homemade root beer. You'll want to make these all summer long.
Ingredients
1 ½

cups

water

1

cup

vanilla sugar

2 ½

teaspoons

root beer concentrate

1

teaspoon

vanilla bean paste

1

quart

club soda

1

quart

vanilla bean ice cream
Instructions
In a large saucepan, boil water. Remove from heat and whisk in the vanilla sugar until completely dissolved. Mix in root beer concentrate and vanilla bean paste. Refrigerate at least 30 minutes, or until ready to serve.

When ready to serve, pour into large pitcher. Mix in the club soda. For a glass of homemade root beer, serve over ice.

For a root beer float, scoop ice cream into large glass. Pour fresh root beer over ice cream and enjoy!
Notes
Don't have vanilla sugar? Feel free to substitute regular granulated sugar in the recipe.
If you don't have vanilla paste and can't find it, substitute a teaspoon of vanilla extract instead with the scrapings of a vanilla been pod.
Don't add the club soda to the concentrate syrup until you're ready to drink the root beer. It'll quickly go flat if not enjoyed soon after pouring.
Nutrition
Serving:
1
cup
,
Calories:
594
kcal
,
Carbohydrates:
70
g
,
Protein:
1
g
,
Fat:
2
g
,
Saturated Fat:
2
g
,
Polyunsaturated Fat:
1
g
,
Cholesterol:
10
mg
,
Sodium:
53
mg
,
Sugar:
70
g