Pineapple Orange Cake aka Pig Pickin Cake is the most simple and convenient cake recipe ever. It elevates the classic boxed white cake mix to new heights with bright, citrusy, tropical flavors. 
If you love this moist, easy cake, you've got to try our applesauce cake next. Top it with our homemade cream cheese frosting for a flavorful dessert.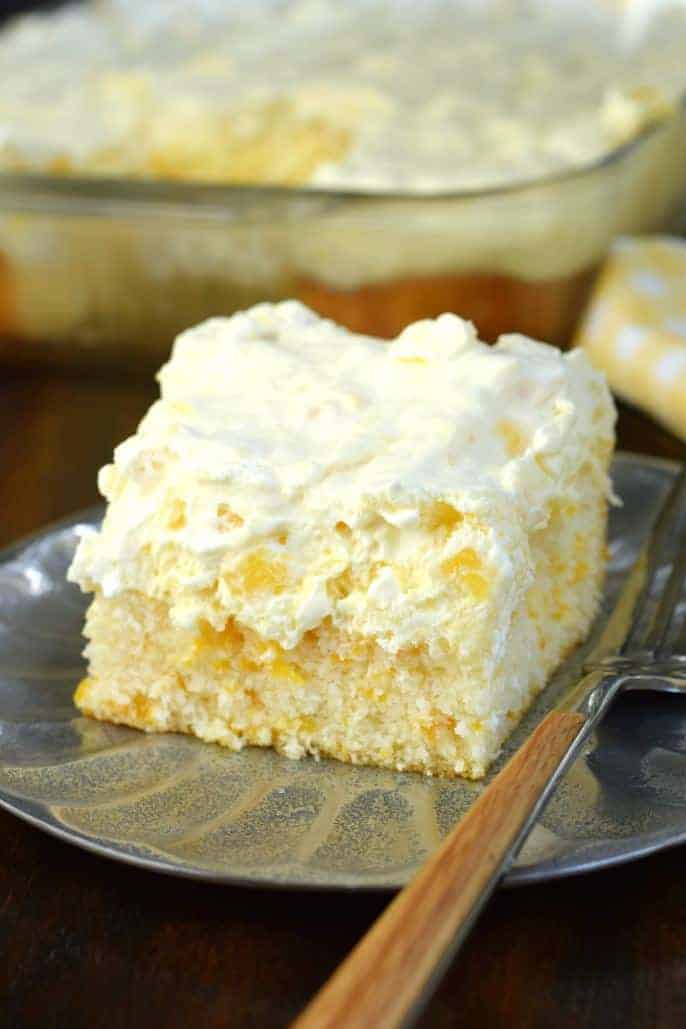 Why this Cake Is Best
This Pineapple Orange Cake is foolproof! It turns out every time and is so tasty you'll return to this recipe over and over again. You may have even heard it called a "pig pickin cake" too!
Pre-packaged & canned ingredients translate to only 10 minutes of hands-on prep for this cake.
Bake, cool, frost, and serve all from the same dish. Clean-up for this recipe is a breeze.
Budget friendly. With soaring costs of groceries, this cake won't break the bank.
Applesauce is the secret ingredient in this cake batter. You won't taste it, but you'll have an ultra-moist crumb that's out of this world.
Ingredient Notes
For the Cake:
White Cake Mix – Boxed Cake mix is the perfect base since it already has all your dry ingredients pre-measured and ready to go. This recipe is compatible with any flavored cake mix you prefer, and would also be delicious with our homemade vanilla cake.
Mandarin Oranges – Make sure you grab canned mandarin oranges since you'll need the juice from the can.
Egg Whites– Save the yolks for a batch of lemon curd.
Applesauce – Don't skip the applesauce! You won't taste it, but it'll create the most heavenly and moist cake you've ever tasted. Our homemade applesauce recipe is perfect.
For the Topping:
Crushed Pineapple – Canned crushed pineapple is convenient and has the coveted juice that'll flavor the vanilla pudding mix.
Instant Vanilla Pudding Mix
Cool Whip – Remove the Cool Whip from your freezer before you start the cake batter. This way, the cool whip will thaw and be ready to go when you are. You can also use our homemade stabilized whipped cream if you prefer.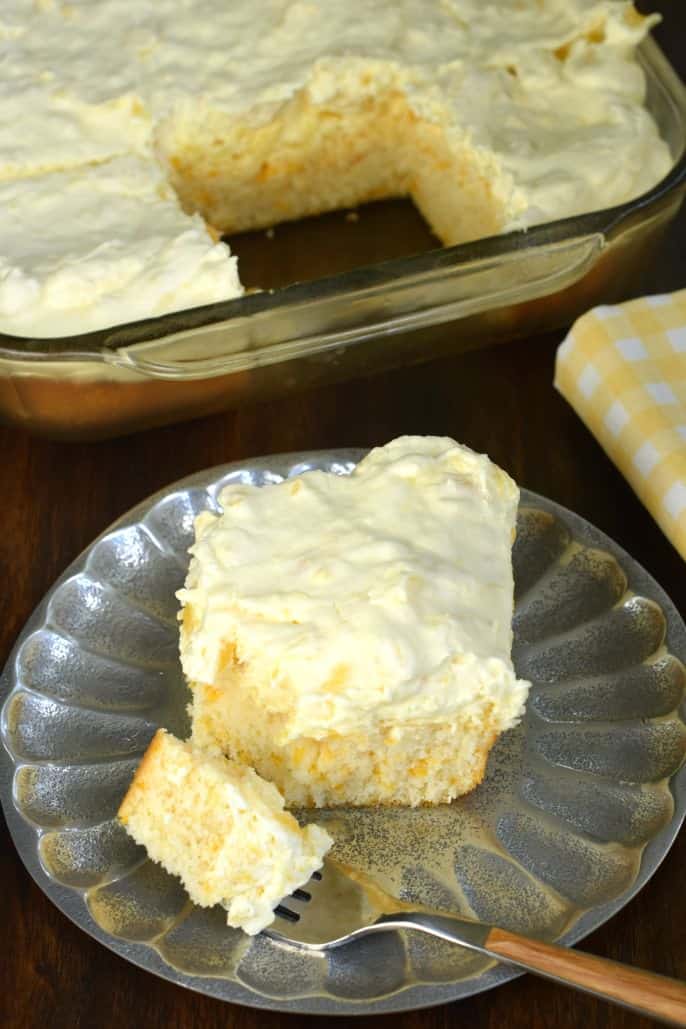 Easy Instructions
Combine Cake Ingredients – With a stand or hand mixer, beat cake mix, oranges, egg whites, and applesauce. Mix for about 2 minutes. The oranges will shred into smaller pieces that'll evenly distribute throughout the batter.
Bake & Cool – Pour cake batter into a greased 13" x 9" baking dish, and bake at 350°F for 35-40 minutes. Remove from the oven, and let the cake cool in the pan.
Create Pineapple & Pudding Mixture – Mix crushed pineapple and the juice from the can with the pudding mix. Stir until everything is thoroughly incorporated.
Fold the Mixture into Cool Whip – Gently fold the pineapple and pudding mixture into the Cool Whip to create an irresistible frosting.
Frost & Chill – Spread the whipped topping over the cooled cake. Then, cover the cake with a well-fitting lid or cling film. Refrigerate for at least an hour before serving.
Tips and Tricks
There's no need to invert and cool this cake on a wire rack. Instead, you can bake, cool, frost, and serve this Pineapple Orange Cake right from the baking dish.
Since you'll be serving the cake from the baking dish, skip the parchment paper.
Don't forget the final chill for this recipe. The cake needs that time in the fridge for the frosting to set.
Cupcakes. Whip up a batch of our pineapple cupcakes for a delicious twist.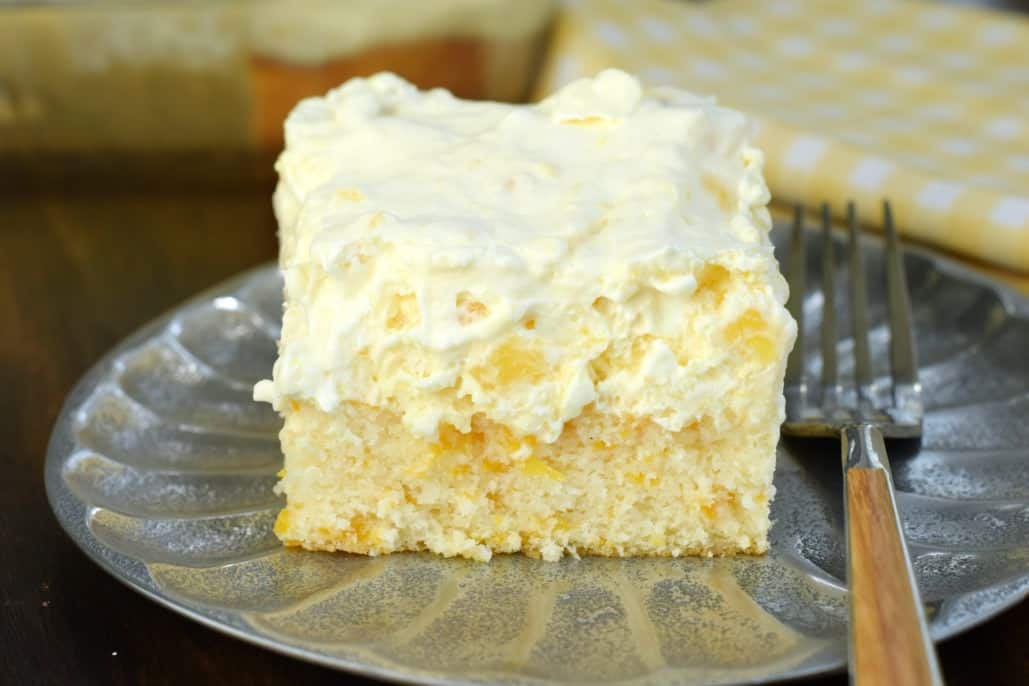 Recipe FAQs
How do I store Pineapple Orange Cake?
Keep this cake covered with a lid or a few layers of cling film in the fridge, and it'll last for 4-5 days. 
Can I use a different flavor of cake mix?
You can customize this recipe by swapping the white cake mix for another flavor. For example, pineapple, orange, lemon, or banana cake mixes would be delicious options. 
Can I freeze this cake recipe?
I don't recommend freezing this cake unless you're willing to give up that baking dish. The cake's texture is soft and moist, and you can't turn it out of the dish without crumbling.
Can I use fresh pineapple or mandarin instead of canned?
The juice from the canned fruit plays a vital role in this recipe, so you can't swap the canned fruit for fresh. The pre-measured juice replaces water in the cake batter and thins the frosting to the perfect consistency.