If summer were a cupcake, it would be a Pink Lemonade Cupcake! Made from scratch with fresh lemon flavor and a smooth frosting, these cupcakes make summer fun last all year old. Don't forget the snazzy garnishes!
Pink lemonade is the best lemonade. I don't make the rules! After you try this cupcake recipe, you'll want to taste these Easy Raspberry Lemonade Cupcakes next! You'll also want to give our pink lemonade fudge recipe a try.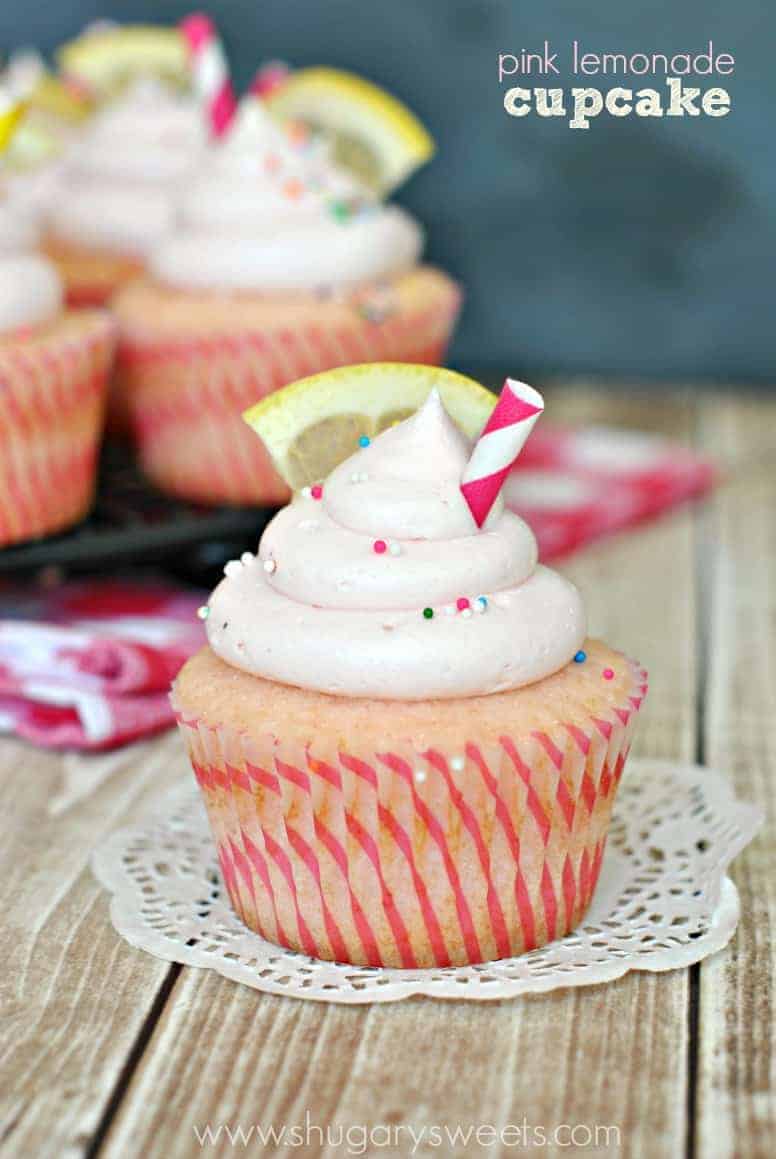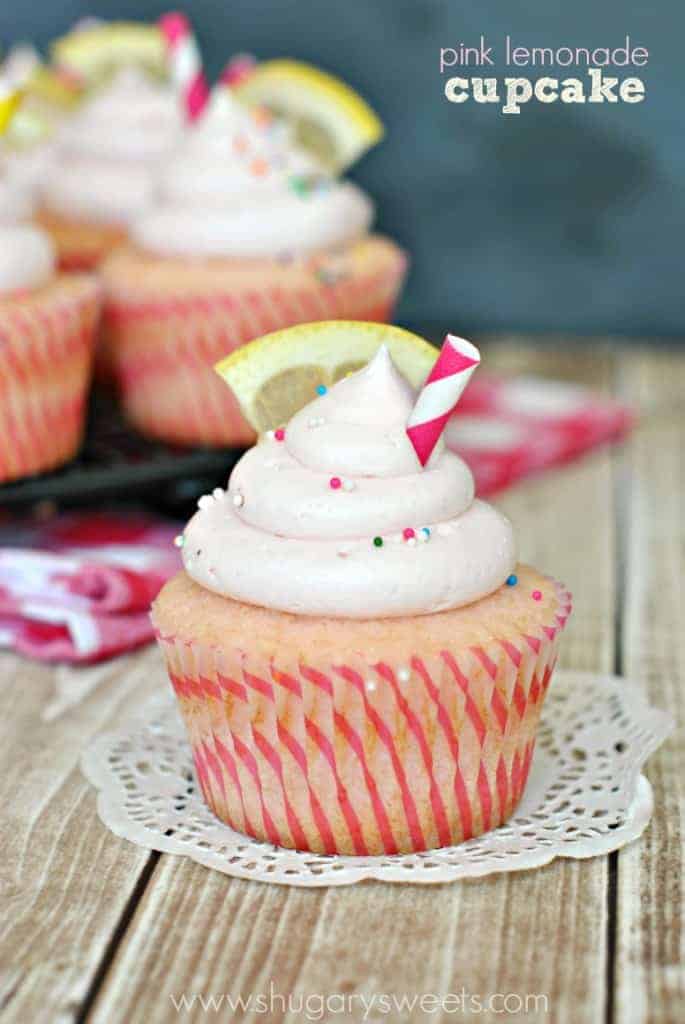 Why this Recipe Works
How do you turn a refreshing summer beverage into a handheld dessert? This pink lemonade cupcake recipe makes it easy.
I used my favorite, from scratch, white cake recipe and added in thawed lemonade concentrate. A drop of pink food coloring. This Americolor gel paste coloring gave the cupcakes the perfect light pink hue.
As delicious as these pink lemonade cupcakes taste, it's the presentation that catches everyone's eye. Little lemon slices, sprinkles and–of course–striped paper straws make these lemonade cupcakes party ready!
Ingredient Notes
Frozen pink lemonade concentrate. Regular lemonade concentrate can be used too. Thaw the concentrate before adding to the batter.
Lemon zest. Use a zesting tool or grater to remove the outermost yellow layer of a lemon's peel. Be careful not to get any of the bitter white rind in your zest! Use our guide on how to zest a lemon.
Cake flour. This flour contains less protein than all purpose and makes the cupcakes extra light and airy.
Easy Instructions
Make the cupcakes.
Mix together the egg whites, lemon zest and milk. In a separate mixing bowl, beat butter and sugar until smooth.
Add the cake flour to the butter mixture along with baking powder and salt. Now, beat in the egg white mixture.
Slowly add the thawed pink lemonade. Beat until smooth.
Fill cupcake liners about 2/3 of the way full with batter. Bake for 15 minutes and let cool.
Make the frosting.
Beat butter with electric beaters until smooth and pale. Add powdered sugar and pink lemonade. Beat until fluffy. Add food coloring now, if desired.
Pipe onto the cooled cupcakes.
Garnish! Immediately add colorful sprinkles to the frosted cupcakes. Top the cupcakes with a thin lemon slice.
Cut paper straws into thirds and stick them in the tops of cupcakes at a slight angle. Enjoy!
Tips and Tricks
Don't waste your egg yolks! After separating the egg whites, set the yolks aside to make our Easy Homemade Lemon Curd Recipe.
The food coloring is optional but does make the cupcake frosting look extra pretty.
We used a frosting bag with an open tip to decorate our pink lemonade cupcakes. Swirl the frosting as you pipe to make a pretty finish.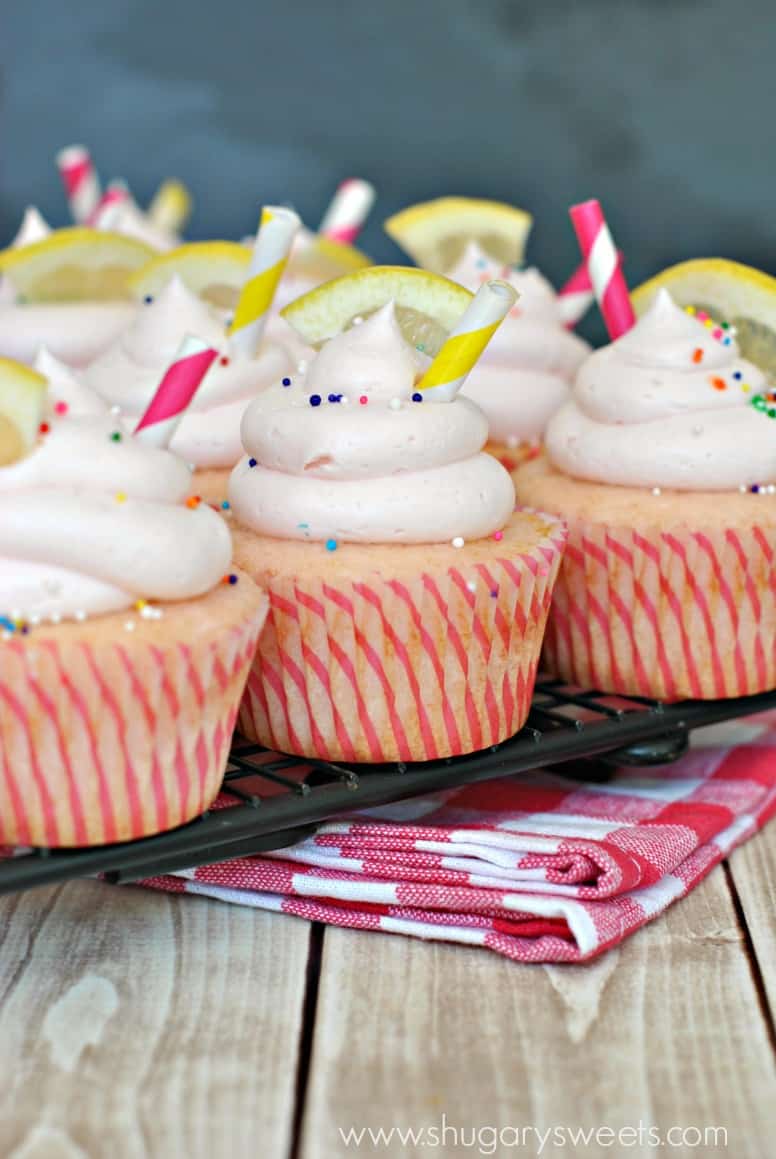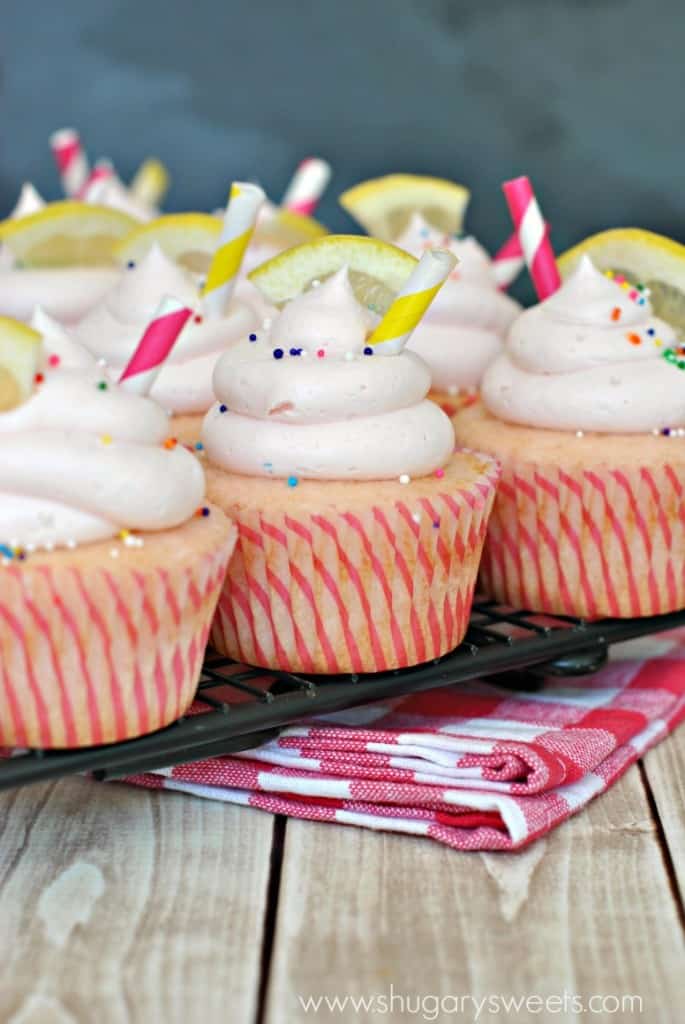 Recipe FAQs
Can I use bottled lemonade or homemade lemonade instead of concentrate?
You can, but the lemonade flavor will be much less intense.
What can I use instead of food coloring to make the frosting pink?
I haven't found an alternative to food coloring for dying this frosting. If you prefer not to use it, go ahead and just leave it out. The cupcakes will taste just as delicious!
Will all purpose flour work in this recipe?
All purpose flour will work but the cupcakes won't taste as delicious. If you don't have cake flour, make your own substitute with all purpose flour and cornstarch.
Measure out 2 1/2 cups of all-purpose flour. Remove 6 tablespoons of the measured flour and replace it with 6 tablespoons of cornstarch. Add to recipe as directed.
How do I store these cupcakes?
Store pink lemonade cupcakes at room temperature in an airtight container. They're best enjoyed within 3 days.
More Cupcake Recipes
Grab your swimsuit and celebrate summer with these easy Pink Lemonade Cupcakes! With a rosy pink frosting and bright citrus flavor, these cupcakes are ready to party by the pool!