You'll love the simplicity of these Easy Raspberry Lemonade Cupcakes. A box cake mix and fresh homemade raspberry buttercream frosting make this recipe easy to make and delicious to eat. A fresh raspberry tops the cupcake for extra fresh goodness!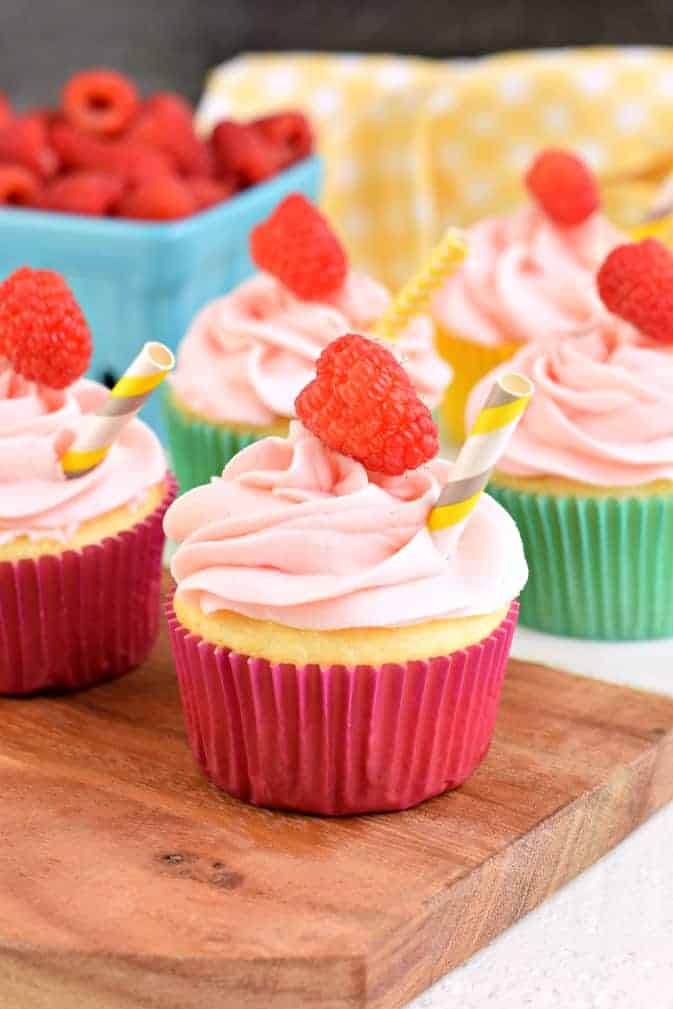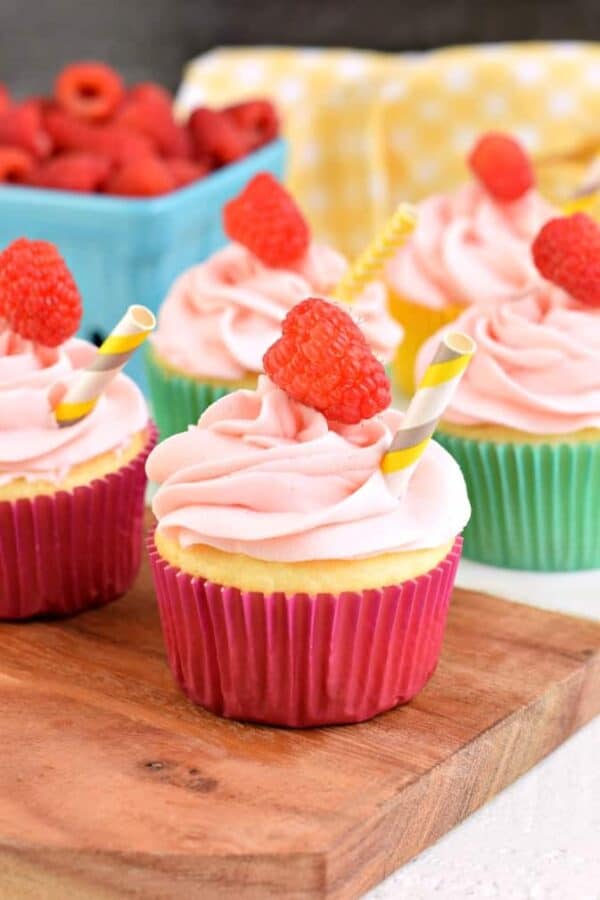 I have to let you guys in on a little secret. I cheated when I made these raspberry lemonade cupcakes. How you ask? I used a box cake mix.
Now, before you gasp loudly or start to judge me, you should know that it's not very often that I use a box of cake mix. But every once in a great while, it is a necessity.
Like when my daughter asks me to bake cupcakes for her entire swim team, giving me only two days notice.
And of course, her request for said cupcakes came up during an already crazy, insane week. Yes, part of that crazy week included watching four hours of the Tour de France. Hey, we all have our priorities. That was mine. Get over it.
So I used my trusty box cake mix for these raspberry lemonade cupcakes and they ended up turning out great. And in the end, that's all that really matters, right? Well, that and who wins the Tour de France.
The real key to these lemonade cupcakes is actually in the raspberry buttercream frosting anyway. And that is not from a container.
I used a tangy raspberry lemonade concentrate to make the frosting from scratch and it really gives these lemon cupcakes a nice zing!
The taste of raspberries and lemons gives these cupcakes a sweet and tart flavor that is perfect for a birthday party, summer day, or yep you guessed it, swim team!
Follow the recipe to make these light and fluffy cupcakes with no notice at all!
How to Make Raspberry Lemonade Cupcakes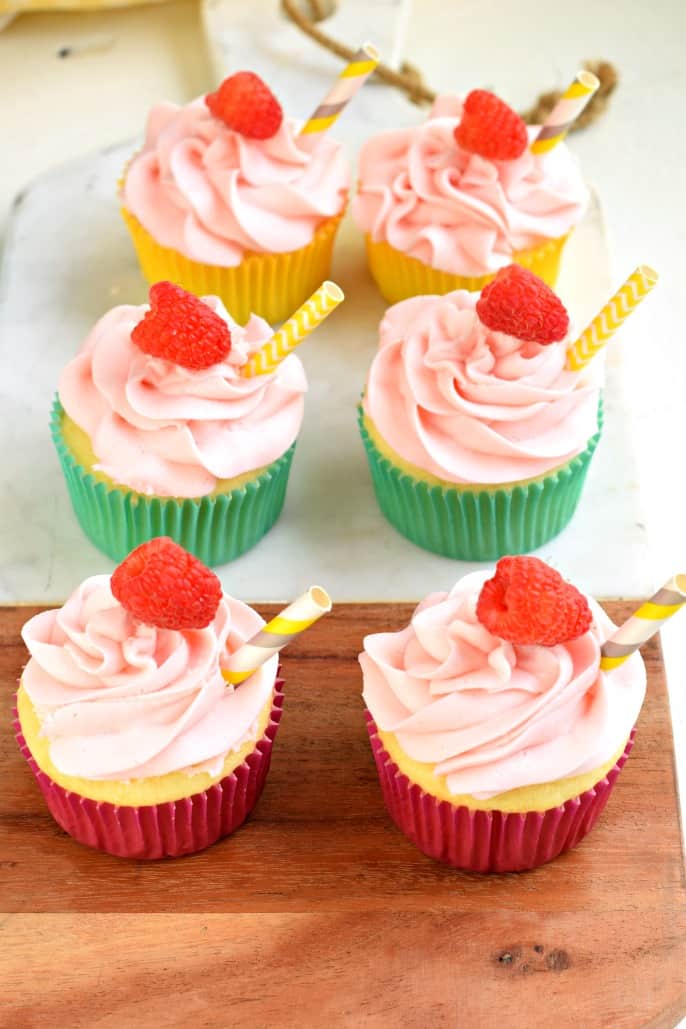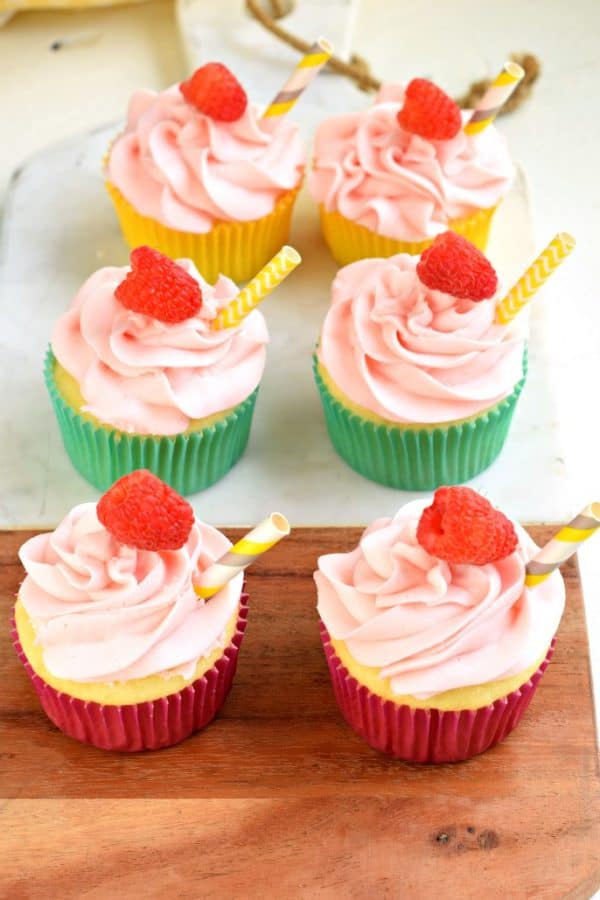 Step 1: Preheat oven to 350 degrees. Line cupcake tin with paper liners. Set aside.
Step 2: Add the dry ingredients including cake mix and jello powder to a mixing bowl. Then add egg whites, oil, and water. Beat for two minutes, until well blended.
Fill cupcake liners half full with batter and bake for about 15 minutes. The cupcakes are done once a toothpick inserted in the center comes out clean. Allow cupcakes to cool completely on a wire rack before frosting.
Step 3: To make the raspberry icing, beat the butter, powdered sugar, raspberry lemonade, and food coloring on high for five minutes, until light and fluffy.
Fill a decorator piping bag (I use Tip 2D) and pipe frosting onto cooled cupcakes. Sprinkle with sparkly coarse sugar if desired and top each cupcake with a fresh red raspberry.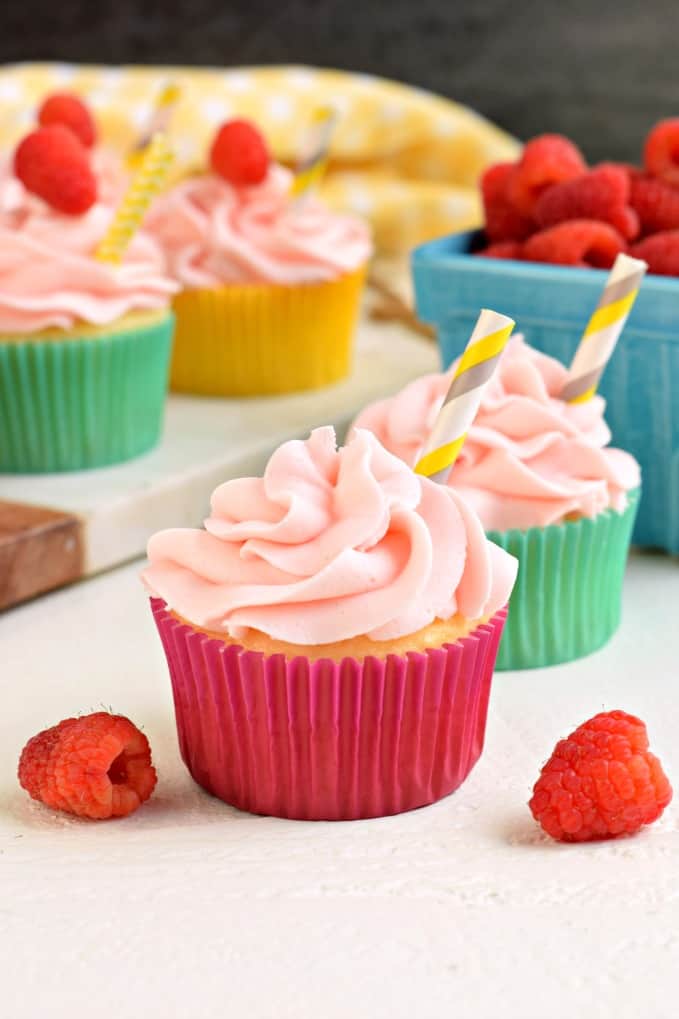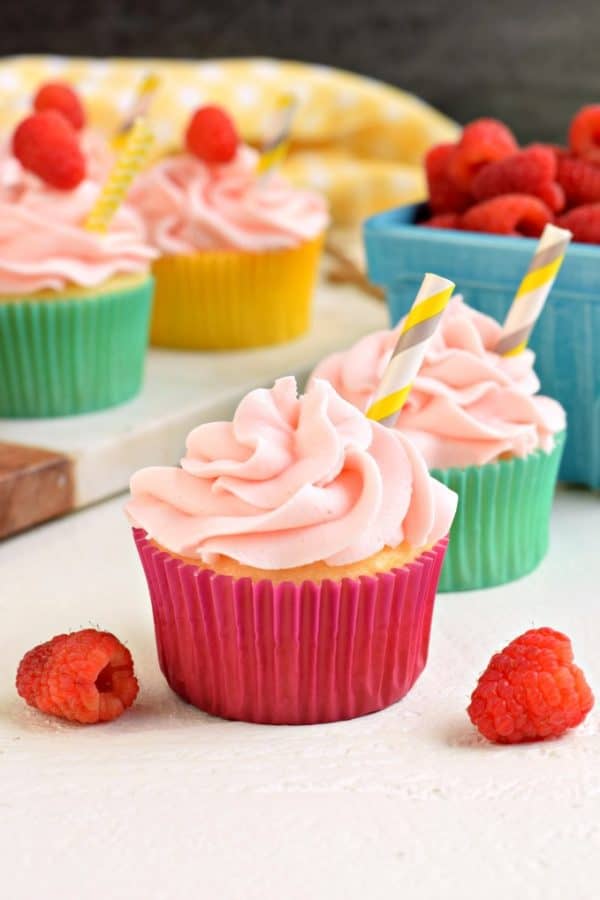 Tips for Making Raspberry Lemonade Cupcakes
If you want a more intense raspberry flavor, add dried raspberries to the frosting like I do in my Strawberry Almond Cake recipe. To do this, just pop some freeze dried raspberries in a food processor or freezer sealed bag to make crumbs and then add it into the frosting mixture.
Try swapping out raspberry lemonade concentrate for several tablespoons of raspberry jam and fresh lemon zest or lemon juice.
The white cake mix and lemon-flavored jello combined creates a delicious lemon flavor. You could also swap out the white cake mix for lemon flavor cake mix and omit the gelatin altogether.
Sometimes you can find special edition cake mixes like pink lemonade cupcake mix. That would also work well in this recipe and be a fun twist on my pink lemonade cupcake recipe! (No box cake mixes in this one!)

How to Store Raspberry Lemonade Cupcakes
You can store frosted cupcakes at room temperature in an airtight container for up to one week. They usually taste best when consumed within 3-5 days.
Have more than two days notice to make these cupcakes? You can also make these in advance and freeze them for up to three months!
To freeze, let them cool completely, then wrap them individually in tight plastic wrap. Slide them into a freezer safe plastic bag. Don't squish them too tight.
Lay them flat and use multiple bags if you need to give them enough room.
When you're ready to eat, defrost them and then top them with fresh made raspberry buttercream frosting for best taste.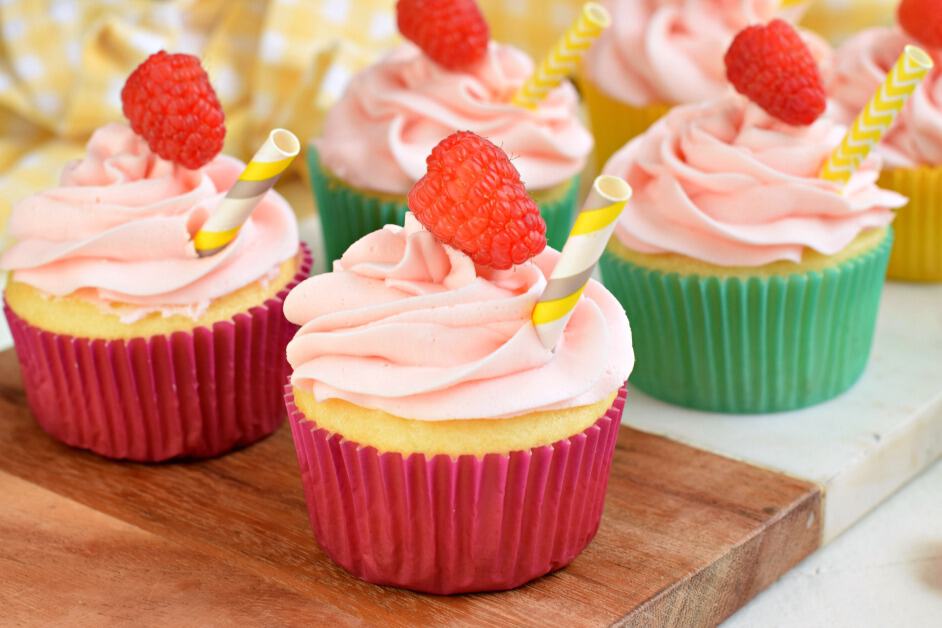 What You Need to Make Raspberry Lemonade Cupcakes
If you want a quick glance at what's needed for today's recipe, look no further. For the printable recipe with measurements, scroll all the way down!
Ingredients:
White cake mix
Lemon jello gelatin powder
Egg whites
Vegetable oil
Water
Butter, softened
Powdered sugar
Frozen raspberry lemonade concentrate, thawed
Red food coloring (or pink gel coloring if you have it)
Tools:
Electric mixer or Stand mixer
Cupcake liners
Muffin cups/Cupcake pan
Wire rack
Piping bag/tips or offset spatula for frosting

Connect with Shugary Sweets!
Be sure to follow me on my social media, so you never miss a post!
Facebook | Twitter | Pinterest | instagram
I created a fun little group on facebook and I'd love for you to join in! It's a place where you can share YOUR favorite recipes, ask questions, and see what's new with Shugary Sweets (so that you never miss a new recipe)! If you'd like to check it out, you can request to join HERE.
MORE CUPCAKE RECIPES: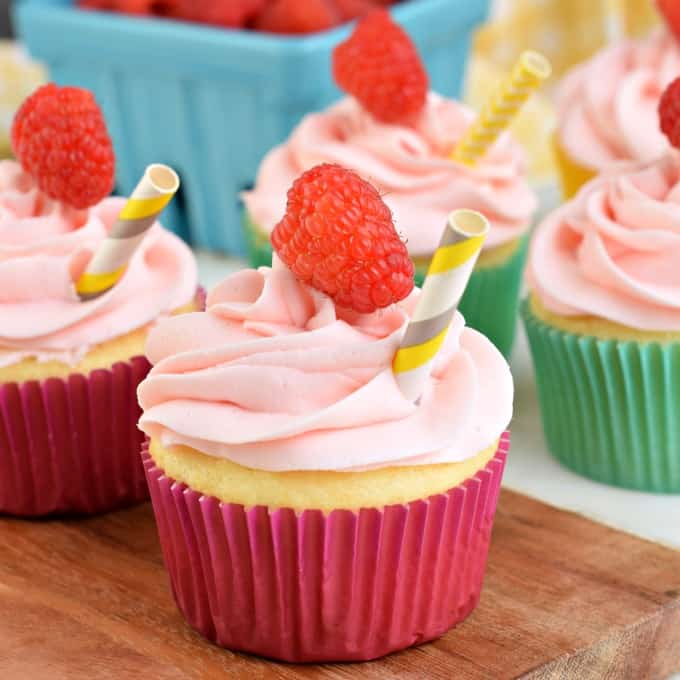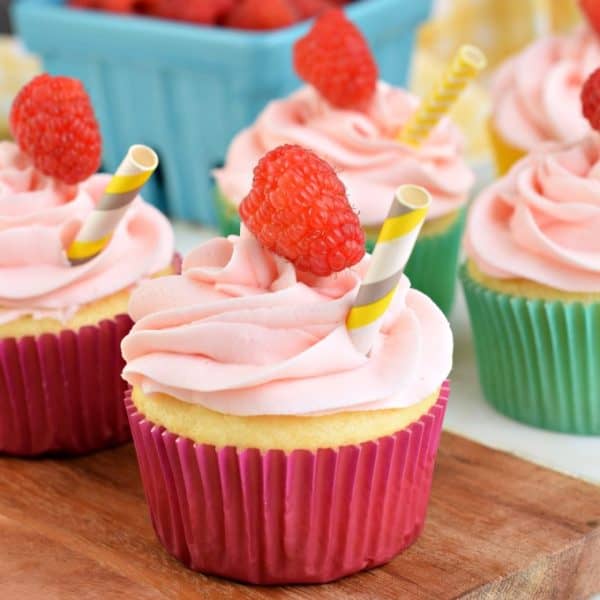 Recipe originally published July 15, 2012. Photos updated April 2019.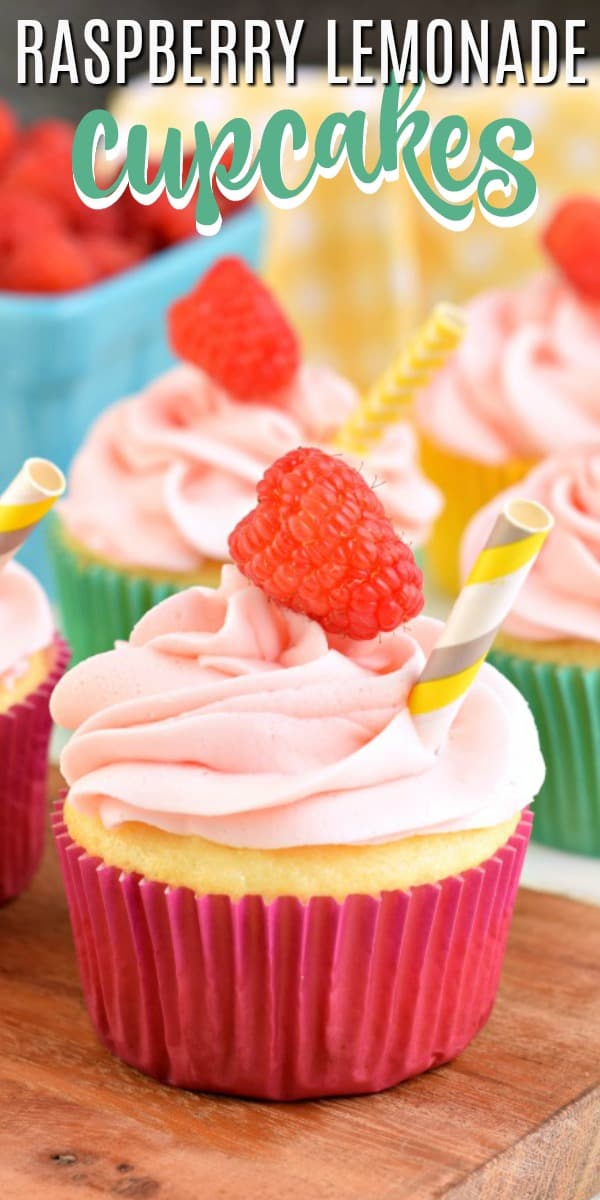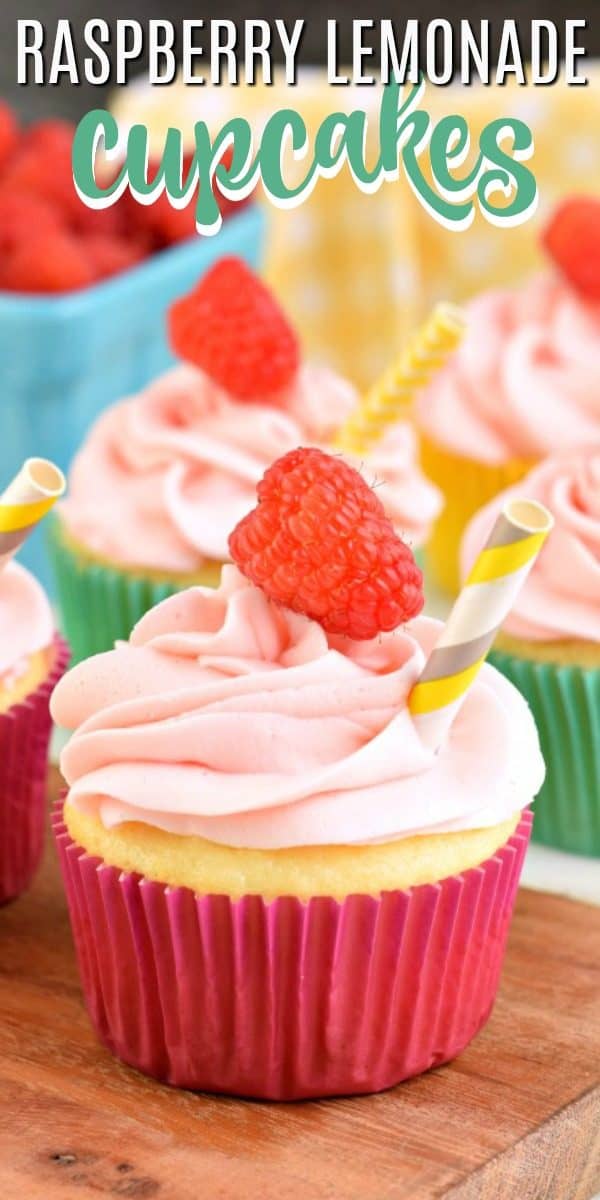 Raspberry Lemonade Cupcakes are a quick and easy summer dessert with a tangy sweet frosting!