Lemon Knots
I did something for the first time this summer. I made vanilla sugar. I had no idea how easy it was to make, and how awesome it is to use in baked goods. I've already got another jar "ripening" while I use what is left of my current stash. The sugar on top of these knots provided an awesome CRUNCH while the glaze made the perfect sweet finish on your tastebuds.
These lemon knots were so easy to make, which is my perfect kind of dessert. Delicious and easy. Does it get better than that? Well, there is no chocolate involved, so I suppose it could get better, if I were in the mood for chocolate. Which I wasn't. I like citrus desserts in the summer. Don't worry, we will be back to regular chocolate programming soon.
Speaking of regular programming…the family is going on vacation next week. I know how much you all love me and look forward to my recipes every day (right? right? bueller?). So, I have declared next week doughnut week. I have made 4 awesome versions of my donut recipe that I think you will all enjoy! I brought 3 of these to hubs work this week and I think they went over well. They were all eaten. Or tossed in the trash, because the container was brought home empty.
So if it seems quiet around here, and on facebook, I'll catch up with all of you when I return. In the meantime, please leave me a comment next week so I know someone stopped by! K? Thanks.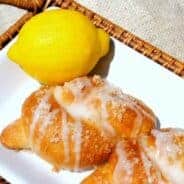 Lemon Knots
Prep Time:3 hours
Cook Time:15 minutes
Ingredients:
for the lemon  knots:
6 frozen dinner rolls (I use Rhodes)
½ cup vanilla sugar (if you don't have any you can use granulated or see my recipe to make your own!!)
1 lemon, zested and juiced
2 Tbsp butter, melted
1½ cup powdered sugar
for the vanilla sugar:
2 cups granulated sugar
1 whole vanilla bean
Directions:
for the lemon knots:
Place rolls from freezer onto a baking sheet and allow to thaw for about 2-3 hours. Roll each dinner roll into a rope, about 6-8 inches long, twist into a knot. Return to baking sheet.
In small bowl mix vanilla sugar with zest from one lemon. Save the lemon to use the juice for the glaze. Mix the sugar and lemon zest. Brush each knot with melted butter and sprinkle generously with sugar.
Let rise until double in size, about 3-4 hours.
Bake in a 350 degree oven for 15 minutes. While baking, make glaze by whisking powdered sugar with juice from one lemon. Drizzle over warm lemon knots and enjoy!
for the vanilla sugar:
Pour sugar into a mason jar. Slice vanilla bean down lengthwise and scrape seeds out with back of a butter knife. Add seeds to sugar, then shake jar. Add vanilla pod to jar and bury it. Seal jar and let sit on counter for at least a week.
May reuse bean for 4-5 uses, or keep existing bean in jar and add a fresh bean to new sugar for a stronger vanilla taste.
MAKING THIS RECIPE? Share it with me on Instagram using the hashtag #ShugarySweets so I can see what you're cooking up in the kitchen!