Adding this sweet Cherry Almond Braid to your holidays is a delicious idea. Sweet yeast bread stuffed with cherries and almond glaze makes a festive Christmas breakfast treat!
Love cherry almond together? Try our cherry almond cupcakes. Or give our cherry almond hand pies a try next!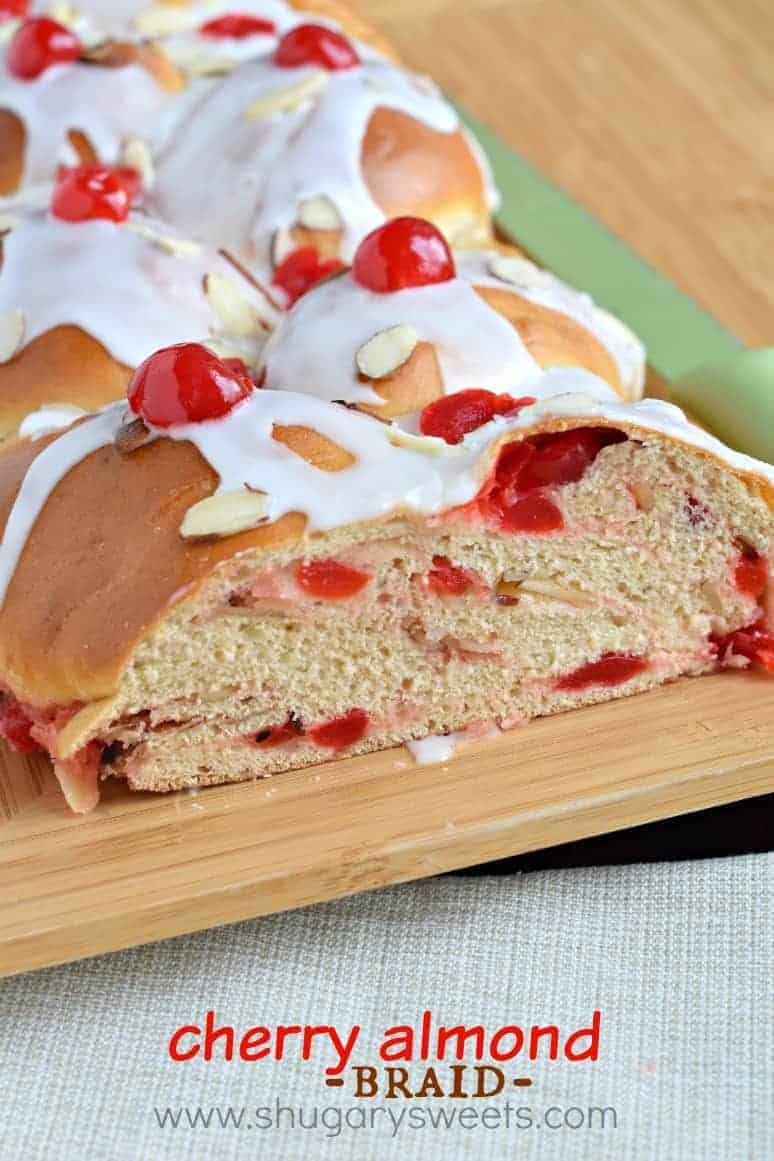 Christmas Breakfast Braid
While everyone is thinking about their Christmas dinner menus, I'm over here obsessed with Christmas breakfast! My family almost always has some form of Biscuits and Sausage Gravy on actual Christmas morning but when there's another occasion for a big celebratory holiday brunch or breakfast, I love impressing everyone with this Cherry Almond Braid.
The recipe starts by making a sweet yeast dough from scratch. You then fill it with a juicy cherry filling, shape the dough into a braid, bake and drizzle it with an almond glaze.
This Cherry Almond Braid is a showstopper that'll have everyone "oohing" and ahhing. While it takes a little bit of time and effort, the results are more than worth it.
After all, Christmas comes but once a year!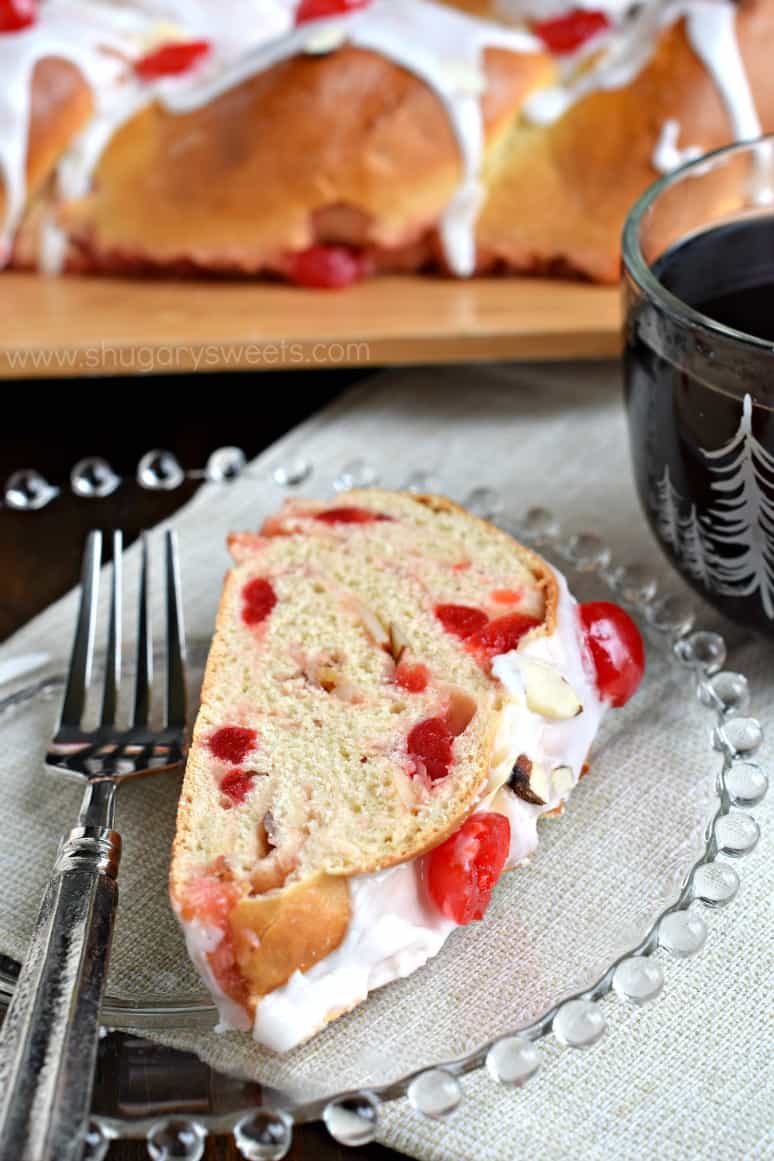 Ingredient Notes
Yeast – I find the packets of rapid rise yeast work best in this recipe. Make sure the yeast is FRESH (so if you can't remember how long your yeast has been sitting around in the cupboard, that's a good sign you should toss it and replace with a new packet).
Milk – Fat free, skim or whole milk will all work in this recipe.
Marachino cherries – Drain the juices from the jar and pat the cherries dry before using them in the recipe.
Step by Step Instructions
STEP 1. Make the dough
Heat milk, butter and water on the stove until the butter is melted, then remove from heat and set aside.
Mix together the flour, salt, yeast and sugar in a large bowl. Gradually add in the milk and butter mixture and beat while adding eggs, cinnamon and a little more flour to form a soft dough.
Knead the dough on a clean surface until smooth and elastic (this took me about 8 minutes), then cover and let the dough rest while you make the filling.
STEP 2. Make the filling
Dice the drained cherries and combine them in a bowl with the rest of the filling ingredients. Set the filling aside while you shape the dough.
STEP 3. Shape and braid
Separate the dough into three equal pieces and roll each one into a rectangle. Spread a third of the cherry almond filling over each segment of dough, then roll each one up tightly from the long edge.
Place the sections on a parchment lined baking sheet and brain them gently. Pinch the ends so they seal, cover the braid and let it rise until it's doubled in size.
STEP 4. Bake
Make an egg wash by whisking egg whites with water, then brush the wash over the unbaked braid. Bake for 30 – 35 minutes, then let the Cherry Almond Braid cool completely while you make the glaze.
STEP 5. Glaze
Whisk together all the ingredients for the glaze then spoon it over the braid. Garnish with sliced almonds and halved cherries.
Let the glaze set on the Cherry Almond Braid for about 10 minutes before serving.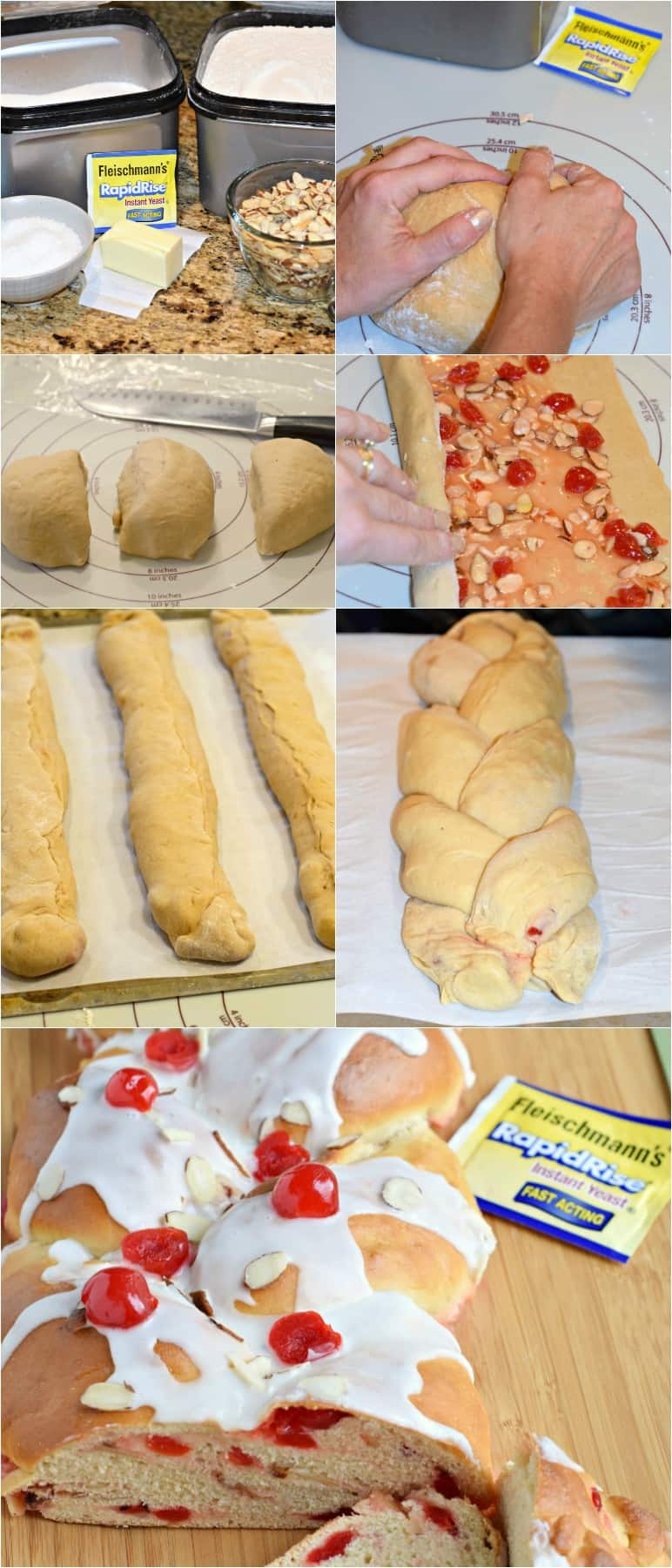 Tips and Tricks
Read the directions prior to assembling. Make sure you have time (this does need time to rise). And make sure you everything you need to make it. I like to put everything I need to make it on the counter, and put the ingredients away as I use them. I
Use parchment paper! Not only does it help create a barrier from your bread to your pan to prevent sticking, but clean up is so much easier.
Be sure to lightly flour your hands before kneading the dough to prevent them from getting sticky.
Recipe FAQs
Do you need to proof your yeast first?
Not with this recipe. You can just add the Rapid Rise yeast to the dough with the other dry ingredients.
Why isn't my dough rising?
Dough that doesn't rise is usually an indicator that your yeast is dead. Check the dates on your yeast before beginning the recipe to make sure your yeast is fresh. You should also be sure to put the dough in a warm (but not hot) place while it's rising to help move it along.
Can this be made in advance?
Yes, you can prepare the braid the night before and store it covered (unbaked) with plastic wrap in the fridge. Let it come to room temperature before baking.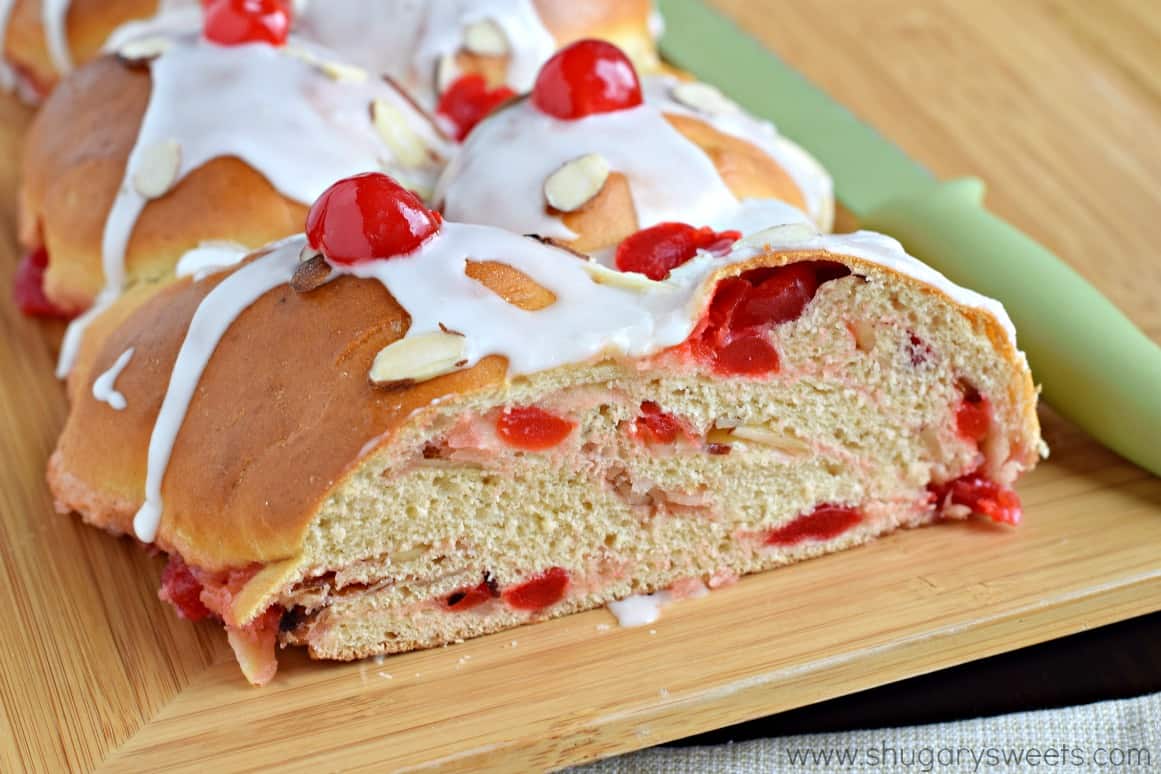 More Easy Recipes
When you need a special breakfast that's as pretty as it is delicious, you can't do better than a Cherry Almond Braid. Enjoy a slice this holiday season with a big cup of coffee!