If you haven't yet tried a Green Smoothie, don't be afraid or turned off by the color. These healthy, easy Green monster smoothies are energy boosters and delicious too!
Love a healthy start to your day? Our cranberry orange smoothie is as delicious as it is easy to make. And don't forget to try our pumpkin pie smoothie next. You can make it any time of year using canned pumpkin.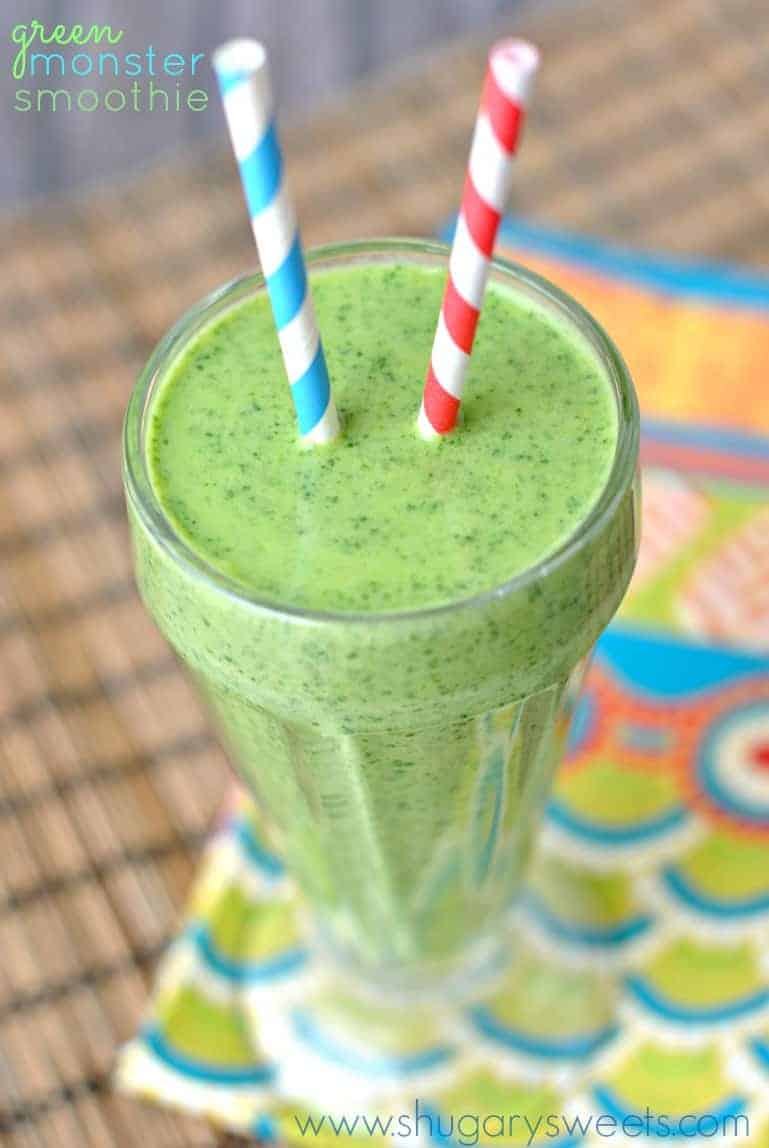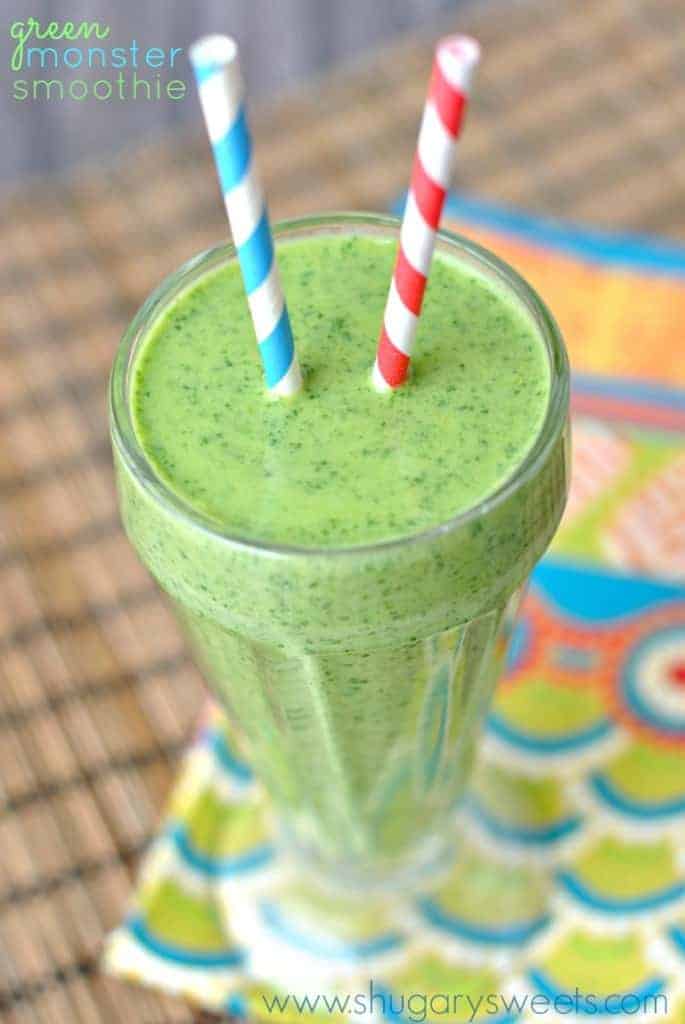 What is a Green Monster Smoothie?
Typically, green smoothies are packed with healthy fruits and vegetables and have a vibrant green color.
But don't let that color scare you, with my recipe you can't taste the spinach.
The health benefits of smoothies are perfect for people who work out or need breakfast on the go.
For me personally, I'm not a breakfast person, but I like to get in some calories and protein within 30 minutes of a heavy workout. Green smoothies are the perfect healthy breakfast! They taste good and are quite refreshing!
How to make Green Monster Smoothies
First, grab your blender. You'll add fresh spinach, a handful of ice, and milk.
I use vanilla almond milk, but choose your favorite variety.
Next add in about 6 oz yogurt (vanilla greek yogurt is my go-to for smoothies). You'll also need one banana (fresh or frozen), and 1/2 cup peaches (fresh, frozen, or canned).
If desired, add a scoop of vanilla protein powder. Blend and process until smooth and creamy! If using frozen fruits, you may need an extra splash of milk. This makes a very large smoothie, which you can share or enjoy solo!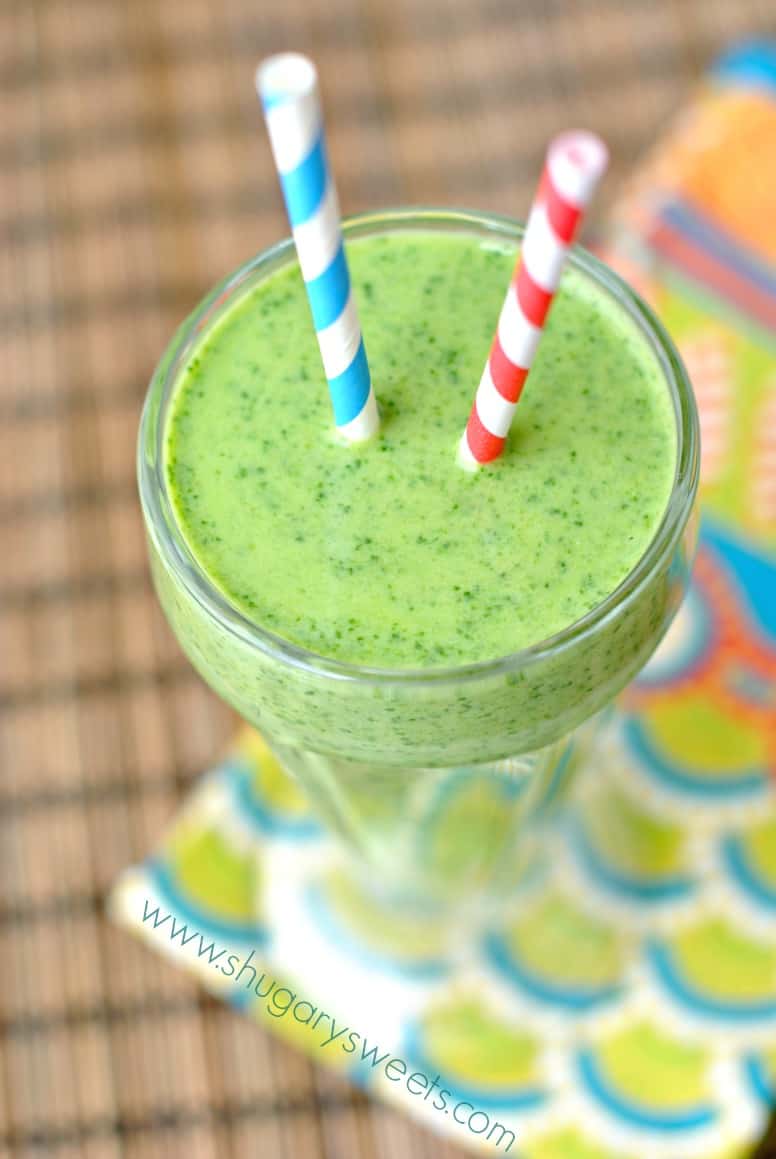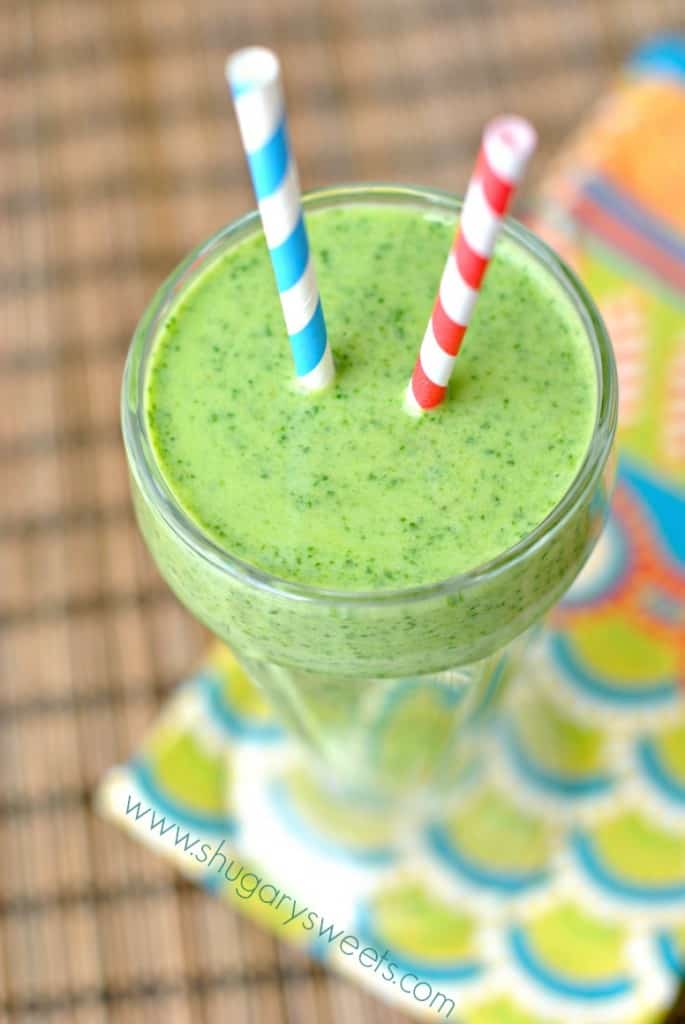 How to change up the flavor in your Green Smoothie recipe
I love to change up the variety of fruits in my smoothies, but my very favorite green smoothie is this one! With banana, spinach and peaches; it's so refreshing and delicious!
Say you don't like spinach? Any leafy greens will do, but kale is a great alternative to the spinach.
I've also added some Vanilla whey protein powder into my smoothie, this is totally optional! I love having this extra protein boost in my diet, it makes this smoothie a meal replacement!
If you have the nerve, add a pinch of cilantro to this healthy smoothie! It takes it to a whole new wonderful place! And a squirt of lime juice. See, my mind and flavor buds keep on going…
Great add-ins would also include a scoop of almond butter or chia seeds. Both have health benefits and help create a smooth and creamy texture!
What You'll Need
A blender. A good powerful blender is key to making smoothies. One that burns up and doesn't blend the frozen ice and chunks of fruit is just a headache. So give yourself a gift of a good blender!
Leafy greens (I prefer to use spinach in my green smoothies)
Ripe bananas (fresh or frozen banana works equally)
Handful of Ice
Milk (any variety, including coconut milk)
Yogurt (any variety)
Peaches
Protein Powder
Optional add-ins: chia seeds, flax seeds, almond butter
More Breakfast Recipes