Start your day off right with a healthy Cranberry Orange Smoothie! Add in some protein powder for a great post workout treat!
Love this recipe? Sign up for Shugary Sweets email subscription and never miss out again!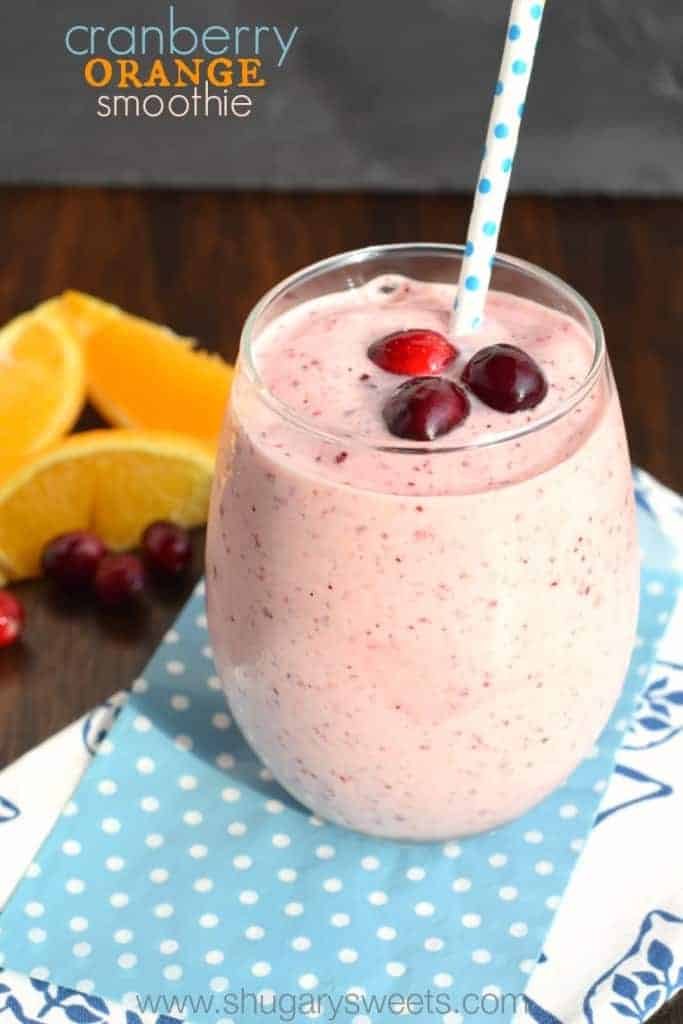 Happy New Year!! (I know I'm a few days late)
Before I start chatting about this smoothie, I wanted to thank everyone of you readers who come here all year long. I love your emails, your comments, your social sharing of my recipes! Because of you, I'm back for another year!!
So…who makes New Year's Resolutions?
I'll be honest. I don't usually. At least not the type you write down and hold yourself accountable. They are more likely in my head (workout more, eat healthier, etc etc).
This year though, I've made a top 4 list of my resolutions. Curious? (if not scroll on down for the recipe)….
Live a healthier life. This includes diet and exercise. If you know me, or read here often, you may know I already exercise at least 3x week and eat pretty healthy (well, except when rice krispie treats are involved). But this year I want to share more of that healthy lifestyle here on the blog! So be prepared to see some more healthy treats and meals.
Study the Bible daily. God is the center of my life, yet sometimes I fail to study His word daily. I'm planning on focusing more on Him than myself this year. Because with Him all things are possible! If you have great study books that you want to recommend, I'd love to hear about them in the comments below! I finished Crazy Love (from Francis Chan) and Gods at War (from Kyle Idleman) recently. They are two of my favorites!
Be present. Live in the now. This is going to be a crazy, stressful year. I don't want a miss a minute of it! My oldest is a senior in high school and will be headed off to the Marines this summer. While this makes me sad and scared, I'm also so proud and excited for him and his future. Instead of worrying about what's to come or what could happen, I'm going to focus on the now. And right now, life is great!
Take time off work. I've prided myself in being good with a work schedule. Through the years as a food blogger, it's tough. We tell ourselves that we need to be on 24/7. We need to keep sharing and commenting and whoring ourselves out on social media (sorry for the term…). But guess what? To be successful, you also need to take a break. And to focus on the other 3 resolutions listed above. By taking a break, I can come back to my computer excited, refreshed, and full of new creative content! So if it takes me a day or more to answer a question, please be patient with me, I'm just hugging my kids, reading the Bible and eating carrots! Thank you!!
Let's start with my first resolution. Living a healthy life. One of the ways I accomplish this with myself (and my family) is daily smoothies! They are jam packed with protein, vitamins, and of course they are delicious too!
These Cranberry Orange Smoothies are a perfect way to start your day. Or, add in some extra protein powder for a great post workout recovery treat. Now is the time too to stock up on those fresh cranberries. Grab some extra bags in the grocery store, pour them into a freezer safe ziploc container and freeze them. Perfect for adding to smoothies or baked muffins and treats. Did you know many dietitians refer to cranberries as a "super food?" That's because they are packed with nutrients and antioxidents. And they are only about 25 calories for a half cup. Go stock up now!
As far as the making of this smoothie, I love using my Ninja blender. Mine comes with two different sized processing bowls, which is perfect if you need a little or a lot! You can also adjust your calories by using different yogurts. I use vanilla greek yogurt, but feel free to use your favorite in this recipe! Also, I prefer to freeze my bananas for smoothies. I buy an extra bunch of bananas at the grocery store, when they get over ripe (extra sweet!) I peel them and toss them whole into a freezer safe ziploc bag for smoothies. You can use fresh bananas too, you just may need to adjust the amount of ice for your preferred consistency! ENJOY!!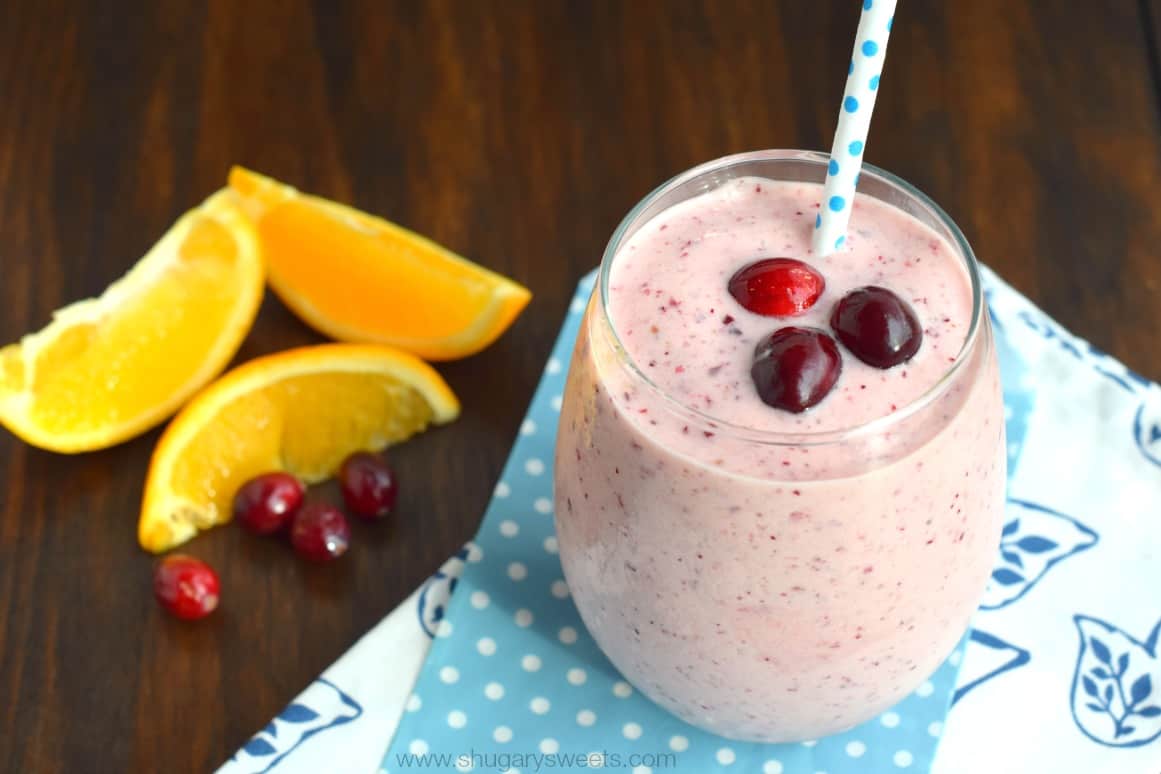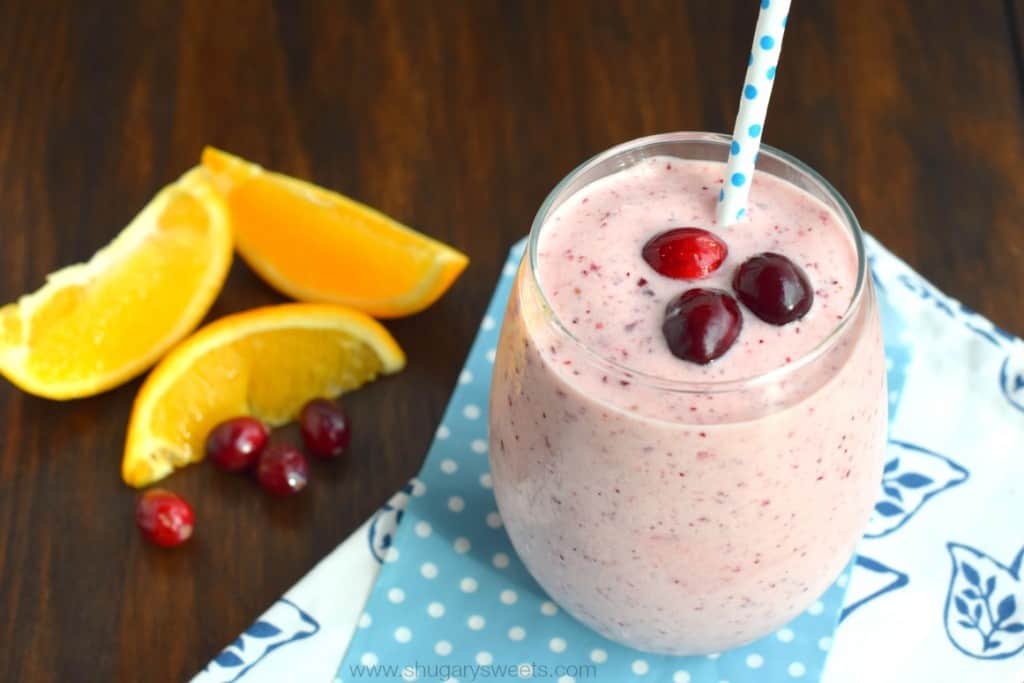 Connect with Shugary Sweets! Be sure to follow me on my social media, so you never miss a post!
Facebook | Twitter | Google+ | Pinterest | instagram | Bloglovin'
Sign Up to receive an email in your inbox for each new recipe:
EMAIL SUBSCRIPTION
More healthy grub: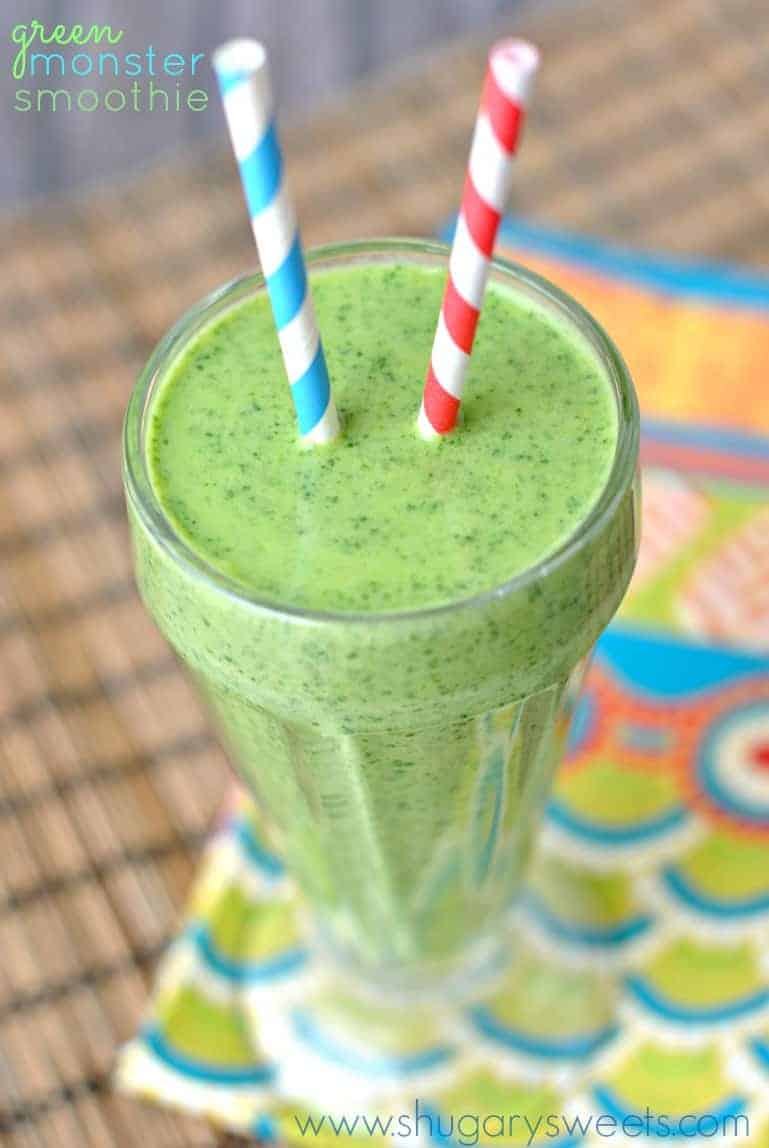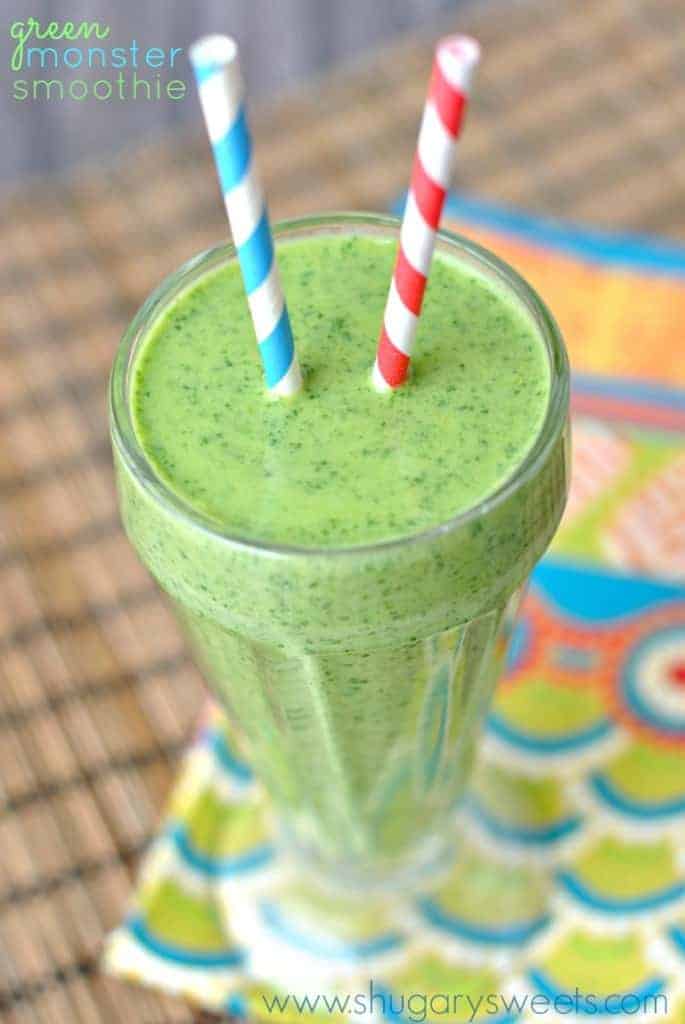 Green Monster Smoothie: don't let the shocking color fool you! This tastes amazing!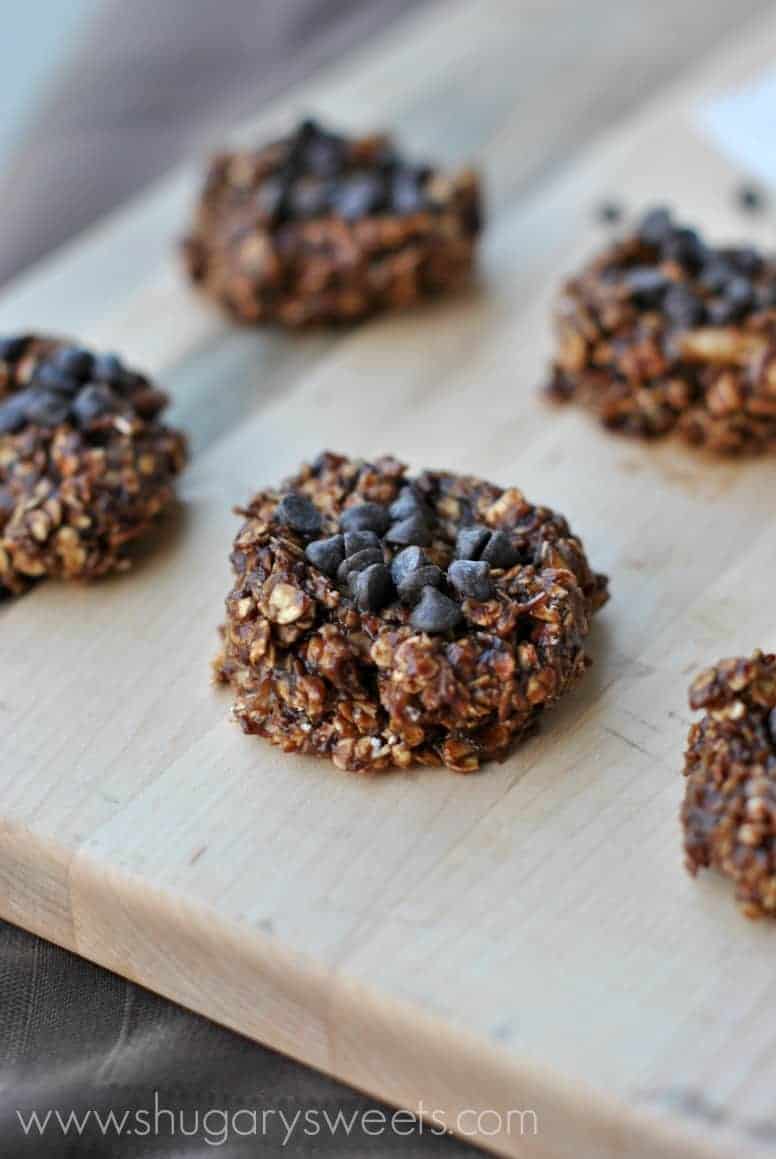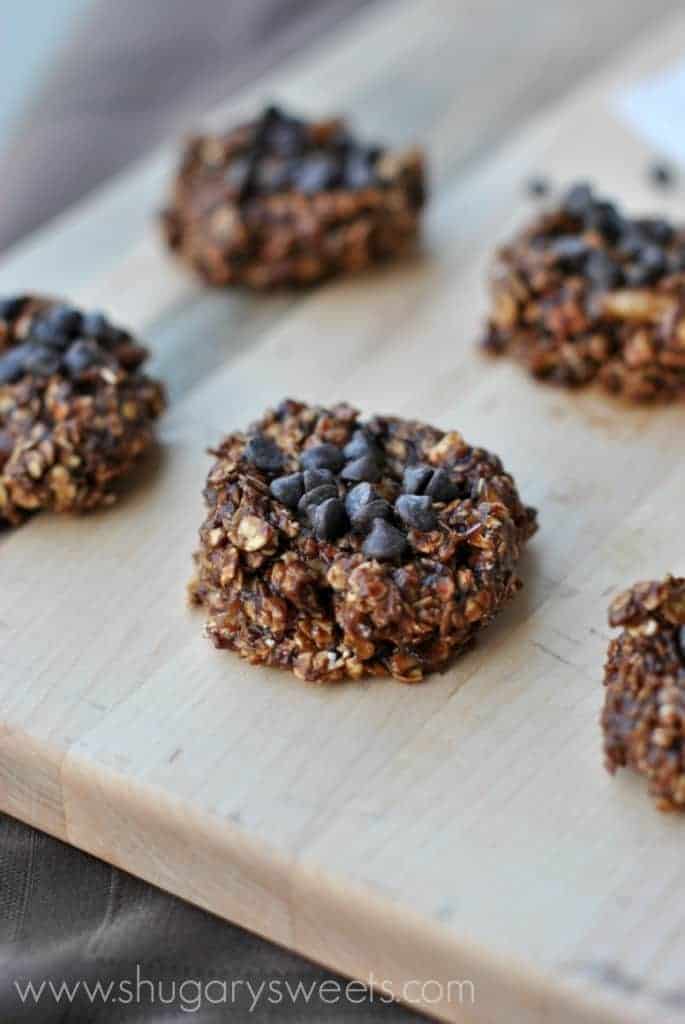 Skinny No bake Cookies: I love keeping a batch of these treats in my refrigerator for a quick, satisfying sweet tooth craving!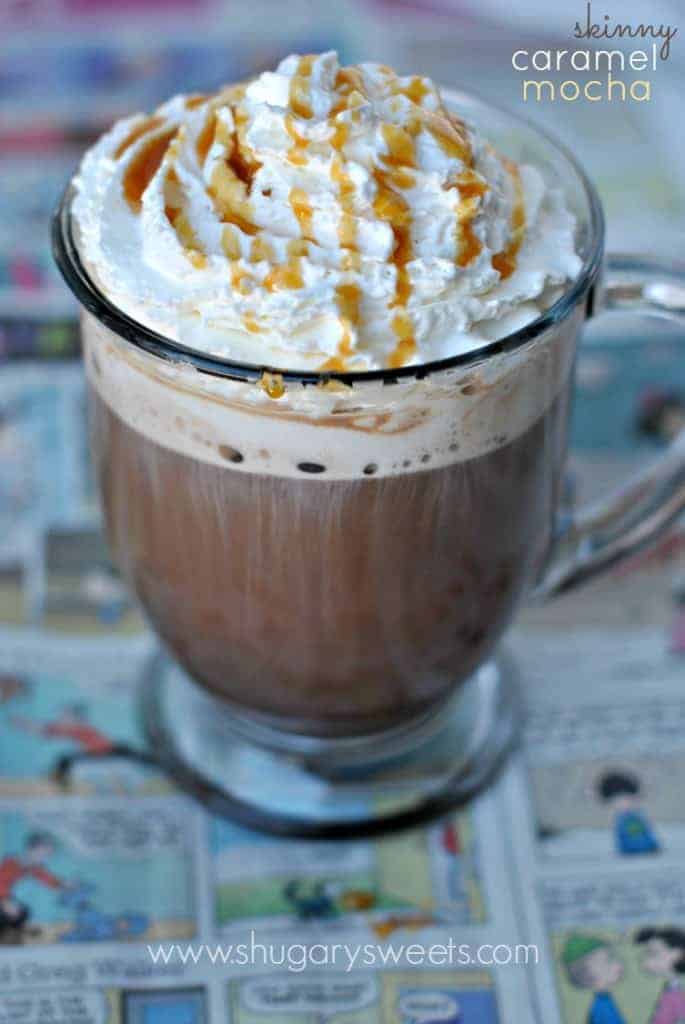 Skinny Caramel Mocha: under 150 calories for a big mug of this delicious, homemade coffee!
More healthy recipes from around the web:


**This post may contain affiliate links which won't change your price but will share some commission. See my disclosure policy for more info**