Cranberry Orange Muffins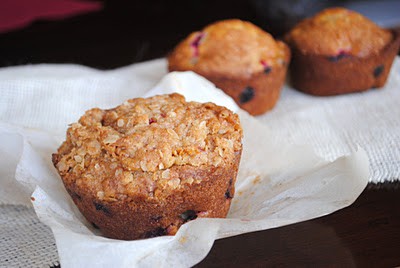 Do you love my new blog design? yeah, me too! Thanks to Ashton over at Something Swanky! You can visit her etsy shop and get your own very reasonably priced custom blog! She is awesome. Just sayin.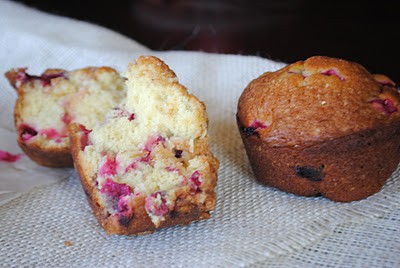 Now, to the muffins. (look at the beautiful color inside, yummm).
January and February are very busy months for us, especially in terms of kids sports. My two youngest daughters do basketball and cheerleading, and my oldest daughter's swim team is heading towards regionals. Which means, we need some on the go breakfast food.
Enter these delicious muffins. I make half the batch with the crunchy topping, and the other half without. Of course with my sweet tooth I love the extra crumbly sugar on top. However, I realize it's January and we all need to cut out some sugar somewhere, haha!!
My grandma sent me a pretty plant today as a thank you for hosting Christmas…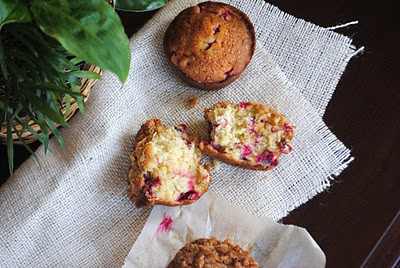 Speaking of plants, my inspiration for these muffins came from my yearly vase of holiday flowers. Just using an empty carafe, I fill it with 12oz fresh cranberries and a sliced up orange. Add flowers, water and you have a beautiful centerpiece.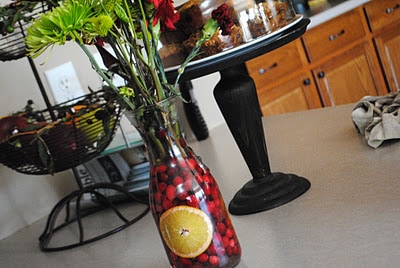 Using my delicious moist 
Blueberry Muffin
 recipe as a base, I set out to make some muffins. I also used vanilla sugar to give them some depth in flavor, you can find my recipe 
HERE
. If you don't have vanilla sugar, just use granulated sugar. And then go make yourself some vanilla sugar for future baking. I keep a mason jar filled at all times, you can add more sugar to your existing beans several times before replacing the beans. And go do this today, because next week I have a recipe for Valentine's cookies that you will definitely want to bake and they use vanilla sugar.
Cranberry Orange Muffins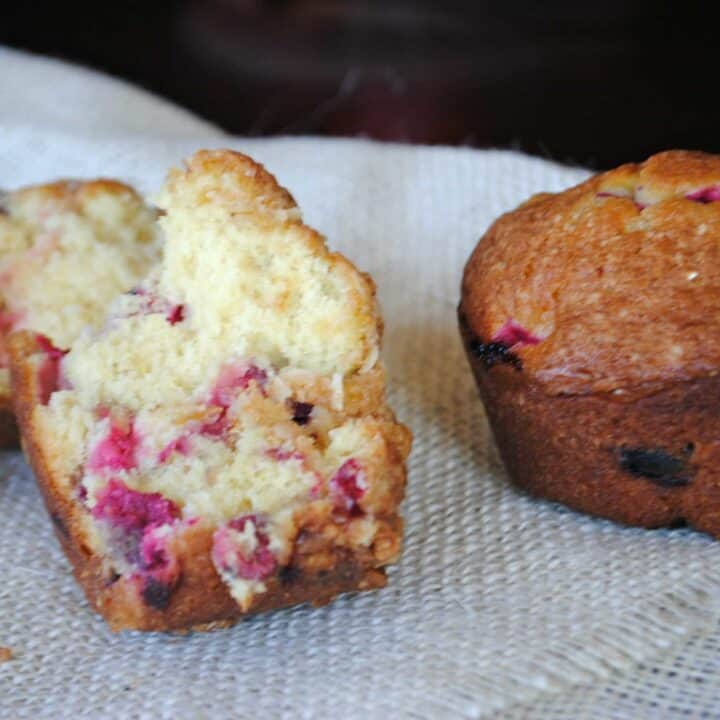 Ingredients
For the muffins:
1 cup butter, softened
2 cup vanilla sugar (or gran.sugar)
4 eggs
1/2 tsp orange extract
1 orange, zested
3 cup flour
1 tsp baking soda
1/2 tsp baking powder
1/2 tsp kosher salt
3.4 oz pkg instant vanilla pudding (not sugar free)
1 cup milk (I used skim)
12oz fresh cranberries
For the topping:
1/2 cup quick oats
1/4 cup butter, softened
1/2 cup brown sugar
1/4 cup flour
1 orange, zested
Instructions
For the muffins, cream butter and vanilla sugar for about 3 minutes. Add eggs, one at a time. Beat in orange extract and zest (about 1 tsp zest).

In separate bowl, mix flour, baking soda, baking powder, salt and pudding mix.

Add milk and flour mixure alternately, about 3 additions of each. Fold in cranberries.

For the topping, mix all ingredients with a fork until crumbly. Set aside.

Grease or line muffin tins, fill them 3/4 full if not using the topping, and a little less if putting the topping on the muffins. If using the crumb topping, sprinkle 1-2 Tbsp of topping on each muffin, pressing in slightly. Try not to spill excess on pans.

Bake in a 350 degree preheated oven. Recipe makes 2 dozen jumbo muffins, or 4 dozen regular sized. These muffins freeze very well. Bake jumbo muffins for 27-30 minutes, and regular sized for 22-25 minutes.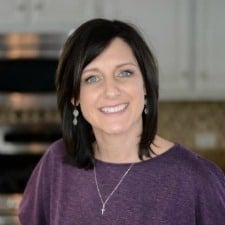 Aimee is a dessert lover (specifically rice krispie treats), workout enthusiast, self-taught foodie, and recipe creator. Her recipes have been featured in over 15 magazines, and her passion is to share her love of cooking with the everyday home cook! Learn more about Aimee.