This easy muffin recipe is perfect for Christmas breakfast or all year round! Cranberry Muffins with a hint of orange and a crumb topping are just like your favorite coffee shop baked goods but even better.
What's a more quintessential holiday breakfast pastry than a Cranberry Orange Muffin? Okay, maybe cinnamon rolls. I'll give you that.
But there are times when you want a seasonal pastry that's a little less sweet with something tart to get you going in the morning. These Cranberry Muffins are just the thing.
You can make this easy muffin recipe for Christmas breakfast, holiday parties, morning meetings or anytime you want to put a smile on someone's face. If you only make ONE muffin recipe this holiday season, make it Cranberry Orange Muffins!
How to Make Cranberry Muffins
Cranberry orange muffins from scratch start with fresh cranberries and a batter made with instant vanilla pudding mix for a soft and fluffy texture.
To get the orange flavor, you add in orange extract and orange zest.
Never zested an orange before? It's easy! Use a microplane or box grater to grate off the very outermost part of the orange's peel. You want to get just the orange colored part not the white peel. The zest adds that burst of real citrus flavor that helps make these muffins so irresistible.
Pour the batter into muffin tins, add crumb topping if desired and bake! Sit back and enjoy while your kitchen fills with the aroma of freshly baked cranberry muffins.
Crumb Topping
While the crumb topping is technically optional and the muffins still taste wonderful without it, it's such an easy way to add even more delicious orange flavor and a bit of crumb to your homemade muffins.
How to make crumb topping for muffins:
Mix together more orange zest with butter, brown sugar, flour and quick oats. Spoon a bit of topping over each muffin before baking. Use your hand to gently press the crumb topping into the batter so it stays in place.
Try not to spill any excess crumb on to the tin. If you do accidentally leave a little on the edges of the pan, use your hand or a paper towel to remove it so it doesn't burn to your muffin tin.
After baking, let the muffins cool for a few minutes in the pan, then remove them to complete cooling. These are delicious served warm or at room temperature!
How to store
Homemade Cranberry Orange Muffins keep well in an airtight container at room temperature for about 3 days. They taste freshest if served within 24 hours of baking.
These muffins freeze well, too! Store in a freezer bag in the freezer for up to 3 months. Thaw at room temperature or warm in the microwave before serving.
Tips and Tricks
You can use this recipe to make jumbo muffins, regular sized muffins or mini muffins. For Jumbo Muffins, bake 27 – 30 minutes. For regular muffins, bake 22 – 25 minutes. If making mini-muffins, bake for 15 – 20 minutes or until a toothpick inserted into the center of one muffin comes out clean.
This recipe makes 2 dozen jumbo muffins, 4 dozen regular muffins and about 6 dozen mini-muffins. Feel free to freeze whatever your family can't eat within a few days!
I used vanilla sugar in this recipe for more aroma and flavor. Granulated sugar works just fine as a substitute, too.
Make sure to use regular vanilla pudding mix (not the sugar free kind) in this recipe.
Christmas Breakfast
A basket of warm muffins with mugs of coffee and hot cocoa will make your family so happy while they open their presents Christmas morning!
Cranberry Orange Muffins are also a welcome addition to the Christmas brunch or breakfast table alongside other dishes. Serve these with Egg Casserole and crispy bacon for a Christmas breakfast feast!
A batch of homemade muffins is also a wonderful hostess gift or teacher gift this time of year.
More easy muffin recipes
Baking muffins is so wholesome to me–they're usually easy enough for even the most beginning home bakers to make and the kids can help with them too.
Because they freeze and store so well, and are appropriate for just about any occasion, you can never have too many muffins around. If you like these Cranberry Orange Muffins, you'll also love these other easy muffin recipes:
Cinnamon Breakfast Muffins – Dusted with cinnamon sugar, these muffins are so simple but so good, especially if you love warm seasonal spices.
Pumpkin Donut Muffins – Is it a donut? Is it a muffin? It's both. Pumpkin muffins with a donut twist are a popular Thanksgiving breakfast choice.
Bakery Style Blueberry Muffins – Another classic muffin bursting with real blueberries is a family favorite!
Skip the stop at the coffee shop and make your own delicious Cranberry Orange Muffins right at home! Whether you eat them now or freeze for later, these muffins are always a hit.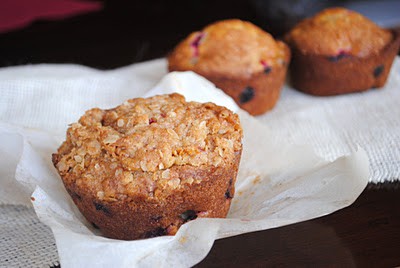 Cranberry Orange Muffins
Ingredients
For the muffins:
1 cup butter, softened
2 cup vanilla sugar (or gran.sugar)
4 eggs
1/2 tsp orange extract
1 orange, zested
3 cup flour
1 tsp baking soda
1/2 tsp baking powder
1/2 tsp kosher salt
3.4 oz pkg instant vanilla pudding (not sugar free)
1 cup milk (I used skim)
12oz fresh cranberries
For the topping:
1/2 cup quick oats
1/4 cup butter, softened
1/2 cup brown sugar
1/4 cup flour
1 orange, zested
Instructions
For the muffins, cream butter and vanilla sugar for about 3 minutes. Add eggs, one at a time. Beat in orange extract and zest (about 1 tsp zest).

In separate bowl, mix flour, baking soda, baking powder, salt and pudding mix.

Add milk and flour mixure alternately, about 3 additions of each. Fold in cranberries.

For the topping, mix all ingredients with a fork until crumbly. Set aside.

Grease or line muffin tins, fill them 3/4 full if not using the topping, and a little less if putting the topping on the muffins. If using the crumb topping, sprinkle 1-2 Tbsp of topping on each muffin, pressing in slightly. Try not to spill excess on pans.

Bake in a 350 degree preheated oven. Recipe makes 2 dozen jumbo muffins, or 4 dozen regular sized. These muffins freeze very well. Bake jumbo muffins for 27-30 minutes, and regular sized for 22-25 minutes.