Looking for an easy breakfast idea that's good for you too? Morning Glory Muffins have a moist sweet crumb filled with nuts, fruit and orange zest. Quick and healthy muffins never tasted so good!
Our readers are obsessed with these delicious Blueberry Muffins if you want to try something classic. Or give these Cranberry Orange Muffins a try for breakfast!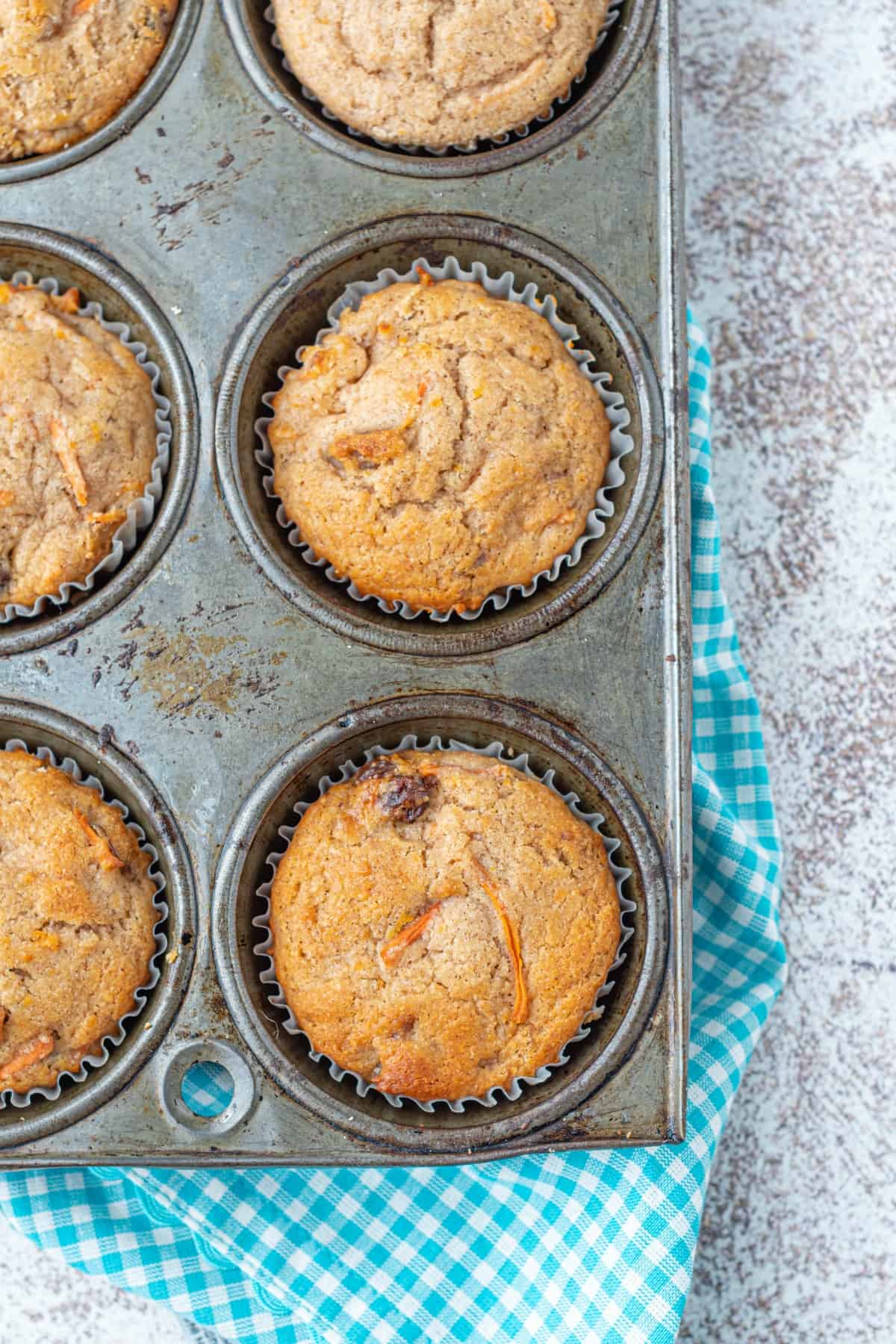 Healthy Breakfast Muffins
We all need a little something to get us going in the morning. For me, a cup of coffee (extra strong, please) is a must. I also like a breakfast that's going to give me energy without weighing me down!
Morning Glory Muffins do the trick. Packed with real apples, cinnamon and a hint of citrus flavor, these muffins aren't just healthy–they taste amazing!
Pecans give the treats a little extra protein and crunch while Greek yogurt in the batter makes them extra moist. Everyone loves a hearty fruit and nut muffin!
Grab one on the go on those busy mornings or add them to your weekend brunch menu. With muffins this delicious AND filled with good-for-you ingredients, you can't go wrong!
Ingredient Notes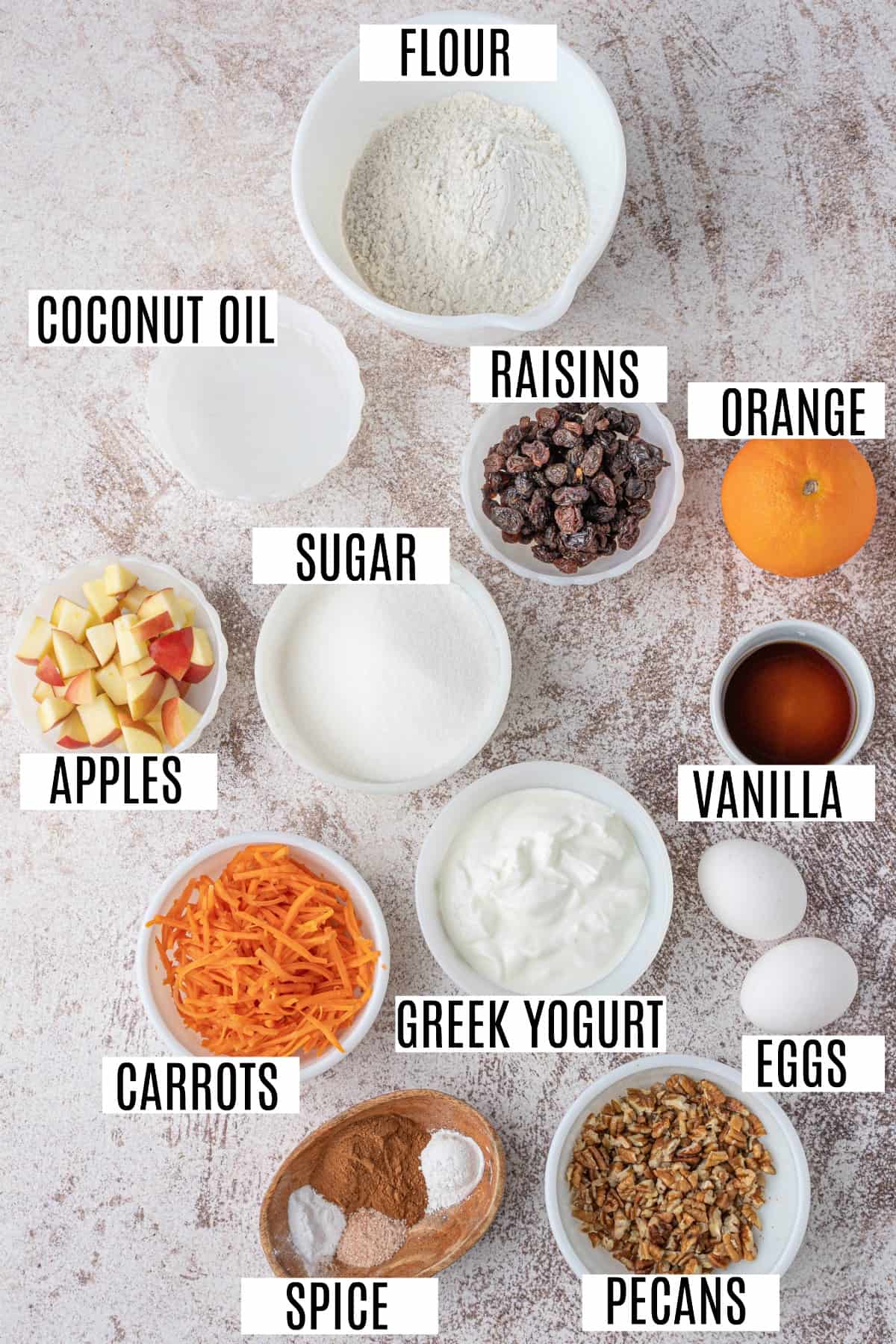 Flour- All-purpose flour works well, but if you want it a little healthier, whole wheat flour and/or sprouted wheat flour works great too (I would blend the whole wheat with the sprouted wheat for best results.)
To sub with gluten free flour mix: Cup for cup works perfect, but you'll need to increase the yogurt to 1 1/2 cups (instead of 1 cup) and the coconut oil to 1 cup (instead of 1/2 cup). Adjust the bake time to 18-20 minutes. The muffins will be a little more bouncy, but delicious.
Greek Yogurt- I opted for plain full fat Greek Yogurt. You can also use a vanilla greek yogurt or even sour cream if desired.
Coconut Oil- Be sure to measure AFTER the coconut oil is melted. You can also swap it out for vegetable oil if you choose, however the coconut oil is a bit healthier.
Apples- with or without the skin is fine. I use Granny Smith, Honeycrisp, Golden Delicious or a combination of these.
Pecans- Walnuts would also taste amazing as a substitute. Toast the pecans for best flavor.
Raisins- Swap them out for craisins if you'd like a twist!
Easy Instructions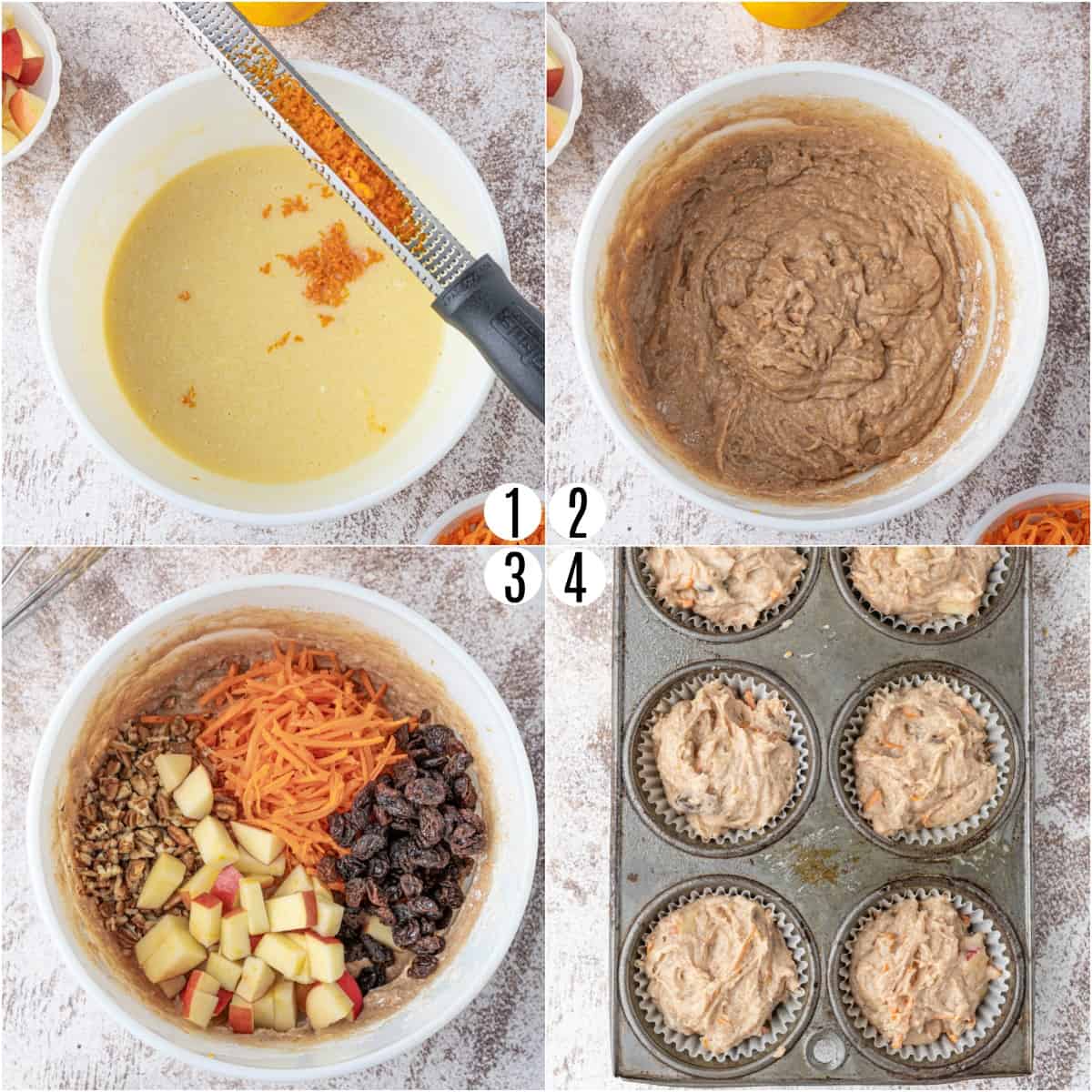 Mix the dry ingredients (except the fruit, carrots and nuts) in one bowl and the wet ingredients in another. Gradually blend the dry ingredients into the wet until just combined.
Fold in the apples, pecans, carrots, raisins and orange zest, then divide the batter into the cavities of a prepared muffin tin and bake.
The muffins are done when a toothpick inserted in the center comes out mostly clean (a few moist crumbs are okay).
Let the muffins cool for a few minutes before enjoying. They taste great warm or at room temperature.
Tips & Tricks
Butter: These taste AMAZING with a pat of salted butter on top (especially when warm).
Cupcake liners: I prefer to use cupcake liners in my muffin tin when baking these. Not only are they easier to remove from the pan this way, they're also so easy to serve and eat on the go! If you don't have liners you can still make these morning glory muffins; just be sure to spray the tin with baking spray first.
Storing: Keep the muffins in an airtight container to maintain freshness. They'll stay good for 3 -4 days.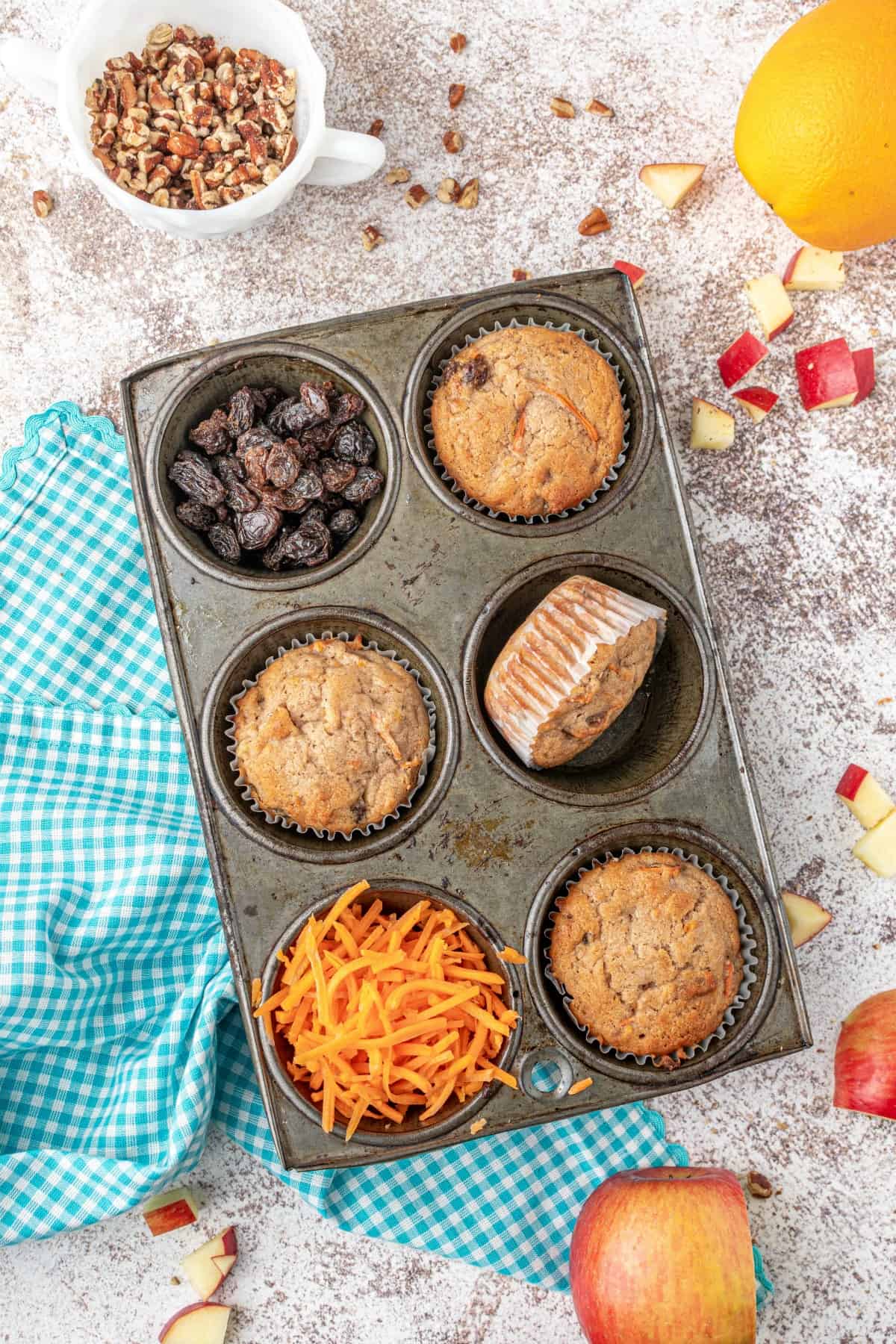 Recipe FAQs
Can you freeze Morning Glory Muffins?
Yes, Morning glory muffins will keep well in the freezer for up to 3 months.
Can morning glory muffins be made gluten free?
Gluten free flour mixes work well in this recipe, but be sure to add half a cup more coconut oil and Greek yogurt.
Can you make these without sugar?
I haven't tested the recipe with sugar substitutes; the muffins need a little added sugar for sweetness and flavor!
Do you need to peel the apples first?
It's up to you. I've made these muffins using peeled and unpeeled apples and didn't notice a difference in taste or texture.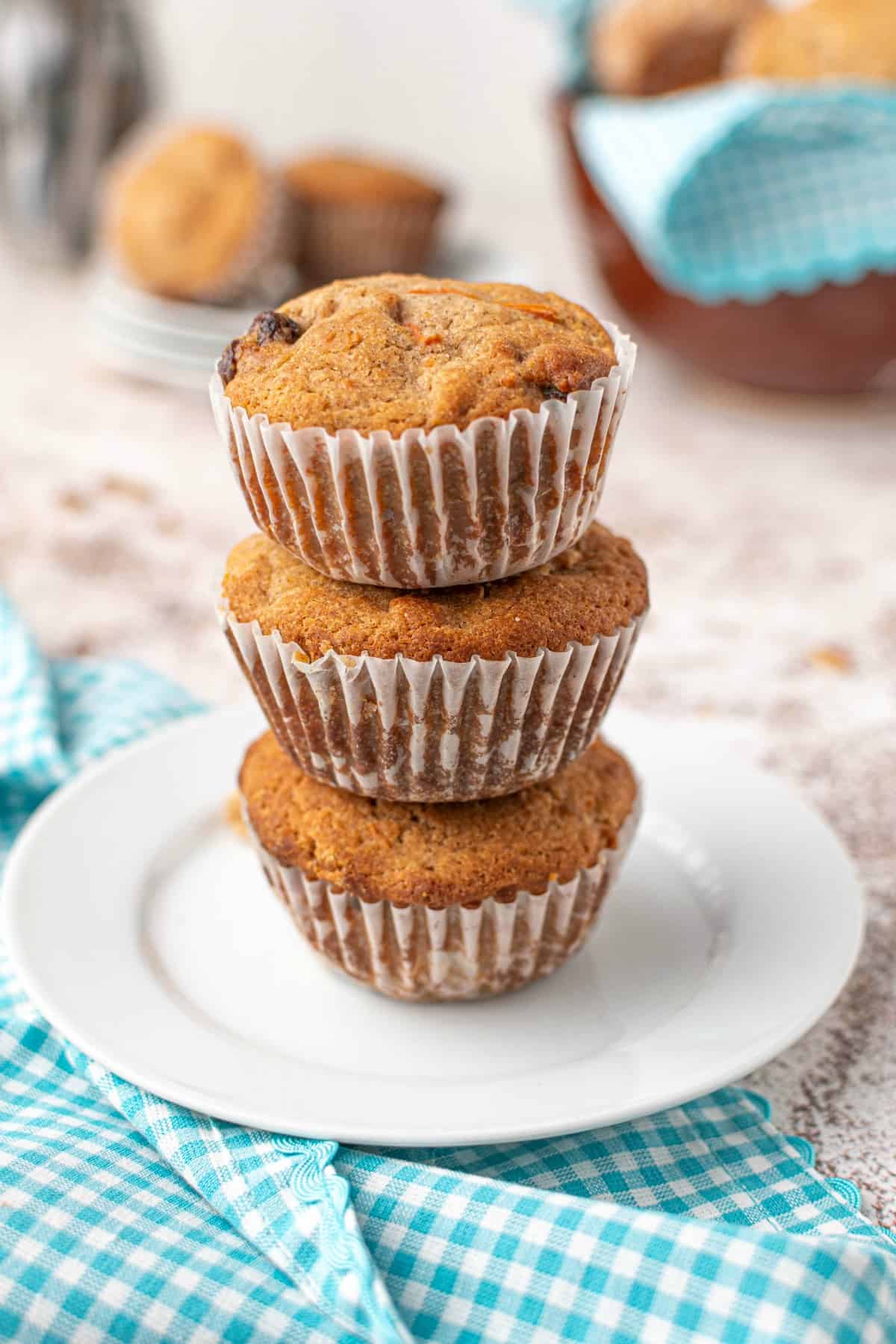 Morning Glory Muffins make mornings better. Get these muffins in the oven, brew yourself a pot of coffee and have a healthy start to your day!