Bite sized Pumpkin Donut Muffins! Roll your baked pumpkin mini donuts in butter and cinnamon sugar for a bite sized breakfast treat no one can resist.
Everyone loves pumpkin for breakfast, right? Be sure to give our Pumpkin Streusel Donut recipe a try next! Or bake up a batch of Starbucks Pumpkin Scones. Both are freezer friendly!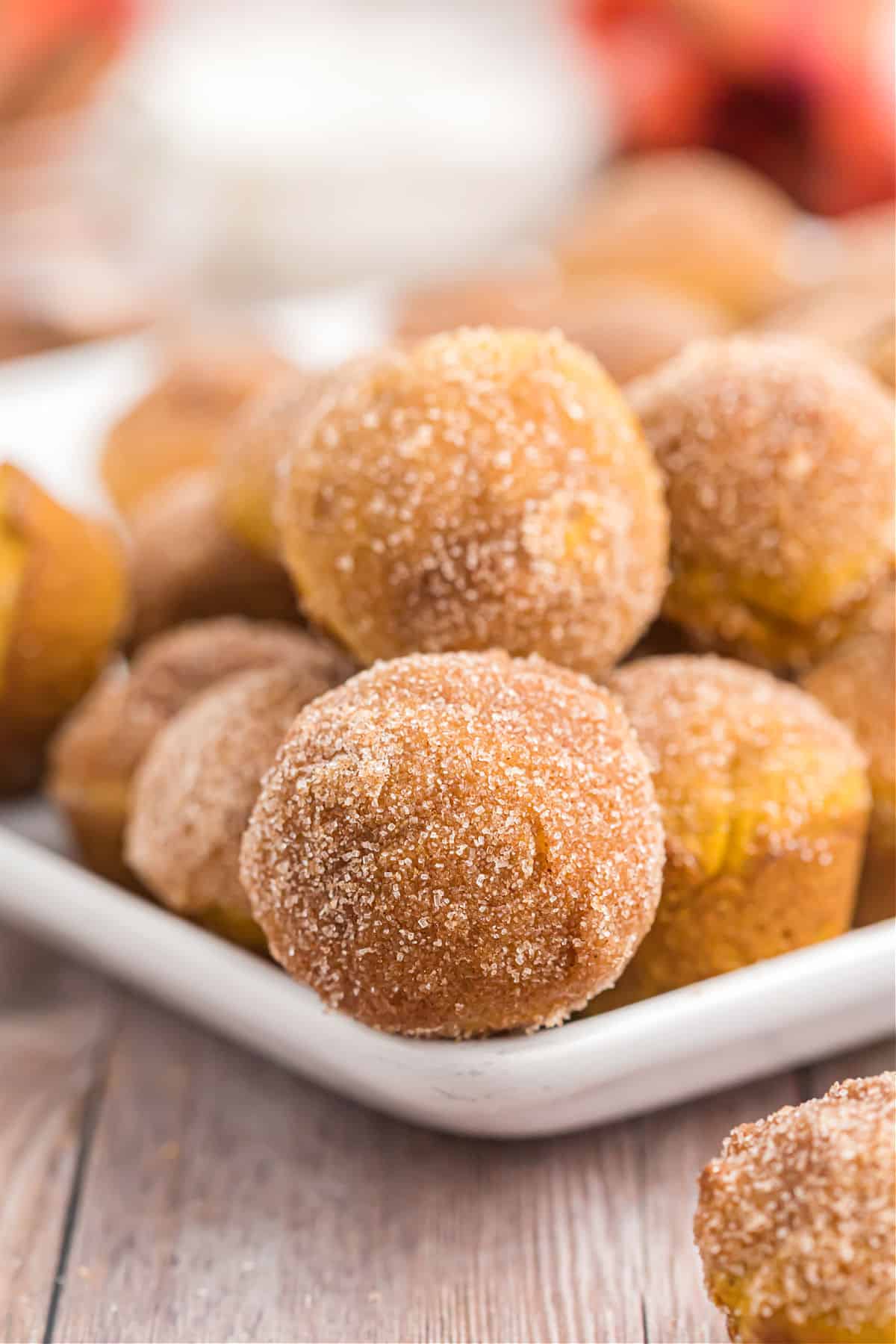 Why this recipe works
When you can't decide between donuts and muffins, this recipe gets you both!
These are baked like pumpkin muffins, conveniently bite sized like a donut hole and with a taste that stradles the line between fry cake and fluffy muffin.
They remind me of my favorite cinnamon sugar muffins only, with a pumpkin twist!
Since I'm into all things pumpkin in the fall, it was only a matter of time before I needed to make pumpkin donuts.
This recipe combines pumpkin and cinnamon sugar–my two favorite flavors to accompany my morning coffee. Pumpkin Donut Muffins freeze well too, so bake a big batch now and save some for later!
Ingredient Notes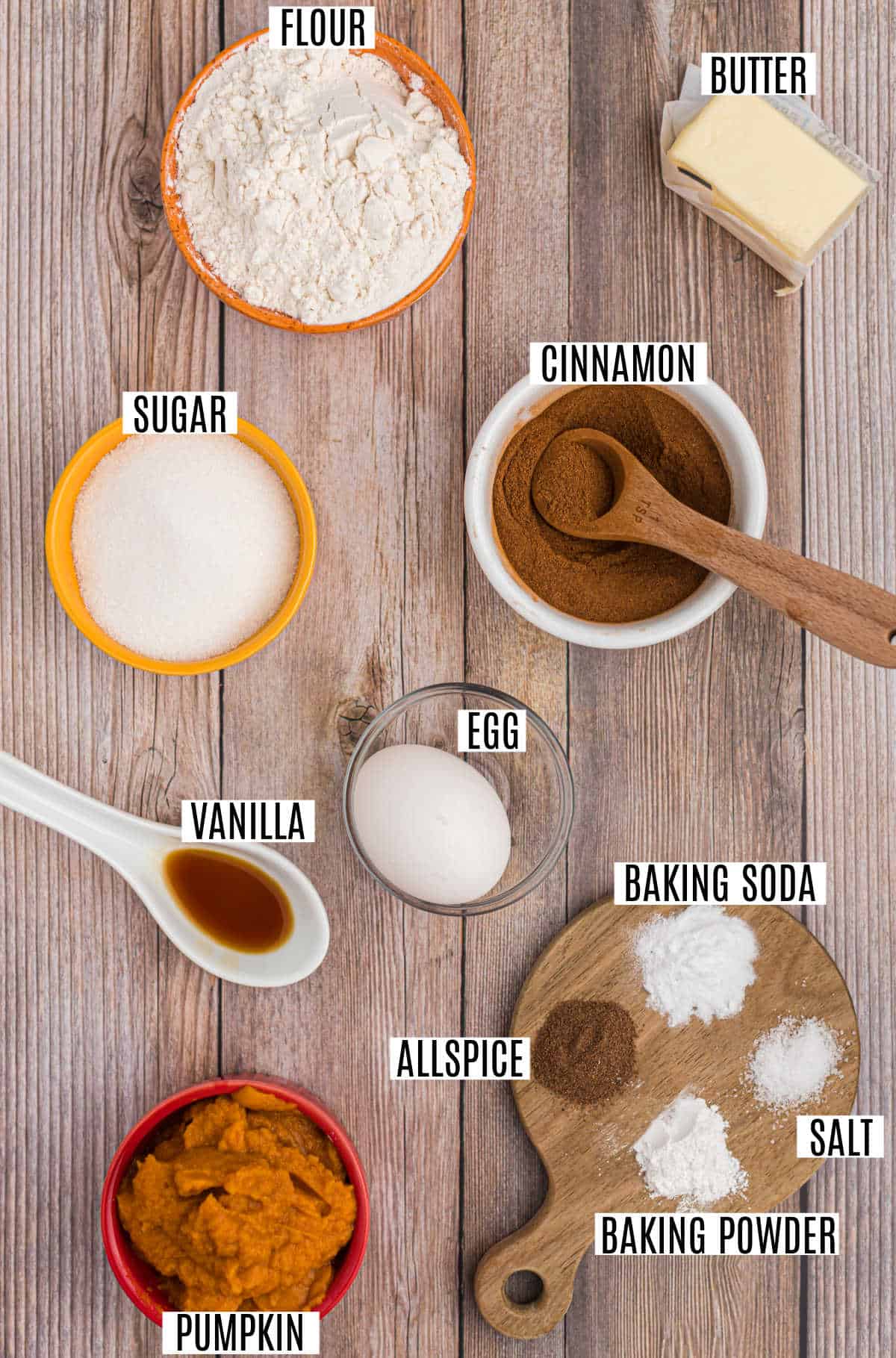 Pumpkin puree – You need real, canned pumpkin to make this recipe, NOT pumpkin pie mix.
Cinnamon – I use both ground cinnamon and allspice in the batter AND more cinnamon in the topping. You can swap it out for equal amounts of pumpkin pie spice too.
Unsalted butter – You can sub salted butter if needed, just reduce the salt in the recipe a bit to compensate.
PRO TIP- We love making our own homemade vanilla extract, but if using store bought, be sure it's pure extract, not imitation (for best flavor).
Step by Step Instructions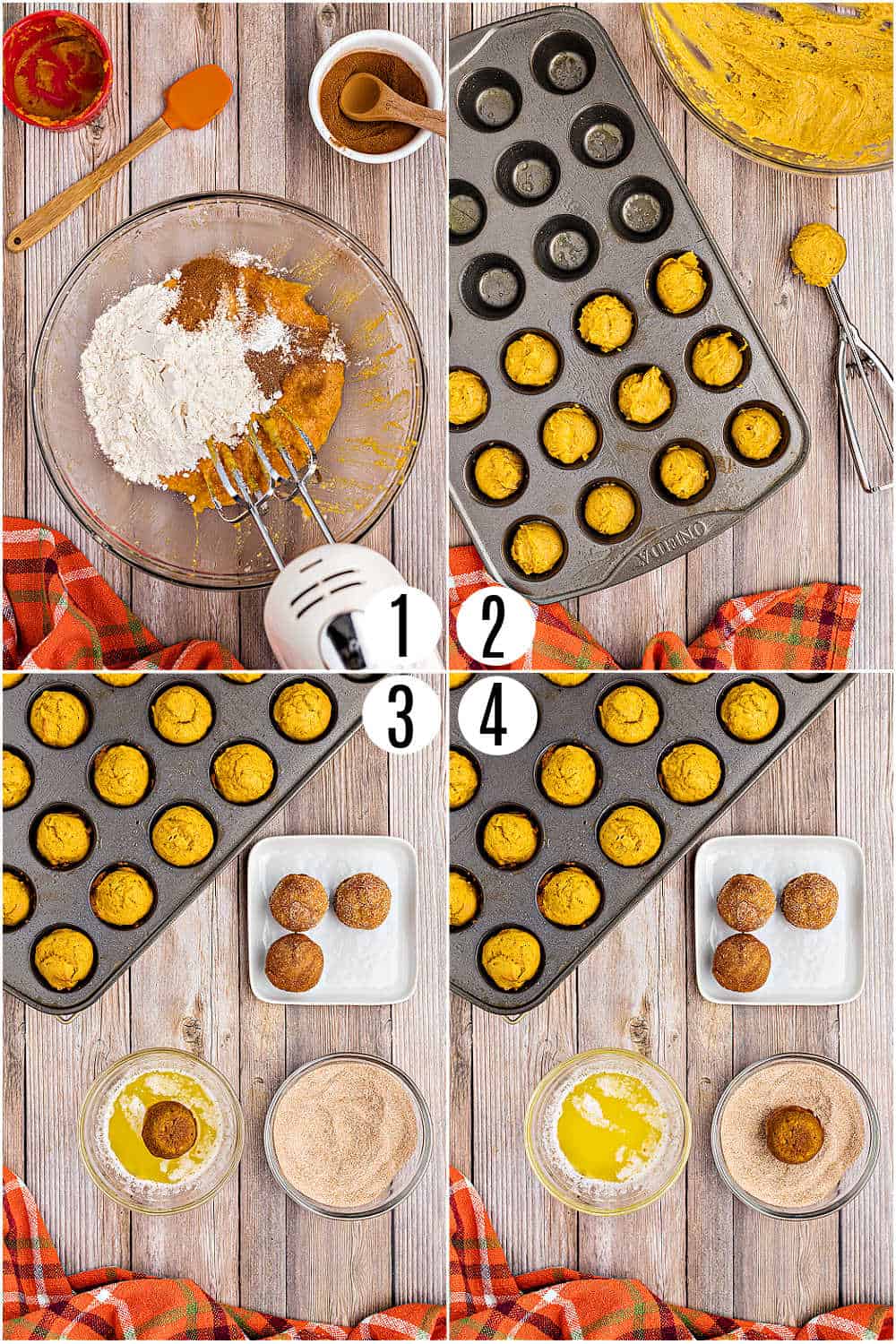 Make the muffin batter. Beat butter and sugar until it's creamy, then add the egg, vanilla and pumpkin puree. Add the dry ingredients and blend to combine.
Bake. Fill the cavities of a greased mini muffin tin about half way full. Bake for 10 minutes, then remove the donuts to cool.
Roll in cinnamon sugar. Combine cinnamon and sugar on a plate. Roll the cooled donuts in melted butter, then dip them into the cinnamon sugar, rolling to coat completely.
Enjoy immediately or store in an airtight container. . . or freeze in a ziploc bag! These are so delicious with your coffee in the morning but just as good as a snack or a party food.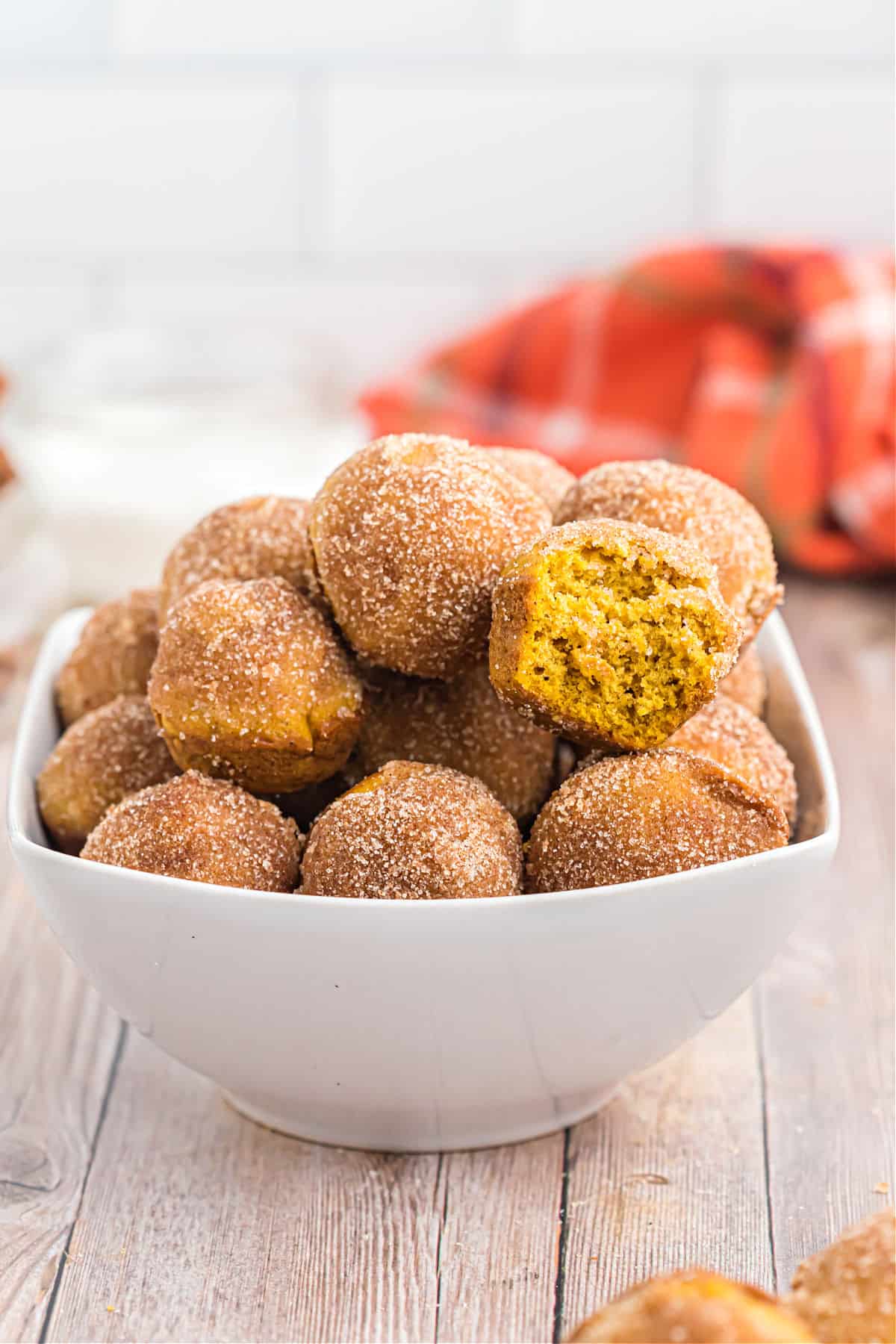 Recipe FAQs
Can these be made as regular muffins?
Yes! If using a regular muffin tin, double the recipe and fill the cavities about 2/3 of the way full to get a rounded muffin top that you can dip in melted butter and cinnamon sugar. You'll need to add a few minutes of baking time, too.
How do you get round mini-muffins?
I use a tablespoon cookie scoop to measure a precise amount of batter into each mini muffin tin. You only want to fill them up HALF the way so they'll come out with a flat bottom and nicely round on the sides and top.
How long can you keep donut holes in the freezer?
If you're freezing the donut holes, they should stay good for up to 3 months. Pull them out of the freezer to thaw at room temperature the night before.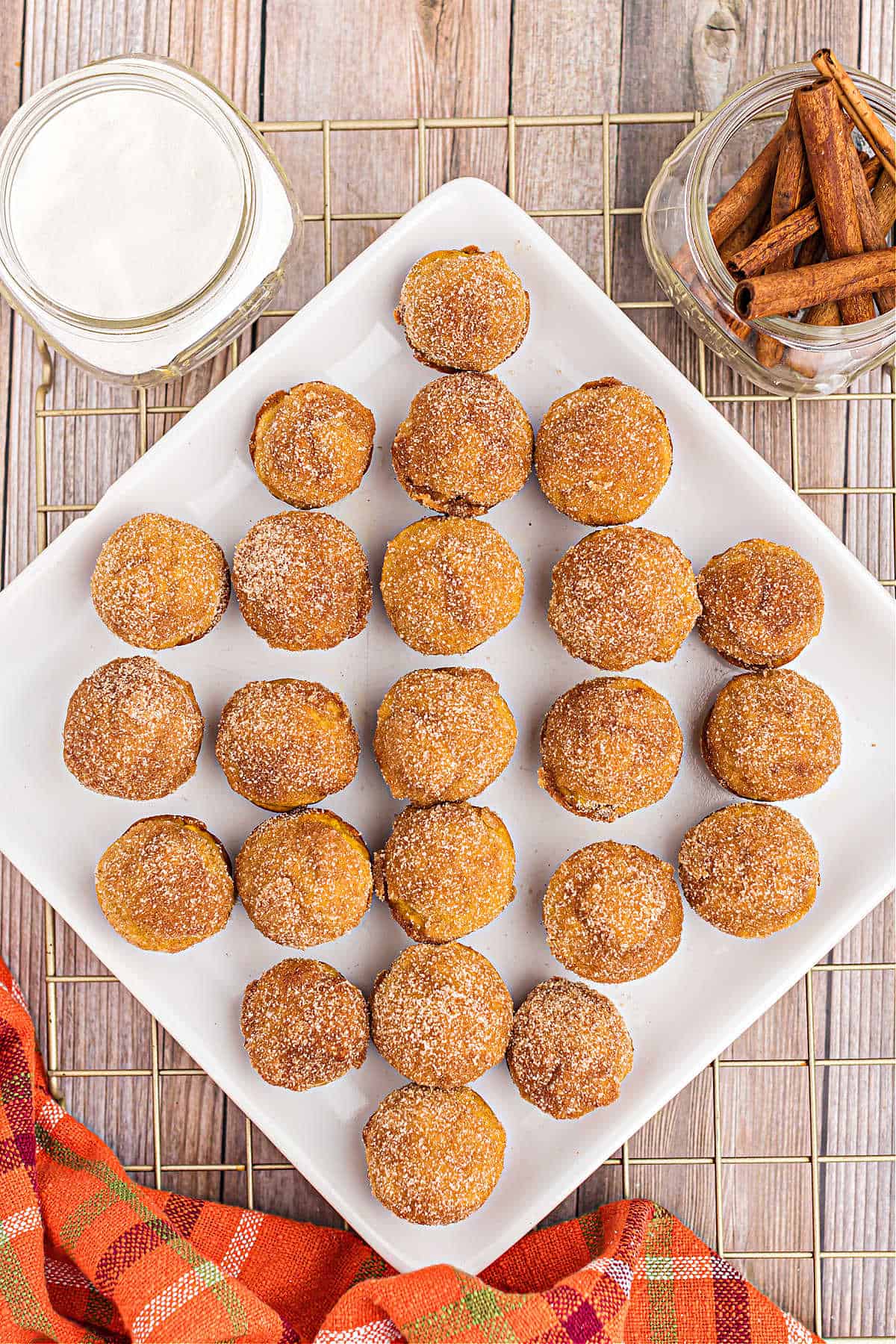 More Breakfast Recipes
Part donut, part muffin, this Pumpkin Donut Muffins with cinnamon sugar are a fall favorite.