Delicious and easy, these Cinnamon Streusel Zucchini Muffins are packed with flavor. From the perfect zucchini muffin recipe to the crunchy streusel topping and sweet cinnamon glaze, these are a wonderful treat for breakfast or dessert!
Looking for more zucchini recipes? These Chocolate Zucchini Brownies are a must-try. Or make a loaf of Crunchy Streusel Zucchini Bread instead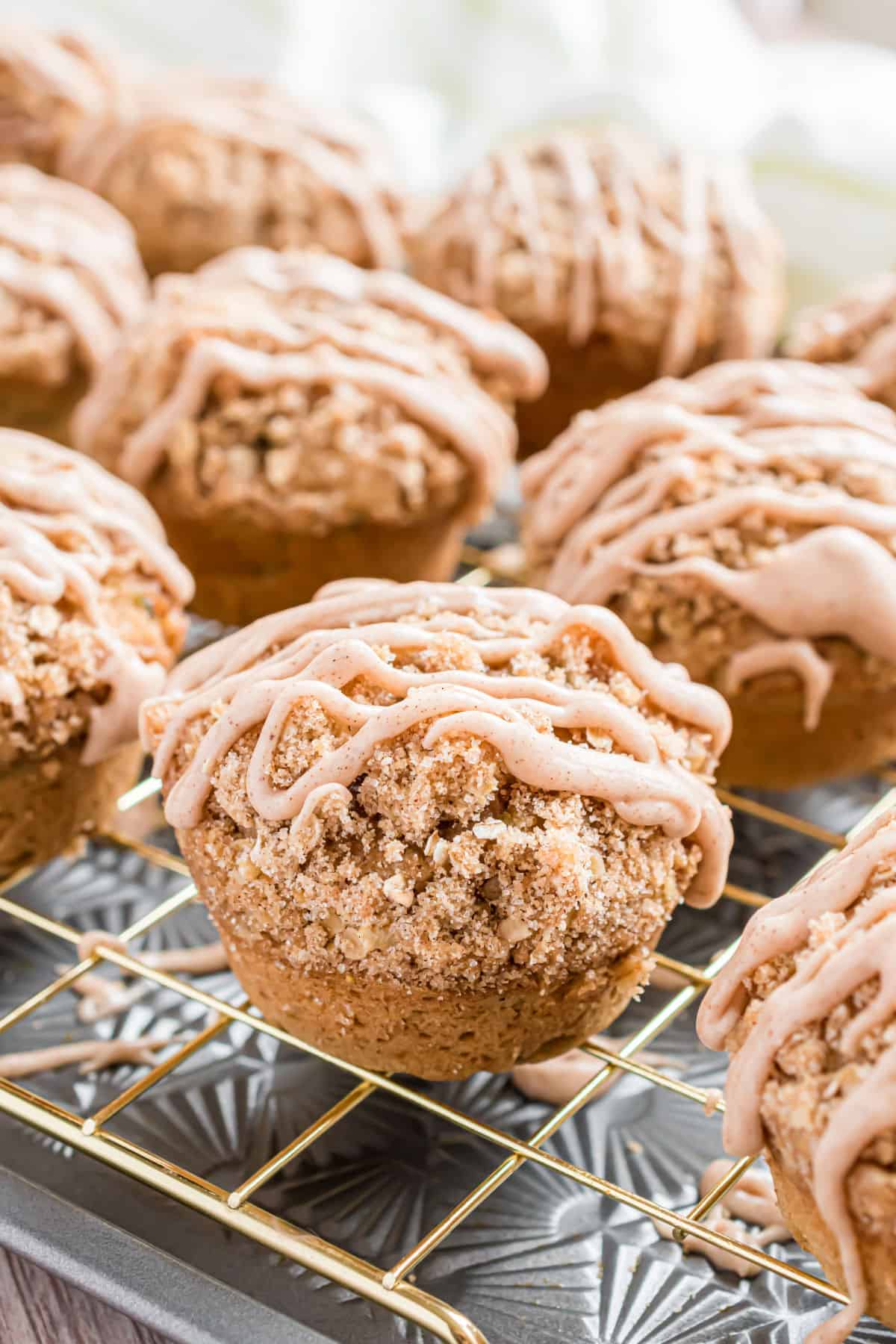 Why These Muffins are Best
Getting out of bed is easy when I know we'll be enjoying these fluffy, moist, cinnamon-packed muffins with our coffee.
This recipe takes a delicious zucchini muffin recipe and makes it even better by adding a a streusel crumb topping and icing!
Moist, tender crumb.
Packed with cinnamon sugar flavor.
Crunchy streusel topping.
Topped with a perfect cinnamon glaze.
Freezer friendly recipe.
Easy breakfast muffins made from scratch!
If you love adding shredded zucchini to your sweets, be sure to try our easy zucchini cookies next. Or give our chocolate chip zucchini cupcakes a try!
Ingredient Notes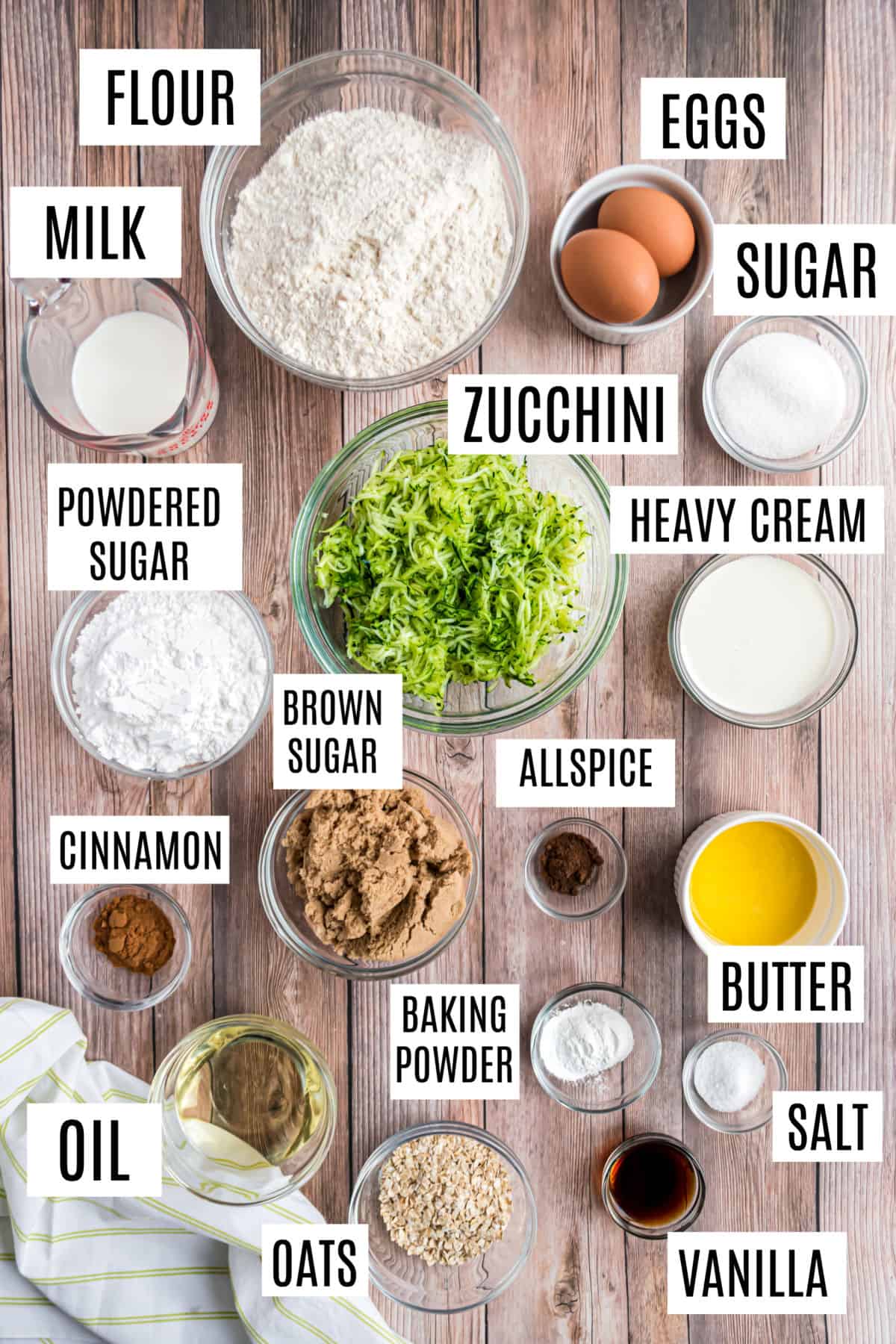 Shredded zucchini – It should be shredded a little finer than usual for this recipe. Check out all my tips for shredding zucchini!
Vegetable oil and butter – We use both kind of fats in the batter to create muffins that are soft, yet dense, and have a buttery flavor.
Cinnamon and Allspice – A half-teaspoon of allspice complements the cinnamon for a more complex cinnamon-spice flavor.
Oatmeal – Make sure to use quick cooking oatmeal for the topping. The finer texture of the oats is best for making the crunchy streusel crumb.
PRO TIP- We love making our own homemade vanilla extract, but if using store bought, be sure it's pure extract, not imitation (for best flavor).
Easy Instructions
First, get your muffin tin ready. Spray each well in the pan with baking spray. Preheat your oven to 400°F.
Make the muffin batter. Combine the shredded zucchini and all your wet ingredients in a mixing bowl. Slowly mix in the dry ingredients until everything is combined.
Scoop into the muffin tin. Fill each well of the muffin pan about ⅔ full. Make sure to leave room for the streusel!
Prepare the streusel topping. Mix the ingredients together with your hands. Sprinkle the crumbly mixture evenly over the unbaked muffins. Bake muffins. These take about 14 -16 minutes to bake through. Place the muffins on a wire rack to cool completely.
Make the cinnamon glaze. Whisk together all the glaze ingredients. Drizzle over the cooled muffins.
Eat your cinnamon streusel zucchini muffins right away OR store them for later!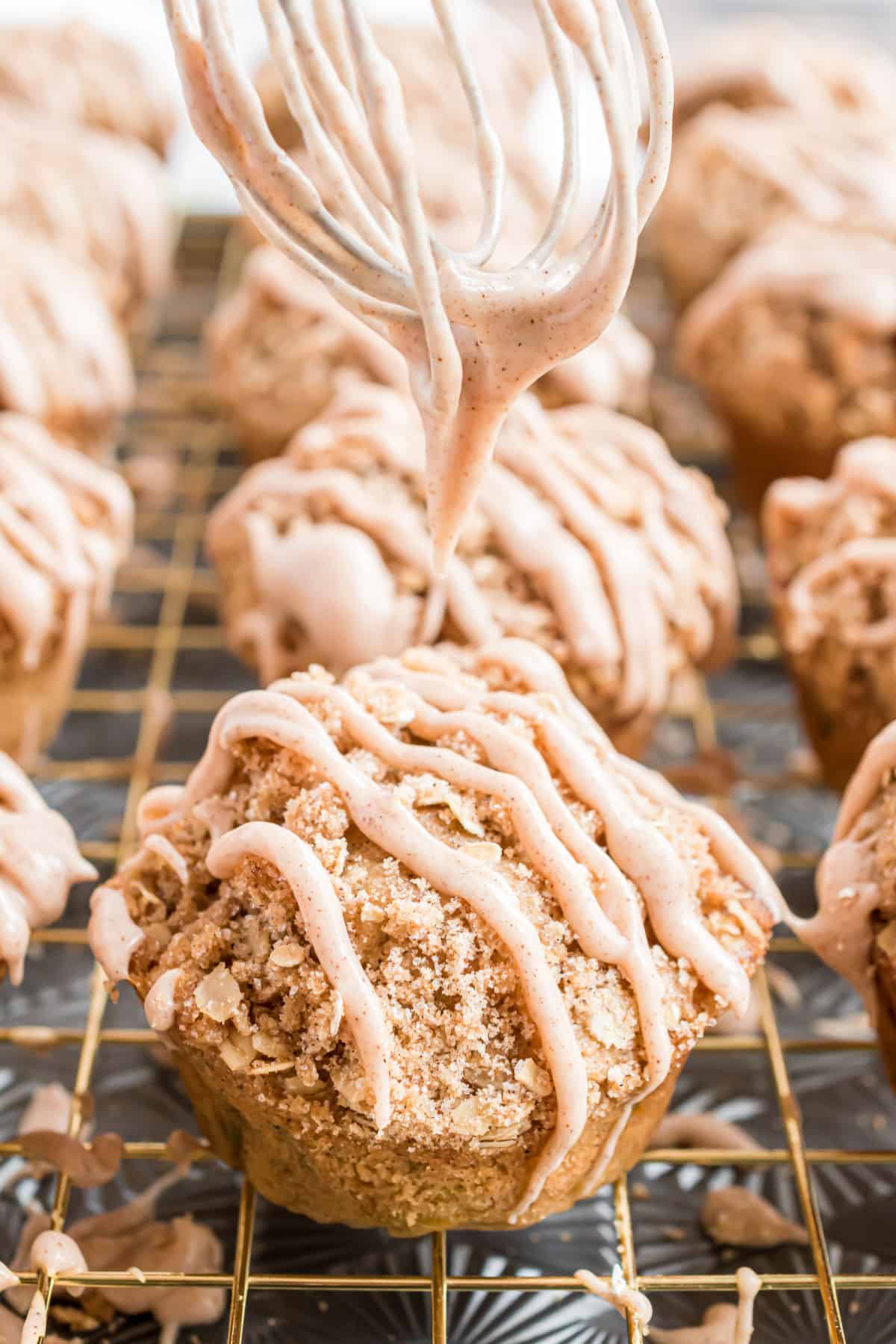 Tips and Tricks
If the glaze looks too thick to pour, add a little more heavy cream, a teaspoon at a time, until you get the perfect consistency.
Store glazed cinnamon streusel zucchini muffins in an airtight container for up to 3 days.
These muffins freeze beautifully, too! Kept in freezer bags, they stay good in the freezer for up to 3 months.
Recipe FAQs
Should I freeze muffins with or without the glaze?
That's up to you! The glaze can be frozen right on top of the muffins. If you prefer to add the glaze fresh for a slightly neater appearance, that's a great choice too. You really can't go wrong with these muffins!
Can I make this muffin recipe with frozen zucchini?
That's a resounding YES! Cinnamon Streusel Zucchini Muffins are the perfect way to use any leftover shredded zucchini you have stashed in your freezer. After thawing the zucchini, I recommend squeezing out some of the excess liquid before adding it to the muffin batter.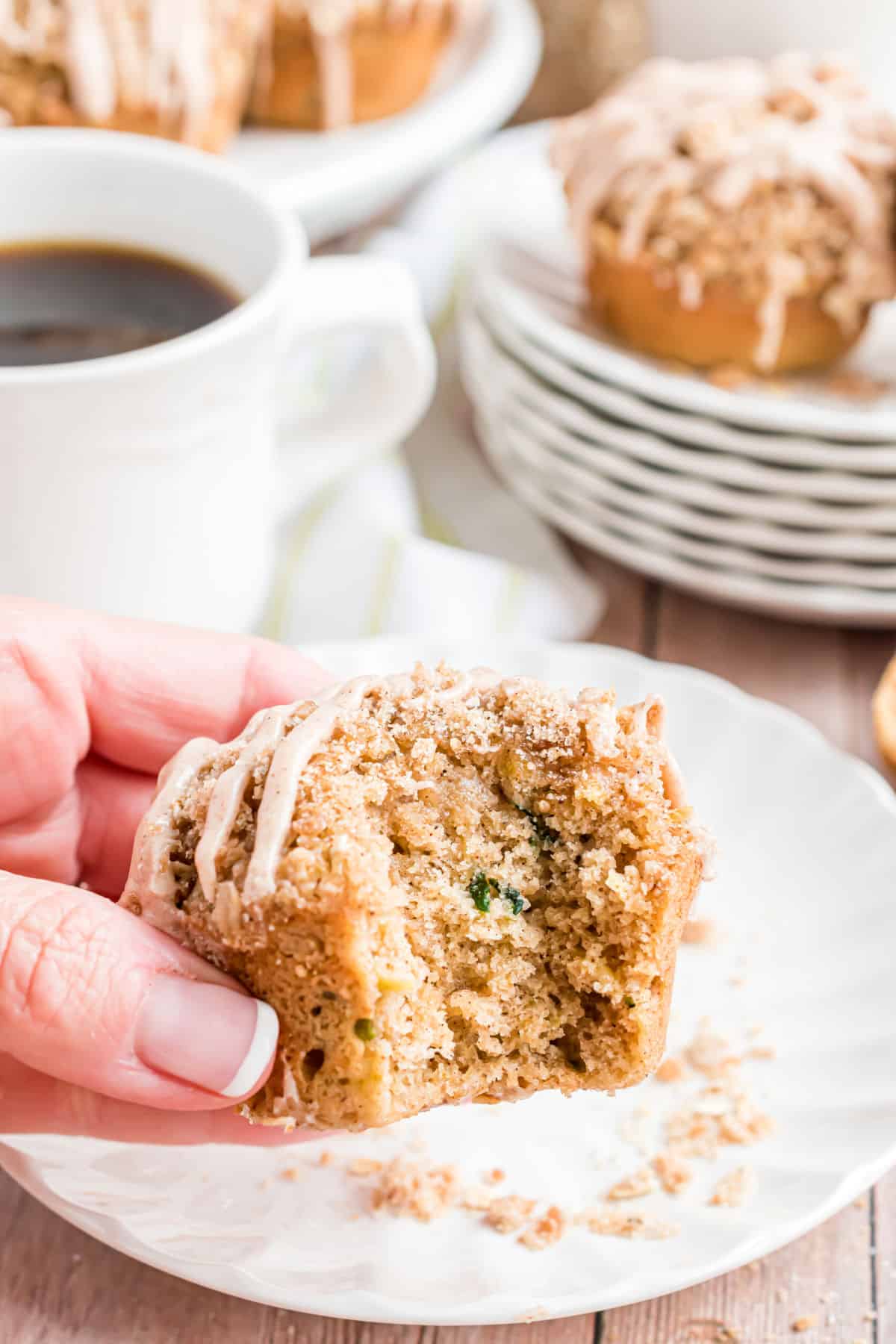 More Breakfast Recipes