Cranberry Orange Zucchini Muffins are moist and fluffy with the perfect sweet, tangy flavor. No one will suspect these glazed muffins have vegetables hiding inside!
This muffin recipe brings together two all-time favorites. Cranberry Orange Muffins meet moist Zucchini Muffins!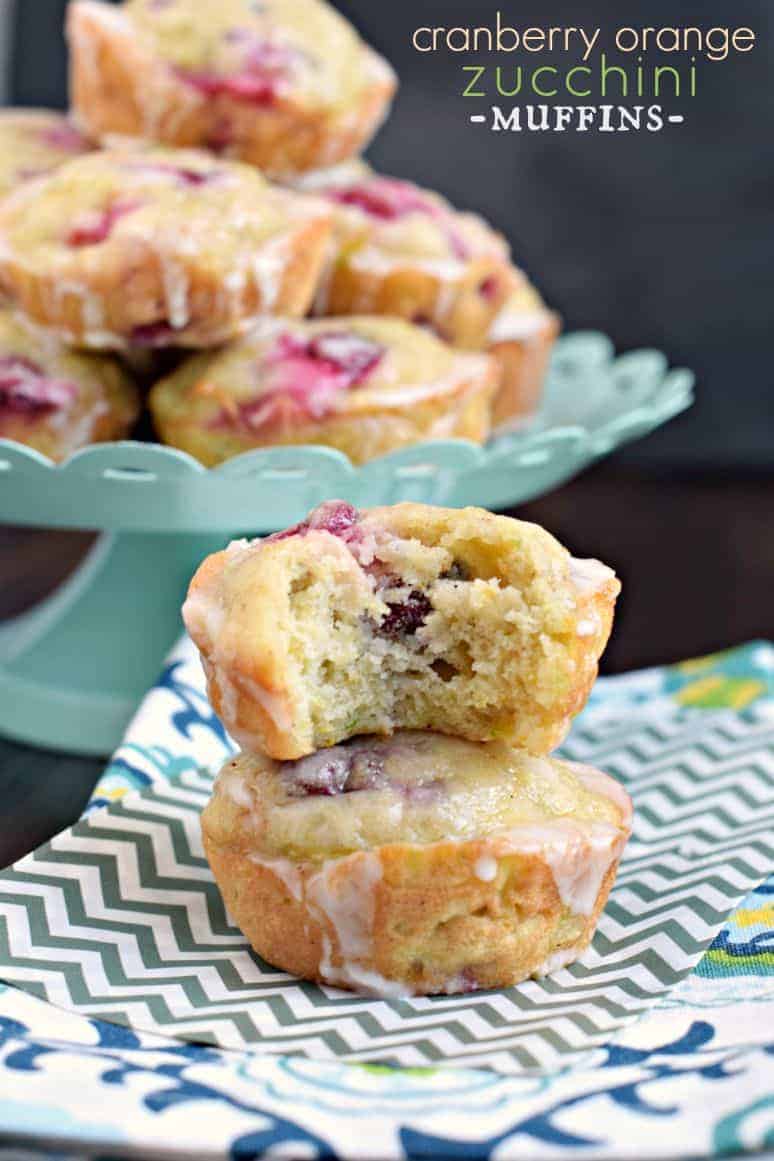 Why Make Zucchini Muffins
With all the delicious zucchini recipes out there, you might be wondering: why put zucchini in muffins?
Zucchini adds moisture and texture to muffins without affecting the flavor.
The peel of the zucchini enriches your baked goods with nutrients and color.
You'll reduce waste. Instead of throwing out unused zucchini, make a batch of muffins to eat or freeze for later!
These Zucchini muffins are bursting with cranberries and bright citrus flavor. The shiny orange glaze makes them look—and taste—every bit as delicious as a cranberry orange muffin from the bakery.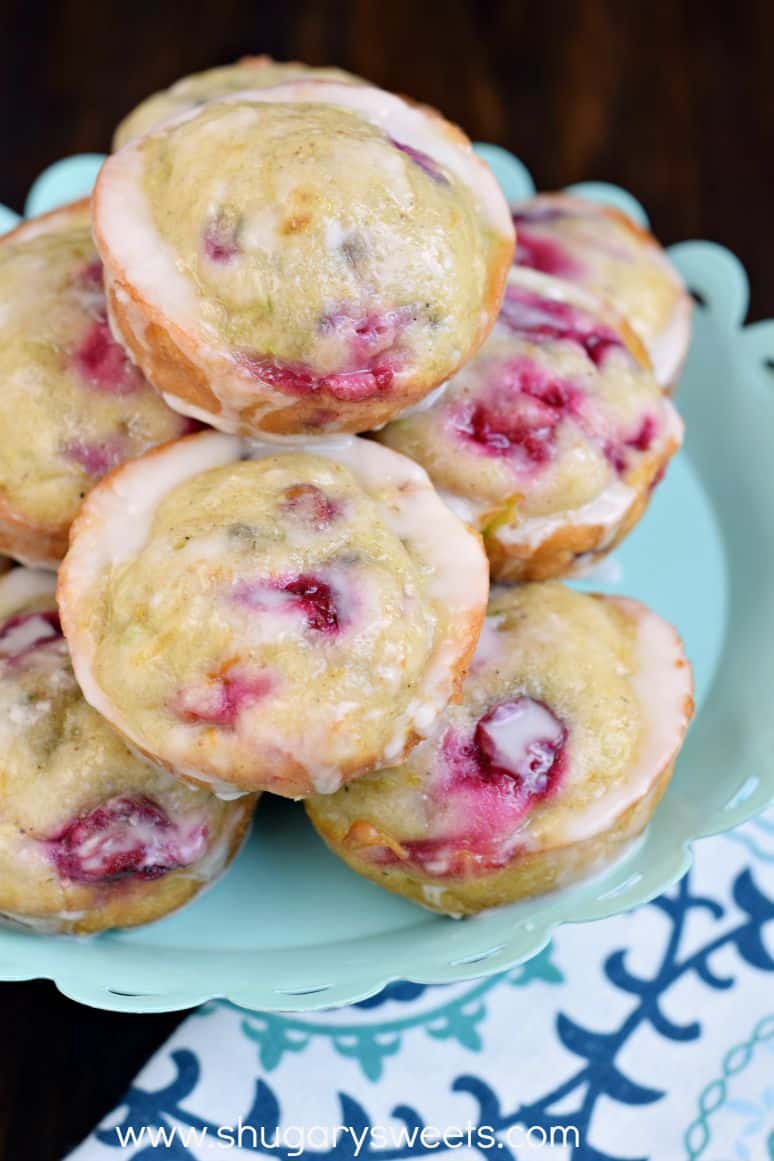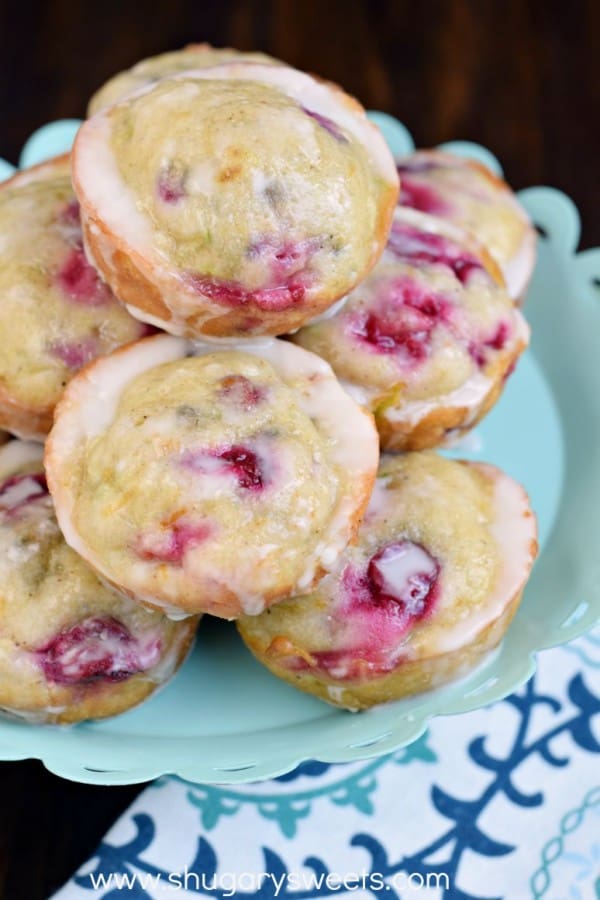 Ingredient Notes
This easy muffin batter includes all-purpose flour, sugar and unsalted butter for a rich flavor.
Baking powder – Leavens the muffins so they bake up light and fluffy.
Shredded zucchini – Makes the muffins super moist and tender. Use our guide on how to shred zucchini.
Cranberries – Frozen cranberries are best; they release more moisture as they bake for a pop of juicy texture.
Orange zest – Gives the cranberry muffins a zesty aroma and orange flavor. Get all our tips and trick on how to zest an orange.
Orange juice – Use the juice from your zested orange to make the glaze for these muffins.
Nutmeg – We use a half teaspoon of this spice to give the orange flavor more dimension without overpowering the muffins.
How to Make Muffins
These cranberry orange zucchini muffins are so easy, you can make them before you have that first cup of coffee in the morning.
STEP 1. Get everything ready. Preheat your oven and spray a muffin tin with baking spray.
STEP 2. Make the batter. Combine the dry ingredients in a large mixing bowl. Add the wet ingredients, including the zucchini, then fold in the frozen cranberries.
STEP 3. Bake. Divide the batter into your muffin tin and bake until a toothpick inserted in the center comes out clean. In my oven, this takes about 18 minutes.
STEP 4. Add the muffin glaze. Whisk together the powdered sugar and orange juice until smooth. Dip the top of each cooled muffin in the orange glaze.
Let the glaze set for a few minutes, then serve and enjoy!
Tips and Tricks
For a thinner glaze, whisk in more orange juice, a teaspoon at a time.
For a thicker glaze, add more powdered sugar until you get the consistency you like.
Store the muffins at room temperature in an airtight container. They stay moist and delicious for several days.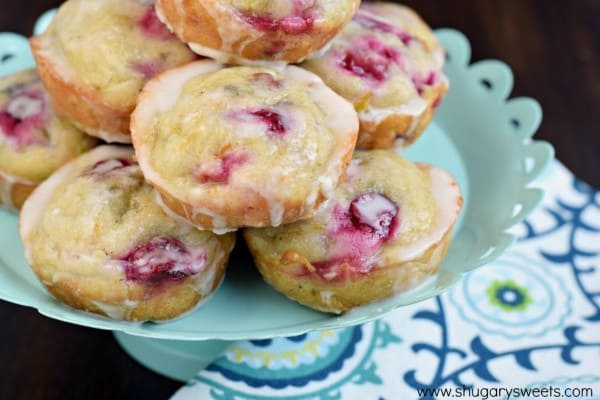 Recipe FAQ
Should I squeeze the water out of the zucchini after shredding?
You do not need to strain the water out of the zucchini before adding it to this muffin recipe. The water adds the perfect moisture to the muffin batter!
I do recommend staining shredded zucchini that's been frozen and thawed. The thawing process releases more liquid that could make the batter too runny. To strain thawed zucchini, place it in a colander over the sink and squeeze out the water with paper towels.
Can I freeze these?
Yes, you can! Cranberry Orange Zucchini Muffins are freezer friendly and you'll love having homemade muffins on hand for quick breakfasts.
Store the muffins in a single layer in freezer bags. Thaw and enjoy within 3 months for best taste.
Can I use dried cranberries?
I do not suggest using dried cranberries as a substitute for the frozen ones in this recipe. The juice from the whole frozen cranberries gives the muffins their colorful appearance and a the pop of juicy bursting cranberries when you take a bite!
More Breakfast Recipes