I've got a freezer full of these Zucchini Muffins. Try them and you'll understand why they will become your new family favorite! Easy to make, moist texture, and a hint of cinnamon and allspice.
If you love simple, classic muffins, be sure to try our highly rated Blueberry Muffins. Or whip up a batch of our blueberry zucchini muffins for another delicious zucchini breakfast treat.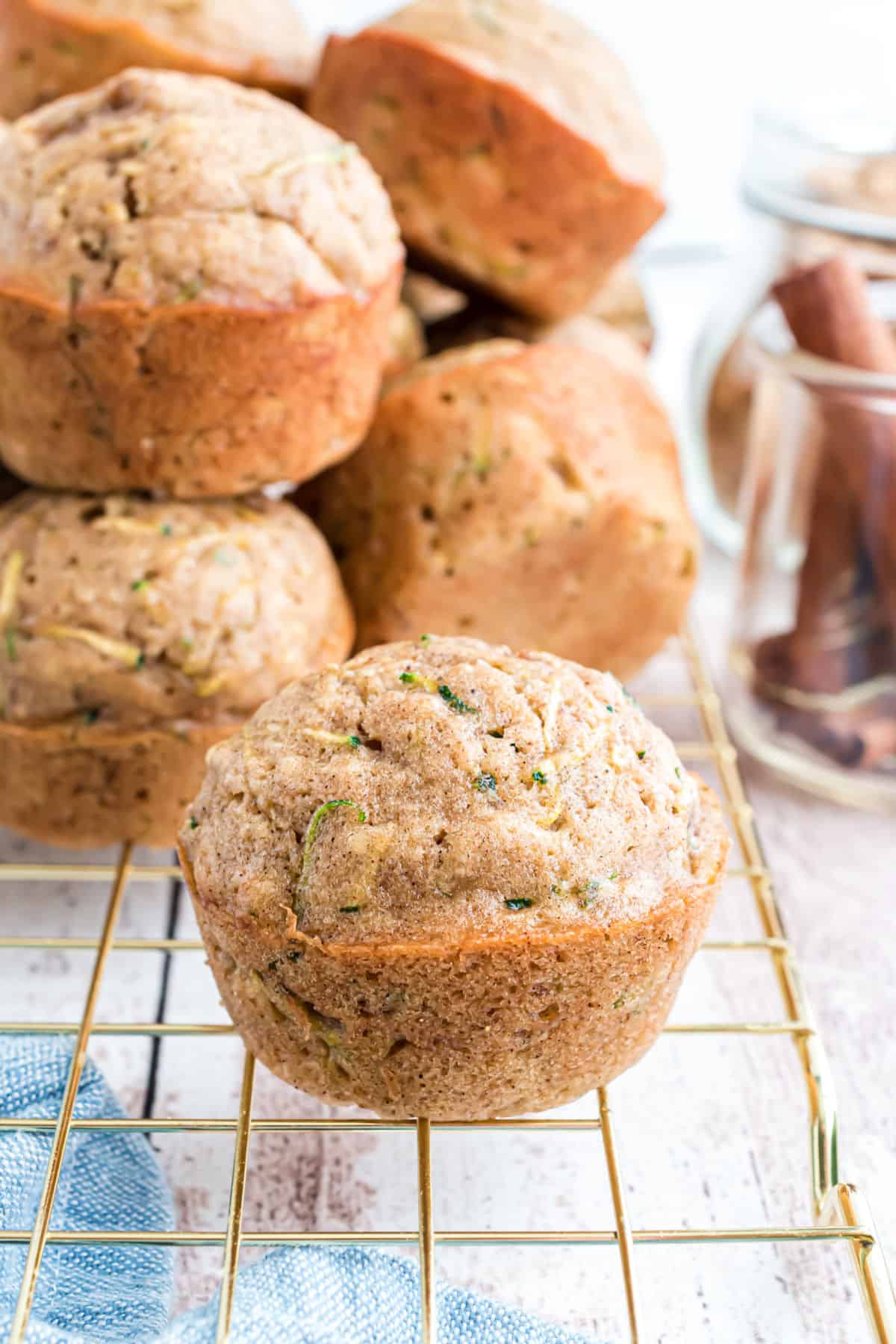 Why this Recipe Works
These zucchini muffins are one of my favorite fall treats.
I know what you're thinking…how is that possible? There is no chocolate. No icing. No frosting.
Trust me when I tell you that these muffins don't need any of that.
My kids have said these are better than any chocolate zucchini bread, zucchini cake, or zucchini brownie. #whoarethey???
I'll admit, they are pretty amazing.
Just a classic muffin with a hint of cinnamon and other fall warming spices thanks to the allspice in the recipe.
Favorite Zucchini Recipes: Zucchini Orange Muffins | Zoodles
Ingredient Notes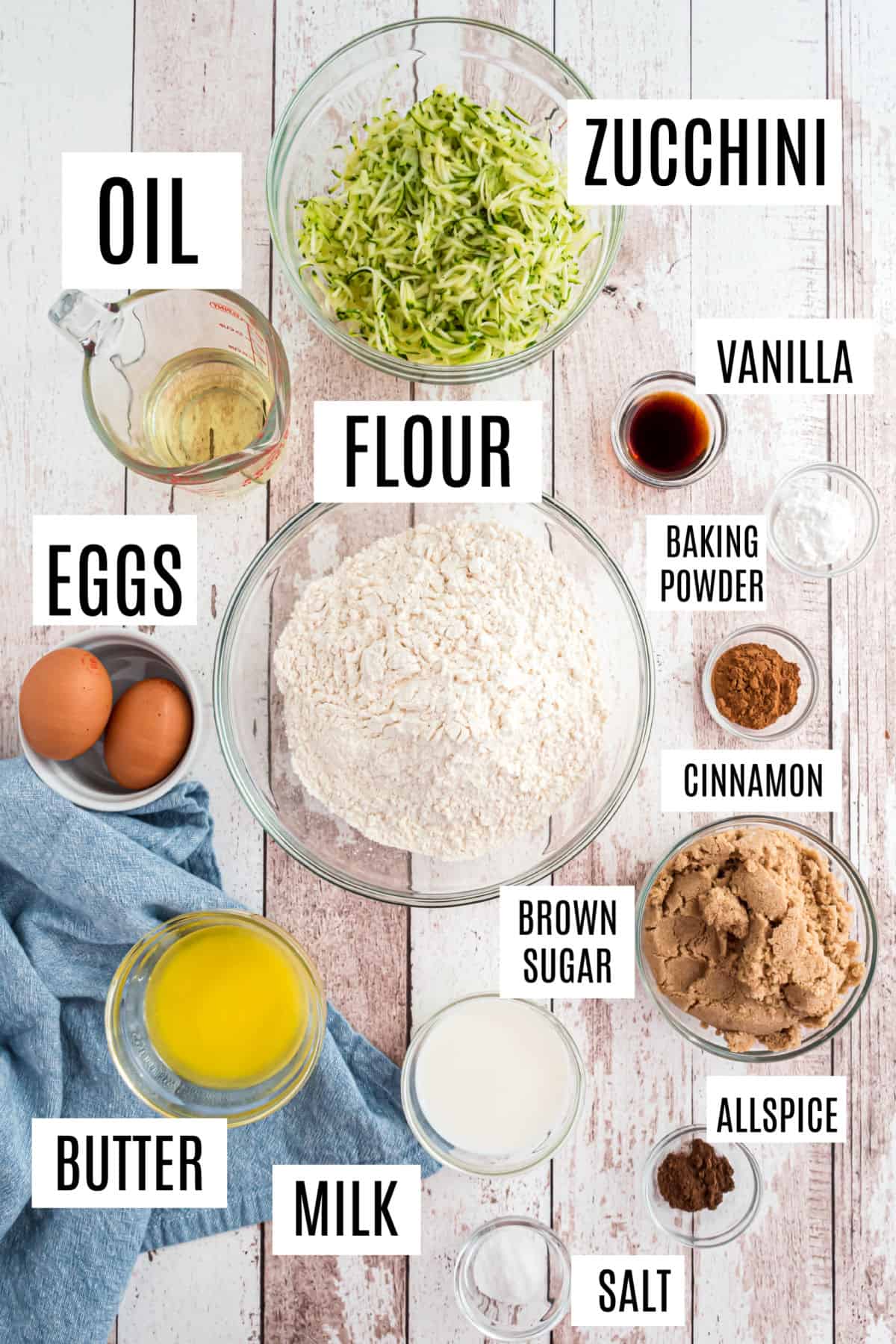 Zucchini- use our tips and tricks on how to shred zucchini for best practices. We leave the skin on, but you can peel if you prefer. Frozen zucchini will work too, just be sure to press out the extra liquid.
Liquids- using a combination of melted butter, oil, and milk results in a moist muffin with a tender crumb.
Spices- allspice and cinnamon are used to provide just the right amount of warming spices. You could also use our homemade pumpkin pie spice mix.
Sugar- brown sugar creates a deliciously rich muffin!
Step by Step Instructions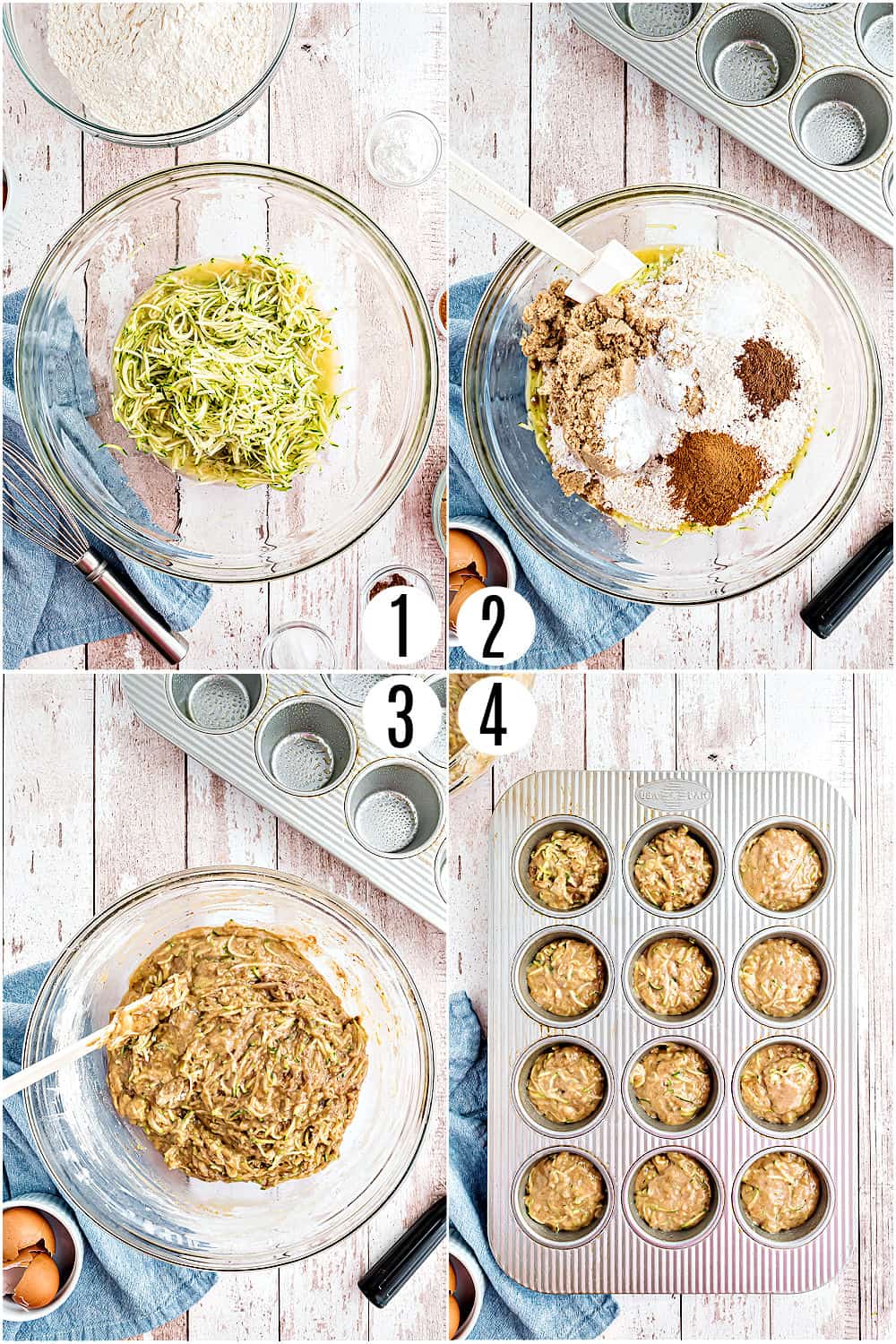 Shred the zucchini. If you want to "hide" the veggie in this muffin, peel your zucchini first. I don't mind the little pops of green color, so I skip the peeling and shred in my food processor (you can also shred by hand using a grater). If using frozen shredded zucchini, squeeze out all the excess liquid first before measuring.
Prep. Preheat oven to 400 degrees F. Spray a 12-cup cupcake tin with baking spray and set aside. No paper liners needed.
Make the batter. If your batter seems dry, let it sit for about 10 minutes to let the zucchini release moisture.
Fill and bake. Using a large cookie scoop, fill muffin tins about 2/3 full. Bake for 12-14 minutes, until a toothpick comes out clean.
Remove from pan and cool on wire rack.
Make Zucchini Bread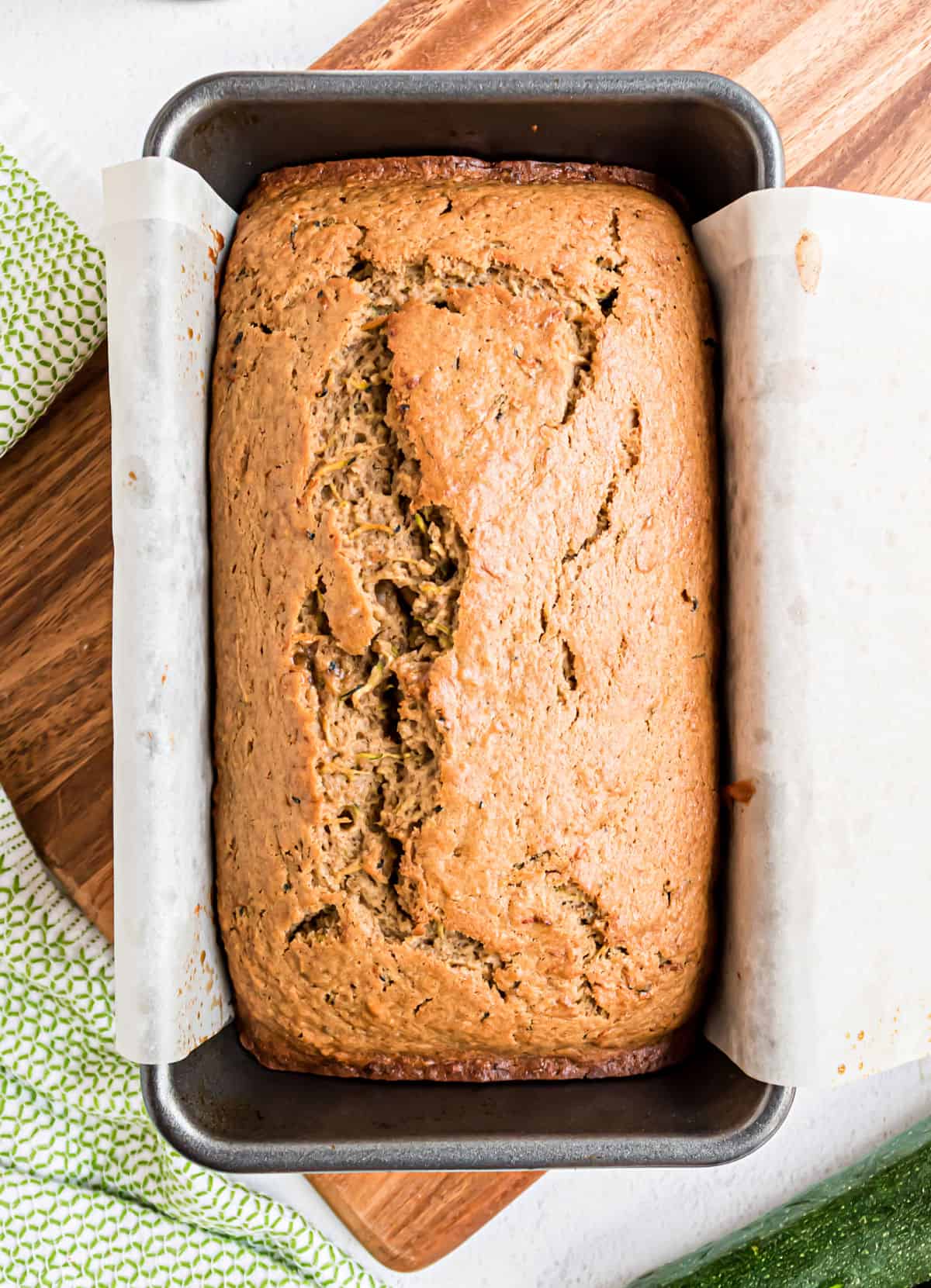 I'm often asked, "Can I make bread with this muffin recipe?"
Today, the answer is yes!
And truth be told, it's one of my favorite zucchini bread recipes too (and I LOVE my pumpkin zucchini bread and banana zucchini bread recipes)!
Here's how to do it:
Make the batter as directed.
Line loaf pan with parchment paper. Could also use baking spray if desired.
Bake at 350℉ for 60-70 minutes. Remove and cool. Add easy icing on top if prefered.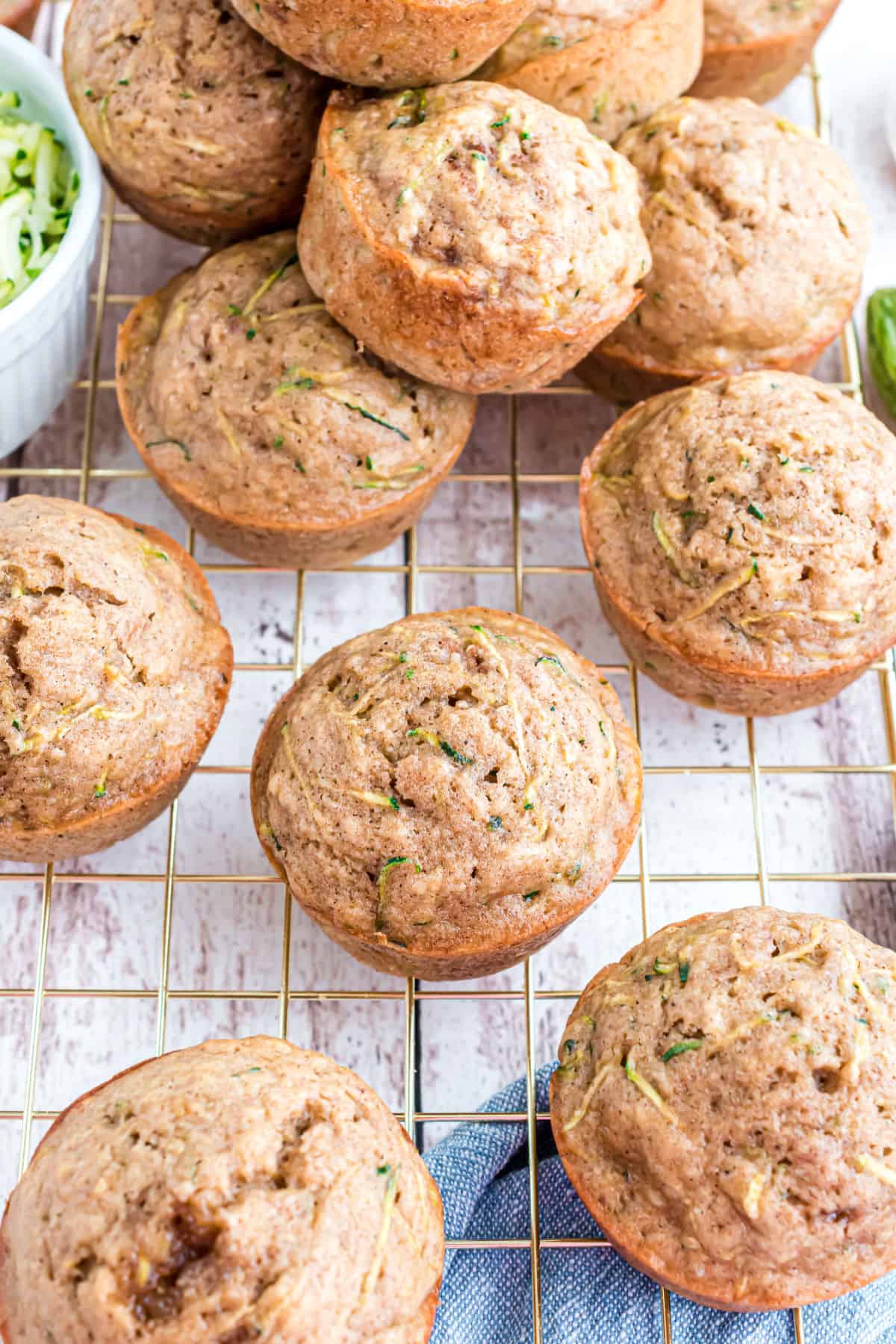 Recipe FAQs
How do you store zucchini muffins?
Keep muffins in airtight container at room temperature for up to 3 days.
Can you freeze zucchini muffins?
Yes! Place cooled muffins in a freezer airtight container or ziploc freezer bag in a single layer. Freeze for up to 3 months, for best results.
Do you need to peel zucchini before baking?
It is NOT necessary to peel zucchini prior to use. Wash and dry zucchini and shred. If you prefer to see less green in your baked good, then by all means peel it first.
Do you need to remove the seeds from a zucchini before using?
Yes! If you choose a smaller zucchini, the seeds are no big deal. But, if your zucchini is larger than several inches in diameter, slice in half and scoop out the seeds from the center with a spoon.