Zucchini Orange Muffins with zesty citrus flavor and a sweet orange glaze. These muffins are a delicious way to start the day!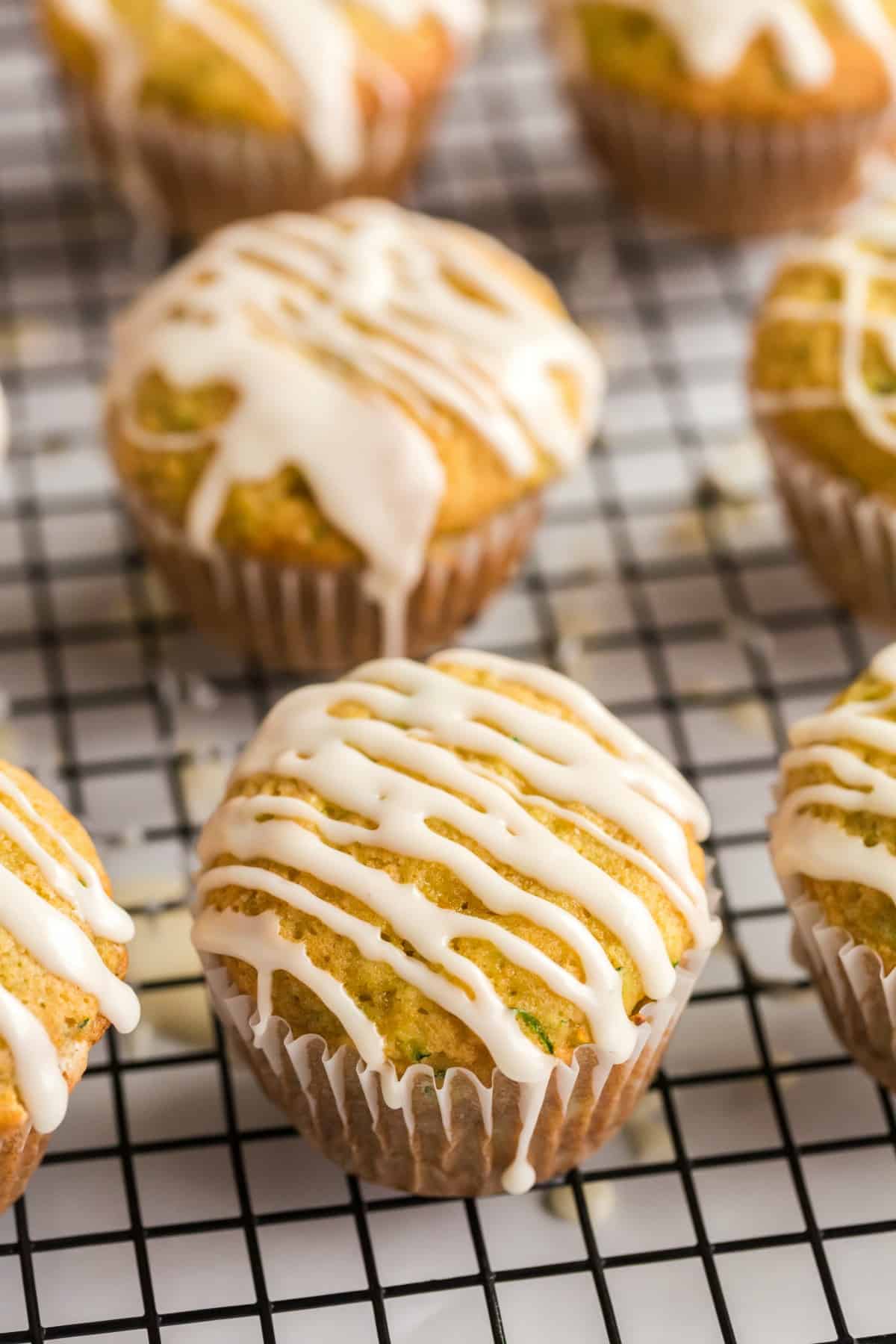 Why this Recipe is Best
Raise your hand if your garden is overflowing with Zucchini right now!
I've had plenty of years where, every time I looked outside, there was another zucchini ready to be harvested. It's one of the reasons I've created so many zucchini recipes over the years.
The other reason is that I just plain love baked goods with zucchini. That grated green vegetable adds so much moisture to any baked good:
I love it so much that, garden or not, I devote plenty of my summer time baking to zucchini recipes.
Zucchini Muffins
These particular zucchini muffins are also bursting with the sunny flavor of freshly juiced cara cara oranges.
You use both the zest and the juice in the batter, then top the finished muffins with a citrus glaze that makes them downright irresistible.
We gobbled these up for breakfast–they're amazing with dalgona coffee–but Zucchini Orange Muffins are great any time of day or night.
More Orange Recipes: Orange Bread | Orange Citrus Cookies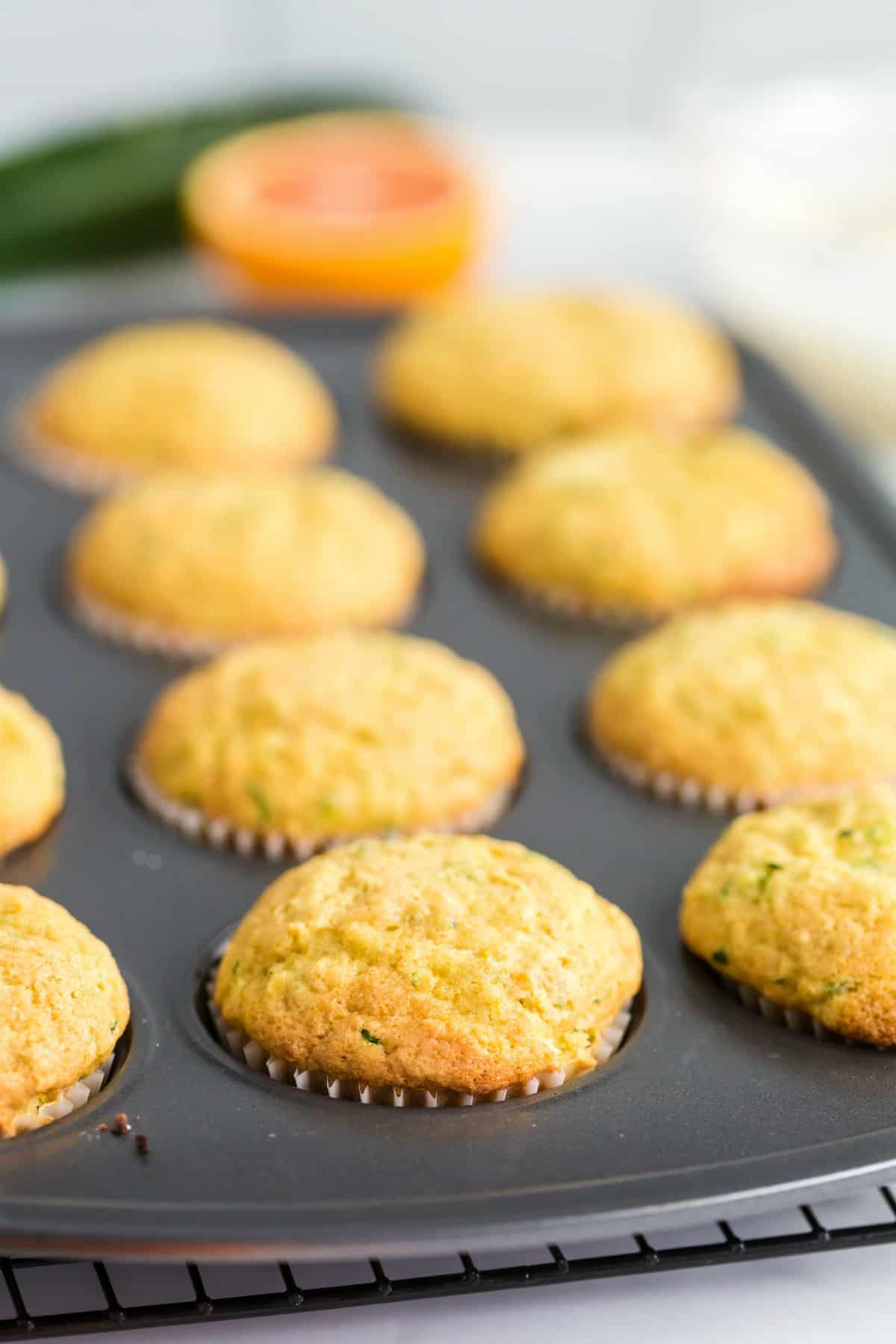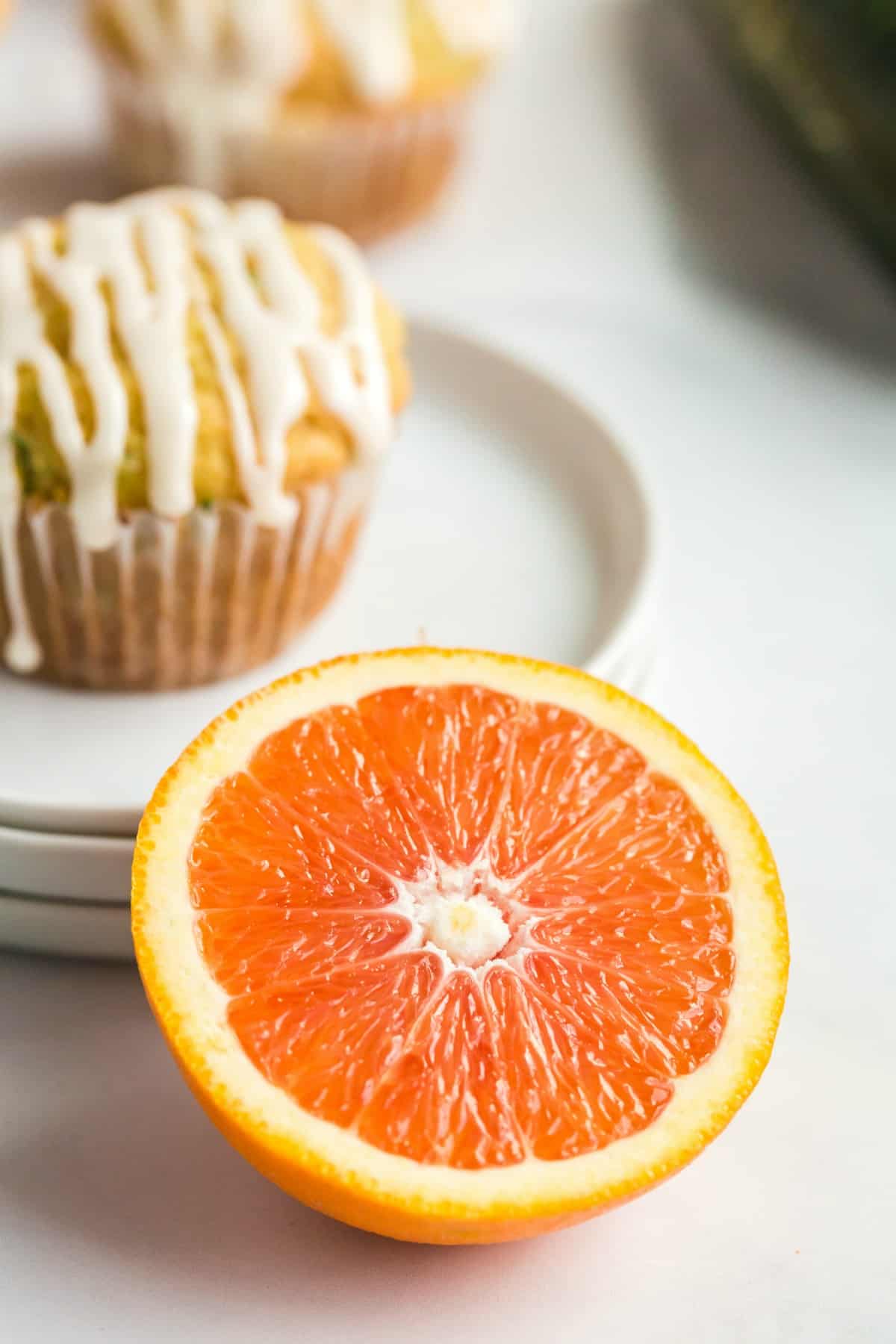 What is a cara cara orange?
This type of orange is a seedless fruit with juicy pink flesh. They might look like a regular navel orange on the outside, but the inside resembles a grapefruit. They taste sweeter than other oranges with flavor notes that remind me of raspberries!
I find that it's much easier to squeeze the juice from Cara Cara oranges and I love the flavor they add to the Zucchini muffins.
If you can't find cara caras, feel free to substitute regular oranges in this recipe instead.
How do you zest an orange?
The first step to making these muffins is zesting and juicing your oranges.
There area few different ways you can zest your oranges: with a microplane, a box grater or a peeler.
The zest is the very outermost part of the orange's skin. It adds complex citrus flavor and tartness to recipes (plus it smells so good!).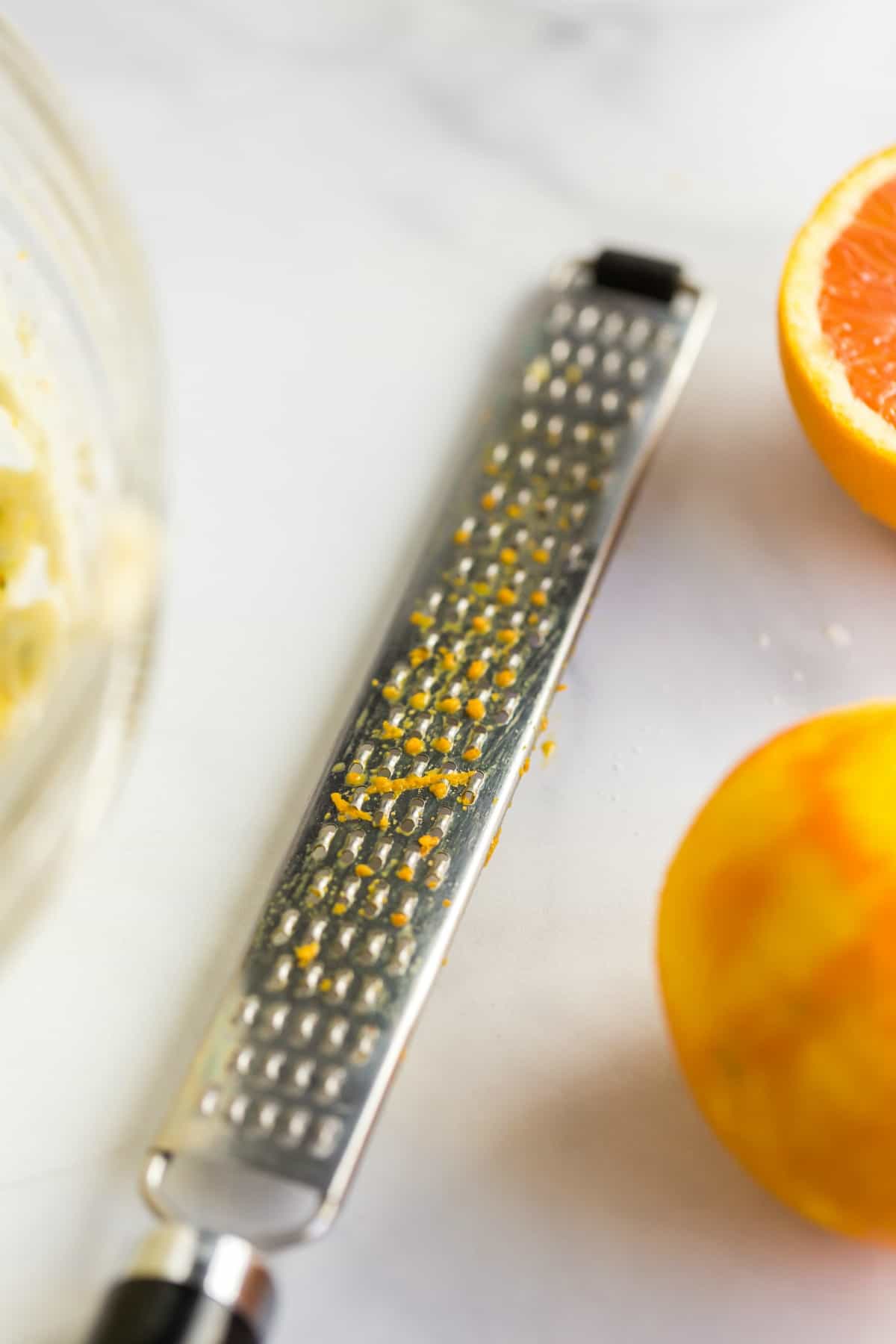 To grate an orange with a microplane or box grater: This is the easiest and most consistent way to remove the zest from an orange! Hold the grater in place with one hand in one hand and drag the orange downward against the grater. You will see tiny flecks of orange! Make sure not to dig in too deep. You don't want any of the bitter white peel mixed in with the zest.
Get a microplane grater on Amazon!
To zest an orange with a peeler: Remove the orange part of the skin with the peeler, then use a knife to mince the peel into small pieces. Again, make sure you're only getting the very outermost layer.
Once you've grated your zucchini, zested one of your oranges and squeezed the juice from all of them, you're ready to bake!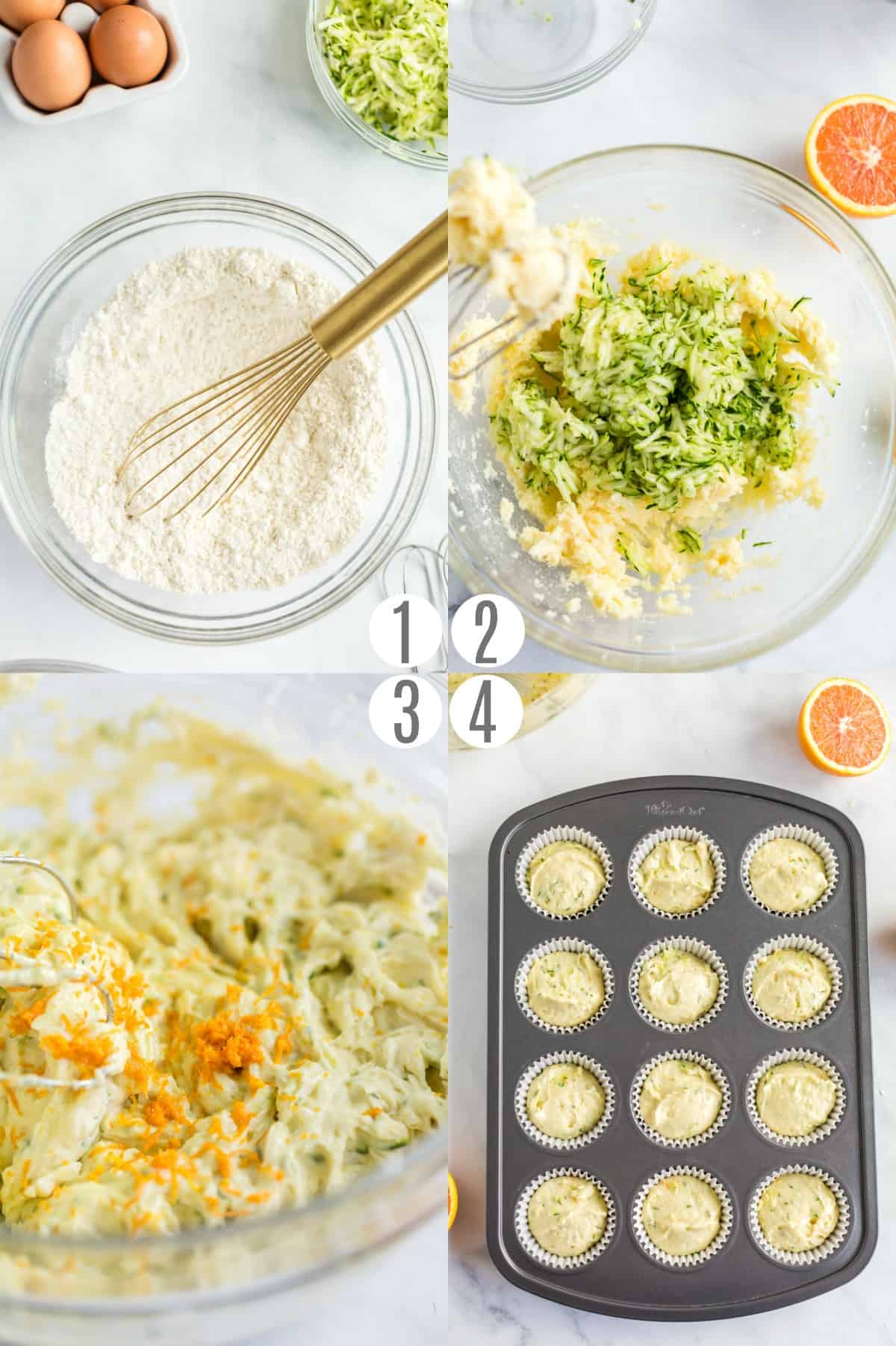 How to make Zucchini Orange Muffins
STEP 1. In a large bowl, cream together the butter and sugar. Add in vanilla extract and egg. Beat in the orange zest and 1/2 cup of orange juice.
STEP 2. Add flour, baking soda and kosher salt, just until combined. Fold in the shredded zucchini.
STEP 3. Divide the batter into prepared muffin pans. Bake in 425 degree oven for 5 minutes. After 5 minutes, reduce heat to 350 and cook for an additional 10-12 minutes, or until a toothpick inserted in the middle comes out clean.
Orange Glaze Recipe
While the muffins cool, make the glaze.
It's so easy.
Just whisk powdered sugar with some of the remaining orange juice. I start with 1/4 cup and adjust the amount of liquid from there. If it's too thin add a little more powdered sugar. If it's too thick, add more orange juice, a little at a time.
Once the muffins are cool, drizzle the glaze over top. Enjoy right away or let the glaze set for a few minutes if you prefer.
I ate one of these straight out of the oven and had to remind myself to save the rest for breakfast! My whole family agrees this recipe is a winner.
Tips and Tricks
Baking zucchini muffins in a hotter oven at first, then lowering the heat, helps them rise quickly. When you do this, you'll end up with those rounded muffin tops we love!
These will taste best if stored in the refrigerator and eaten within 3 to 4 days. You can also freeze them (with or without the glaze) for up to 3 months.
Line the muffin pan with cupcake liners to make these even easier to eat on the go and transport. If you're not using cupcake liners, make sure to spray the muffin pan with baking spray before you add the batter.
Any kind of juicy oranges will work well in this recipe!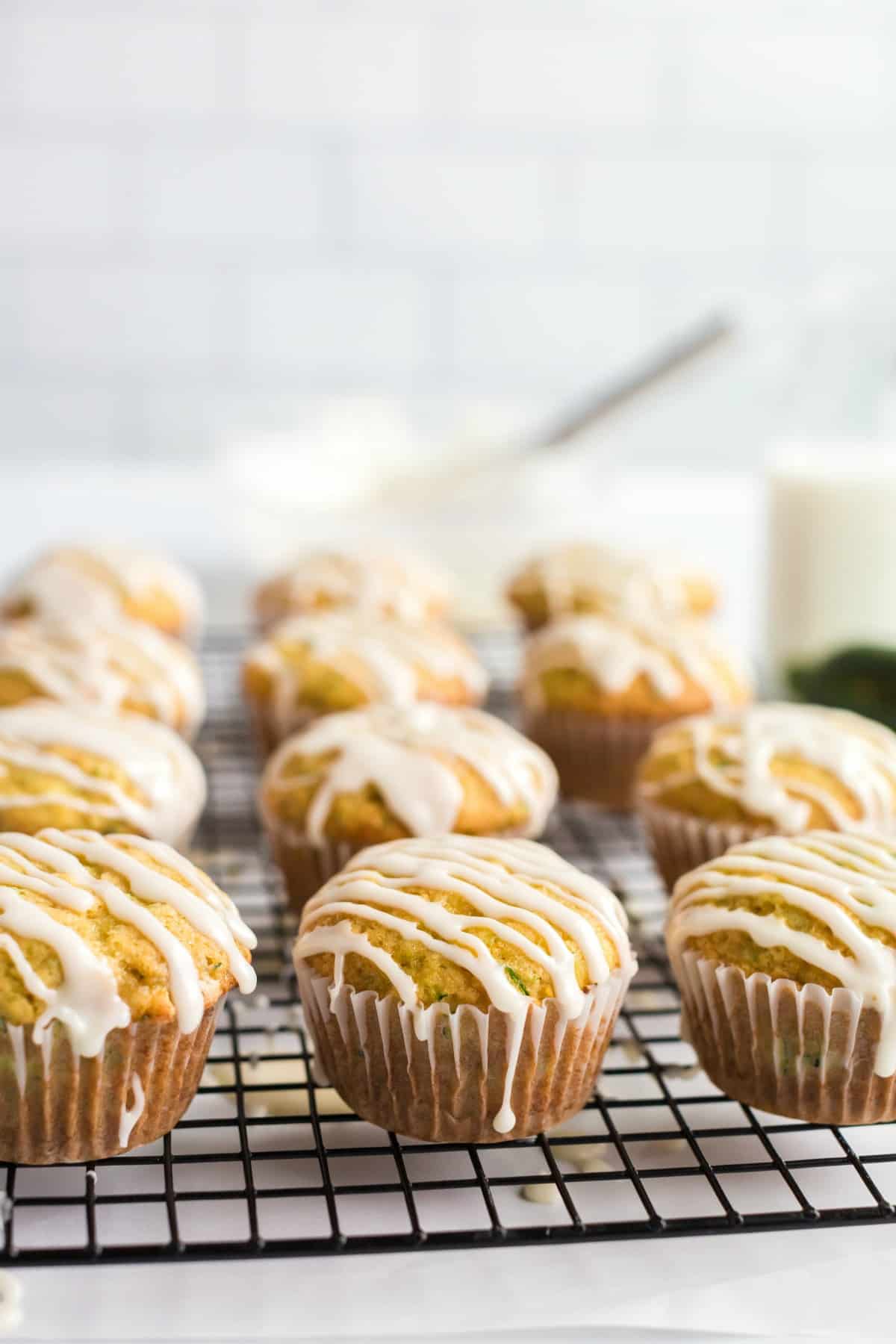 Tangy and sweet oranges make Zucchini muffins even better! As a sweet breakfast, a dessert or an afternoon pick-me-up, these are guaranteed to make you smile.