Easy and delicious, these chewy Cinnamon Frosted Zucchini Cake Bars are the perfect sweet dessert any time of year! Serve chilled for extra flavor!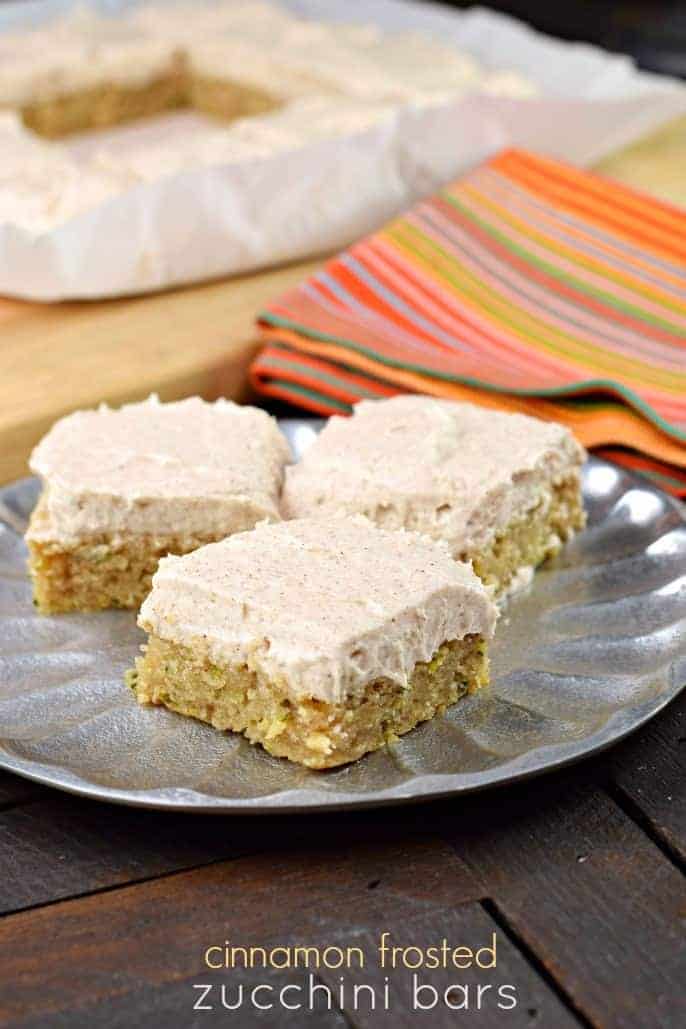 I have a confession. I lied to you guys. But not on purpose.
A couple weeks ago I told you that my Chocolate Zucchini Cupcakes were the last of my zucchini recipes.
It clearly wasn't true. But here's the thing. It's September and here in Chicago the weather has been crazy warm hot. Unseasonably warm. And my zucchini plant surprised me.
While I thought I had harvested the last of those suckers, there were a few more late arrivals. Zucchini plants are the old faithful of my garden! They always have more to give.
And so, here we are, with another delicious zucchini recipe to add to your recipe box.
While YOUR garden may be done growing, you can still buy zucchini at the grocery store, you know, in case you get a taste for this delicious cake bar recipe!
Back to today's Cinnamon Frosted Zucchini Cake Bars….these are chewy, yet moist.
I would say a cross between a cookie bar and a slice of cake. They're also super sweet thanks to that thick pile of Cinnamon frosting on top!
Not a fan of lots of frosting? You can totally cut the frosting in half, if you're *that* kind of a person.
Me? The more frosting the better. I can never have enough of this fluffy buttercream flecked with cinnamon!
I like it piled high on my bars. Actually, I'd probably be happy eating a bar that's more frosting than cake, if I thought I could get away with it.
So if you do decide to go with half the cinnamon frosting, feel free to send the rest my way. I will happily finish it off for you.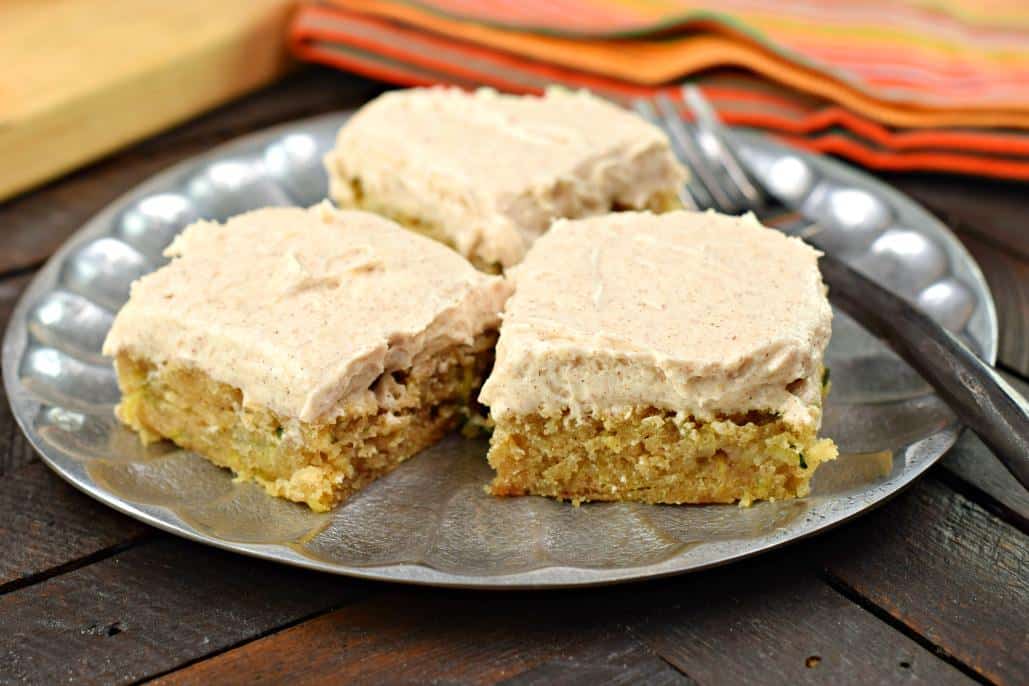 Zucchini Cake Bars
Cake bars are even easier to make than most cake recipes and the bar form makes them extra convenient for transport.
You fold shredded zucchini into a thick batter of brown sugar, melted butter, eggs and flour. Don't forget a few drops of vanilla extract!
Then, you just bake, cool, frost and slice! These are oh-so-chewy–almost like a good fudgy brownie. They're a hit as a dessert, but you all know I'm a big proponent of cake bars for breakfast, too.
A zucchini bar with a strong cup of dalgona coffee in the morning? Swoon worthy.
Cinnamon Frosting
To make the lightest, fluffiest cinnamon frosting, beat your softened butter for about 3 minutes, using the whisk attachment on an electric mixer. It will turn pale in color.
THEN add in your sugar, cinnamon, and milk and beat until fluffy again! Beating the butter on its own first makes this cinnamon buttercream super light and fluffy.
I like to use my stand mixer fitted with the whisk attachment. Electric beaters work well, too.
This frosting is just so good, you guys. Words hardly do it justice!
Tips and Tricks
Be sure to line your pan with parchment paper. These chewy bars can be sticky, and there's nothing worse than not being able to get them out of the pan. Plus it makes them easy to cut and frost too!
Make sure your zucchini is shredded and not pureed! A box grater works beautifully for shredding zucchini. A food processor with a grating attachment is a nifty method, too. Be sure not to over process or it could get mushy.
If using freshly shredded zucchini, proceed as normal. If using FROZEN, thawed zucchini, you'll want to squeeze out all that excess moisture. Put your zucchini in a piece of cheesecloth, or a very thin towel. Wring the cloth at the top and keep wringing it until all the liquid seeps out (oh, and be sure to do this over the sink, haha)!
Allow your bars to cool completely before adding the frosting.
How to Store Zucchini Cake Bars
I love eating these cold. The cool temperature seems to make the cinnamon flavor in the frosting even more noticeable. Fridge storage also ensures my frosting won't get too soft and runny, even on the warmest summer days.
You can keep them in the pan covered with foil or plastic wrap, or transfer the bars to a tupperware container.
Zucchini cake bars freeze well too!
Store in a freezer safe container with a sheet of wax paper between each layer of bars. Thaw at room temperature before enjoying.
Freezer Friendly Zucchini Recipes
So, go ahead and make several batches of these bars to store in the freezer!
While you're add it, make some Easy Freezer Friendly Zucchini Blueberry Bread Recipe for good measure, too!
This recipe is one more reason to keep that garden going for as long as you can. You'll love these easy, delicious Zucchini Cake Bars so much, you may find yourself buying zucchini all winter long. Enjoy!