Easy and delicious, these chewy Cinnamon Frosted Zucchini Cake Bars are the perfect sweet dessert any time of year! Serve chilled for extra flavor!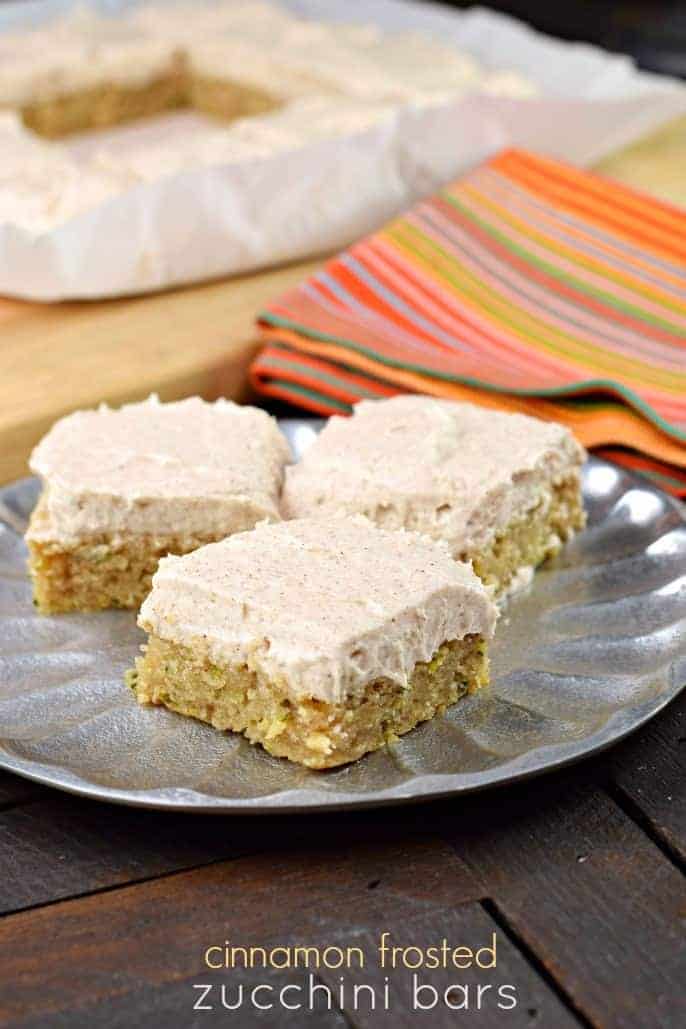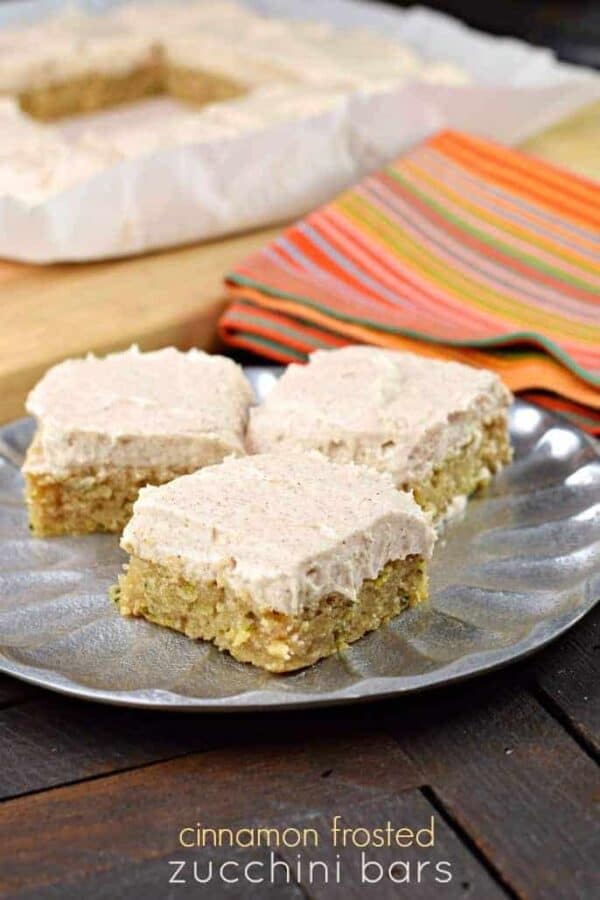 I have a confession. I lied to you guys. But not on purpose. A couple weeks ago I told you that my Chocolate Zucchini Cupcakes were the last of my zucchini recipes.
It clearly wasn't true. But here's the thing. It's September and here in Chicago the weather has been crazy warm hot. Unseasonably warm. And my zucchini plant, while I thought I had harvested the last of those suckers, there were a few more late arrivals.
And so, here we are, with another delicious zucchini recipe to add to your recipe box. While YOUR garden may be done growing, you can still buy zucchini at the grocery store, you know, in case you get a taste for this delicious cake bar recipe! (and while you're there you better stock up, because truth be told, I have another savory zucchini recipe coming soon too)
Back to today's Cinnamon Frosted Zucchini Cake Bars….these are chewy, yet moist. I would say a cross between a cookie bar and a slice of cake. They're also super sweet thanks to that thick pile of Cinnamon frosting on top! You can totally cut the frosting in half, if you're *that* kind of a person. Me? The more the better!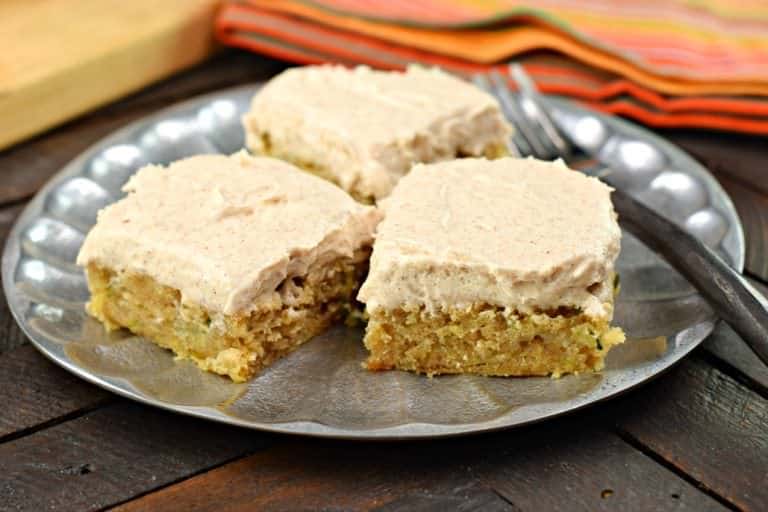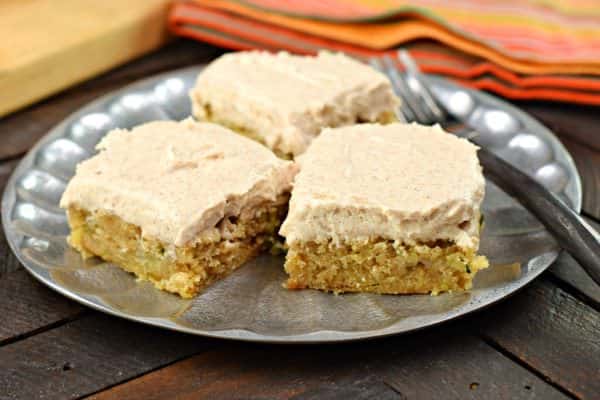 A few tips about making Zucchini Cake Bars:
Be sure to line your pan with parchment paper. These chewy bars can be sticky, and there's nothing worse than not being able to get them out of the pan. Plus it makes them easy to cut and frost too!
If using freshly shredded zucchini, proceed as normal. If using FROZEN, thawed zucchini, you'll want to squeeze out all that excess moisture. Put your zucchini in a piece of cheesecloth, or a very thin towel. Wring the cloth at the top and keep wringing it until all the liquid seeps out (oh, and be sure to do this over the sink, haha)!
Allow your bars to cool completely before adding the frosting. To make the lightest, fluffiest cinnamon frosting, beat your softened butter for about 3 minutes, using the whisk attachment on an electric mixer. It will turn pale in color. THEN add in your sugar, cinnamon, and milk and beat until fluffy again! So good you guys.
You'll love these easy, delicious bars so much, you may find yourself buying zucchini all winter long 🙂 Enjoy!
I created a fun little group on facebook and I'd love for you to join in! It's a place where you can share YOUR favorite recipes, ask questions, and see what's new with Shugary Sweets (so that you never miss a new recipe)! If you'd like to check it out, you can request to join HERE.
Connect with Shugary Sweets! Be sure to follow me on my social media, so you never miss a post!
Facebook | Twitter | Pinterest | instagram
Yield: 16 servings
Cinnamon Frosted Zucchini Cake Bars
Prep Time 10 minutes

Cook Time 30 minutes

Additional Time 20 minutes

Total Time 1 hour

Easy and delicious, these chewy Cinnamon Frosted Zucchini Cake Bars are the perfect sweet dessert any time of year!
Ingredients
For the cake bars:
1 cup light brown sugar, packed
1/2 cup unsalted butter, melted
1 large egg
1 tsp vanilla extract
1 cup all-purpose flour
1/4 tsp kosher salt
1/2 tsp cinnamon
1 cup shredded zucchini
For the frosting:
1/2 cup unsalted butter, softened
2 1/2 cups powdered sugar
1 tsp cinnamon
2-3 Tbsp milk
Instructions
Preheat oven to 350°F. Line a 9-inch baking dish with parchment paper, set aside.
In a mixing bowl, combine the brown sugar with melted butter. Add in egg and vanilla. Add flour, salt, cinnamon just until combined. Fold in the zucchini.
Pour batter into prepared dish. Bake for 26-30 minutes, remove from oven and cool completely before frosting.
For the frosting, beat butter with powdered sugar, cinnamon, and milk. Scraping down the sides of the bowl, beat until fluffy, about 3-5 minutes. Spread over cooled cake bars. Refrigerate and enjoy!