When you can't decide between muffins and donuts, Donut Muffins are the answer! These easy muffins are reminiscent of an old fashioned donut, right down to the sweet glaze topping.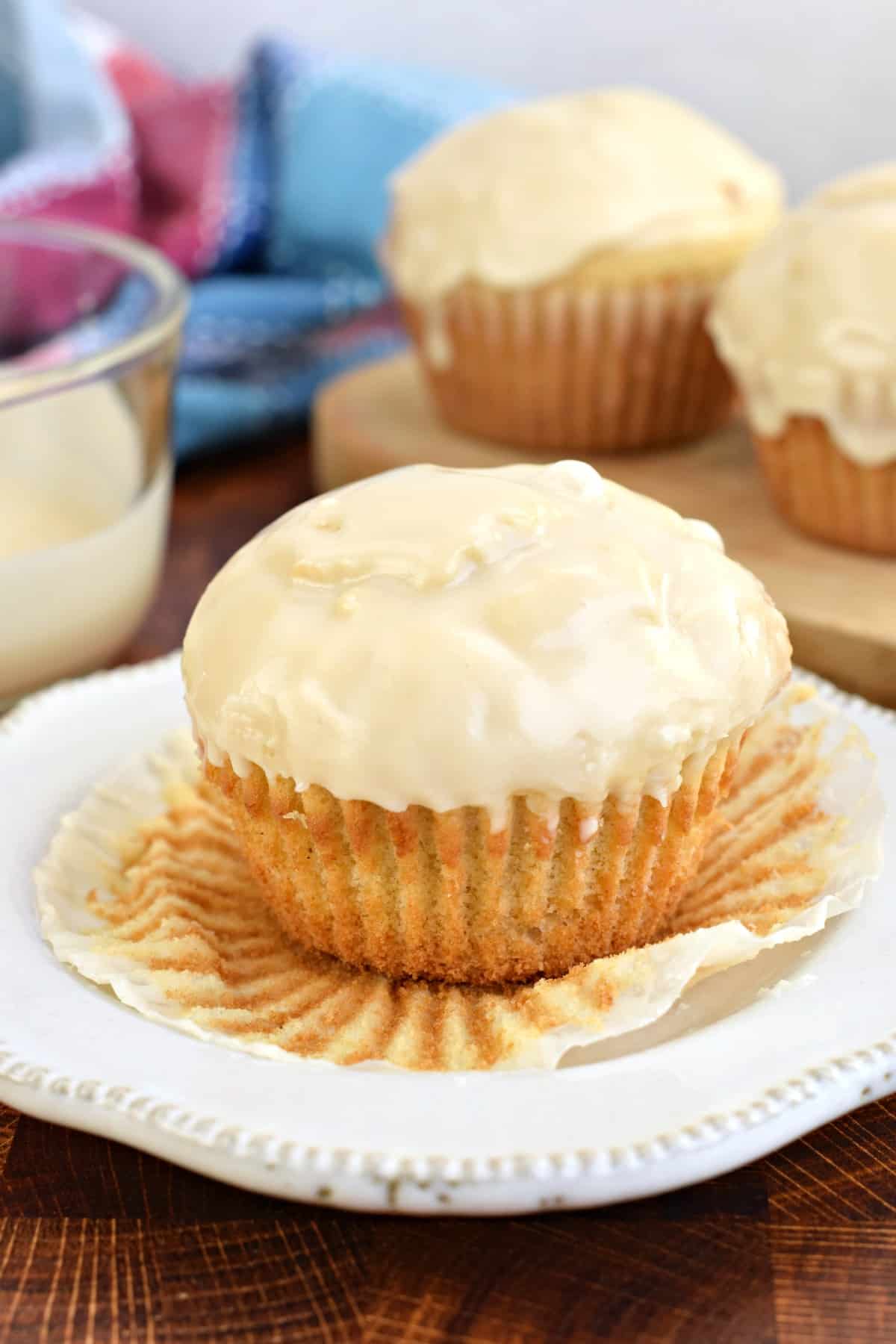 Who doesn't love a fresh glazed donut in the morning?
When you want the great taste of an old fashioned donut, but don't want to deal with the frying (or leaving your house), make these Glazed Donut Muffins instead!
A batch of these is the perfect breakfast treat to bring to your morning meetings or to enjoy with a cup of coffee on a lazy Sunday morning.
Donut Muffins
Muffins are, I think, hands down the easiest to transport breakfast baked good.
They come right in their own wrapper so everyone can grab and go. But even if you're NOT leaving the house (that's a lot of us these days), muffins can make your mornings easier by eliminating a few dishes.
Okay, but we all know the real reason I look for an excuse to make muffins is the taste.
A great tasting muffin with a fluffy inside is exactly what I want with my coffee in the morning and I never get tired of playing with different mix-ins and toppings.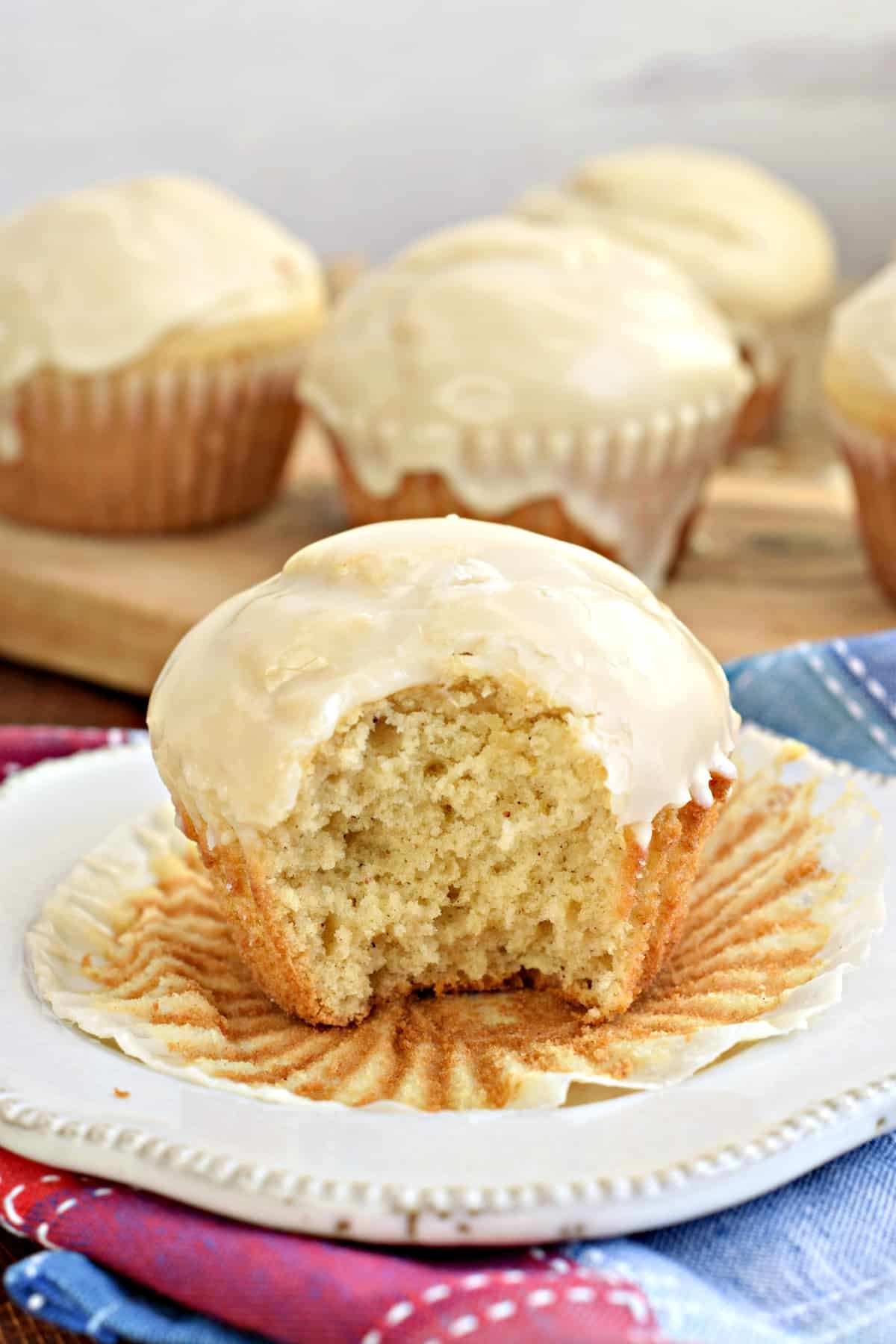 Old Fashioned Donut
The urge to make donut muffins came to me one day when I was craving a donut. Not just any donut. A big old fashioned donut covered in sugary glaze.
I don't crave donuts very often but when I do . . . I've just got to have one!
The only problem is that homemade donuts from scratch can be kind of time consuming. From making the dough to shaping and frying the donuts in oil, not to mention glazing and waiting for them to cool.
I had neither the time, not the patience, nor the desire to mess with the grease.
So, I pulled out my trusty muffin tin and got to work recreating all the great taste of an old fashioned glazed donut in a convenient, delicious and easy-to-make muffin.
And boy, am I glad I did! These muffins are light with a fluffy, moist crumb and just a hint of cinnamon. The glaze crackles just a bit when you bite into it before melting in your mouth.
I wouldn't hesitate to say that these muffins turned out better than any treat I'd pick up at my neighbordhood coffee shop.
Nothing dry or crumbly about donut muffins! My kids and husband loved these and have already asked when I plan to make them again.
I have a hunch your whole family is going to love these Donut Muffins, too!
Favorite Muffin Recipes: Blueberry Muffins | Cinnamon Muffins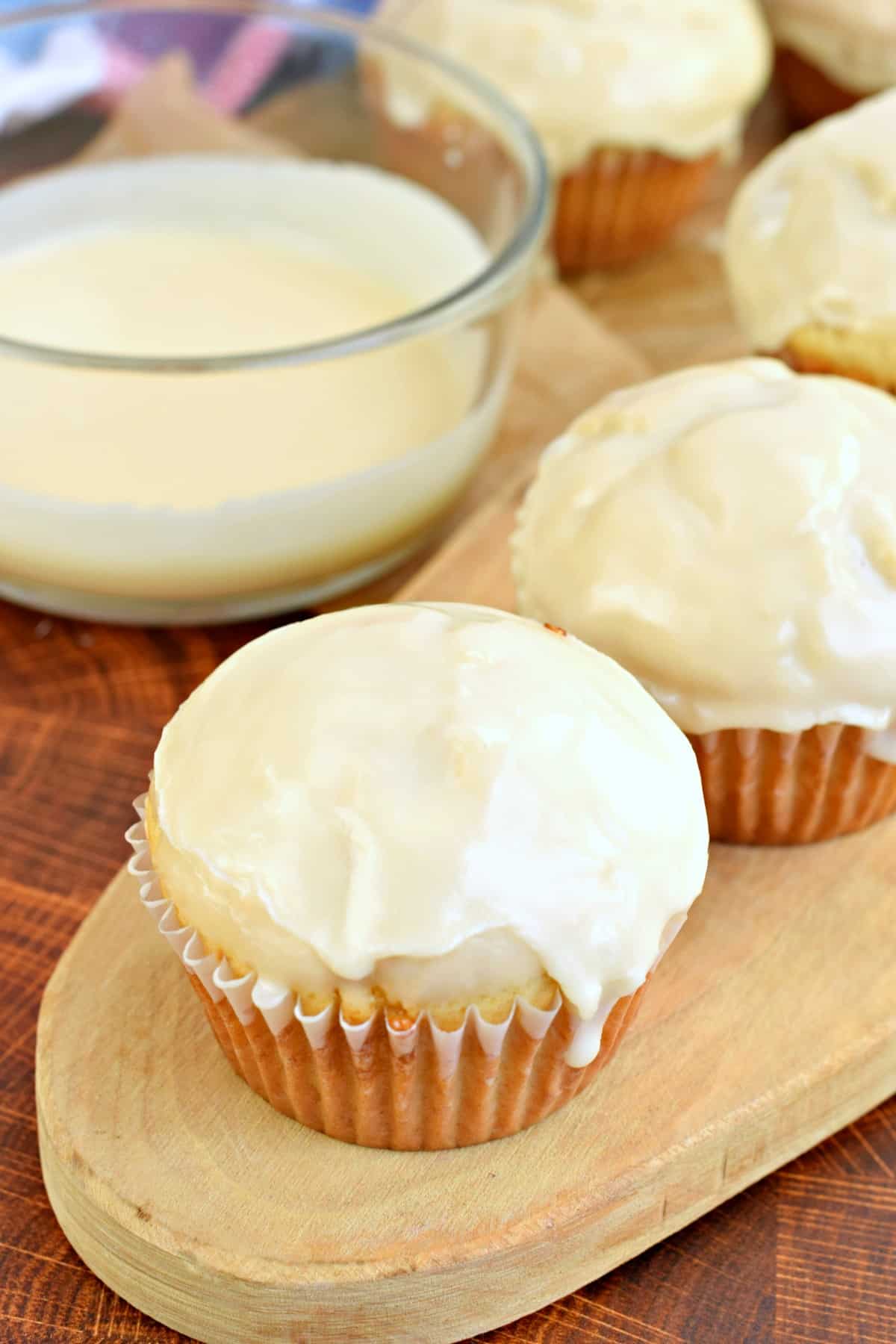 Ingredients
Here's what I used to make these muffins. Don't be fooled by the long list of ingredients. The muffins come together in a pinch. From start to finish, this donut muffin recipe takes a little more than half an hour (including cooling time!).
For the donut muffin batter:
Unsalted Butter
Vegetable Oil
Eggs
Granulated sugar
Brown sugar
Vanilla
Cinnamon and Nutmeg
Baking soda and baking powder
Milk
Flour
For the donut glaze:
Butter
Powdered sugar
Vanilla
Milk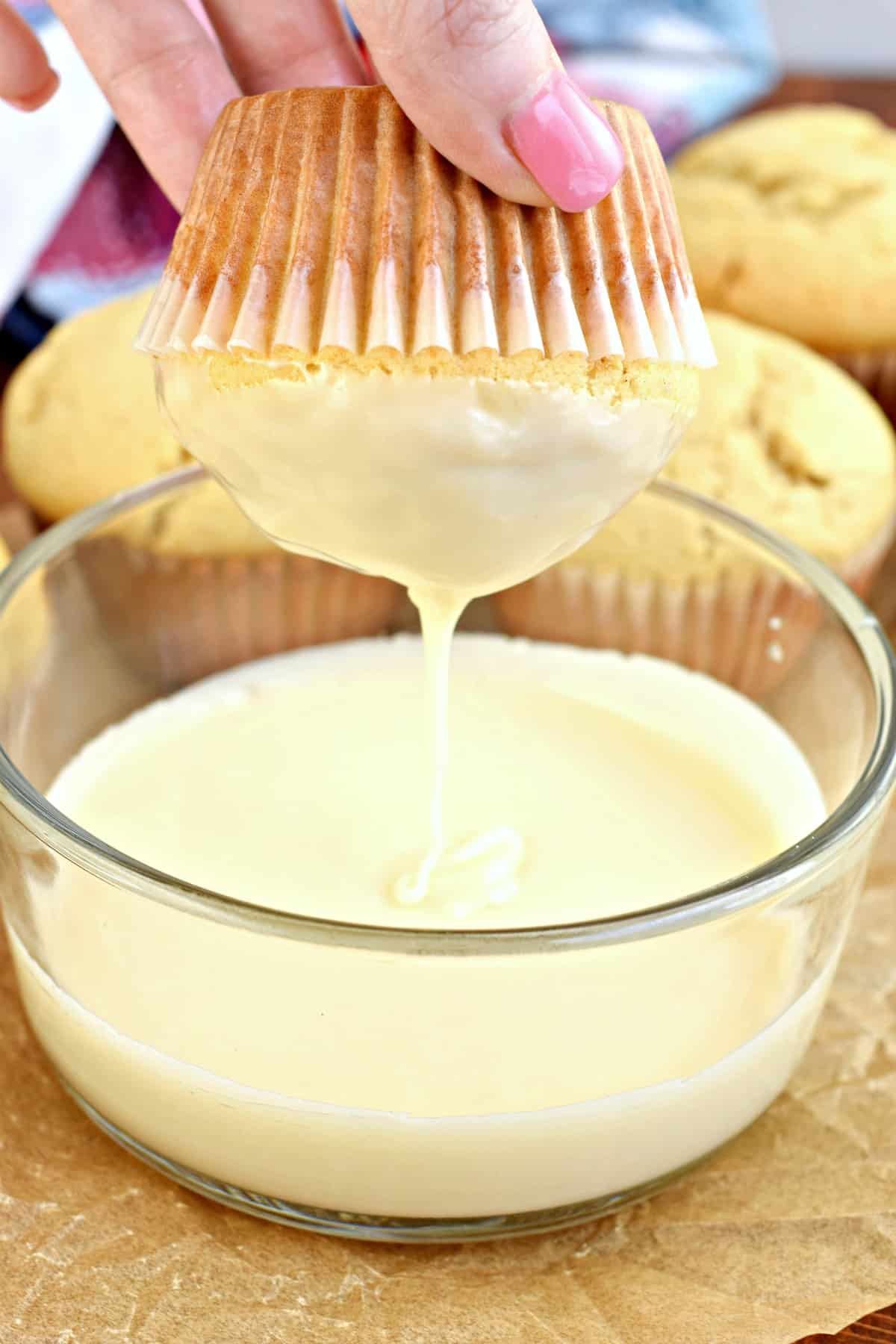 How to Make Doughnut Muffins
STEP 1. Make the muffin batter
In a large mixing bowl, beat the butter, oil, and sugars together until combined. Add in eggs, one at a time.
Add in the baking powder, soda, nutmeg, cinnamon, salt, and vanilla extract. With a spoon, slowly add in the flour and milk, mixing just until incorporated (being careful not to OVERMIX).
STEP 2. Bake the muffins
Divide the batter evenly into a muffin tin lined with paper liners using a metal scoop or spoons. They will be FULL.
Bake for 15-18 minutes at 400 F until the tops spring to the touch. Allow to cool several minutes in the pan, then move to wire rack. Cool before glazing.
STEP 3. Glaze
While the muffins are cooling, whisk together the melted butter, sugar, vanilla, and milk until desired consistency. Dip the tops of the cooled muffins into the glaze and allow to set, about 15 minutes.
Storage Tips
These keep well in an airtight container at room temperature for about 3 days. With plenty of real butter and oil in the batter, these stayed moist even after several days. The glaze topping also helps keep the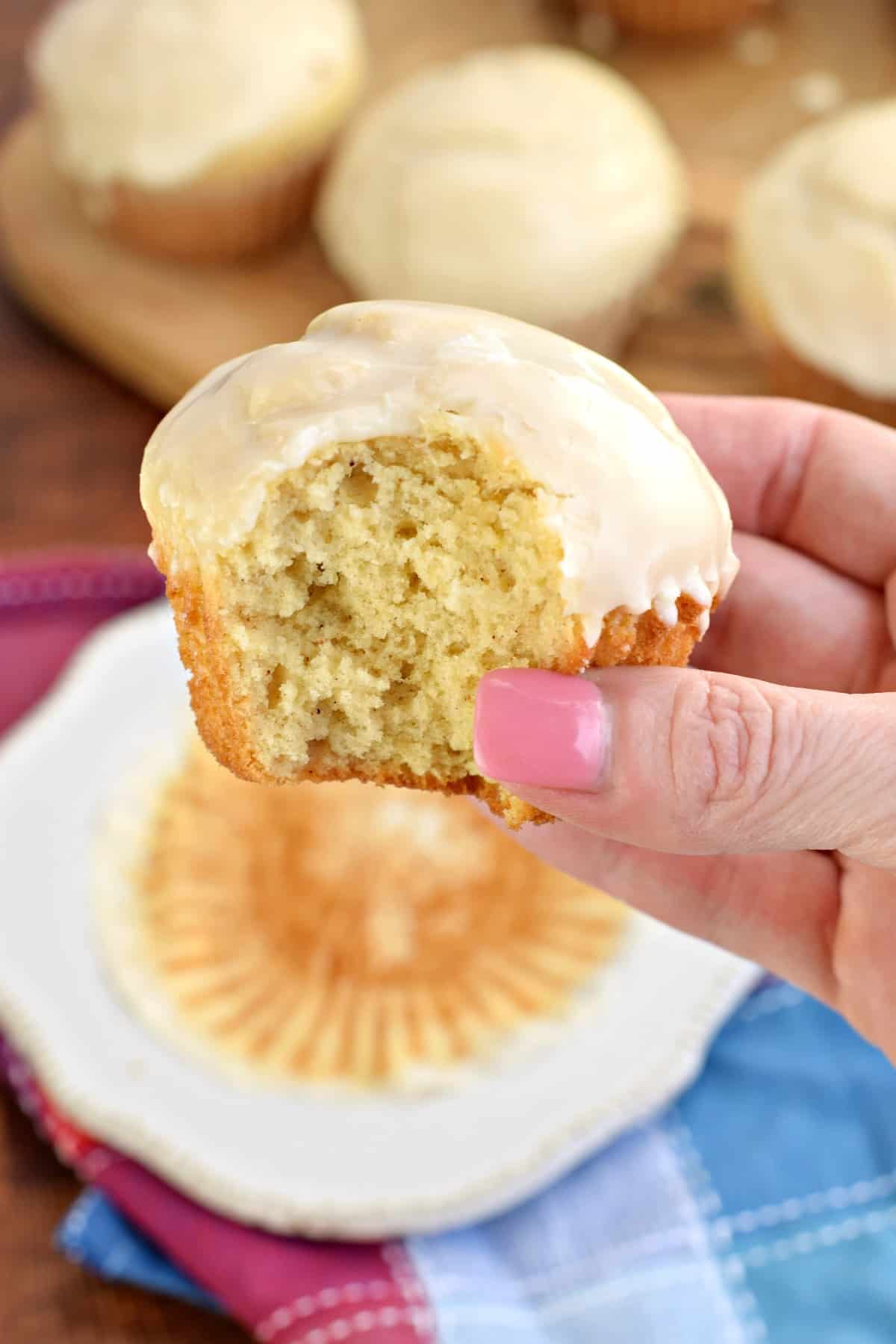 Can you freeze donut muffins
Absolutely! Let these cool completely, then store in a freezer safe bag until ready to eat. Thaw at room temperature before enjoying!
Tips and Tricks
Be careful not to over mix the batter! When you stir everything together, do so just until everything is combined.
Don't be afraid to fill the muffin tins HIGH! That's what gives the muffins that nice puffy top as opposed to the flat top on cupcakes.
Don't love glaze? These muffins are still tasty if you leave it off. (I happen to love the glaze on these best of all, though!)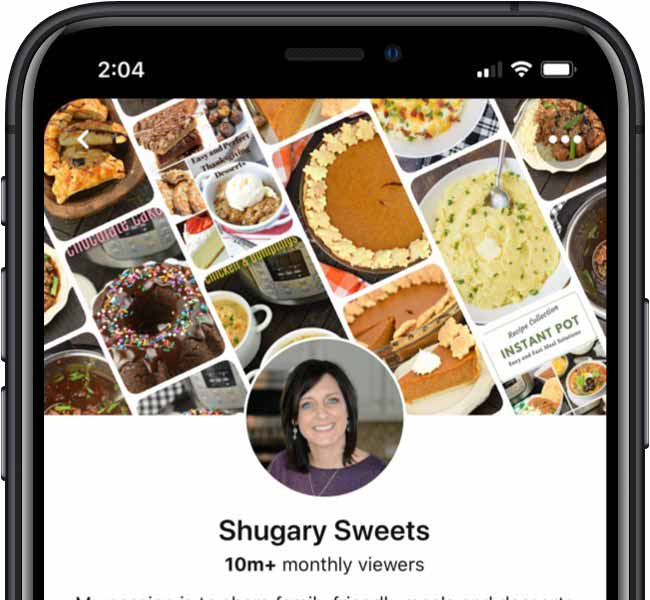 Serve these donut muffins for breakfast, snacks or dessert! I love them with coffee but they'd also be delicious with a cold glass of milk. These just might become your new favorite muffins!