What's better than a loaf of Cherry Lime Bread? How about two loaves of Cherry Lime Bread? These delicious loaves of cherry bread freeze well and are perfect for sharing, too!
If you love easy quick bread recipes, be sure to try our favorite amish friendship bread next. Or give our classic zucchini bread recipe a try.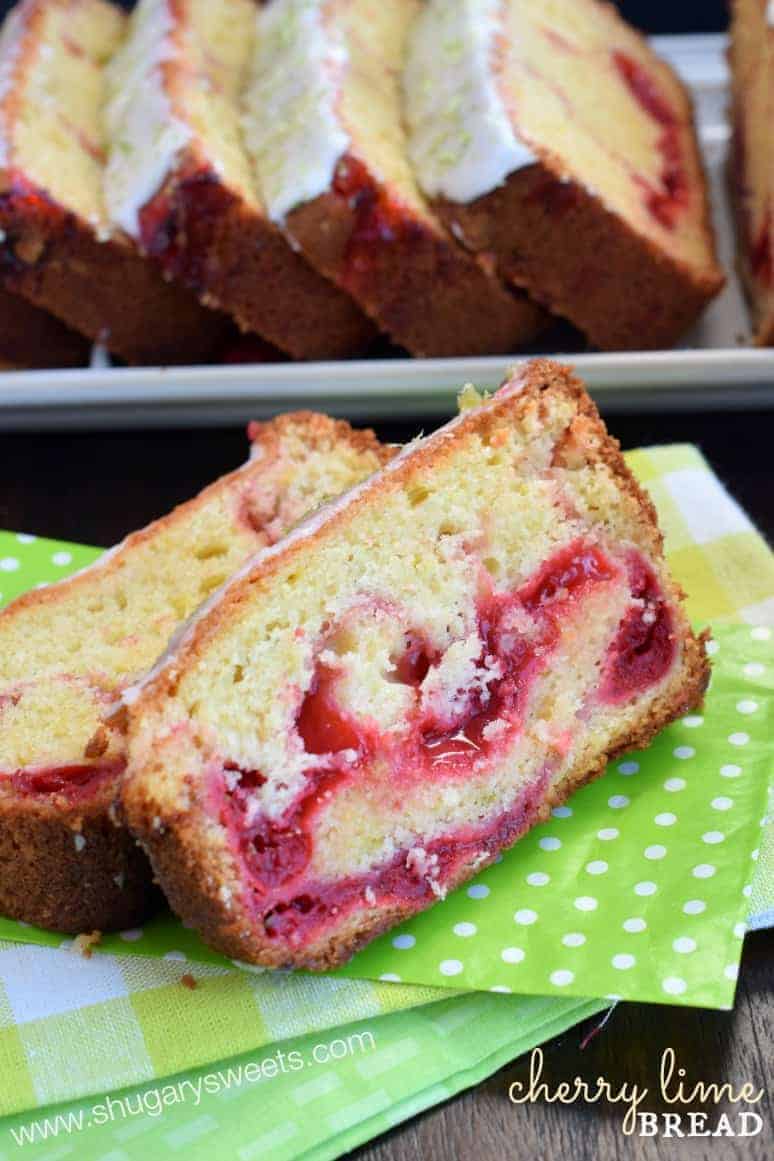 Why this recipe is Best
Cherry pie filling isn't just for cherry pie any more. I love keeping a can or two of cherry filling in my pantry all year long. It's the sweet start to making all kinds of cherry treats without the mess and effort of pitting and cooking whole cherries.
Right now, I'm loving Cherry Bread! Specifically, cherry bread made with a zesty lime glaze. This is one quick bread recipe that stands out from the usual suspects!
This bread is juicy, fruity and has just the right amount of tang. If Banana Bread and Pumpkin Bread are your familiar, low-key favorites, then this Cherry Bread is the friend who arrives at the party to shake things up!
Cherry Bread Recipe
This recipe makes two full sized loaves of Cherry Lime Bread. That way you have one to enjoy immediately and one to freeze for later.
Here's how easy it is to make perfect homemade cherry bread.
Make the batter. After beating together butter and sugar, you add eggs, flour, baking soda and lime zest (get our tips on how to zest a lime). Then, fold in sour cream to make the batter super moist!
Add cherries. Grease two loaf pans or spray each with baking spray. Spoon a little over half the batter (total) over both pans. Spoon the cherry pie filling evenly over both pants, then cover the cherries with the remainder of the bread batter.
It's okay if the batter doesn't cover the cherry filling completely. You'll probably see a little cherry peeking out!
Bake. Bake in a 350 degree oven for 60-70 minutes. Remove and cool on a wire rack for 10 minutes. Then remove from pan and cool completely before adding glaze.
Lime Glaze
You could stop right there and have a tasty loaf of cherry bread with a hint of lime zest. If you know me at all though, you know I'm ALL about topping my quick breads with an easy vanilla glaze.
This simple citrus icing elevates the cherry bread from good to DIVINE. With freshly squeezed lime juice, it's just the right balance of tangy and sweet.
To make the glaze just whisk the powdered sugar with lime juice until smooth. Pour over tops of both loaves of bread.
I also added a coarse sugar topping to tie everything together. You combine lime zest with granulated sugar until it forms a crumbly topping. Sprinkle it over glaze.
Make sure to allow the finished bread to set for about 15 or 20 minutes before slicing or wrapping.
Storing
This bread is so easy to freeze and holds up amazingly well in the freezer!
I wrap up the second loaf in foil then place it inside a large gallon sized ziploc bag. I usually toss them in there with the glaze on and it tastes fresh and delicious after thawing.
A note about the glaze: If you want the bread to LOOK pretty after some time in the freezer, then wait to add the glaze until you're ready to serve. Thawed glaze tasted fine but doesn't look nearly as pretty. It'll turn almost clear after it's been frozen.
The glaze is quick and easy to make, though, so you can whip it up while your Cherry Bread is thawing! Then, add the coarse lime sugar and let the bread set for 15 minutes before your cut it up to serve.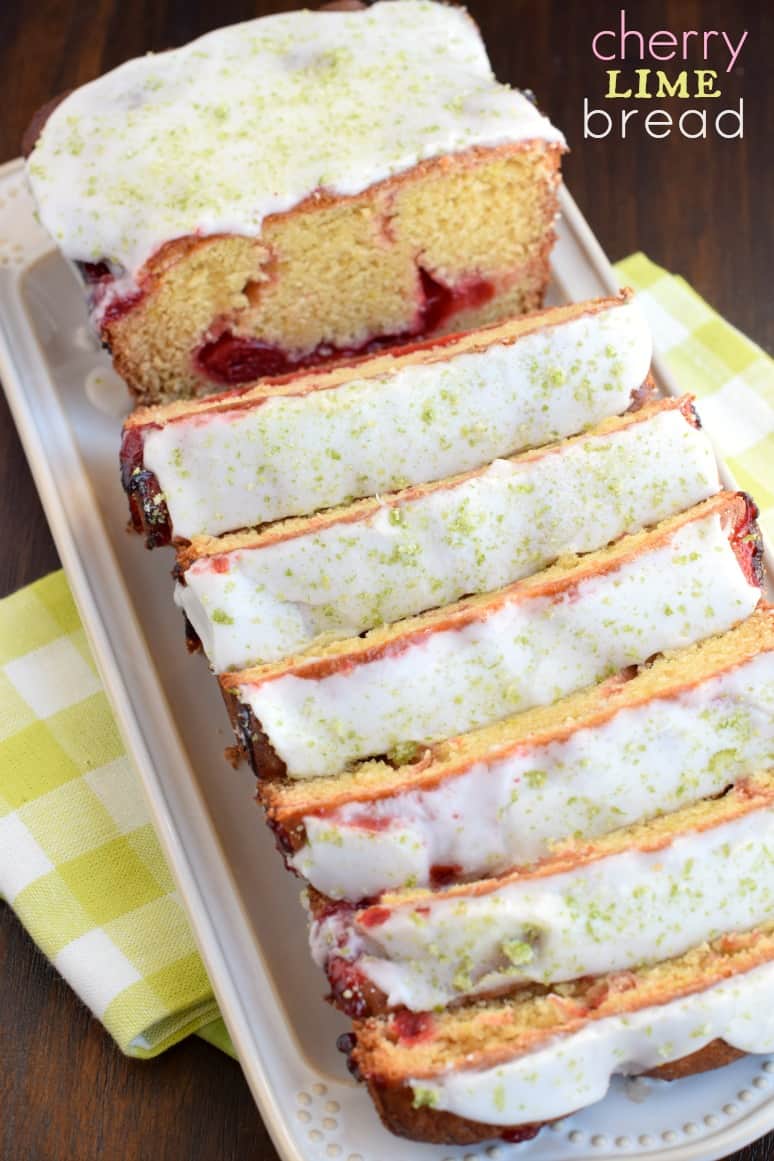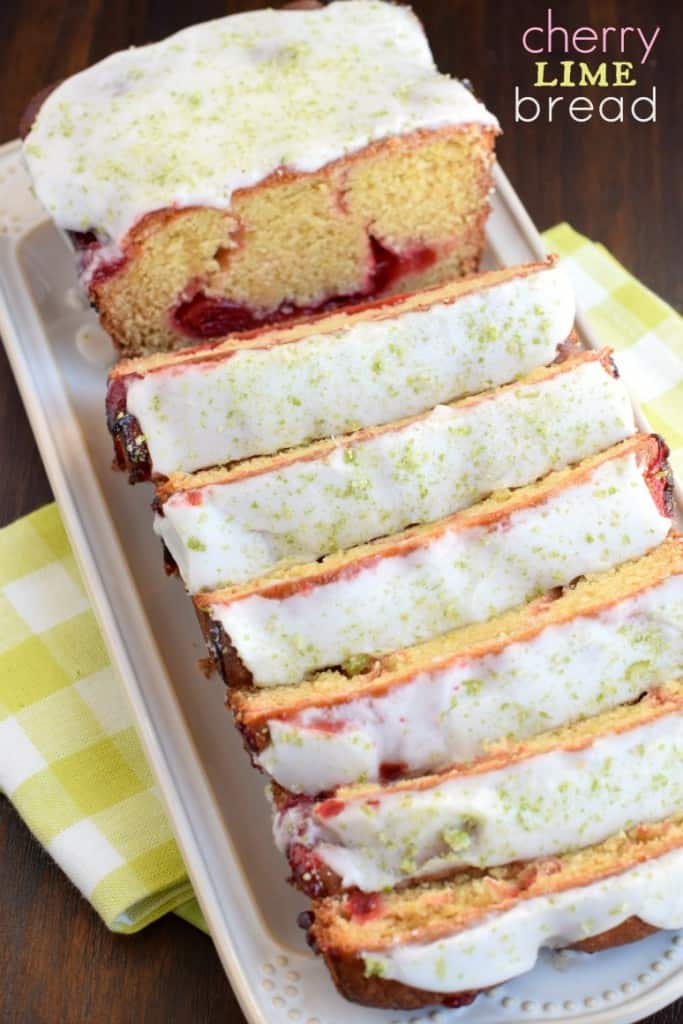 Tips and Substitutions
You can change up the flavors in this bread recipe by swapping the pie filling or the citrus used in the glaze. Here area few ideas to try!
Cherry Orange Bread – Follow the recipe as directed swapping orange zest and juice for the lime.
Blueberry Lemon Bread – Swap the cherry pie filling for blueberry pie filling and the lime juice and zest for lemon equivalents.
Strawberry Lime Bread – Use canned strawberry pie filling in place of the cherry.
You can also swap out the sour cream if you like! Plain Greek Yogurt works well in its place, as do nondairy sour cream substitutes.
A single slice of this cherry bread instantly fills me with happiness! Something about the combo of cherries and lime is so cheery, you can't help but smile when you taste it.
That's why I always put one loaf in the freezer right away. My family could easily gobble up both loaves in a couple of days if I don't plan ahead!