Sweet Cranberry Orange Bread is the perfect breakfast for you and your family. Grab a slice with your morning coffee, or serve it with a cup of milk!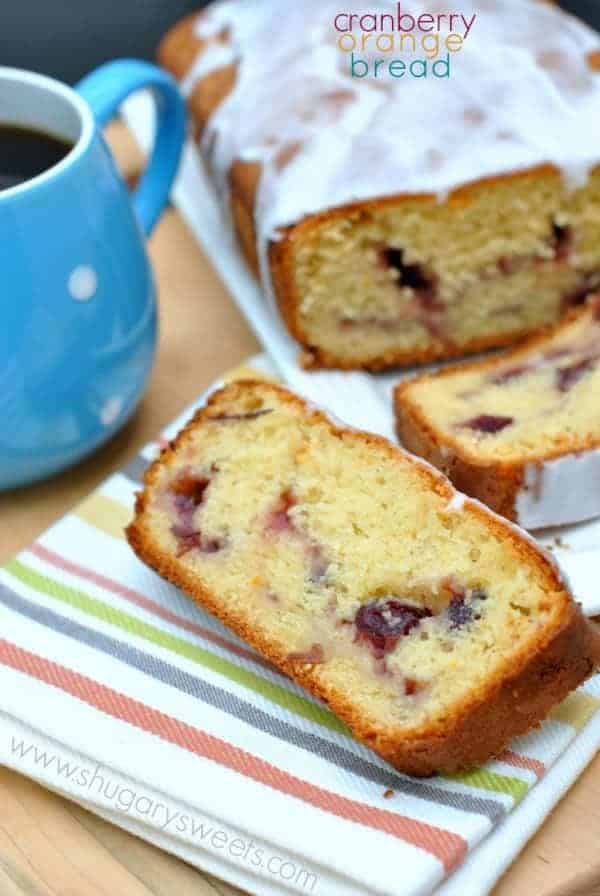 Sweet breads are one of my weaknesses. As many of you know I love my morning coffee. And what goes better with morning coffee than a slice of sweet bread?
Whether it's a slice of banana bread or zucchini bread, I love them all.
Today's version is an orange bread with cranberries.
In all my cleaning out of the pantry this month, I found a can of Whole Berry Cranberry sauce from Thanksgiving. I knew it would work perfectly in today's recipe.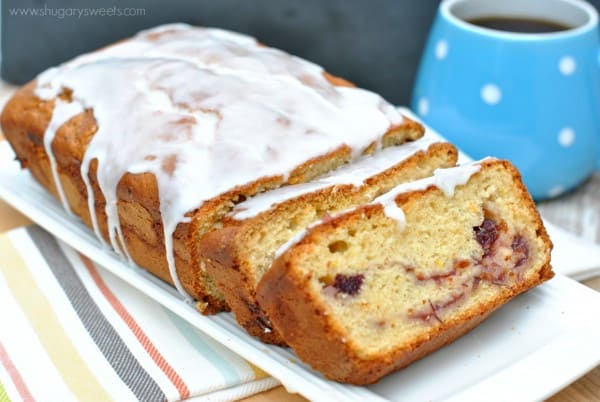 I made a loaf of this bread the last time my parents were out to visit. It's become one of my favorite things to bake for them…breakfast pastries.
The sweet cranberry sauce adds such a great layer of flavor. And the tangy citrus from the fresh oranges is the perfect pairing.
But the best part is that this recipe makes two beautiful loaves of bread. One for now. One for later. This bread freezes well.
I added a simple glaze on this bread, using orange extract. It was an afterthought to add the sweet glaze, so I wish I had saved my last oranges and used a little extra orange zest in the glaze. But the extract worked great too! Use what you have on hand. You can swap out the milk and use orange juice in the glaze too.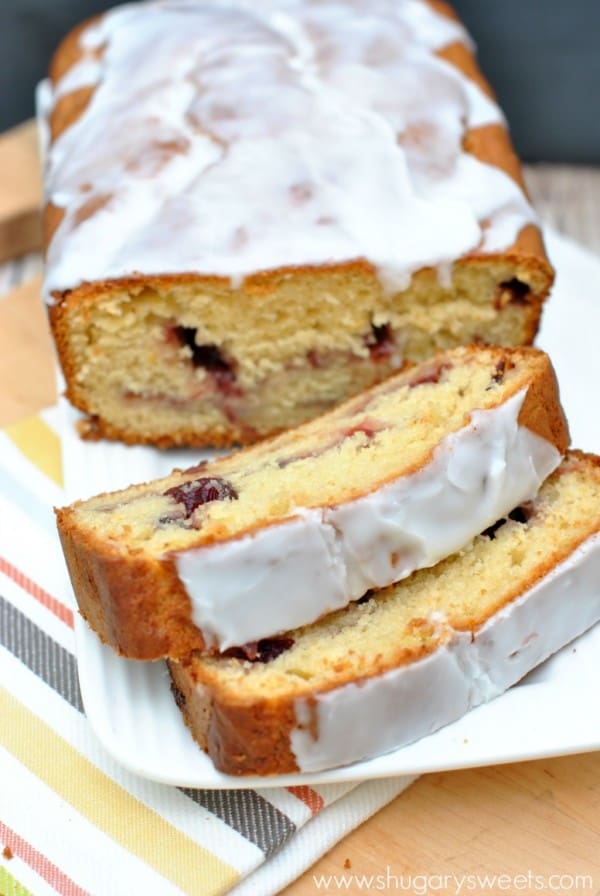 Next time you're at the grocery store I urge you to stock up on some cranberry sauce! Or after the holidays, use up your fresh berry sauce in this bread. Either way, I'm basically just urging you to bake some bread.
I can't wait to restock my new freezer in my new house with loaves of my favorite breads!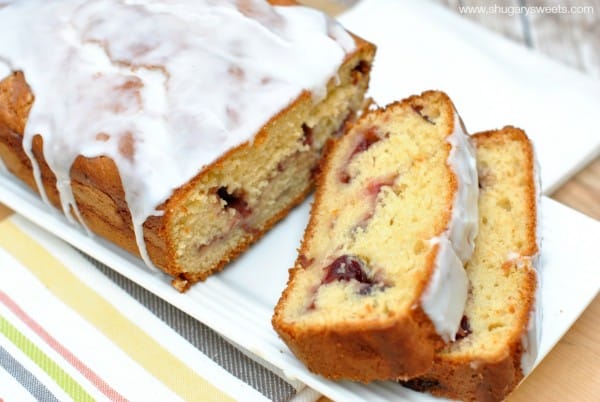 Connect with Shugary Sweets! Be sure to follow me on my social media, so you never miss a post!
Pinterest | instagram | Bloglovin'
Yield: 2 loaves
Cranberry Orange Bread
Ingredients
For the bread:
3/4 cup unsalted butter, softened
1 1/2 cup granulated sugar
3 large eggs
1 tsp orange extract
3 oranges, zested
3 cup all-purpose flour
2 tsp baking powder
1 1/2 tsp baking soda
1/2 tsp kosher salt
1 1/2 cup vanilla greek yogurt
1 can (14oz) whole berry cranberry sauce
For the glaze:
1 cup powdered sugar
2 Tbsp milk
1 tsp orange extract
Instructions
For the bread, spray two loaf pans with baking spray. Line bottom of pan with parchment paper. Set aside.
In a large mixing bowl, beat butter with sugar. Beat in eggs until fully combined. Add orange extract and zest from 3 oranges. Beat in flour, baking powder, baking soda, salt and greek yogurt.
Spoon about 1 1/4 cup of batter into the bottom of each loaf pan. Then spoon a large scoop of cranberry sauce onto batter, swirling it into the batter. Top with more batter, then another scoop of cranberry sauce. Finish with batter.
Bake in a 350 degree oven for 60-70 minutes. Remove and cool on wire rack for 10 minutes.
Remove from pan and cool completely before applying glaze.
In a small bowl, whisk together the powdered sugar, milk and orange extract until smooth.
Spoon over cooled bread. Allow to set (about 15 minutes). Wrap and store in refrigerator (or airtight container at room temperature) for up to 5 days. ENJOY.
Love quick breads? Here are a few of my favorite recipes….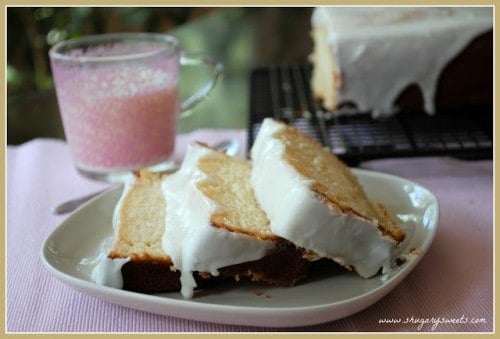 Lemon Loaf: delicious, sweet and full of lemon flavor!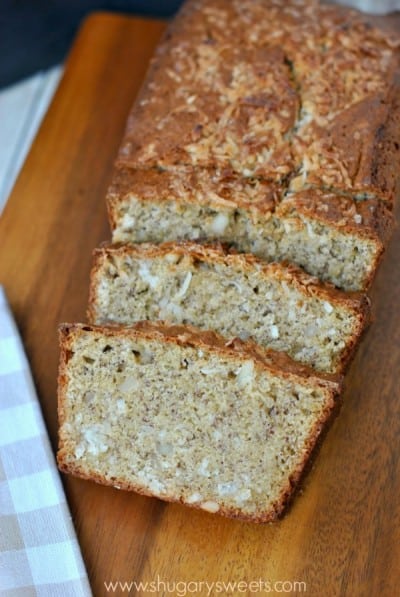 Coconut Banana Bread: sweet nutty bread filled with coconut and macadamia nuts!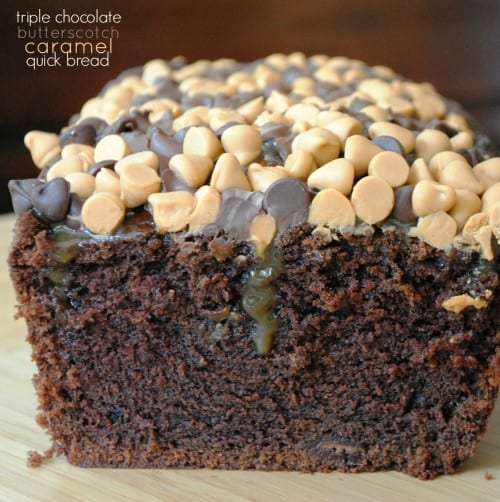 Triple Chocolate Caramel Butterscotch Bread….sweet and perfect
More Sweet Bread recipes from some of my favorite blogs: