This glazed Cranberry Orange Bread has the perfect blend of sweet, tangy flavor! Bursting with juicy cranberries and orange zest, it's a moist quick bread that you'll love with your morning coffee.
Love cranberry treats? Try our delicious Cranberry Christmas Cake for the ultimate sweet start to your day. Or give our cranberry cheesecake recipe a try this year!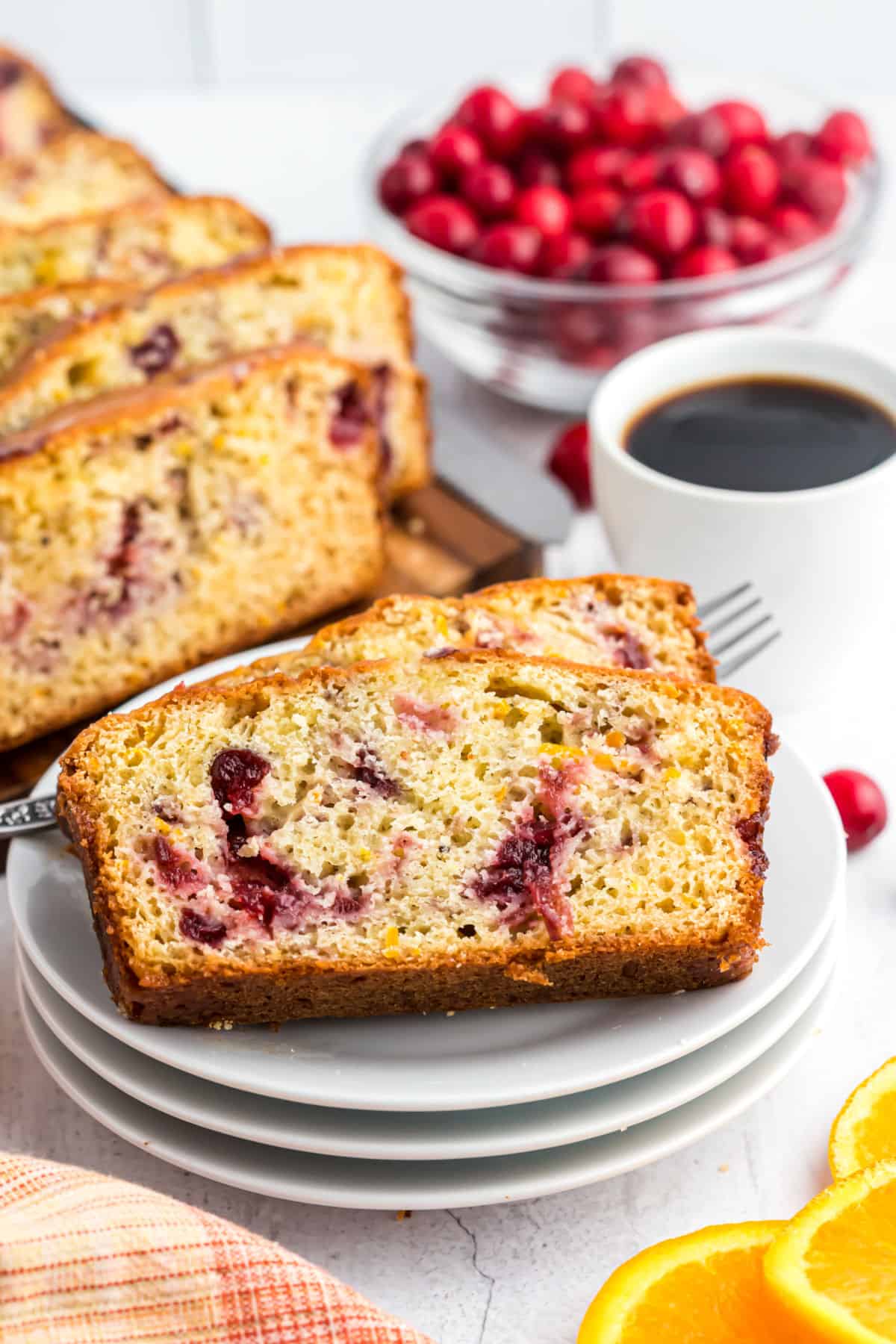 Why This Bread is Best
Nothing starts my day in a brighter way than a thick, moist slice of cranberry bread. The added citrus gives this bread a zing of flavor.
Soft, tender crumb. This cranberry bread stays moist for days, making it a perfect for gifting!
Made with cranberry sauce. The sweet and tart sauce is swirled into the bread so every slice looks as good as it tastes.
Orange glaze. The hint of citrus in the simple glaze adds an extra special touch that makes this cranberry orange loaf taste like it came from a fancy bakery!
Freezer friendly bread. This recipe makes two big loaves. One to enjoy now, one to freeze for later.
Ingredient Notes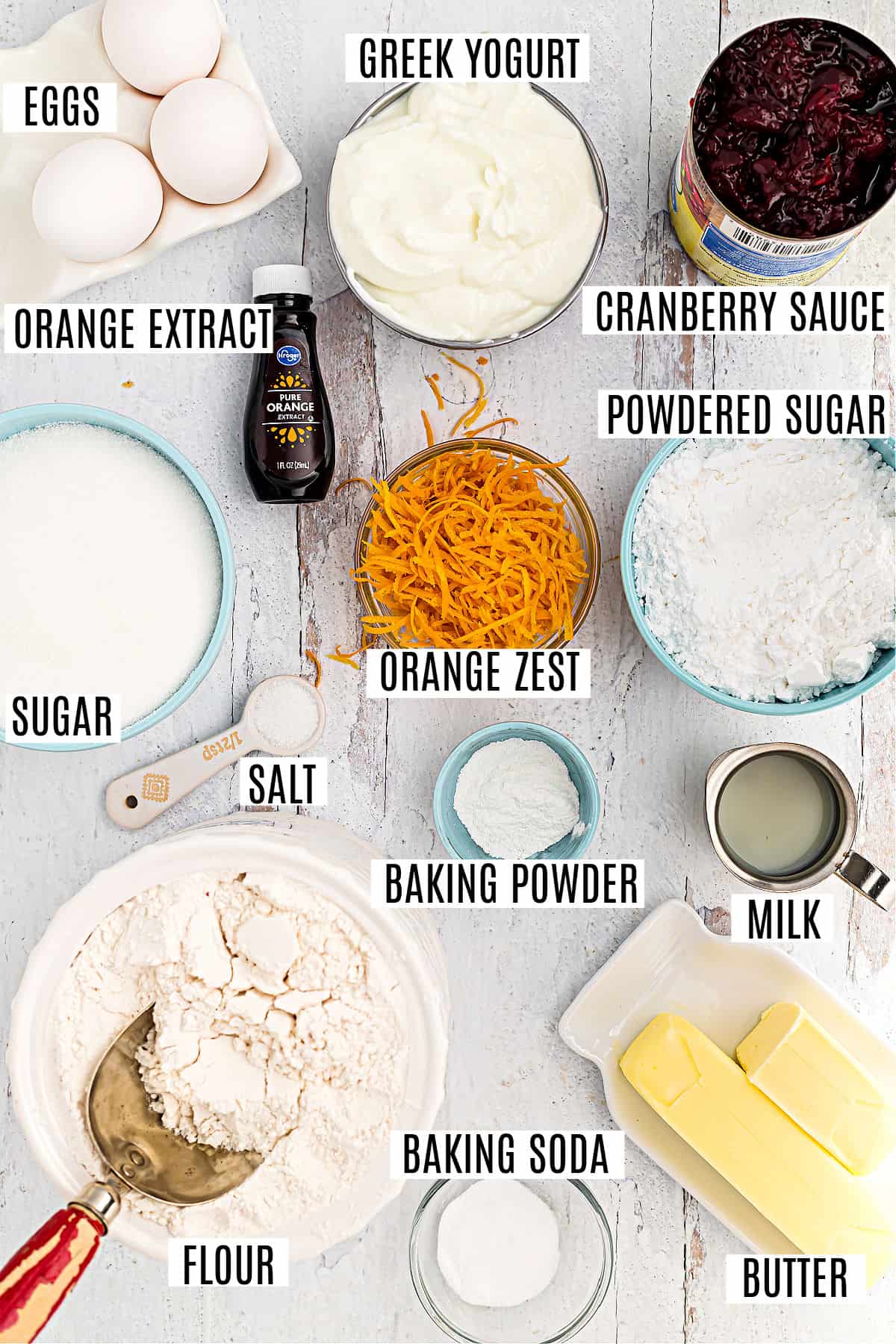 To make cranberry orange bread, you will need the usual baking suspects including all purpose flour, sugar, eggs and butter.
These key ingredients set this bread apart:
Orange extract – A highly concentrated flavoring that gives this bread and glaze their recognizable orange flavor without adding extra liquid.
Orange zest – The zest is the colorful layer of fresh orange peel. Its oils hold all the citrusy fragrance that gives oranges (and this bread) their familiar aroma. Use our guide on how to zest a lemon for best practices.
Greek yogurt – My secret for cranberry orange bread that stays moist and soft! Vanilla flavor yogurt tastes best here but plain is fine too.
Whole berry cranberry sauce – This canned sauce is cooked for a shorter amount of time than its jellied counterpart so the whole cranberries stay in tact. You can definitely use our homemade cranberry sauce for added flavor (or use up some leftover thanksgiving sauce)!
Easy Instructions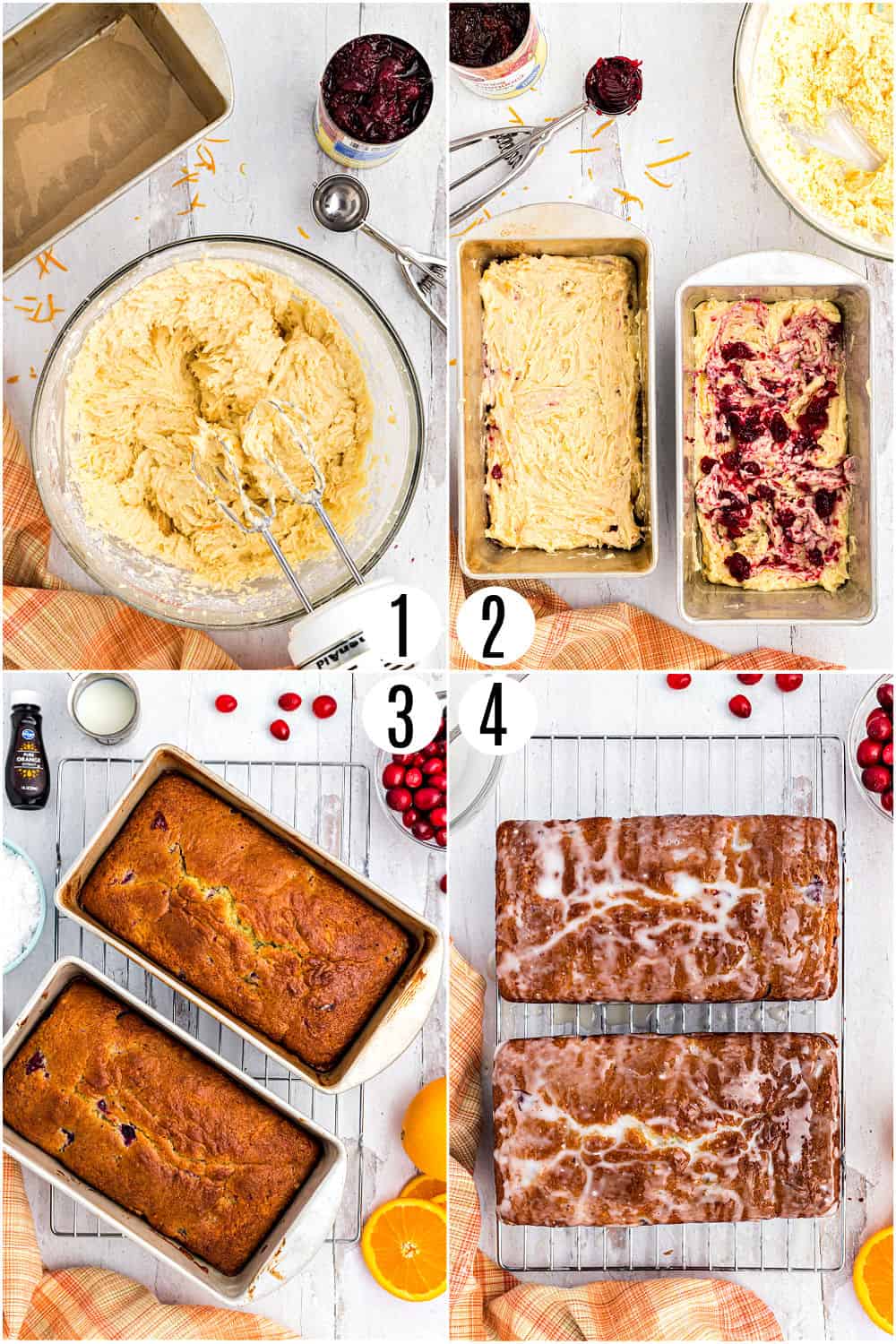 Orange bread batter. Beat together the butter and sugar. Add the eggs and extract and orange zest, followed by the remaining dry ingredients and the Greek yogurt.
Add the cranberry sauce. Pour 1 ¼ cup of batter into the bottom of two prepared loaf pans. Spoon a scoop of the cranberry sauce into each pan. Swirl it into the batter.
Cover the cranberry sauce with more batter and repeat with the remaining cranberry sauce. Finally, pour and remaining bread batter over the last layer of cranberry sauce.
Bake. Let the bread cool completely before adding the glaze.
How to make glaze for cranberry orange bread:
Whisk together powdered sugar, orange extract and a little bit of milk in a small bowl. Soon the orange glaze over the top of the cooled loaves.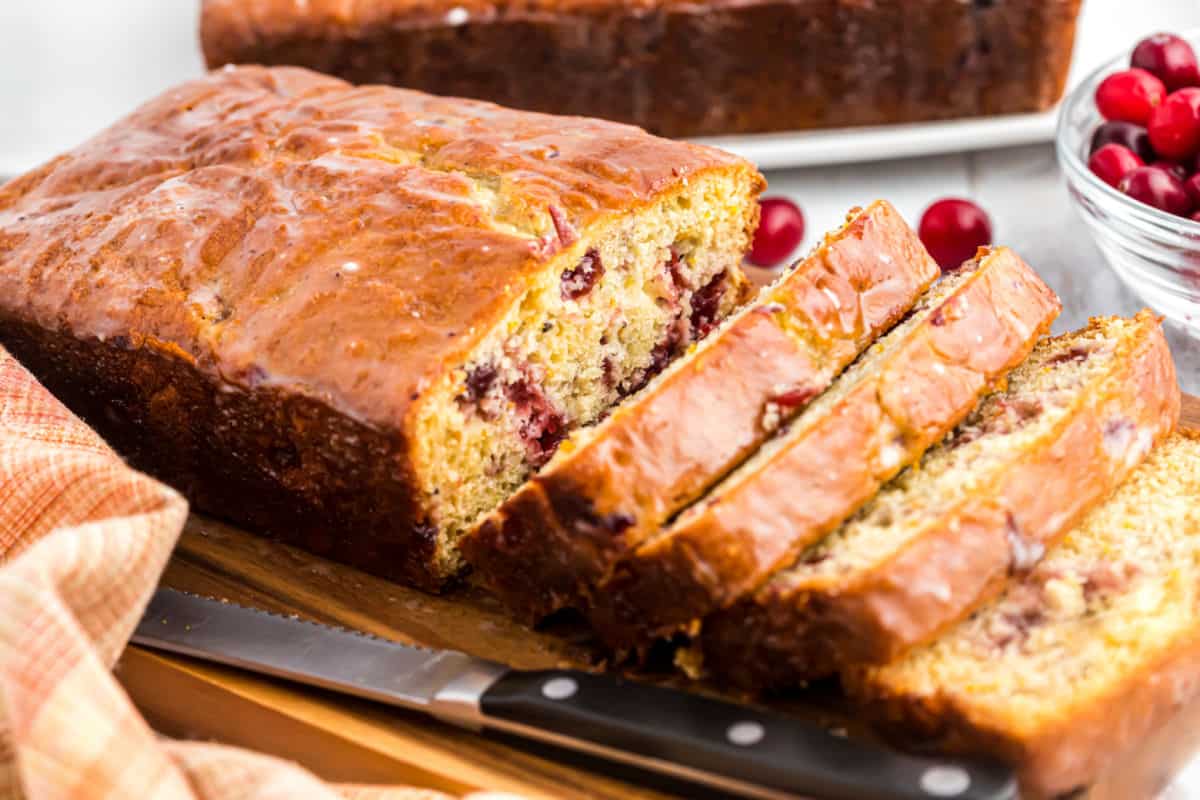 Tips and Tricks
Make sure to line your loaf pans with parchment paper and baking spray to prevent the bread from sticking.
Let the glazed loaves set for about 15 minutes before slicing. This gives the glaze a chance to harden to the perfect (less messy!) consistency.
Store your cranberry orange bread in the refrigerator or at room temperature. It keeps slightly longer in the fridge and I love the way it tastes cold!
Recipe FAQs
Can I use orange juice instead of orange extract?
Orange juice cannot be substitute for orange extract in this recipe. Orange extract is highly concentrated so one tiny spoonful contains the same intensity of orange flavor as several oranges worth of juice.
Can I freeze this cranberry bread?
Yes, this bread freezes beautifully with or without the glaze. You can freeze it whole or in individual slices for easy serving.
How long does cranberry orange bread keep in the freezer?
Tightly wrapped in foil and freezer bags, this bread stays good for up to 3 months in the freezer.
I only want one loaf of bread. Can I cut the recipe in half?
You sure can! Simply halve all of the ingredients and you will have enough batter and glaze for one loaf.
If you are only baking one loaf at a time, check the bread for doneness at about 45 minutes to ensure you don't over cook it.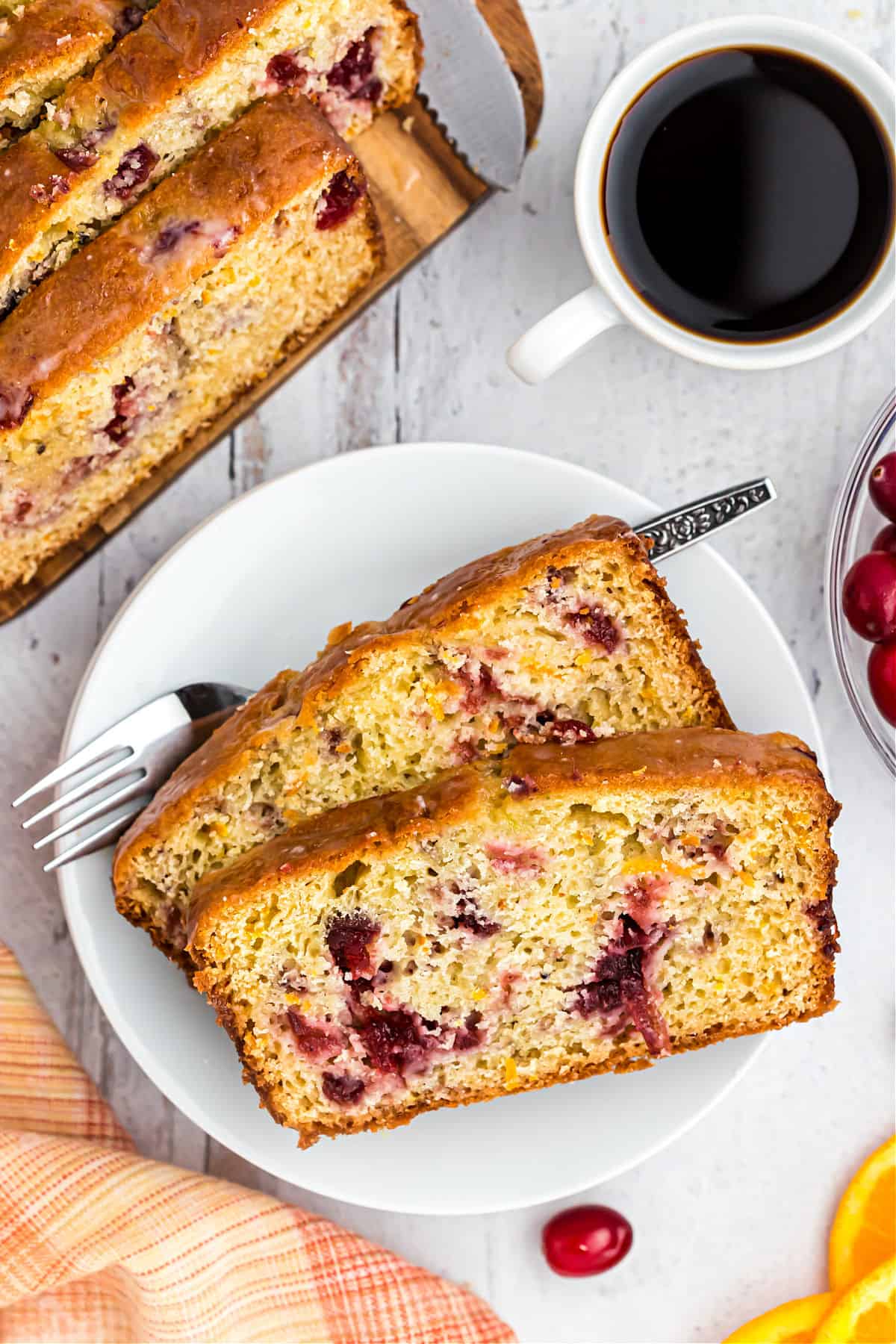 Cranberry Orange Bread with glaze and cranberry sauce makes a delicious breakfast, dessert or homemade gift for the holidays!